Prime Day 2023 set records and set the pace for upcoming seasonal sales events. Retailers and ecommerce brands didn't let Amazon win all the attention during this summertime spending extravaganza, though. Brands grabbed attention with email campaigns targeting Prime Day shoppers before, during, and after the big event. How did email marketers compete with Amazon to win consumers' clicks and conversions? We analyzed a selection of subject lines and email examples to find out.
2023: The year when any day was a good day for a seasonal sales event, right? Start of summer sales, middle of summer sales, Christmas in July, Halloween in August, back-to-school in July, August and September, because… Barbie sales, I couldn't catch my breath as a marketer or a consumer.
One sales event stood out above the others, though. Amazon's Prime Day. Despite the erosion in trust among consumers that a "big sale" is really a big sale, Prime Day still has their confidence. This year, shoppers planned special and regular purchases around the event and its anticipated discounts.
These summer shopping plans are included not only on Amazon but at other retailers, too.
Prime Day has become a universal retail sales event that puts the FOMO in many email marketing teams' hearts. Prime Day messaging gets special attention for many brands because missing this event can mean missing out on some major revenue.
So how did brands avoid being overlooked or out-marketed in the inbox during the run on consumers' attention that took place during Prime Day 2023?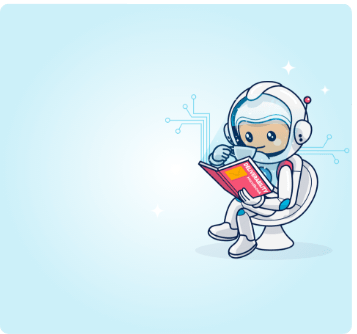 The complete
deliverability
handbook
Read the most significant, most organized volume of information written about email deliverability.
In the article, 15 juicy email marketing strategies inspired by Prime Day 2023 campaigns, we revealed the recipe for sweet summertime sales success.
Now, I'll show you how to mix up the ingredients.
How do brands compete with Amazon during the summer's biggest sales event? Check out these examples of email subject lines, preview texts and campaigns made for the big event.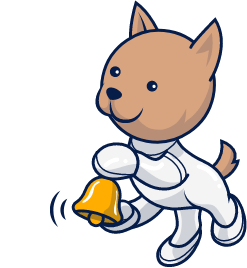 Stay on top of everything that matters in email marketing
Stay on top of everything that matters in email marketing
Prime Day inspired seasonal sales event email subject lines and preview texts
Earning interest in the inbox was among the top strategies used by email marketers riding the Prime Day draft.
To capture attention, email marketers employed the language of Prime to attract attention before, during and after the 2-day sale. They also leveraged other persuasive copywriting measures in their subject lines and preview texts to attract subscribers' attention and convince them to click.
Some brands sent a single message related to the summer sales event. But most chose to send a series–and many used escalating urgency to cut through the noise.
Check out these subject line and preview text examples to inspire your fall Prime campaigns:
Examples of subject lines and preview texts from ecommerce, DTC, and online/offline shops using "Prime" to catch eyes
★ Craft retailer JOANN Stores's July 10 email subject line was packed with specifics about the savings.
"Primo Days are here! 25% off your total purchase online + free shipping! EPIC deals up to 80% off! Shop online & save MORE!"
★ Toothbrush maker Quip offered up a what's in it for me a message.
"🤑Prime savings: up to 20% off sitewide! Save on better habit bestsellers through 7/15."
★ Kirkland's Home went all out on its day one of summer prime email.
"All Prime Time Deals Ship FREE! 2 Days Left to Save! – Save up to 50% + Extra 20% with Code EXTRA 20"
The home furnishings retailer puts the magic words "prime" and "deal" at the start of its subject along with a free shipping offer.
Additional context comes at the end of the subject line and through the preview text which disclosed stacked savings.
👀 Discover how to make the most of your preview text space and designate the copy you want subscribers to see in our preview text best practices article.
★ California DTC business Brightland announced its "Prime Sale" on July 11.
"20% Off the Essential Capsule – Our Prime Sale is here!"
Two last-chance messages that don't mention prime in the subject line follow on July 12.
These emails reference Brightland's "PRIMESALE" code in the email's body.
(Brightland, which sells culinary ingredients for the discerning palate, targeted people in the know with its subject line. For the rest of us–The Essential Capsule is a collection of two specialty flavored olive oils and two unique vinegars. IYKYK 🤷)
Subject lines and preview texts promoting services and B2B offerings during Prime season
Who says B2C gets to have all the fun?
Your B2B customers aren't immune from attraction to big sales events. In fact, our research indicates that B2B buyers expect and appreciate experiences that resemble their B2C journeys.
These service businesses and B2B brands and publishers didn't overlook this prime opportunity to add pizzazz to their subject lines.
★ Liberty Federal Credit Union promoted purchasing for points in a pre-sale email blast.
" Amazon Prime Day | July 11-12: Earn 5x points on all Amazon purchases!"
★ Future of work news source Allwork promises productivity tips while promoting a prime distraction in its Prime week newsletter.
"🏡 Working from Home? Unlock Your Productivity Potential! – Discover Prime Day Deals and 9 Helpful Tips to Boost Productivity"
(To be fair, purchasing office supplies at a discount could be a productive use of your time.)
★ eMarketer Retail Media knew what the audience for its new newsletter wanted and shared relevant data beginning with its very first publication on July 10.
"What Amazon Prime Day's growth means for retail media – Welcome to the first edition of Retail Media Weekly"
★ Axios Closer sent subscribers data from the front (or up front data) on July 10 as well.
"🛒Prime Day impact – Plus: Threads tops 100 million…"
Well, not every record-breaking performance was made to last. 📉
★ Marketing science commentator Thomas McKinlay couldn't resist mentioning this trending topic in July.
"Offer a free shipping subscription – Sell customers a paid subscription to access free shipping of your products (e.g. Amazon Prime)…"
Examples of inbox appeals to prime-minded subscribers from product discovery, editorial and affiliate publishers
Affiliate marketers and brands that win traffic by providing valuable retail content made sure to let their subscribers know that they were paying attention during Amazon's sales event with subject lines that communicated relevant content.
★ Vogue sent its audience a selection of the editors' best picks in a Prime Day eve message.
"Amazon Prime Day is Tomorrow! 45+ of the Best Early Prime Day Deals – Shop it like a Vogue editor."
★ Fashion shopping advisor Coveteur served up prime-themed expert advice to entice opens, too.
"How to Prime Your Day – Marian Cheng provides morning routine inspo, our Amazon Prime Day picks, street style trends from couture week…"
★ Gadget Flow appealed to urgency and offered subscribers a chance at the inside scoop with an early deal reveal.
The product discovery publisher sent its first Prime Day themed message on July 8 with the inbox copy:
"😳 Don't miss out on the best Prime Day deals – you're already late! – the best Prime Day deals before the actual day!"
This early anticipation builder was followed by a series of emails featuring Prime Day themed products and information.
The subject lines for the set included a "Prime Day is here" announcement and copy naming specific products such as the Eureka RapidClean Pro cordless stick vac.
Finally, on July 12, Gadget Flow sent a recap email with the subject line:
"😎ICYMI: Amazon Prime Day Deals" as well as specific product promos.
You can see the whole inbox flow below.


Other examples of last chance subject lines surrounding the retail sales event included:
➡ Prime Day Deals End Tonight 🚚 (Gravity Blankets)
➡ It's the Last Day of Prime Prices – Save up to 45% today only. (Drop)
➡ This Prime Ship is Sailing Away… 🚢 – Get FREE Honey Roasted Cashews Before They're Gone (Nuts.com)
➡ It's the Last Day of Prime Prices – Save up to 45% today only. (Drop)
➡ LAST CALL FOR 20% OFF – Prime Day End Today (Caraway)
➡ FINAL HOURS: Prime Day – Consider this your final warning (Caraway; who really, really means it.)
➡ 📣 Last Chance for Free USA Shipping! Our Prime Savings Bookish Bargains Sale ends TODAY! 📣 – Save an extra 25% off on sale items and get FREE USA SHIPPING… (LitJoy Crate)
➡ Surprise! You can still get FREE USA SHIPPING & save up to 75%! 📣 – Our Prime Saving, Bookish Bargains Sale has been extended! (LitJoy Crate; who didn't really mean it before.)
Getting in on the Prime Day shopping season may start in the inbox display but it doesn't have to end there.
Our team found some email marketers didn't mention prime in the subject line but saved their competitive content inside their email messages.
You'll find examples of both innie and outie strategies in the following collection.
The Email Marketing Activity Book for Kids
Enjoy engaging brain teasers, colorful illustrations, and playful games with your loved ones.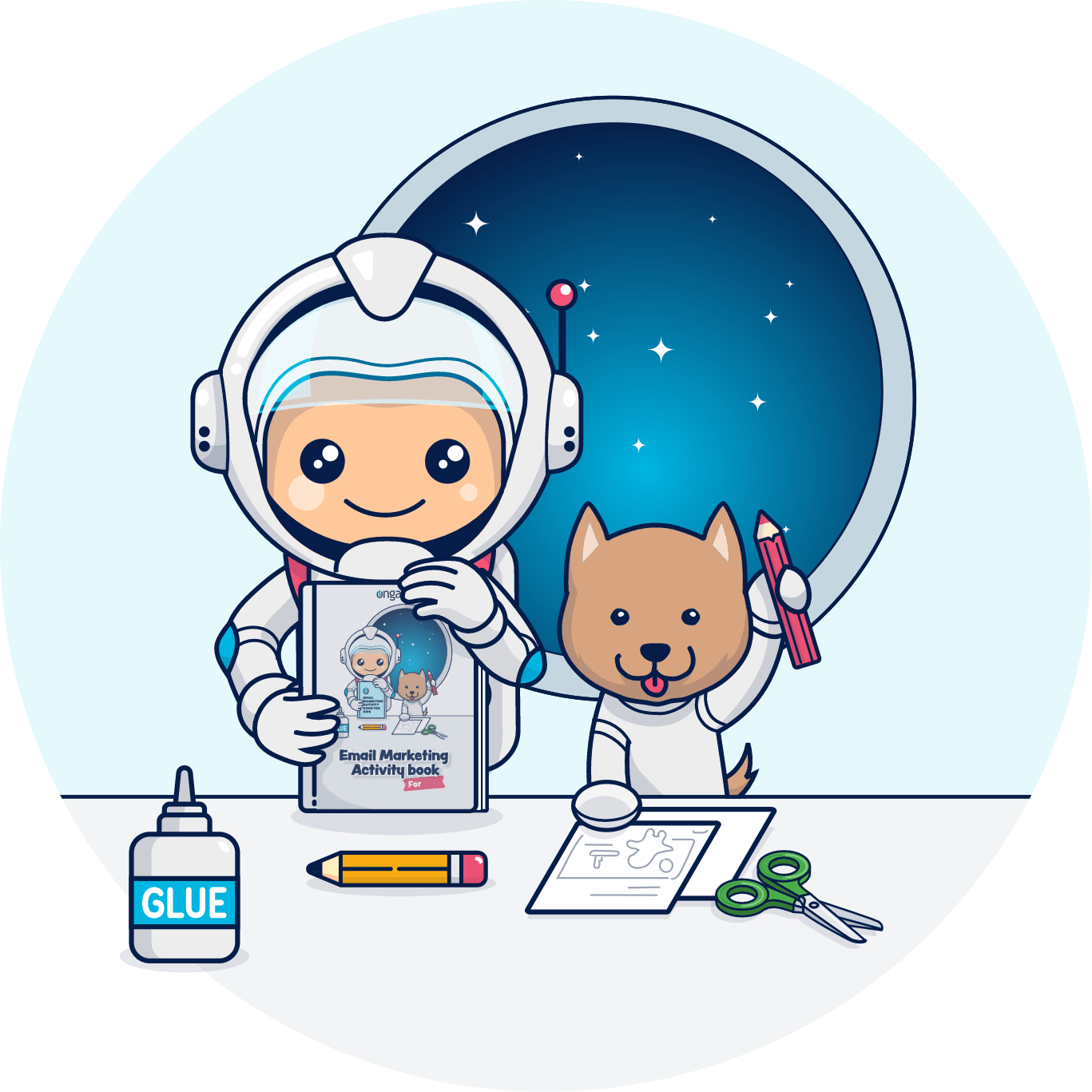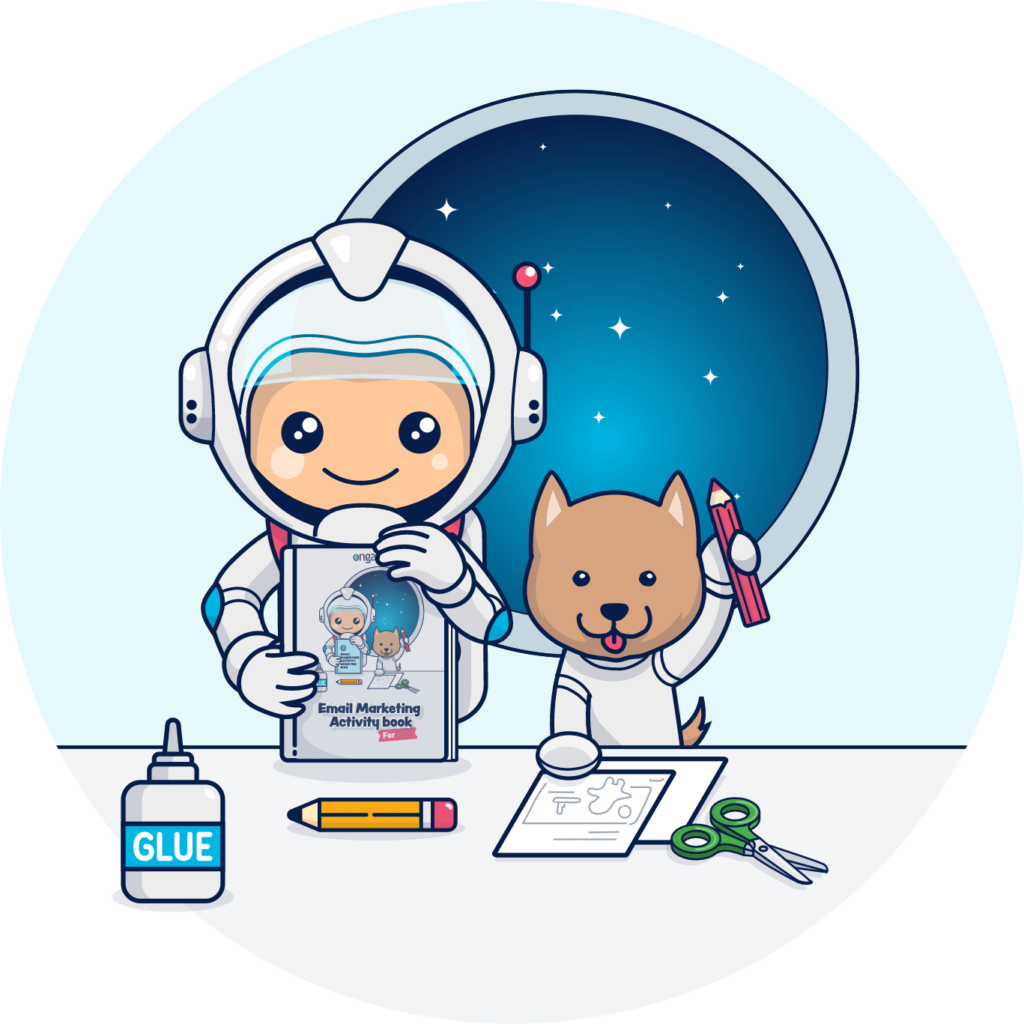 Examples of early-bird sale event email campaigns aimed at winning first dibs for deal hunters
The Ongage Team spotted several brands getting a jump on the competition by launching their own sales events prior to the official start of Prime Day.
DTC candy brand, Licorice was among those first movers.
Licorice's pre-Prime Day email campaign was part of a series of messages the brand used to redirect potential Prime Day spending to its website during July, encouraging its customers to shop for themselves and get a head start on holiday gift-giving.
Here's how the brand executed its strategy.
📧 DTC Candy brand Licorice launched a preemptive strike to encourage shoppers to get their treats straight from the source.
Four days before Amazon's Prime Day event, Licorice announced the start of its Licorice Prime Time sale with an email offering 15% off sitewide, and tiered incentives based on total spending.
Shoppers who ordered $7% in merchandise would get free shipping and those spending $110 or more received a free gift card.
💧This email's subject line and preview text get right to the point and use all caps to stand out in subscribers' inboxes:

"LICORICE PRIME TIME IS HERE – Get Access to Sitewide Deals."
Inside, the message presented the value proposition in words and images, displaying several products and a model smiling at the sweet treats. (See image below)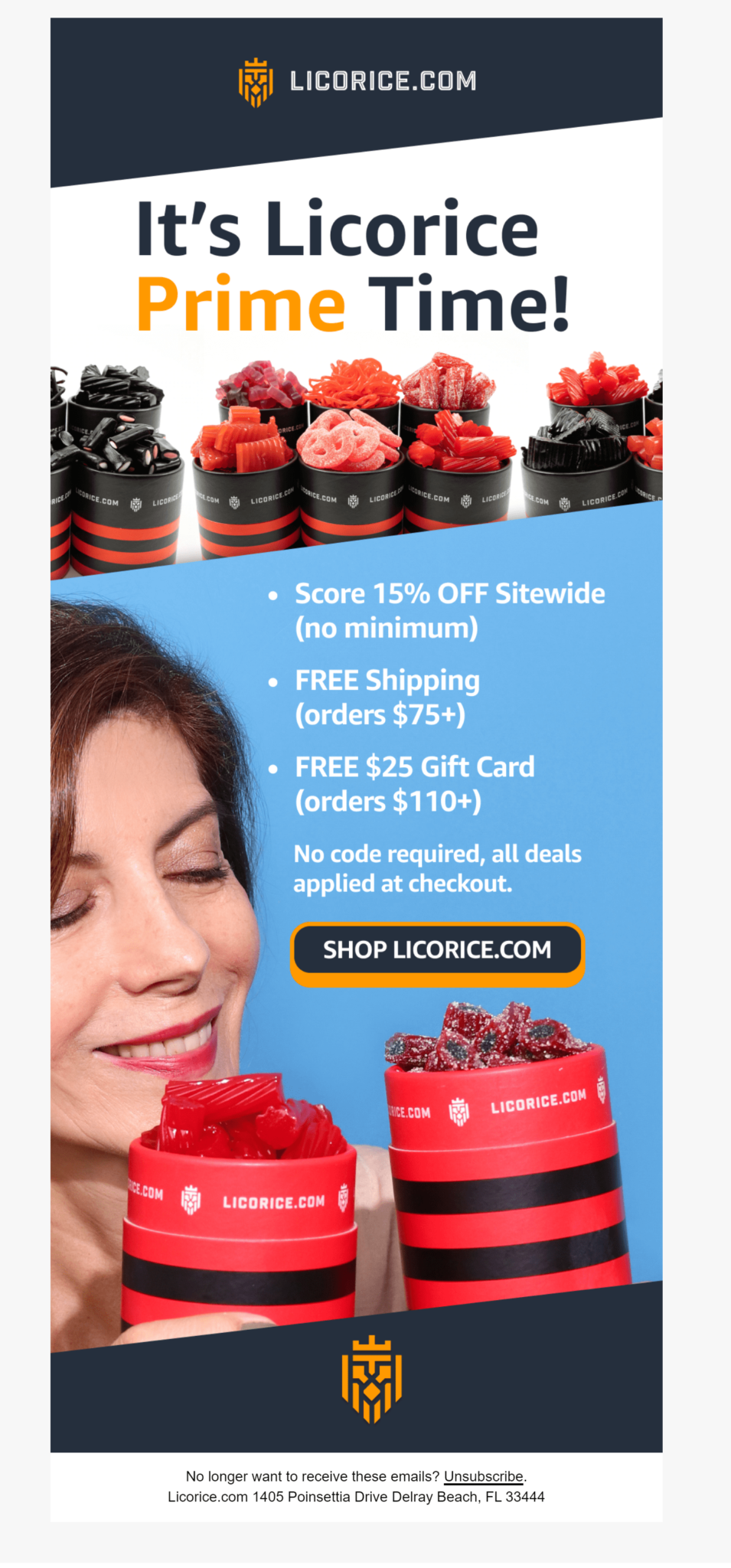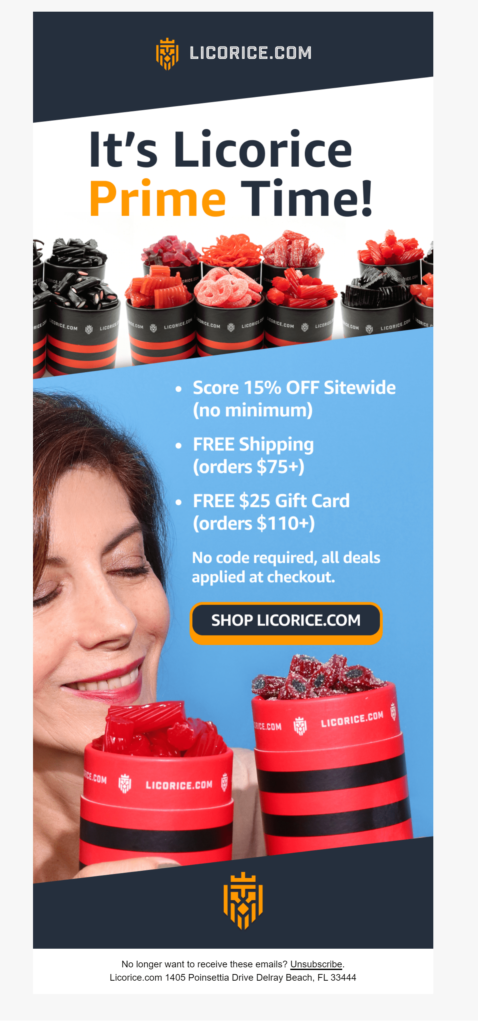 The email's copy above the "Shop Licorice.com" CTA button reflects a preemptive strategy aimed at boosting conversions, too. It reassures shoppers that getting their savings will be hassle-free, with text that says,
"No code required, all deals applied at checkout."
(Do you think they positioned the model's nose to point toward that CTA button on purpose?👀)
This message was just the first one in a Prime Day-themed series that Licorice used to keep its subscribers' attention before and throughout Amazon's annual sale.
💧 The second message in the series arrived on July 9 with a subject line that alludes to the sale but doesn't mention Prime.
Instead, the inbox copy for this message says, "Christmas in July is here! 15% OFF all orders – Santa came early this year…"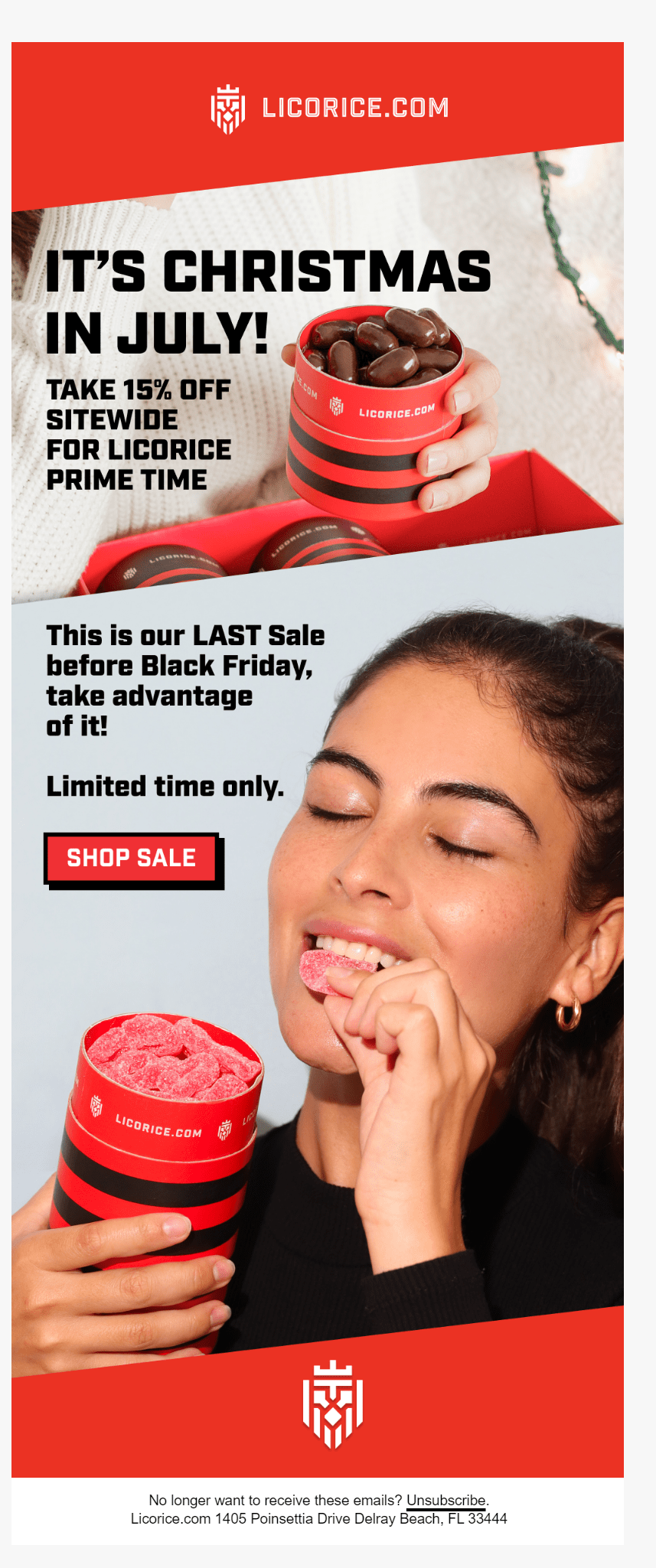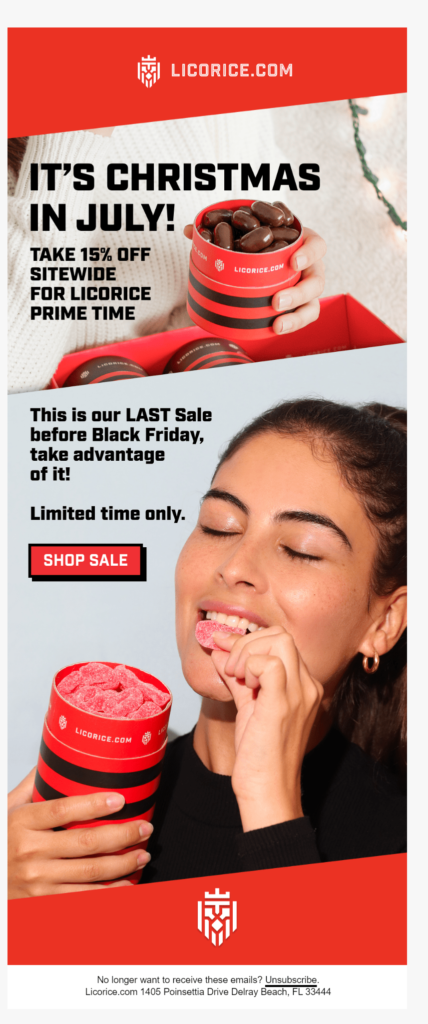 This email from Licorice presents images that hint at the coming holiday season and introduces a FOMO theme–another top strategy for squeezing the most from your seasonal sales event campaigns.
Above a red and white "Shop Sale," CTA button, the message copy says, "This is our LAST Sale before Black Friday, take advantage of it! Limited time only."
The next two emails in this flow ramp up the urgency. The company is preparing to go head-to-head with Amazon's on-site deals now.
💧 On July 10 and 11, the candy brand sent messages with subject lines saying, "PRIME TIME SAVINGS ARE HERE – Limited Time only…" and "Prime Time Sale – ENDS SOON – Hi Licorice Lover…"
The final two messages in the series maintain the urgent tone and back it with real numbers to make the timeline tangible.
💧 The second to last subject line in this series was sent on July 12 and says,
"12 hours left of Licorice Prime Time! Last Call for ALL Deals."
In this countdown message (pictured below), the brand uses the same basic template and similar copy.
A selection of product images along with an image of the model happily tasting the candy show subscribers what they are missing out on.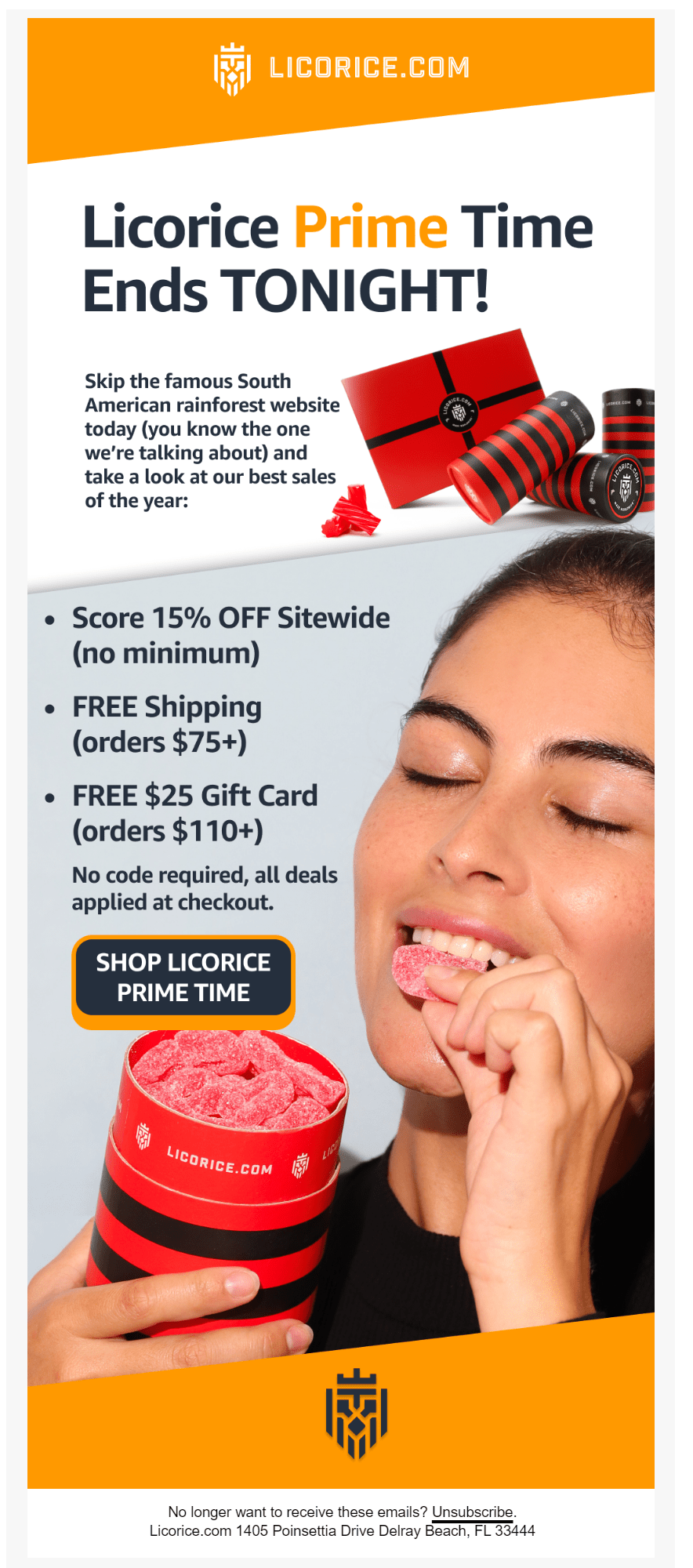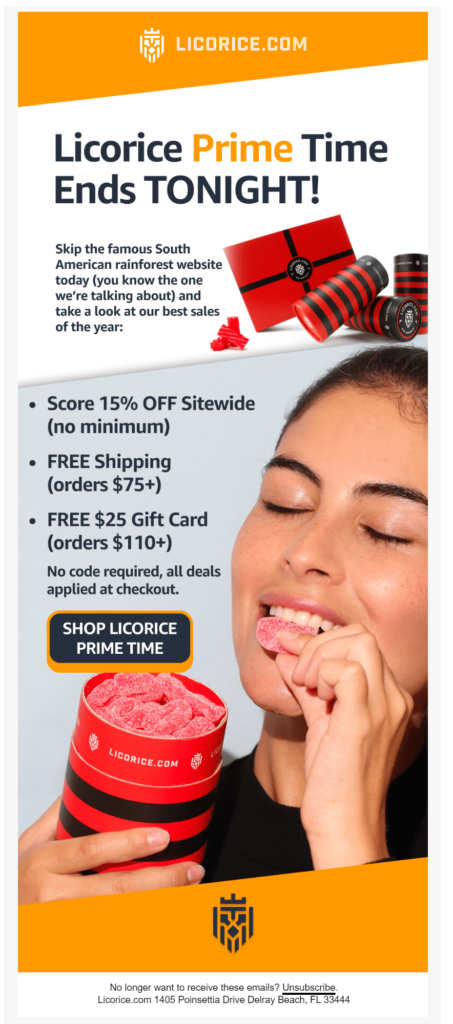 The first panel opens with an urgency-themed headline, "Licorice Prime Time Ends TONIGHT!" before segueing into a subtle anti-Prime theme.
The copy then says,
"Skip the famous South American rainforest website today (you know the one we're talking about) and take a look at our best sales of the year."
This language appeals to shoppers who want to feel like they aren't following the crowd.
💧 Licorice ends its prime time flow with another July 12 last chance email using the subject line and preview copy that says, "5 hours left of PRIME TIME! – All Deals Ending Soon…"
Tl;dr?
The image below shows the subject lines and cadence in an inbox view.


📧 Snack bar brand Nugo Nutrition made its move with a sooner than and better than Prime Day Sale.
Nugo used lots of language familiar to Amazon Prime Day shoppers in its preemptive campaign that arrived in inboxes on July 9.
The inbox copy says, "Starts Now! Better than Prime Day Sale – Why Wait? Lightning deals start NOW."

This better and faster benefits message continues throughout the engaging image-packed email that addresses the big marketplace in the room directly.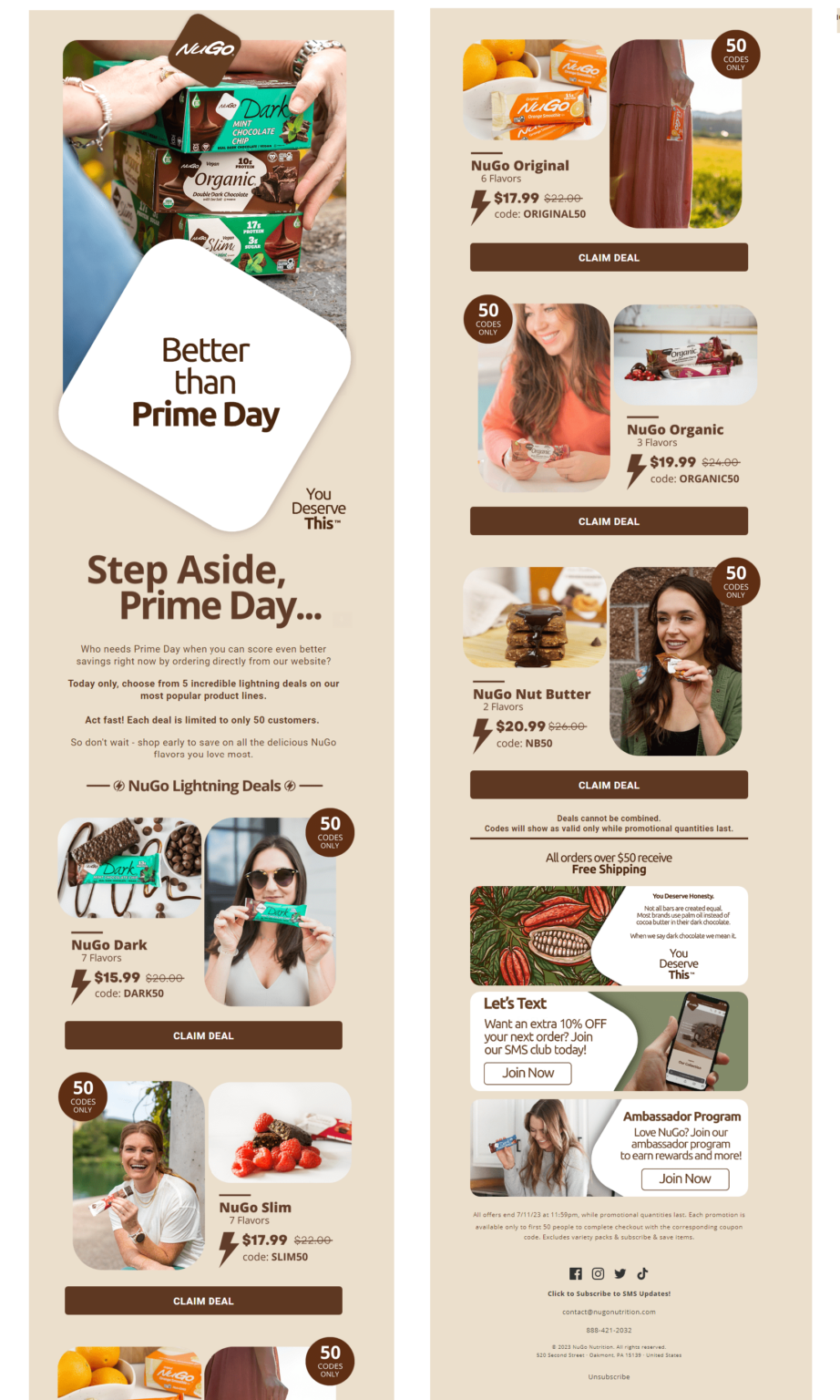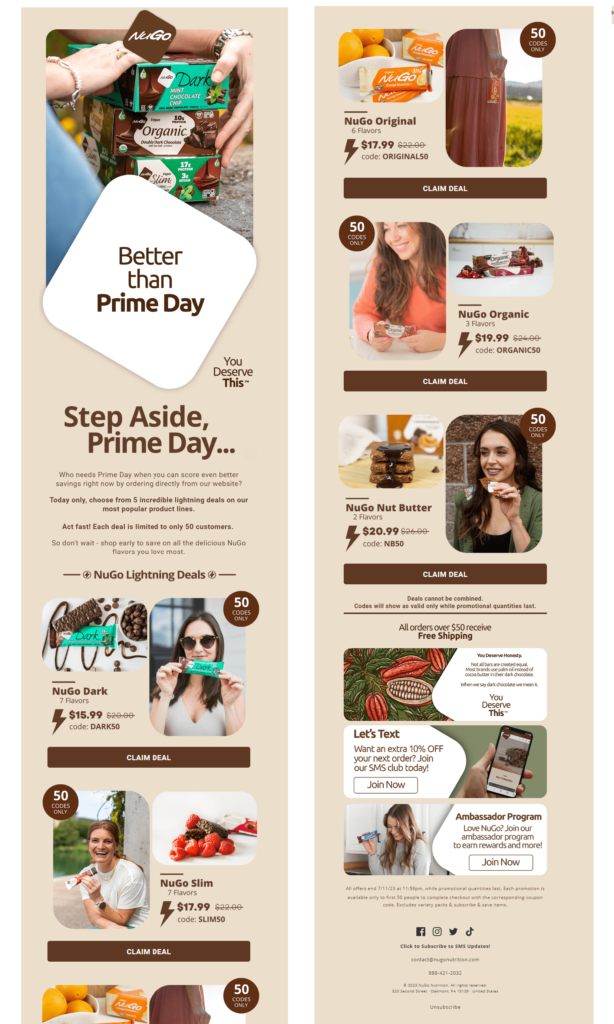 "Step Aside, Prime Day…" is the central header for the email which opens with a hero image repeating the "Better than Prime Day" copy from the subject line.
Offering a "today-only" lightning deal, the copy then says, "Who needs Prime Day when you can score even better savings right now by ordering directly from our website?"
The email conveys urgency and exclusivity by telling subscribers there are only 50 codes for each of the deals on offer. Each deal is separately presented with its product price and image, plus another image of a customer or model with the product.
💡 I'm not sure if Nugo used real customer or models for this email's graphics. But using images that look like user generated submissions is a good strategy. A 2023 consumer survey reveals that 80% of people prefer seeing photos of real customers vs stock photos.
Nugo makes sure customers don't get lost on the way to conversion with separate "claim deal" CTA buttons that take subscribers to the corresponding product pages.
Keeping with a rising trend among purpose-driven brands, the message includes a value-statement near the footer featuring the brand's trademarked phrase, "You Deserve This."
Nugo also uses this bottom portion of the email to expand its reach, inviting subscribers to sign up for SMS communications from the brand or join its ambassador program (both with incentives).
📧 eBags goes for the early open to compete during the summer prime sales season.
With products great for travel, back-to-school or return to office eBags sought summer bargain shoppers by starting its prime day series on July 9.


This campaign included three messages total, each with the same body copy and design but different subject lines.
eBags may have chosen to send the same message more than once to capture non-openers attention. The ecommerce luggage brand didn't do a repeat on their subject lines, though.
The series played out as follows:
💧 A message with the inbox copy, "Get Primed for Summer! – Free Shipping on Luggage & Bags" arrived on July 9.
💧 After Prime Day began on July 11, the second message with the subject line, "Up to 30% Off + Free Shipping is on!" arrived.
💧 The last message was sent on July 12 and said, "Final Hours to get 30% Off."
⚠️ While changing up your product images and copy for each message is ideal, changing your subject line when resending a message is imperative. Subject line repeats are an ESP spam signal.
📧 GlassesUSA.com uses the phrase "prime sale" in its subject lines and preview text to draw attention to its Prime Day-related promotions.
💧 The first email in the series arrived on July 10, one day ahead of Amazon's opening day. Its inbox copy entices subscribers with early access, saying
"PRIME SALE early access just for you – Good morning, IT'S PRIME TIME at GlassesUSA.com!"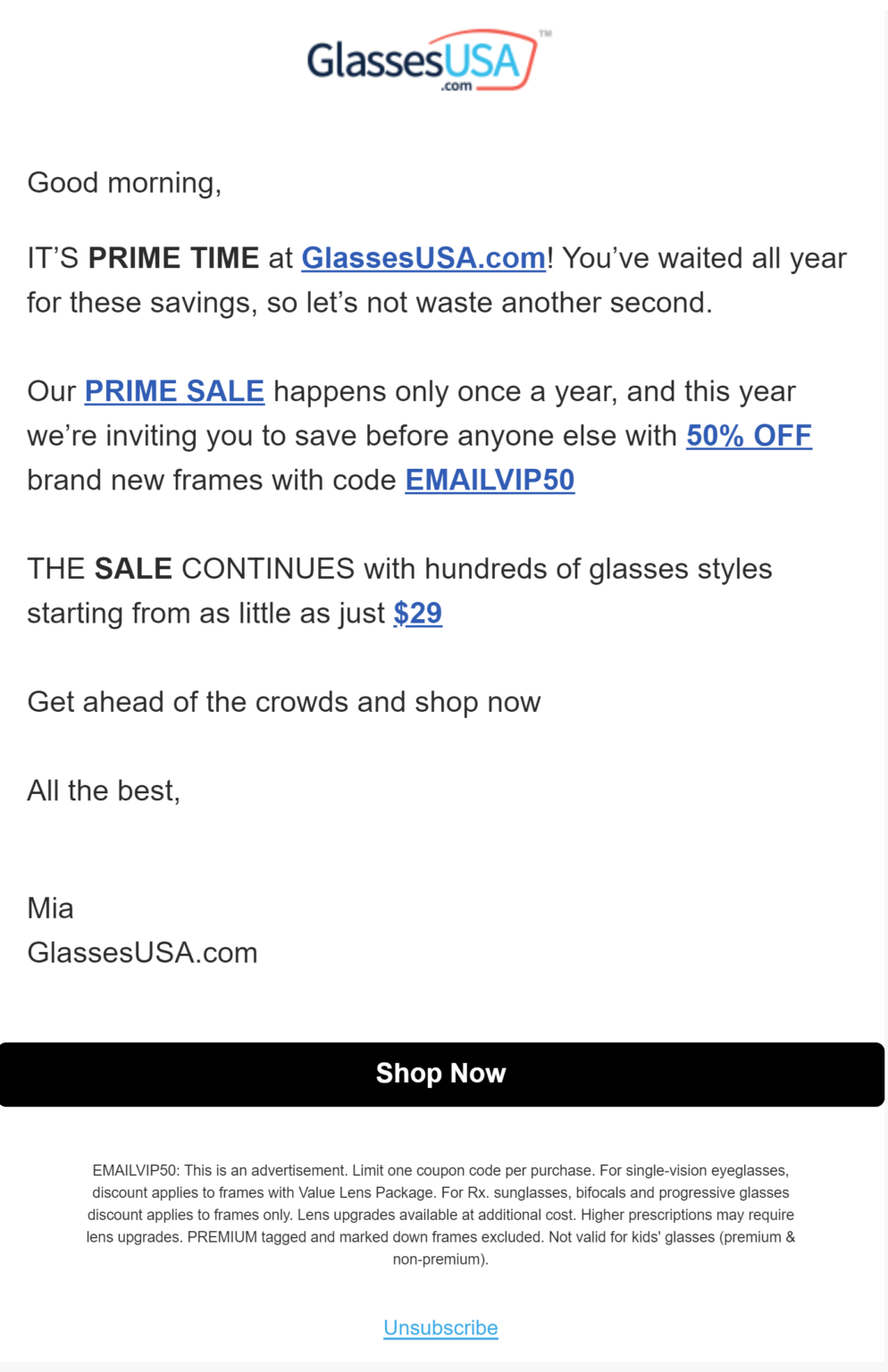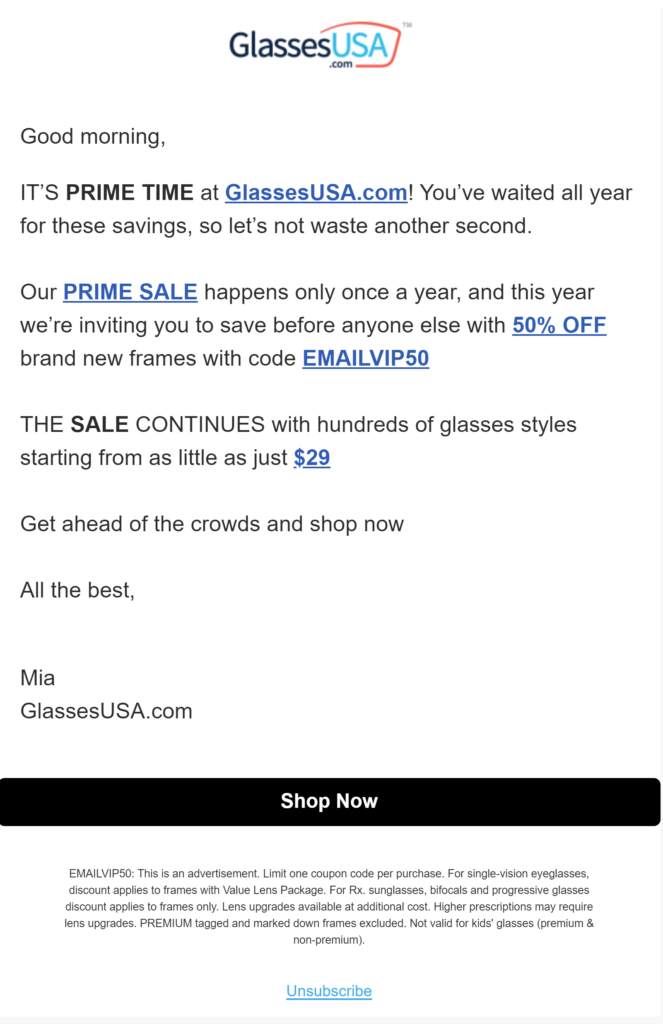 This message, which was sent from Mia at GlassesUSA.com (instead of just the domain), uses an HTML-lite format style. The only graphic elements are the brand's logo and the "shop now" CTA bar.
💡 Keeping your message's design simple can make it appear more intimate and personal while still allowing you to use links and formatting that you can't employ in a plain text email. We explain the difference between these two styles in Plain Text Email vs HTML Emails: Which One Is Best for Email Marketing?
The copy reinforces the one-to-one feel of the message. Mia wishes the subscriber "all the best" in her sign-off after inviting them to get early access to this once-a-year sale.
💧 The second prime promotion email in the series comes from the Sender Name GlassesUSA.com.
Opening with the subject line, "⭐️Don't miss: Early access to Prime Sale ⭐️," this message contains an abundance of conversion-focused elements.
First, that string of zeros at the top of the message is (presumably) real-time countdown timer.
Next, the email displays a sizable 50% off banner. That offer is followed by a panel presenting a bold buy one, get on Free offer. Light animation such as flashing letters and color changes populated several of the emails in this series too.
Finally, these sections are followed by a series of product images and descriptions of various premium product features such as transitional lenses.
The entire email is long enough that I had to break it up into three panels for display–otherwise, you'd be scrolling for days. 😉
Much of that space is used to answer questions (and overcome objections) and provide subscribers with navigation points.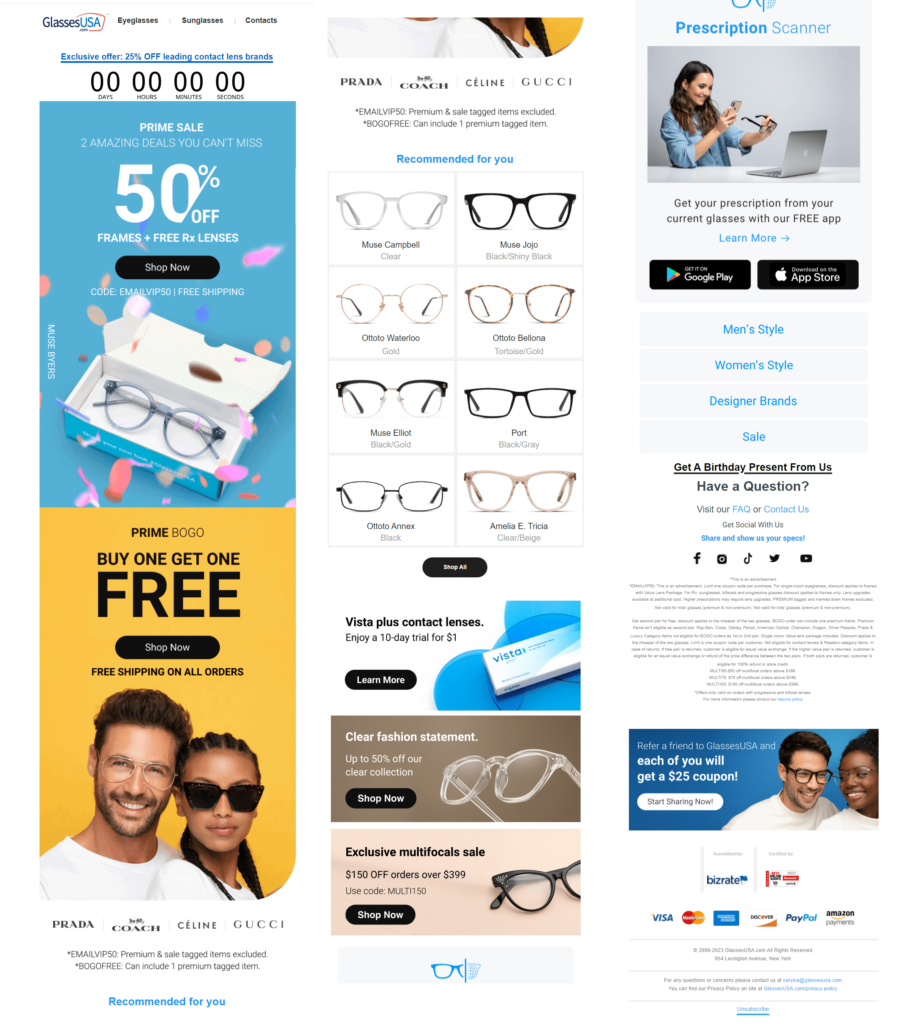 All the subject lines for this campaign that ended on July 12 included a mix of prime phraseology and attention-grabbing emojis. (See the inbox view below.)


Urgency and FOMO led GlassesUSA.com's strategy for this email campaign. The brand also mentions free shipping in the preview text for several of the messages, adding an extra inducement for subscribers to click.
Now, here are two examples of an Amazon sellers' email campaign directing its subscribers to the online marketplace.
📧 Keto treats maker HighKey promoted is Amazon Prime Day deals with a two-day, two-message drip campaign promoting special event savings.
HighKey sells its selection of low-carb candies and cookies DTC and through numerous online and physical retailers, including Amazon.
HighKey deployed emails on both days of the prime event that sent subscribers to its Amazon store.
💧 The July 11 email attracted attention with an emoji-accented subject line saying, "🎉 Let's Get Ready To Crumble! Prime Day Savings are starting NOW -🍪 Save 20% or MORE during Amazon's Prime Day Event!"
💧 While the July 12 email gave subscribers final notice that the deals were about the end, saying, "⏰ Tick-Tock, It's Cookie O'Clock! Prime Day Deals END TODAY! – It's the last chance to save with Prime Day! ⚡️"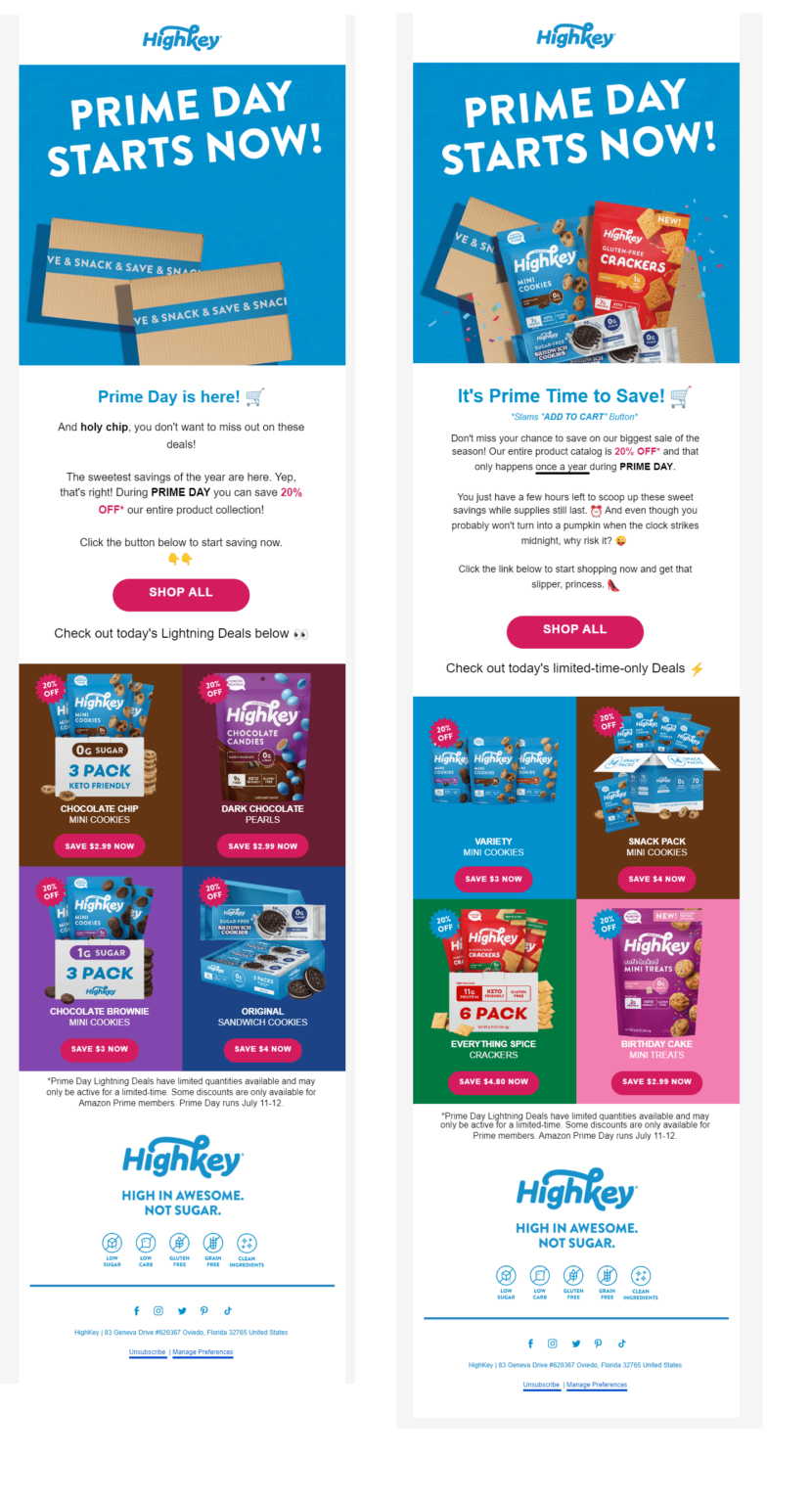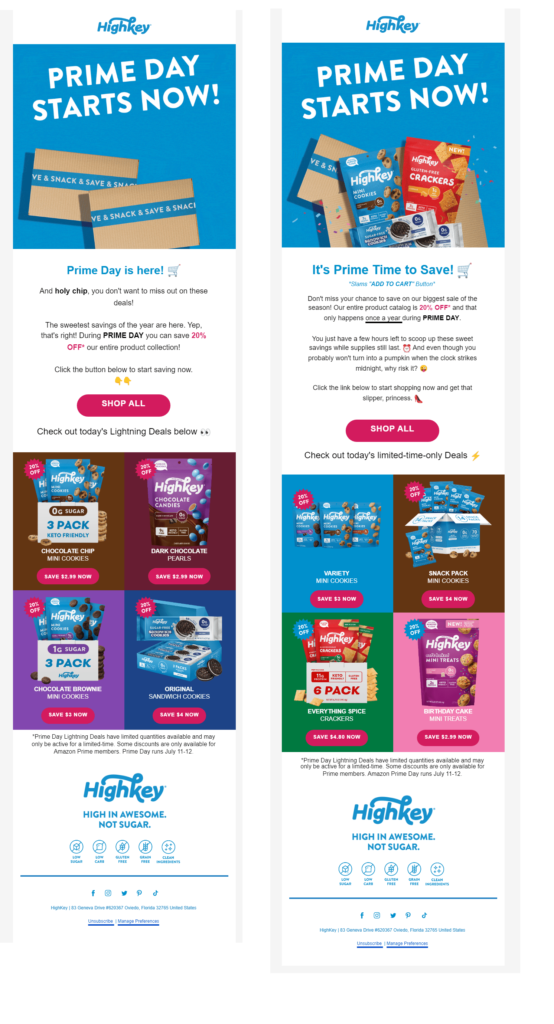 You may notice the top banner for both messages has the same copy, "Prime Day Starts Now!"
While you can't tell in the example images I've shared, the hero image is the same also–it's an animated GIF alternating between the packages shown on the left and the treats on the right.
Taking it up a notch, the GIFS are extra animated. In addition to alternating between the two graphics, the elements in the graphics move, too. Oh, and there's some confetti.
💡 Extra frills, especially animated GIFs, were a common competitive tactic we spied in Prime Day emails. Interested in learning how you can layer animated effects into your email messages without weighing them down? Here's your ultimate guide to GIFs in email.
Although the top banner is the same, the copy for each message is not.
HighKey's brand personality is personable and witty, employing humor in its emails to connect with consumers.
The first email says, "Prime Day is here! And holy chip, you don't want to miss out on these deals!"
The second saying, "It's Prime time to save! Don't miss your chance to save on the biggest sale of the season and an action description, "Slams "ADD TO CART" button."

There are plenty of emojis, and a few puns sprinkled throughout both emails, too.
⚠️ These prime-related emails differ slightly from HighKey's usual campaigns because they reference conditions unique to the event such as Lightning deals and offers that are available only to Prime members.
We're not sure if non-Prime members received these campaigns since our email spotter is a member. However, this situation illustrates why coordinating your data across different channels to create hyper-customized segments is a good idea.
📧 Nail polish purveyor ORLY reminds shoppers to check them out when shopping on Amazon during Prime Days.
Another fresh brand offering multiple paths to purchase, ORLY opted to send subscribers to its Amazon storefront during Prime Days, too.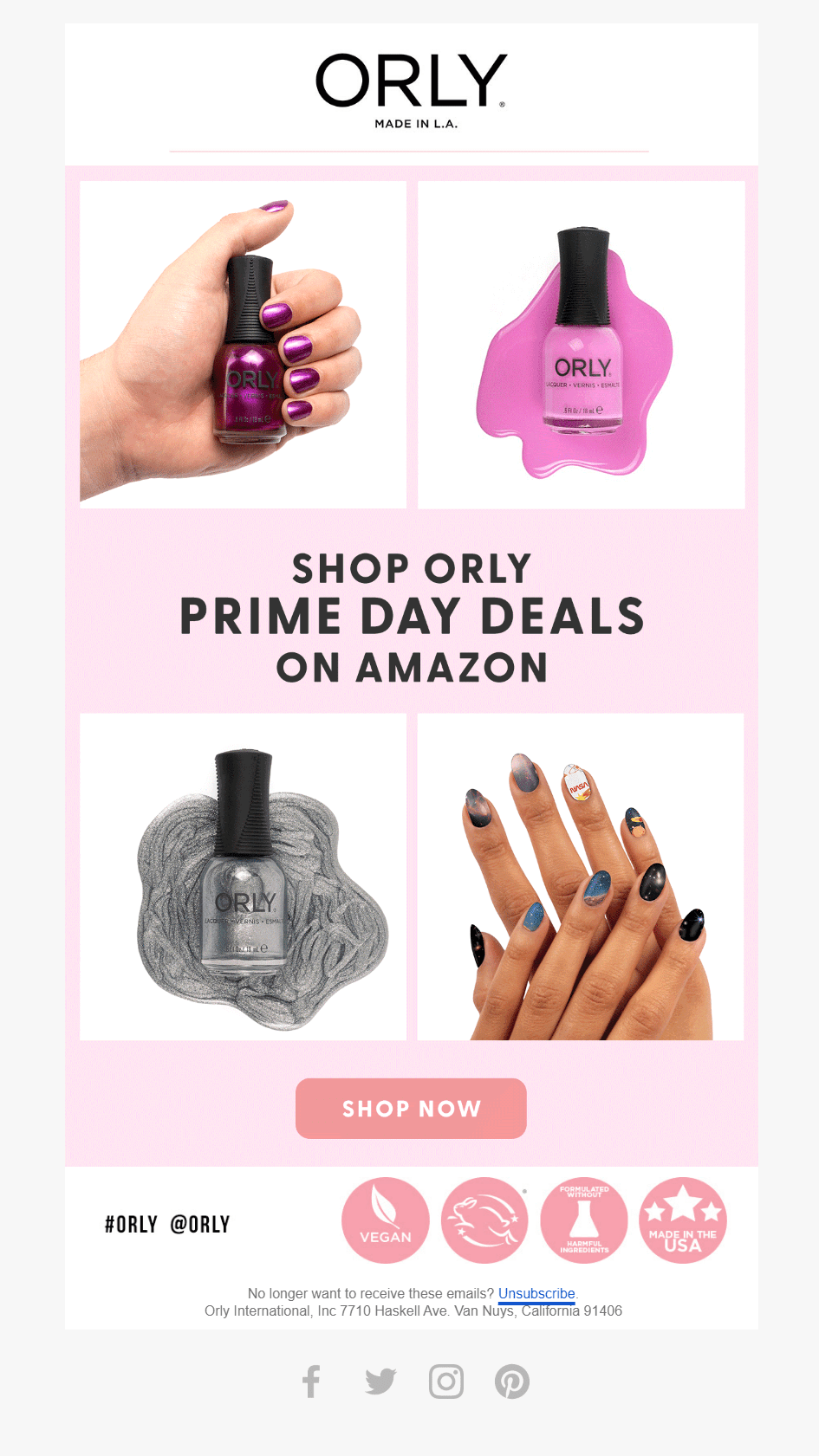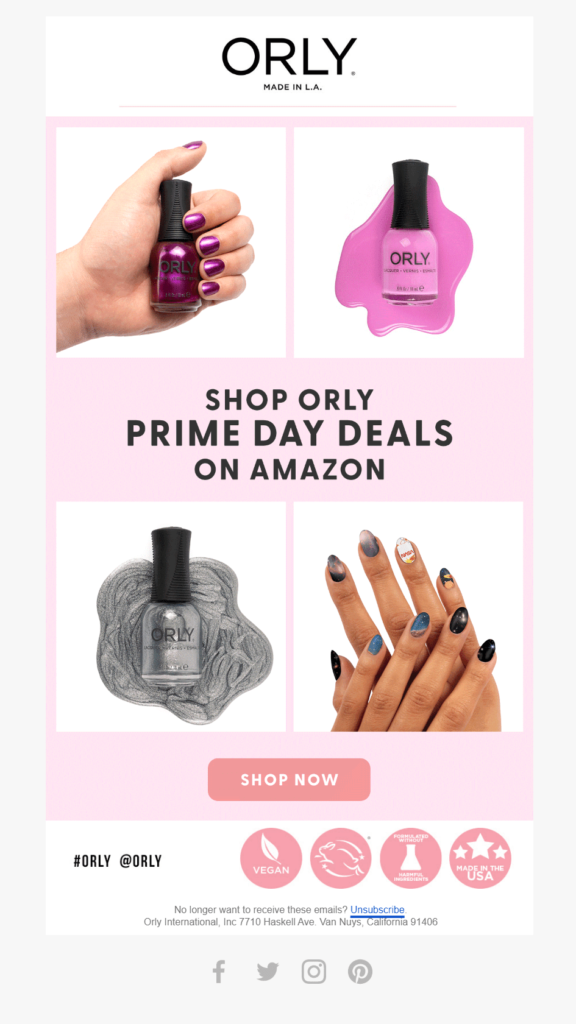 Nail polish and other beauty products are affordable indulgences that are easy to say yes to, even during an economic downturn. It's also an item that's both collectable and consumable. (Not the eating type of consume–unless you chew on your nails!)
ORLY keys into this need for more and consumers' desire for convenience in the email's subject line and preview text which says, "Don't Skip ORLY On Amazon Prime Day! – Replenish your nail goodies with just a click! 🛒."
ORLY doubles its display space in this compact email message by using animated GIFs in each of the four product image panels.
As we've seen with other purpose-driven brands, ORLY puts its values icons in the final panel of the message along with its social media handle and hashtag so subscribers can find its brand community.
A Prime event counter-campaign that started early and ended in a rush
This email flow is an example of a counter Prime Day campaign that employs multiple strategies from eye-catching subject lines and an early offer to a last chance, after the main event deal.
📧 DTC candy shop Sugarfina offers new items but a brief window of opportunity in its Prime Day alternative, the Sugar Rush Sale.
Sugarfina's candies are artful creations designed to delight through sight, smell, and taste and their email campaigns often include enticing product pictures.
The example below is a more simple design (although the main banner is an animated GIF).
I suspect this was intentional. The short, simple message communicates a "bargain basement" ethos in keeping with the steep 60% markdown being offered.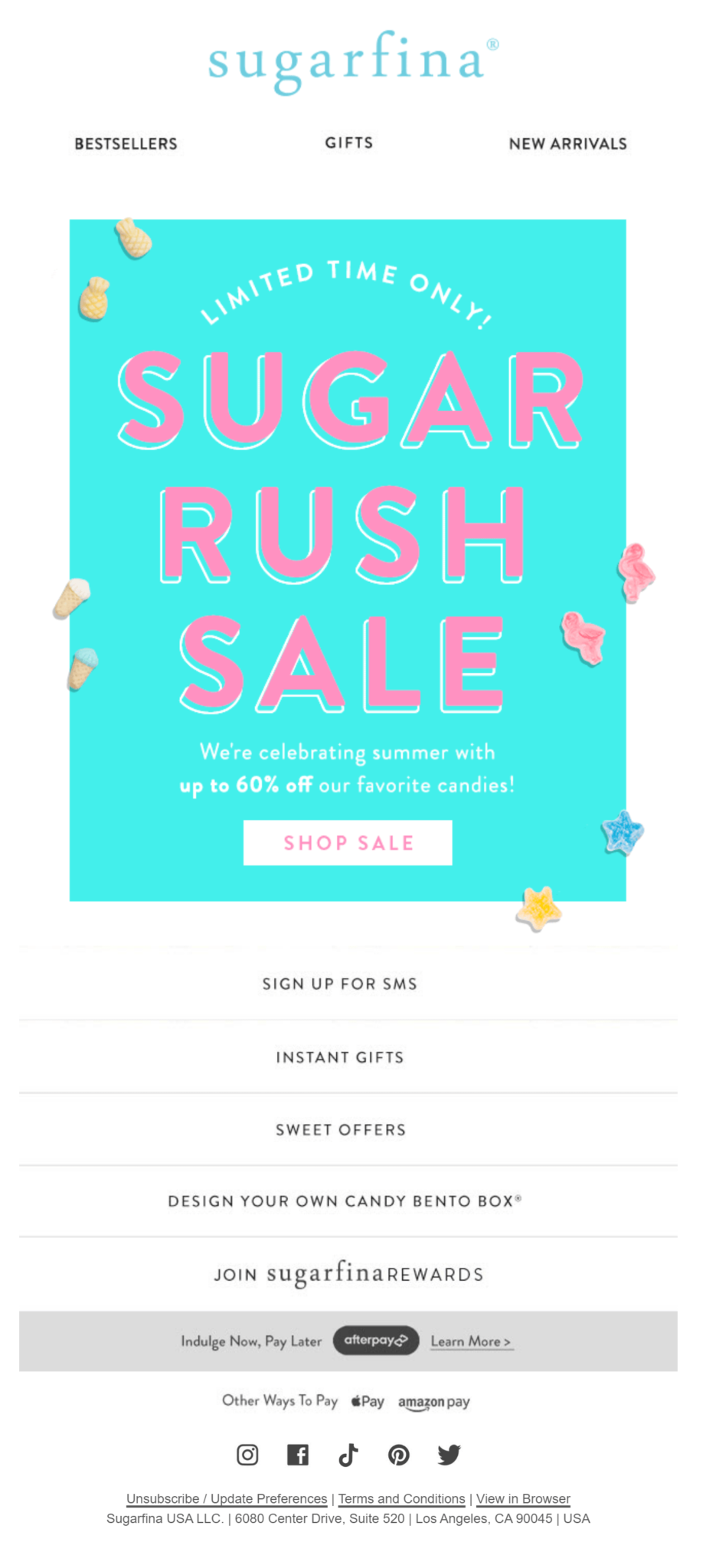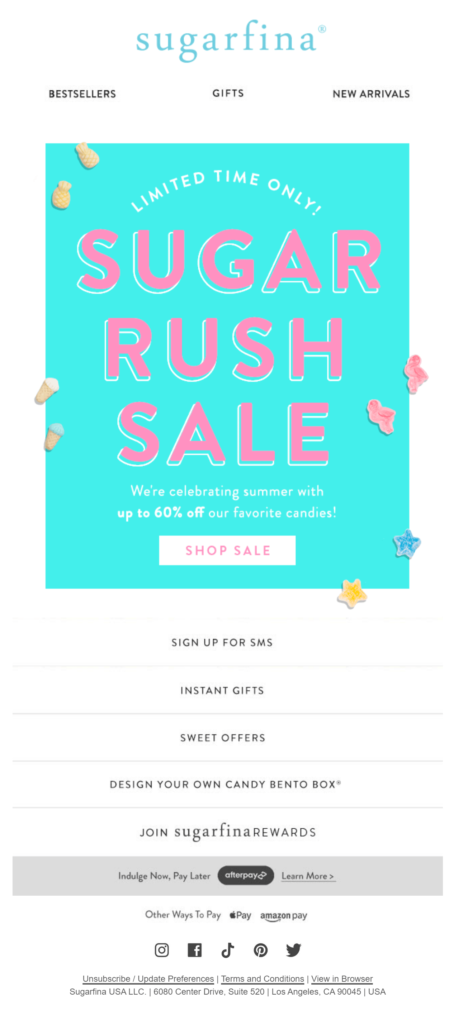 💧 The candy company launched its sale one day before the prime event with a message subject line that said, Shop 60% Off Our Sugar Rush Sale ☀️ – We're celebrating summer with up to 60% off our favorite candies!
💧 The event closed on July 13 with a "final hours" message saying, Sugar Rush Sale Final Hours – Don't miss out, It's almost over! Today is the last day to shop up to 60% off.
💧 In between, the brand maintained the sense of urgency while giving subscribers more reasons to click with a subject line and preview combo saying, "New Items Added: Up to 60% Off! – Going, going, gone! Don't miss out on the Sugar Rush Sale ✨🍾"
The last email in the Sugar Rush Sale sequence includes product images along with before and after pricing to show subscribers exactly what 60% means to their wallets.

A bottom panel goes for the upsell, offering free shipping on any order that contains Hollywood-themed, "Ready for the Red Carpet Bundle."
💡 Many DTC and indy brands that offer merchandise through their own websites, like Sugarfina, also sell on Amazon. This didn't stop them from offering directly competing promotions during Prime Days.
Weighing the pros and cons of each distribution and promotional channel is becoming increasingly complicated as consumers expect their favorite brands to be easy to find from anywhere.
Offering convenient cross-channel connections is essential to earn the loyalty of digitally native consumers.
A non-retail Prime Day promotion email example
Amazon sellers and other retailers weren't the only businesses vying for Prime Day shopping dollars, affiliate marketers, deal finder sites, and financial services businesses also paid attention to this consumer favorite.
📧 Capital One (What's in your wallet?) sent a July 10 Prime campaign nudging consumers to redeem their rewards for Prime Day deals.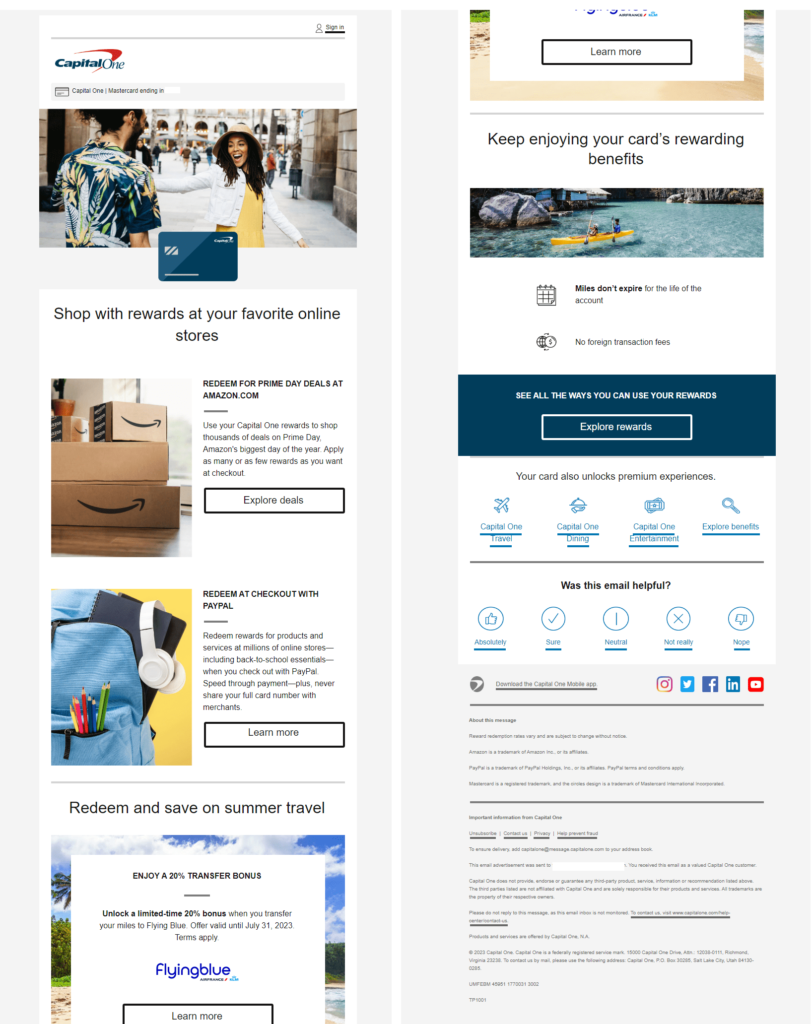 Cashing in rewards instead of purchasing on Prime Day may not seem like a win for Capital One.
But think about it.
What are the chances consumers visiting Amazon during Prime Day will limit their spending to the Capital One rewards' balance?
Among the 290 million interactions tracked through the Antavo network, rewards members redeeming partner offers spent 3.4x more on average than those never redeeming such offers.
If points shoppers don't put their additional purchases on their card, it's still a win as a loyalty-builder for the credit card company.
Capital One's rewards program is far-reaching so the financial company didn't feature only Amazon in this newsletter focused on summer rewards redemptions. However, it wouldn't make sense for a shopping rewards program to ignore this major retail event and Capital One didn't.
Look for ways to work a mention of Prime or other major sales events into your email messages, even if these events aren't your campaign's primary focus.
Examples of anti-Amazon email campaigns appearing before, during and after Prime Day
Opposition messaging was another Prime Day marketing strategy that caught our attention this year.
The Nugo Nutrition's "Better than Prime" campaign I shared earlier is an example of a counter-campaign that goes up against the market leader without apologies.
Here are some more.
📧 ThredUP uses prime buzz for its "don't buy there" email campaign.
ThredUP was another seller intent on beating Amazon to the customer. This sustainable fashion brand sent its first anti-prime message on July 8 and followed with four more messages that span before and through the event.
The full sequence is pictured below.

Just three out of the five emails in this campaign mention prime in the subject line or preview text. But all the emails in the series mention the clothing reseller and upcycler's 4% off prime-time sale in the body copy.
💧 The inbox copy for the first message announces the alternative sale and presents why subscribers should avoid it, saying, "It's Prime Time!!! Hurry, get 45% off – Ditch that other wasteful sale!"
💧 The next email in the series, pictured below, opts to catch eyes caps and an emoji in the subject line and preview text, "✅WINNER WINNER, open this PRIME Sale – Yes to PRIME Time Sale, no to that other one."


What's with that "winner winner" language in the subject line?
The email's message explains that "A sale that's good for your wallet and the earth" is a win-win.
💧 The subject line and preview text for the emails sent on July 10 and 11 focus on value rather than values, saying, "Hurry, don't 😴on under $10 deals… – Save on new summer arrivals!" and "Get $5 credit for doing THIS… – Favorite and reap the rewards."
In a tactical move, the "favorite" email draws traffic to the store and gains zero-party data about subscribers during Prime Day by offering them a "today only" chance to get $5 credit if they visit the site and select items for their wishlist.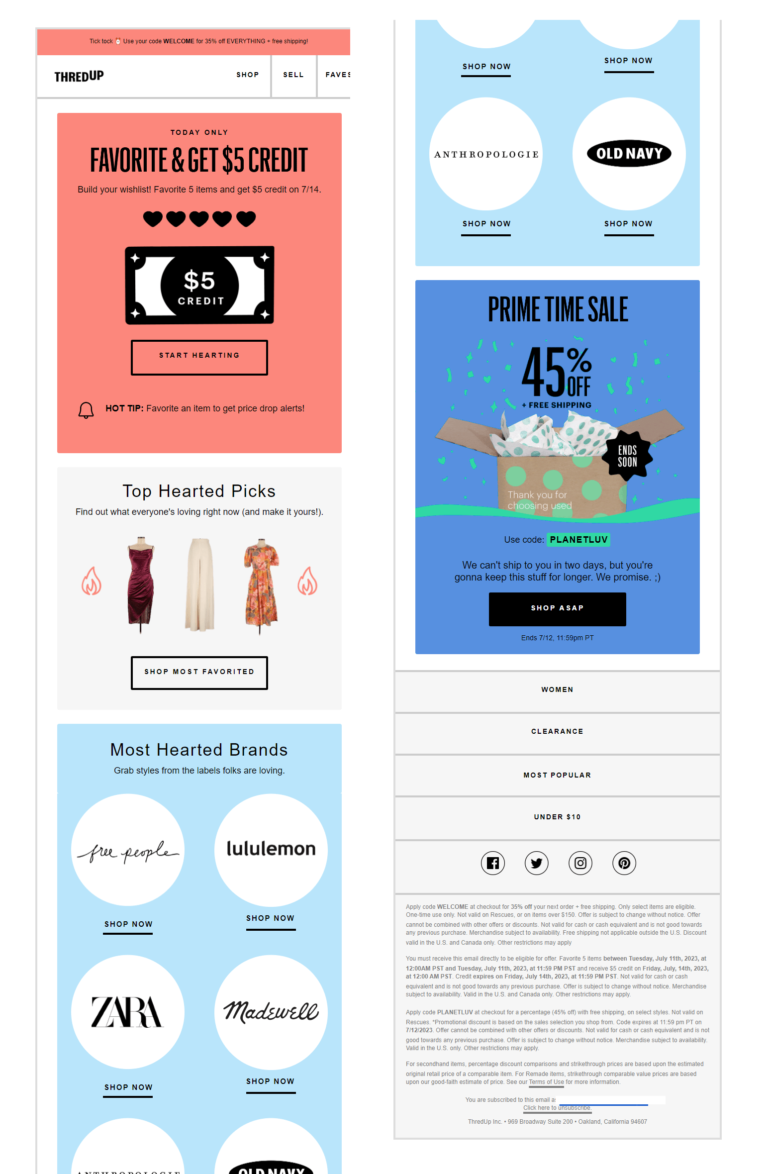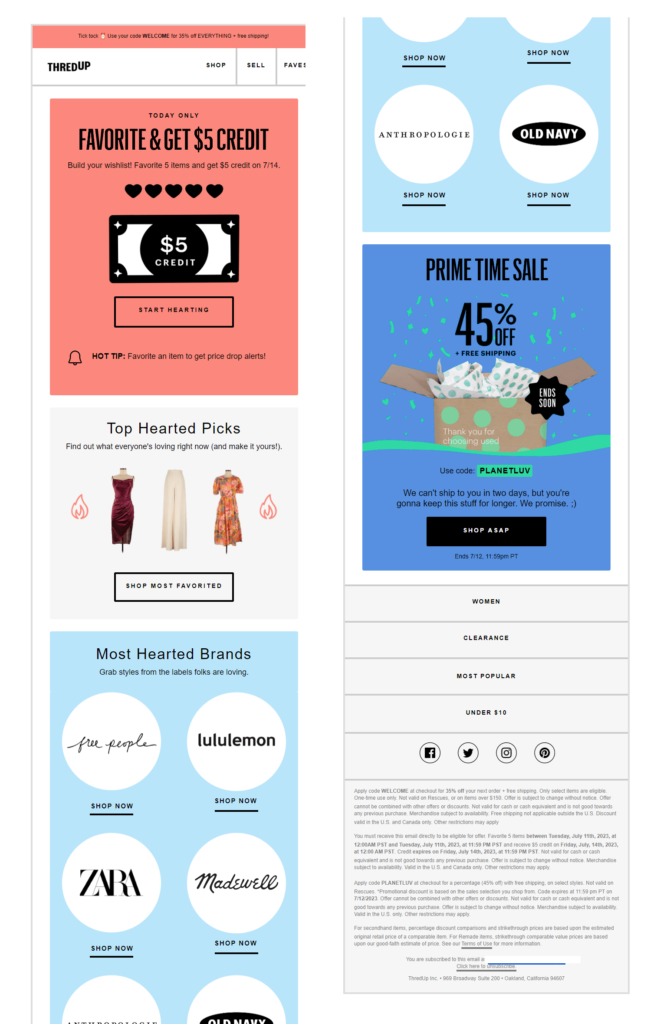 The email from ThredUP pictured above gets a lot right.
✔ The top banner explains what favoriting is about and how subscribers can get their $5 credit (and it's an animated GIF–the hearts move).
✔ The CTA copy "start hearting," is unique and themed.
✔ Copy that says, "Hot tip: Favorite an item to get price drop alerts!" works like a P.S. giving subscribers another reason to participate.
✔ The design and copy of the next sections work together to convey a sense of community and induce confidence. A "Top Hearted Picks" panel features product images and a "Most Hearted Brands" section displays several well-known brand names.
✔ Each link in these sections takes shoppers straight to the appropriate product page.
But wait, there's more.
This email arrived while ThredUP's Prime Time Sale was underway. So another panel includes the sale banner (complete with lightly animated confetti).
ThredUp's copy team did an excellent job of staying on message with that discount code, "Planetluv," btw. When your readers are scanning, your CTA button copy and headers have extra impact–phrase them wisely.
👀 Find a bushel of conversion boosting CTA tips in Email Call-To-Action Examples: A Guide to the Click Now.
Speaking of on-message copy, the message on the box in the prime time sale banner says, "Thank you for choosing used."
ThredUp also discloses its weakness, above the "Shop ASAP" CTA button the brand writes, "We can't ship to you in two days, but you're gonna keep this stuff for longer. We promise. ;)"
💧ThredUP's anti-Prime Day email campaign closes with a message heralded by the subject line and preview combo "LAST CALL: 45% off + free shipping – The Prime Time Sale ends tonight!!!"
This message ran on the second day of Prime Day 2023 and doesn't mention wastefulness or skipping that other sale, again focusing on saving money.
However, the team made a minor tweak to the sales banner copy. Instead of mentioning shipping time, this one says, "The deals you love minus the guilt. It's easy math–only hours left!"
The final message also replaces the recommendations and links to brand pages featured in other emails in this series with a back-to-school banner.
Perfect timing and a smooth way to transition subscribers out of prime mode and onto thinking about the next big sales event.

"Fast fashion is OUT, thrift is IN. Our fave influencers are choosing used for back to school, go shop their picks."
Damn, ThredUP! Settin' the pace. 💪
I have one more anti-prime, conscious-consumer targeting set to share with you before I move on.
📧 Made Trade sends small messages to make a big impact during July's prime season.
Made Trade offers subscribers a means to purchase goods online from small businesses around the world. The brand wasn't afraid to take on a giant to make the case for the little guy in its anti-prime email campaign.
💧 Made Trade's first volley was short and sharp. An email sent on July 10 bore the subject line, "Prime Day Who?"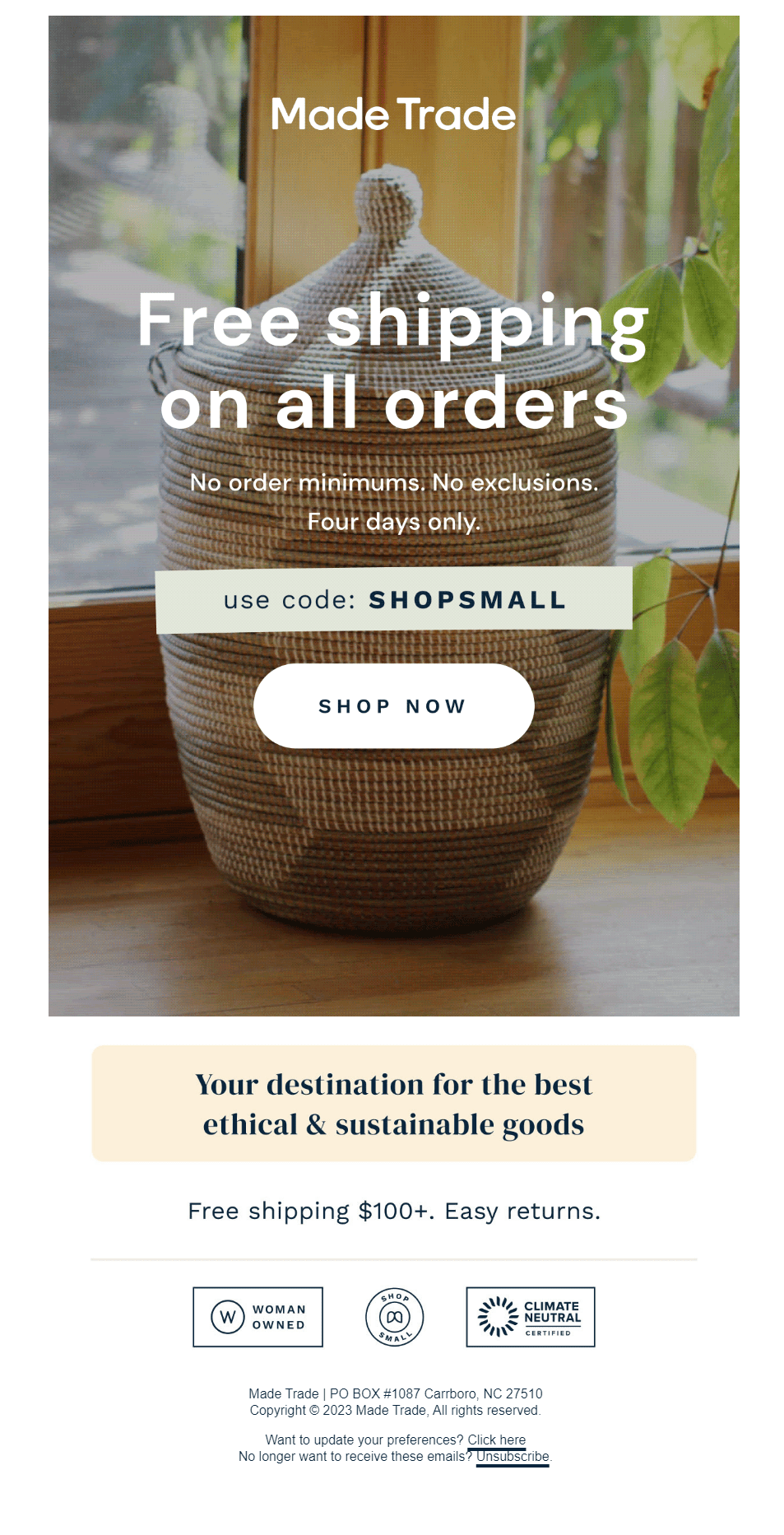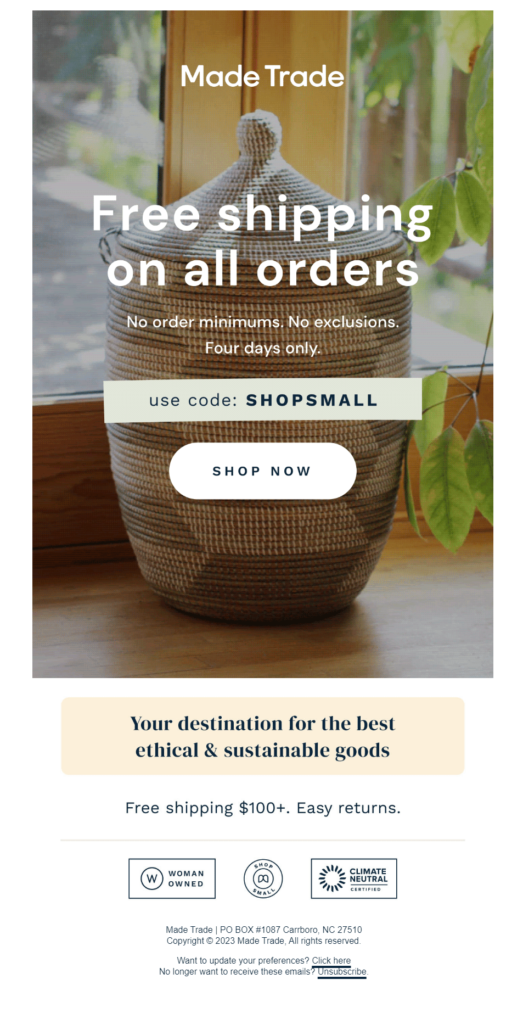 The email's body is similarly concise (or smol, if you prefer).
A single animated GIF illustrates a variety of potential purchases and presents the brand's offer: "Free shipping on all orders."
The subtext adds the details, "No order minimums. No exclusions. Four days only."
Not wasting an opportunity, Made Trade uses its discount code (shopsmall) to reinforce its message.
This email closes with a collection of values and benefits signals including a values-themed tagline "your destination for the best ethical & sustainable goods."
💧 Next up in the Made Trade campaign, a July 10 email with the subject line, "Better than Prime Day."
This HTML message includes colored panels, varying fonts, and graphics, but no product images (or animated GIFs). The hero message is again, "free shipping on all orders."
Copy that says, "The big guys don't need to get bigger. Shop small and sustainably with us…" complements the header.
The second panel features a "climate neutral certified" badge and explains that the brand's shipping is "100% climate neutral" drawing consumers' attention to this differentiator.
💧 Series message number 3, sent on July 11, narrows its appeal to a single product category, announcing in the subject line that "small batch linen is now on sale."
At this point, Made Trade is competing directly against Prime Day promotions. The alternative brand ups its game by offering shoppers 10% off plus free shipping on all orders.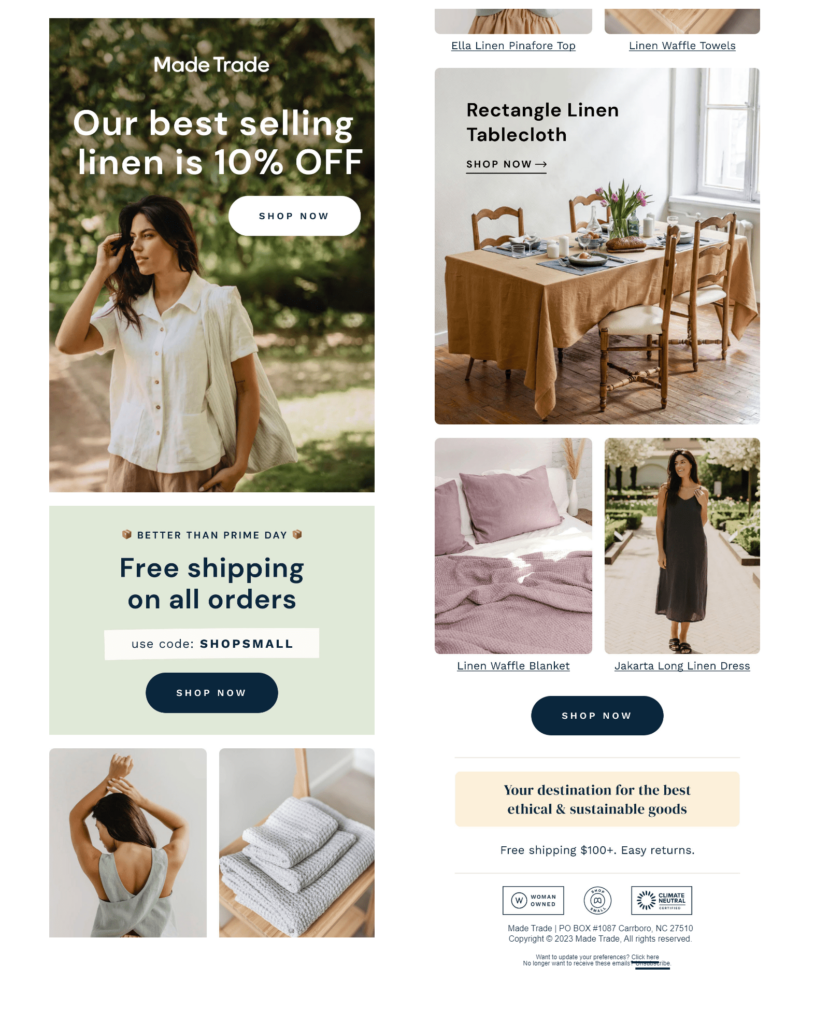 Wait, do Made Trade subscribers understand why shopping small matters?
The next email in the series sent on July 12 takes care of that.
💧 "Shopping Small > Prime Day" is the subject line for this message which steps away from the promotional tone of the previous emails in the flow.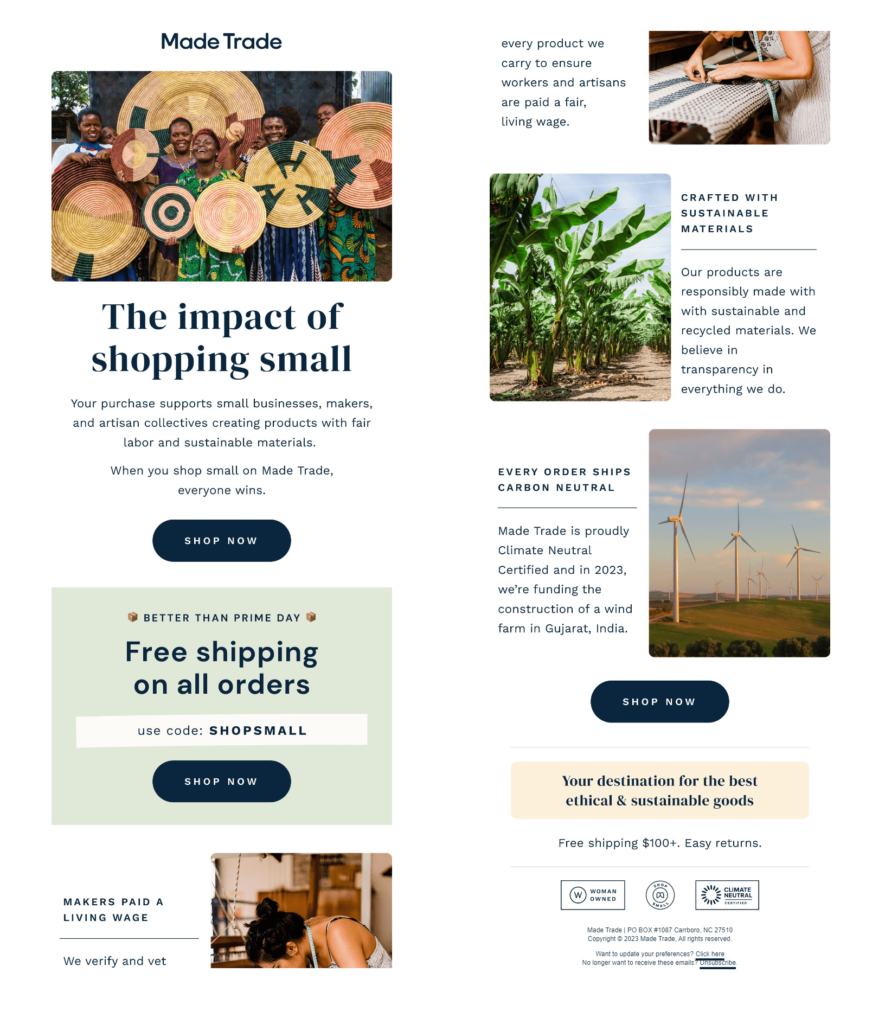 Opening with an animated GIF showing the craftspeople behind the small businesses Made Trade supports, this email explains "the impact of shopping small."
The email still includes details of the sales offers and several "Shop Now" CTAs, but it is primarily informational.
After a brief introduction, the copy describes how Made Trade pays makers a living wage to craft goods using sustainable materials and ships them carbon neutral.
Using attraction marketing methods to communicate with your audience, such as sharing information about your values or broader issues, gives them reasons to pay attention to your brand even when they aren't ready to buy immediately.
The last email in the counter-prime set keeps it short and simple again.
The free shipping banner dominates with new copy saying, "Today is the last day to get free shipping on all orders…" and "⏰ Ends at midnight ⏰."
Prime Day email campaigns that showed subscribers some appreciation
Exclusive Prime Deals can make Prime members feel special. You can compete with that by giving your VIP some TLC.
Remind your subscribers of what they mean to you and draw them away from the competition by promoting your loyalty or membership perks with a well-timed email campaign, like Lego did on day 1 of Prime Day 2023.
📧Lego announced its VIP Days event on July 11 with an email subject line and preview text combo that said, "VIP means VIP 😎 – VIP Days are here! 7/11-7/15."


Above the hero image in the message (displayed above), was a small banner promising free delivery for orders over $35. The main header welcomed subscribers to "VIP Days," described as "5 days of member gifts, offers and more."
Members could get double reward points on select purchases and freebies with minimum purchase amounts.
(😳As a member of the procrastinator segment, I totally missed out on this event! Nobody tell my kids, okay?)
This email displays images of some of the "most popular LEGO sets" on sale–a little product recommendation assistance for gift shoppers unsure of what to buy, before ending with a navigation panel and social media icons.
📧 Fashion brand David Jones promotes exclusivity and the benefits of membership in a campaign sent just before the opening of Prime Day 2023.
Reports indicate that a significant percentage of Prime Day shoppers knew what they wanted and were just waiting for the deals to start for this year's summer Prime event.
Apparel and accessory company David Jones aimed to capture some of these shoppers by sending subscribers exclusive membership savings on July 10.
The subject line and preview text set the tone, "Member Exclusive | 20% Off Jeans & Boots – Stock up on your favorite winter wardrobe essentials."
Pictured below is an image of the single email David Jones sent.
I've presented it in triplicate because the message incorporated an animated GIF that rotated between three sophisticated, aspiration-inducing images of people modeling the retailer's goods.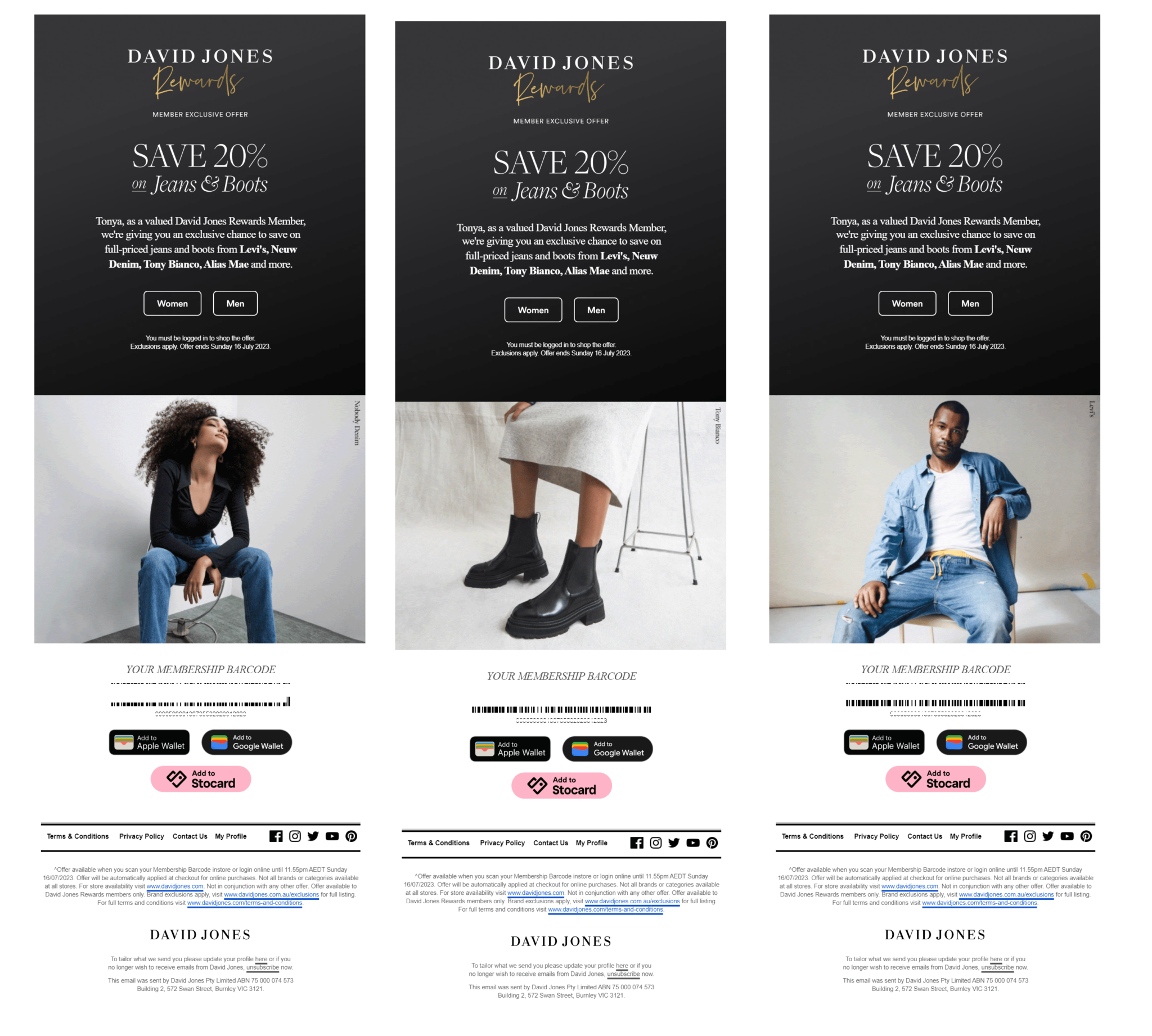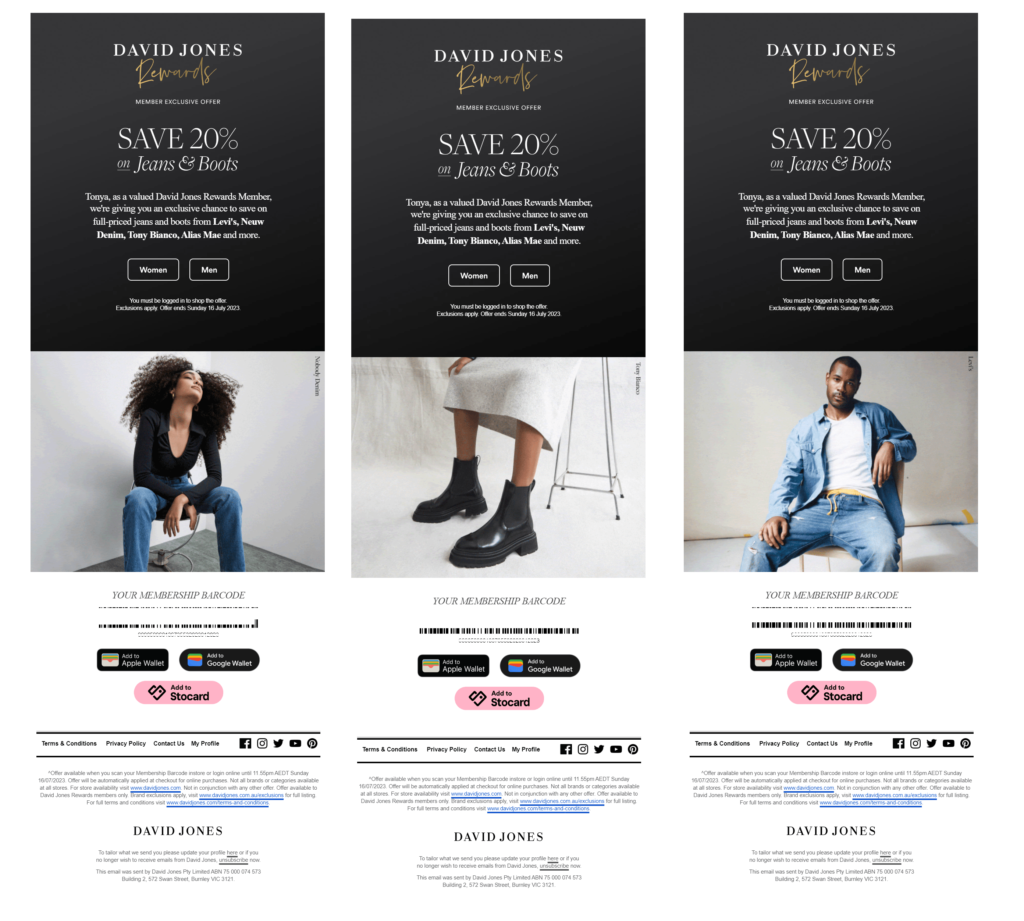 While the timing indicates the marketing team's awareness of Prime Day, David Jones makes no mention of the event in the email.
Instead, the focus is on the products and the privileges of membership.
The email names the recipient and includes their membership code along with a message that they must be logged in to take advantage of this offer (another exclusivity signal).
Demonstrating how to deliver CX excellence with personalization in emails, subscribers can click through a link to add their loyalty card to their digital wallets directly from the message.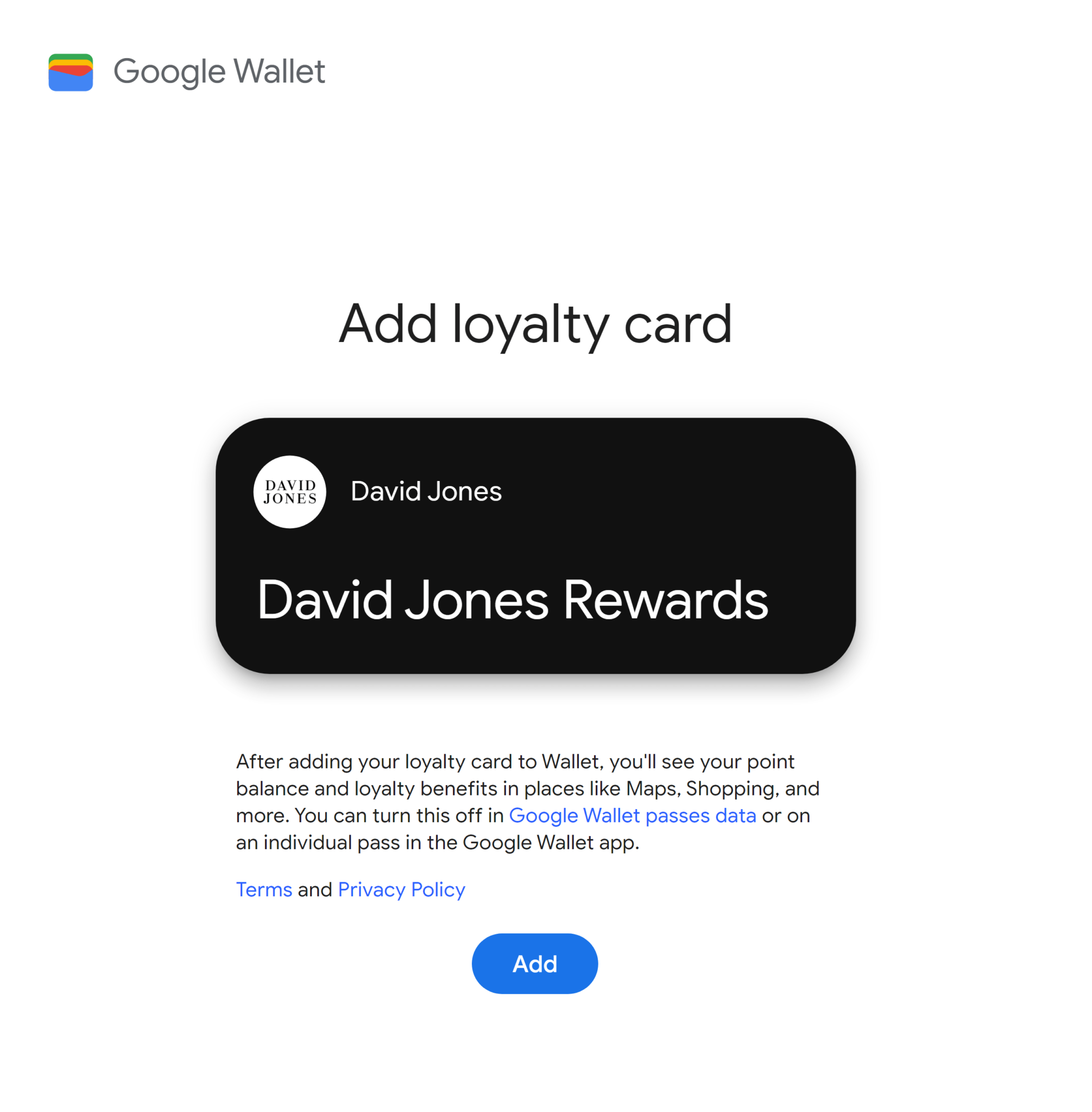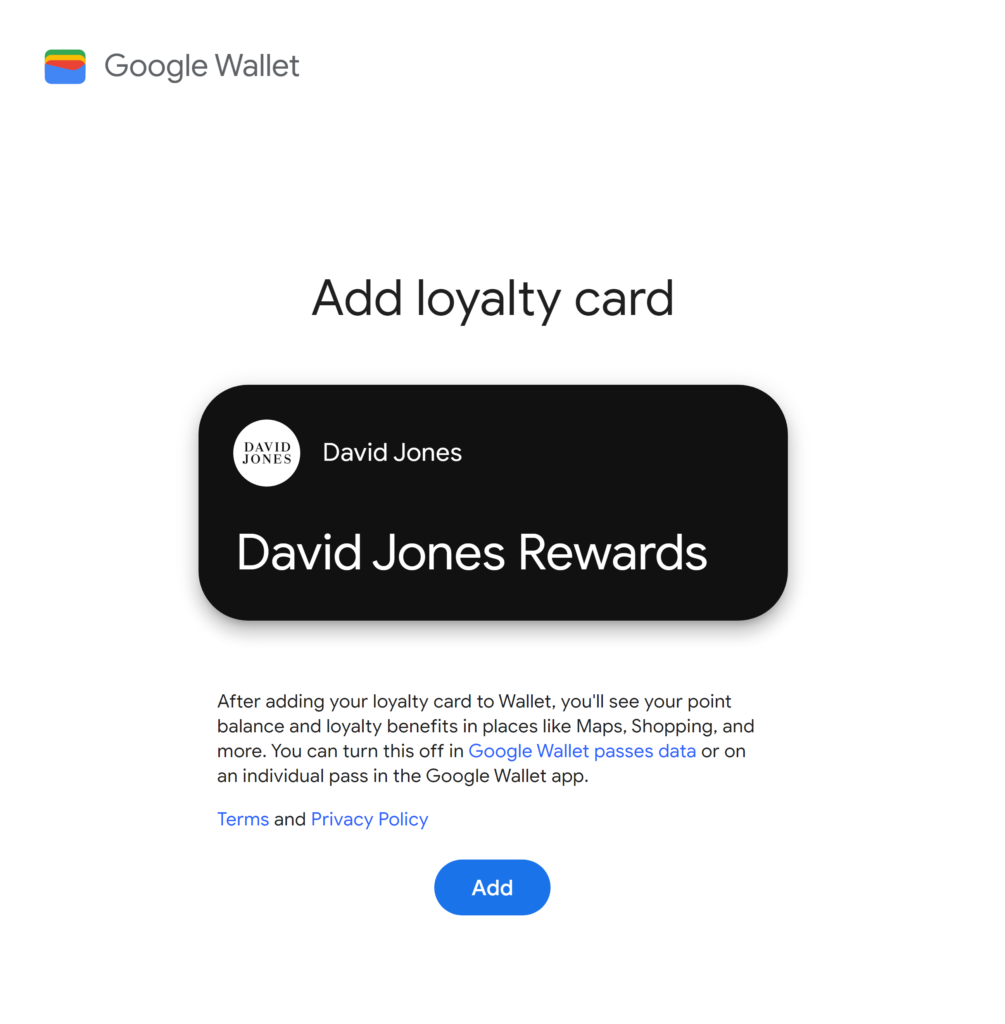 Easy peasy, lemon squeezy. 🍋
And now, examples of emails that pick up where Prime Day leaves off–the extended sale
A simple way to earn the loyalty and spending of your busy, distracted or procrastinating subscribers is by solving their "missed out" problem.
Here are some brands that decided to keep the good deals coming after Prime Day officially ended.
These first two email examples arrived immediately after Prime Day, on July 13.
📧 BloomsyBox tells subscribers it isn't over.
Using the subject line and preview text, "10% off! 😍 Explore Our Top Sellers now – Amazing Products Even After Prime Day!" novelty florist BloomsyBox invites subscribers to keep shopping and save.
The overarching theme of the post-event email is one of reassurance: You didn't miss out. It's okay to spend. You'll like the product.


Inside the email, the floral brand writes, "Prime Day may be over, but that doesn't mean you can't still find amazing products at discounted prices in our top-seller collection."
This messaging offers consolation to those feeling FOMO, and adds a touch of social proof by promoting "top-seller" merchandise.
The email then encourages subscribers to indulge, saying, "You don't have to wait for a special occasion to treat yourself or find the perfect gift…"
Messages of self-care and permission to indulge are common appearances during seasonal sales events when shoppers may be prioritizing gift-giving. We spotted similar sentiments in Valentine's and Anti-Valentine's Day campaigns.
Shop-for-yourself campaigns can increase basket sizes and appeal to those who aren't looking for gift ideas.
Displaying images of the product with prices as BloomsyBox did in this email example helps subscribers evaluate whether they really can afford to indulge before they click through and prevents disappointment.
It happens, even during Prime events.
One out of 5 Prime Day shoppers reported being disappointed with this year's deals, according to a Digital Commerce 360 survey.
Just in case you were wondering, BloomsyBox also participated in Prime day with a two-day message set.
💧 The first email, sent on July 11 presented an "Exclusive Prime day Offer 😍 💐 – $10 Off Selected Products!"
Inside the email said, "We may not be Amazon, but we believe Prime Day should be celebrated like a holiday – with discounts EVERYWHERE!" (Loads of animated GIFs featuring pretty flowers in this one.)
💧 The second during prime season message arrived on July 12 and employed the subject line, "Fresh News in the BloomsyBox Newsletter – Prime Day Savings! 😱"
BloomsyBox punctuated this message with a last chance countdown timer and an animated hero GIF displaying its colorful floral arrangements. It's easy to customize timers and get the HTML code to add them to your email messages using services such as PromoFeatures or NiftyImages.
📧 Wonderbelly cleverly inserts itself into the Prime Day shopping conversation.
Offering real relief from the angst of shopping, medicinal brand Wonderbelly sent an after-event email with an inbox copy saying, "Your Post-Prime Day Heartburn Relief – Get 10% Wonderbelly Products."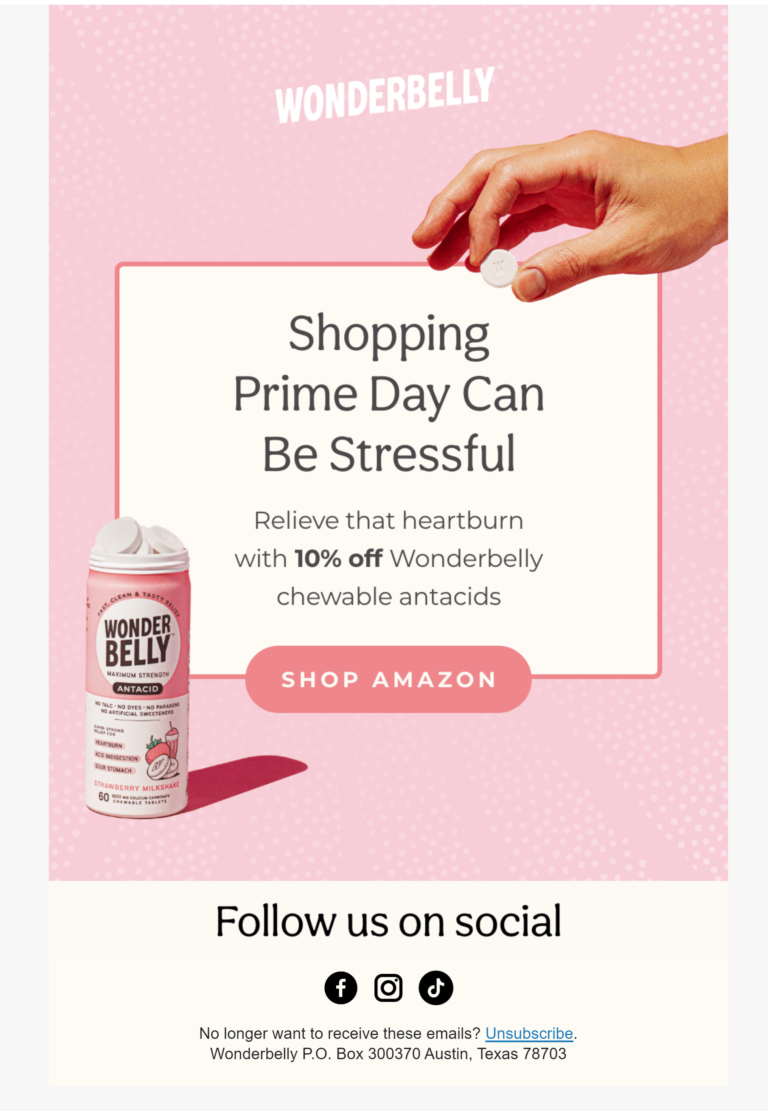 This email's copy and design is charmingly simple and to the point.
Images of the product are incorporated into a frame surrounding copy that says, "Shopping Prime Day Can Be Stressful. Relieve that heartburn with 10% off Wonderbelly chewable antacids."
The independent brand's messaging isn't anti-Amazon, though. The CTA directs subscribers to Wonderbelly's Amazon store.
Wonderbelly is a newish brand trying to carve out its niche which explains the large "Follow us on social" subheading (and icons) finishing off this email.
📧 ModCloth keeps the party going after the two-day prime event.
Apparel and fashion seller ModCloth's email marketing is sales-driven. Most of their subject lines reference the latest deals and promotional offers.
The brand acknowledged Prime Day with a "Prime" drop in their subject line on day 1 of the event.
💧 The email subject line and preview text for the brand's July 11 promo read, "50% Off Your Fave Boots! – Prime yourself for this two-day sale."
💧 Midway through the event, a second email invested subscribers to "Seize the Size: ALL Under $50! – Shop our So Long Sale now before your size sells out."
💧 A third email with the inbox copy, "Final Countdown: 50% Off Your Fave Boots – Every second counts – You have until midnight!" closed out ModCloth's Prime Day messaging.
ModCloth didn't stray from its regularly scheduled content inside these emails.
There's no mention of Prime Day, just a presentation of the brand's current promotions and a prominent reference to its loyalty program.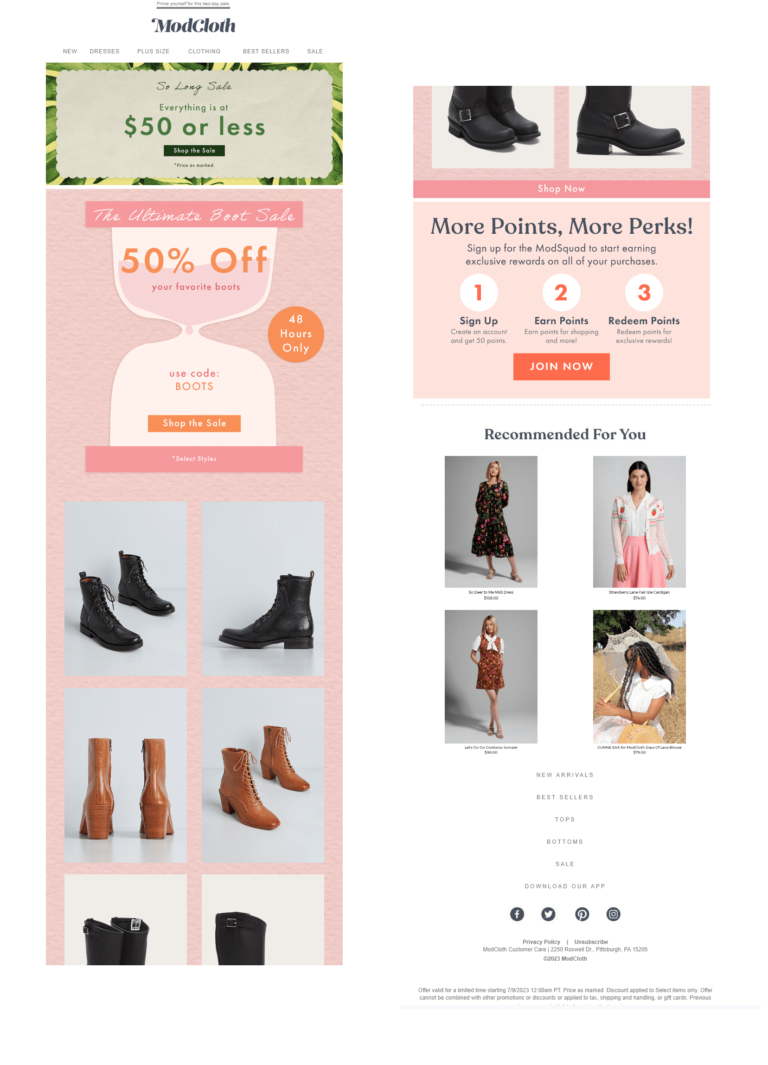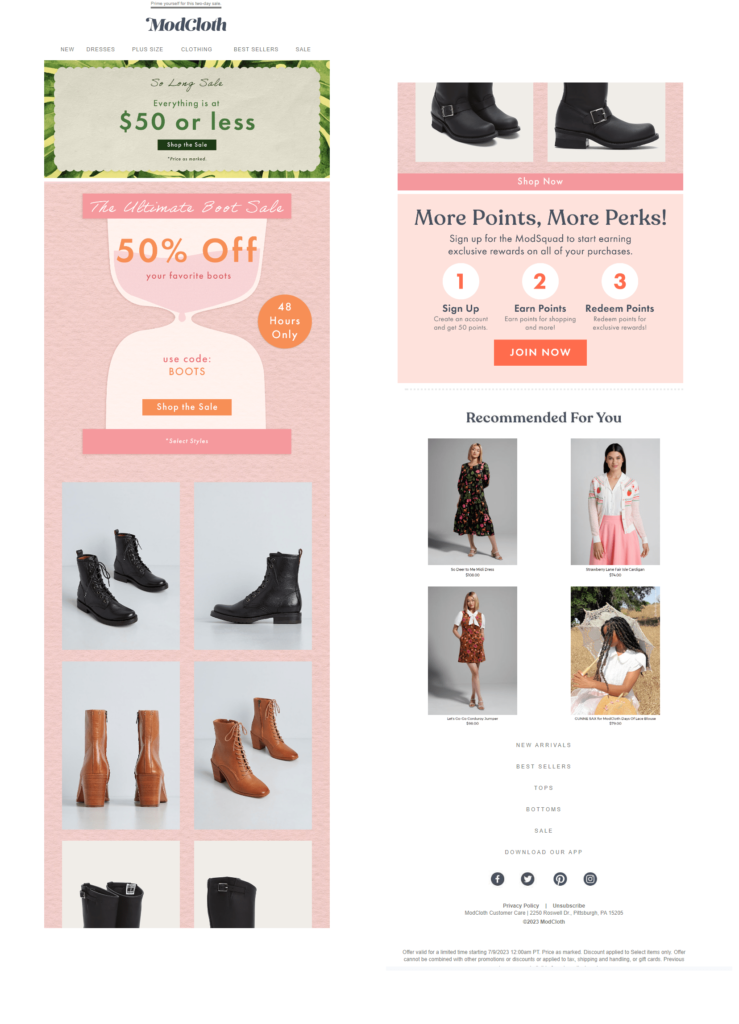 Nonetheless, this email ticks a lot of the right boxes for a sales promotion.
✔ The top panel appeals to price-conscious consumers, informing them that many items are available for $50 or less.
✔ The next section highlights the feature sales event "The Ultimate Boot Sale." This segment includes an animated hourglass GIF, the code to get the deal (BOOTS), and informs subscribers that they only have 48 hours left to shop.
✔ After the promotional copy and imagery, the email shows subscribers what they'll find if they click through with a selection of product images–first the boots and then apparel selections under a "Recommended For You" heading.
✔ In between these product images is a banner explaining the "More Points, More Perks!" ModSquad reward program and encouraging subscribers to "join now."
I mentioned keeping the party going, though. Here's how ModCloth does it.
Throughout July, ModCloth maintained the momentum with emails featuring 50% off sales for various product categories, $50 close-out deals, and 35% off new arrivals.
Along the way, the brand celebrated its birthday with a limited-time sale, offered some sustainable clothing options, launched its back-to-school campaign, and sponsored a find-and-seek promotion.
A 5-part series sent on July 20 through 22 appealed to impulse shoppers who enjoy the adventure of consumerism.
This gamified campaign began with an invitation to "Find Daisy the Dino for a Special Surprise 🦖 – Our Seek & Find event starts now!" and ended with a last-chance warning, "Discover Our Hidden Dino Before Midnight! – Don't miss the final opportunity to claim your reward."


Daisy the Dino is an animated GIF in this series. In some of the messages, Daisy bounces and in others, they blink their eyes. Final sales emails add flashing words to amp up the urgency.
📧 e.l.f. Cosmetics creates its own timeline with a prime sales event of its own.
Community-focused beauty brand e.l.f. (every "eye, lip and face") Cosmetics chose to go its own way, launching a sale on July 26.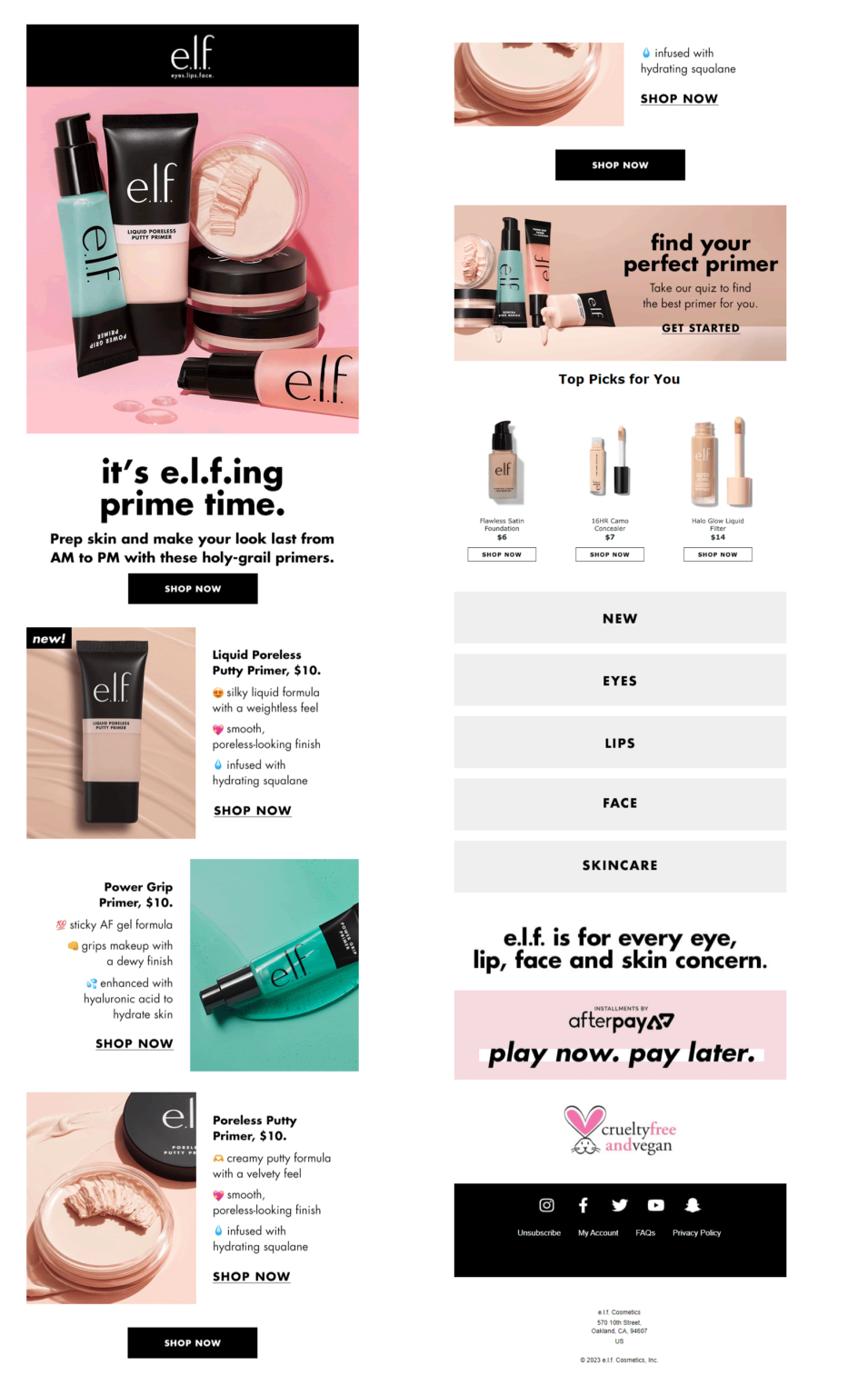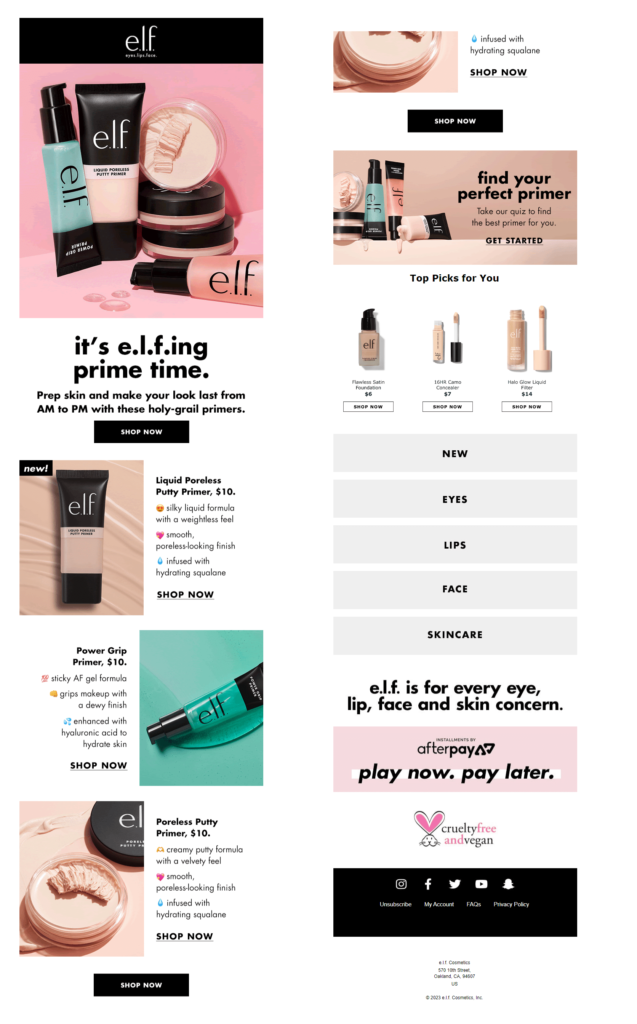 The email promotion's subject line and preview text boldly declares, "It's e.l.f.ing Prime time ⏰ – Discover the secret to makeup that lasts."
The email's header repeats this message under a high-quality hero image displaying several e.l.f. products.
More products are on display throughout the email message, each accompanied by an emoji-accented list of benefits and the product's price.
Separate "Shop Now" CTAs for each product take subscribers directly to the appropriate product page–no friction here!
The email closes with category level navigation buttons, the brand's values-based tagline, plus panels introducing a "play now, pay later" feature and noting that the cosmetics are cruelty-free and vegan.
Sale or no sale, making sure your subscribers know what your brand stands for and the extra values it offers is good for business.
Prepare to serve up sweet sales event email campaigns all year round with these fresh picked strategies
All right! You made it to the end.
You deserve a drink! ✨
Grab yourself a cool glass of fresh lemonade as you contemplate just which one of these real email inspired methods you'll implement first to delight your subscribers and take down the competition during the next seasonal sales event.
In the mood for some humor? Check out 50 Funny Email Subject Lines That Demonstrate How to Use Humor to Earn Opens. We share examples for (almost) every email marketing occasion in this ode to amusement.