All good things must come to an end. But convincing your subscribers of that isn't always easy. Last chance emails are your opportunity to add a little urgency to your audience's decision-making and earn your brand more sales. Discover the tactics that motivate people to act and make last chance email effective. Plus, explore real-world examples of last chance emails that do it right.
Are you a procrastinator?
About 20% of adults are, according to researcher Dr. Joseph Ferrari.
Dr. Ferrari isn't talking about your usual 'putting things off now and then' delays, though. He estimates that for 20% of the adult population, putting things off until the last minute is a way of life.
If Dr. Ferrari's estimate is correct, one out of every five of your customers may wait until the last minute to complete their purchases.
It's worse than that, though.
We all sometimes procrastinate, so the number of potential customers who aren't converting because of procrastination could be even higher.
Add in all the other reasons people have to delay a purchase and that's a lot of conversions your brand could be missing out on.
What are you gonna do about it?
There are lots of ways to help people overcome procrastination.
In fact, helping people stop procrastinating is an entire industry. But let's start smaller, with something simple like last chance emails.
❕ Looking for inspiration for other forms of emails? Our newsletter examples article has a host of them!
Regardless of why they are putting off their purchases, last chance messages are your opening to give subscribers that little nudge they need to stop delaying and click "buy now."
Sent via individually triggered or bulk email campaigns, last chance messages are a valuable lever for moving conversions.
How can you build last chance emails that convince your subscribers to act?
I'll share my best tips plus examples of some impressive last chance emails the Ongage Team uncovered in their inboxes in this article.
Well, what are you waiting for? Let's go!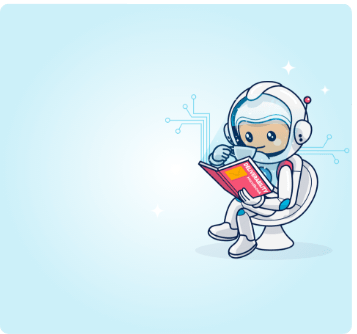 The complete
deliverability
handbook
Read the most significant, most organized volume of information written about email deliverability.
What is a last chance email?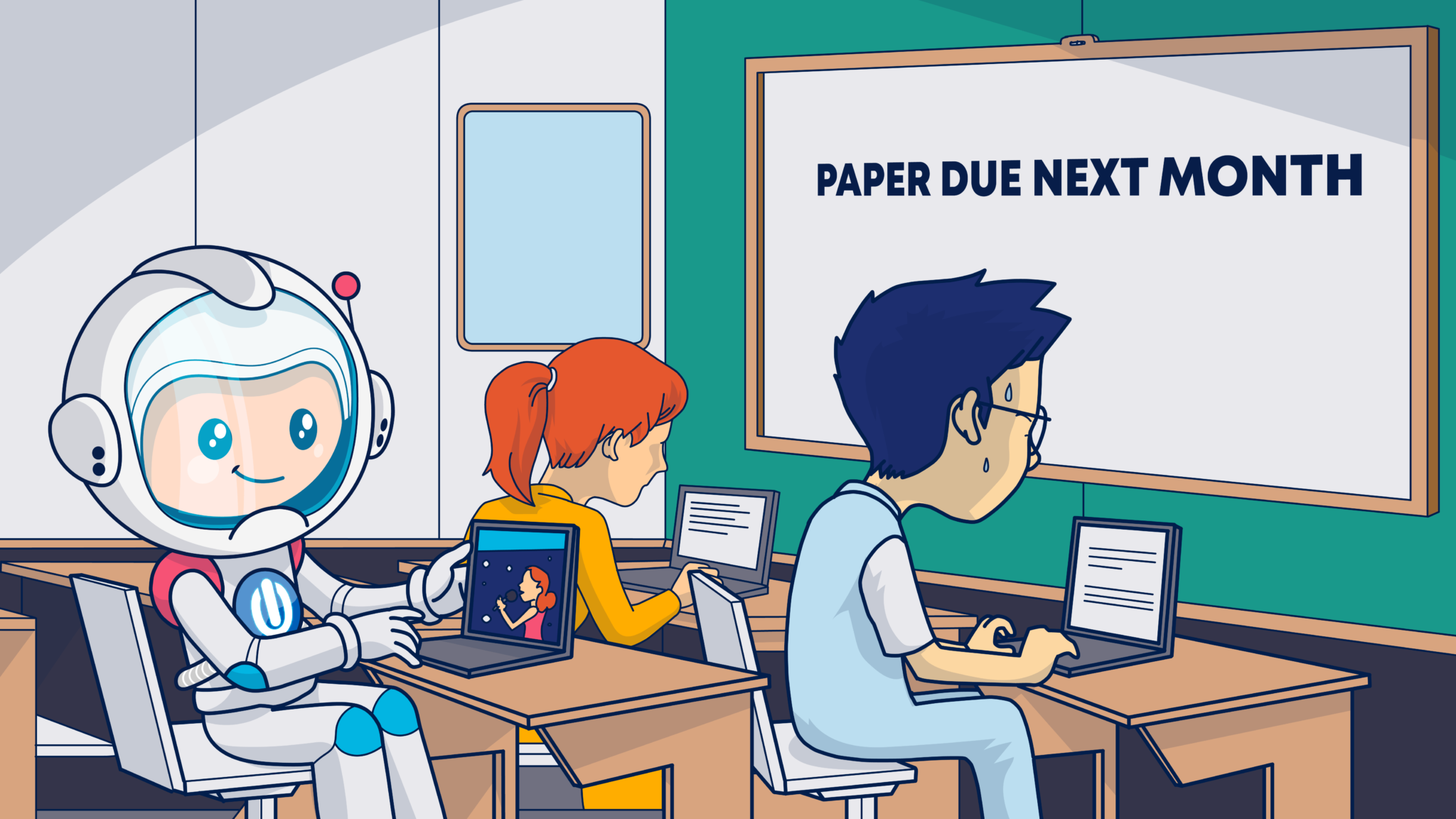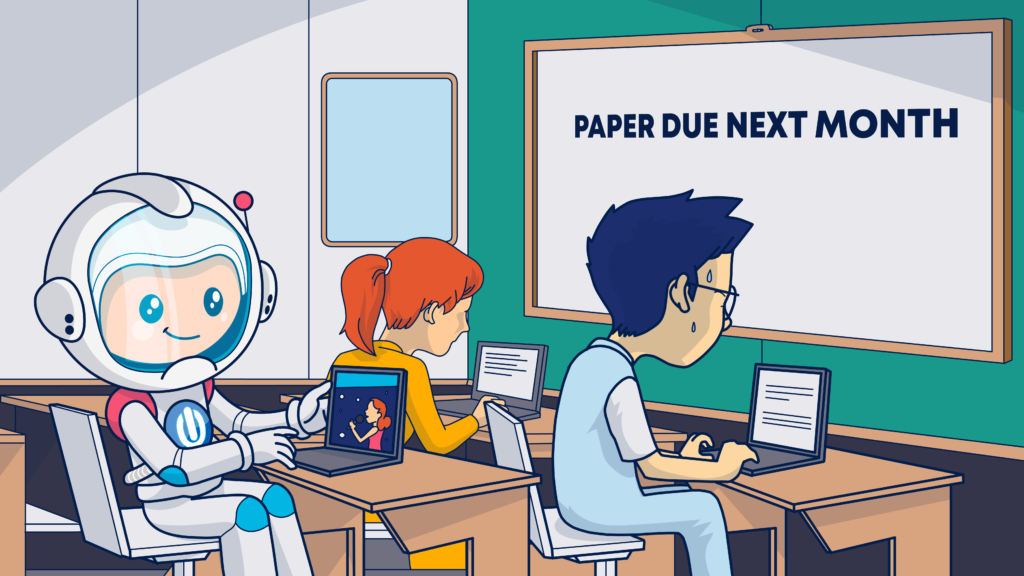 Last chance emails are messages brands send to alert subscribers that time is running out for them to take some action.
These sorts of emails may alert your audience when a sale is almost over, registration for an event is closing, or their coupon code is about to expire.
As a persuasive device, last chance emails stimulate recipients' fear of missing out (FOMO) or other negative consequences from inaction.
As a communication tool, last chance emails can help your subscribers avoid missing out and replace FOMO and fear of other consequences with positive feelings of acquisition and achievement.
When your last chance email leads someone to get a product or service they want for a great deal–that's a win for both of you.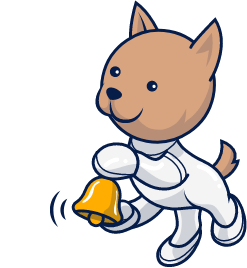 Stay on top of everything that matters in email marketing
Stay on top of everything that matters in email marketing
What is FOMO and how to use it in last chance emails?
Stimulating FOMO or fear of missing out is central to most last chance marketing tactics.
FOMO is the feeling people get when they realize they might not be able to do something because they don't have time or opportunity.
This feeling can crop up when we miss the chance to purchase a ticket to an event or the sweater we had our eye on sells out before we buy one for ourselves.
Bummer. 😕
Urgency, scarcity, or a combination of both may trigger FOMO. Sometimes, envy or a desire to belong can develop into FOMO. An unrequited desire to achieve something can drive feelings of FOMO, too.
Even though FOMO makes people feel bad, in the battle against procrastination FOMO and other negative emotions are your allies. Inciting feelings of FOMO, then offering a solution is one reason last chance emails work so well.
It's not all stick though. Carrot emotions such as success, belonging and gain can move people to act, too.
Effective last chance emails don't just introduce FOMO. They also offer a solution and show subscribers how they'll benefit from taking advantage of that solution. (What's in it for them?)
💡 Marketers use last chance messages on Valentine's Day emails and other gift-related seasonal marketing campaigns to urge subscribers to shop early and rescue those who didn't.
''Last day to order in time for delivery messages' encourage fast action. 'Last minute to save yourself' messages encourage the purchase of e-gift cards and other gifts, such as subscriptions that come with an instantly available digital component.
The Email Marketing Activity Book for Kids
Enjoy engaging brain teasers, colorful illustrations, and playful games with your loved ones.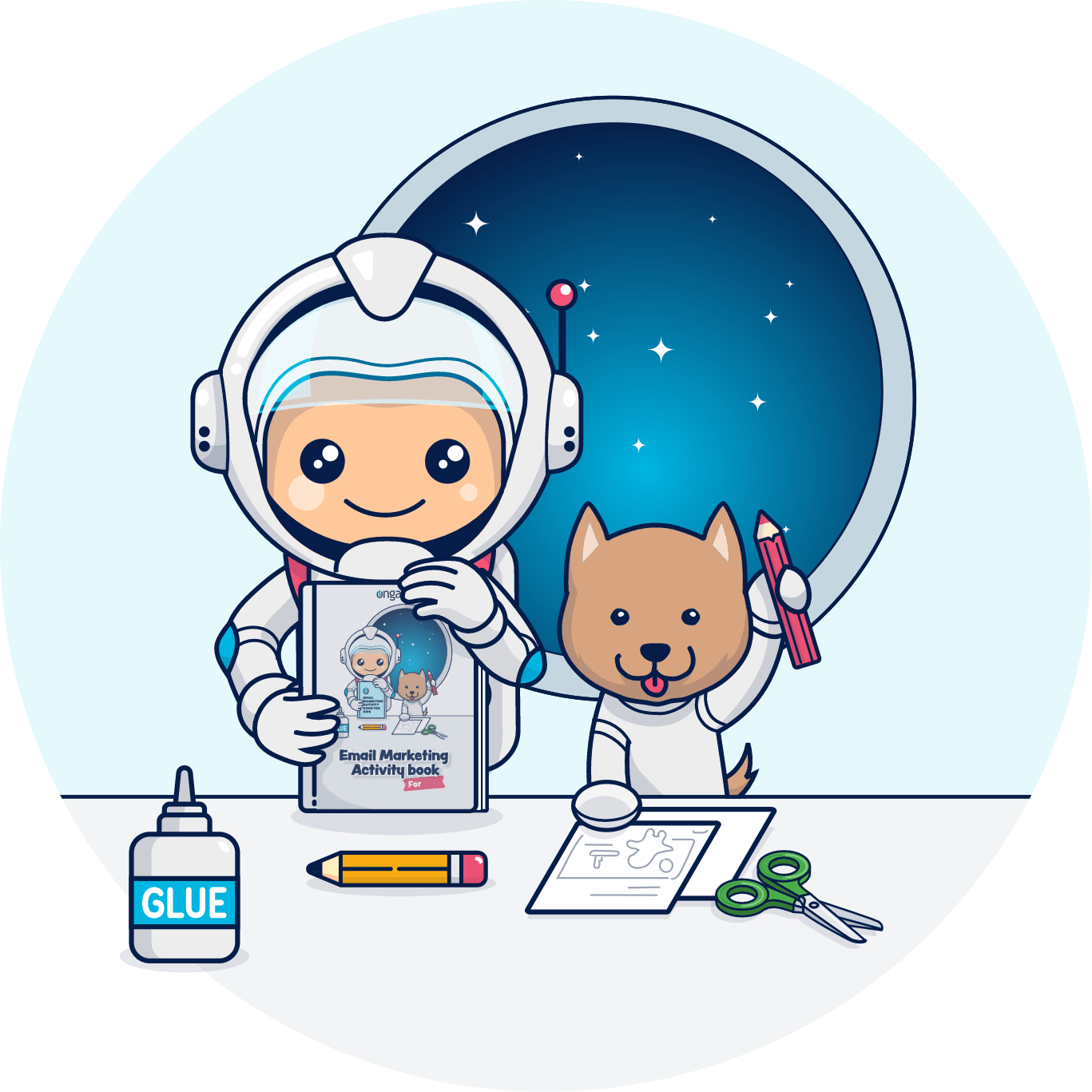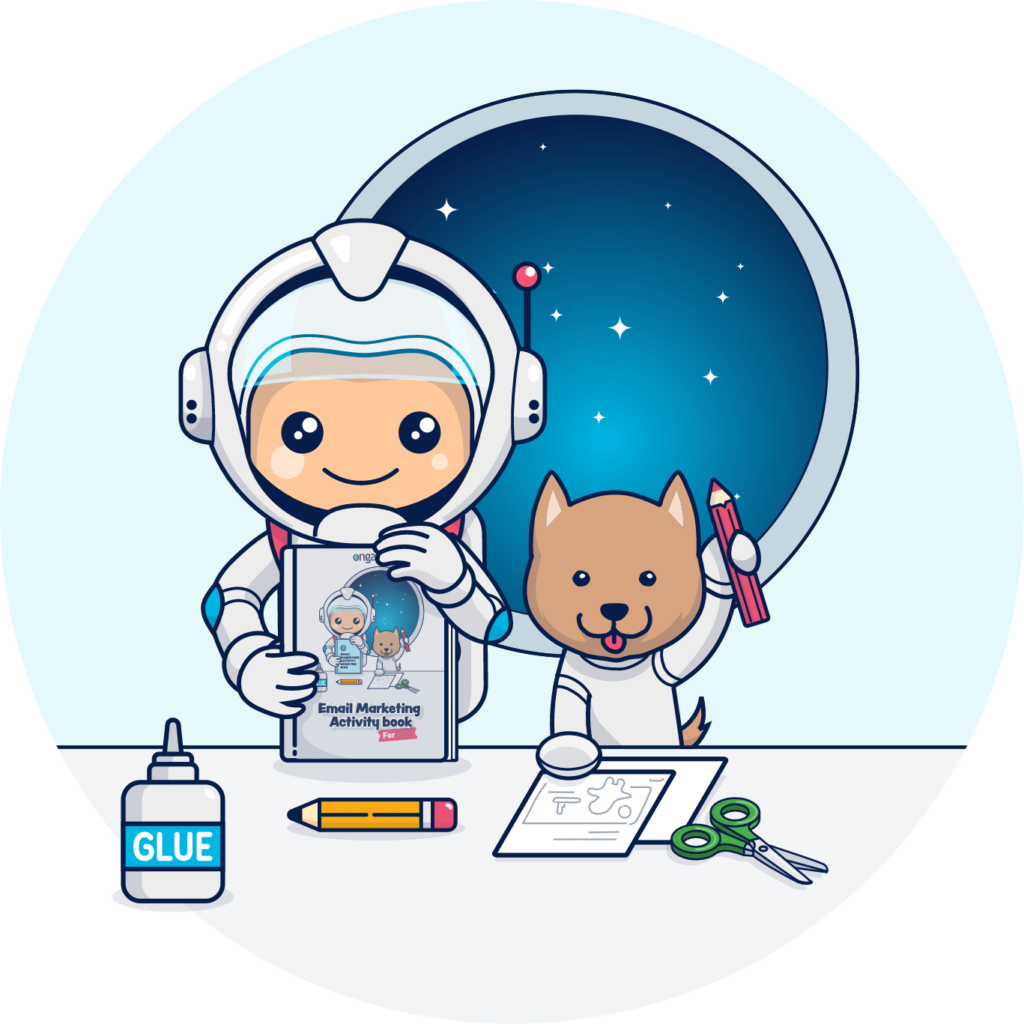 Last chance emails use consequences to inspire action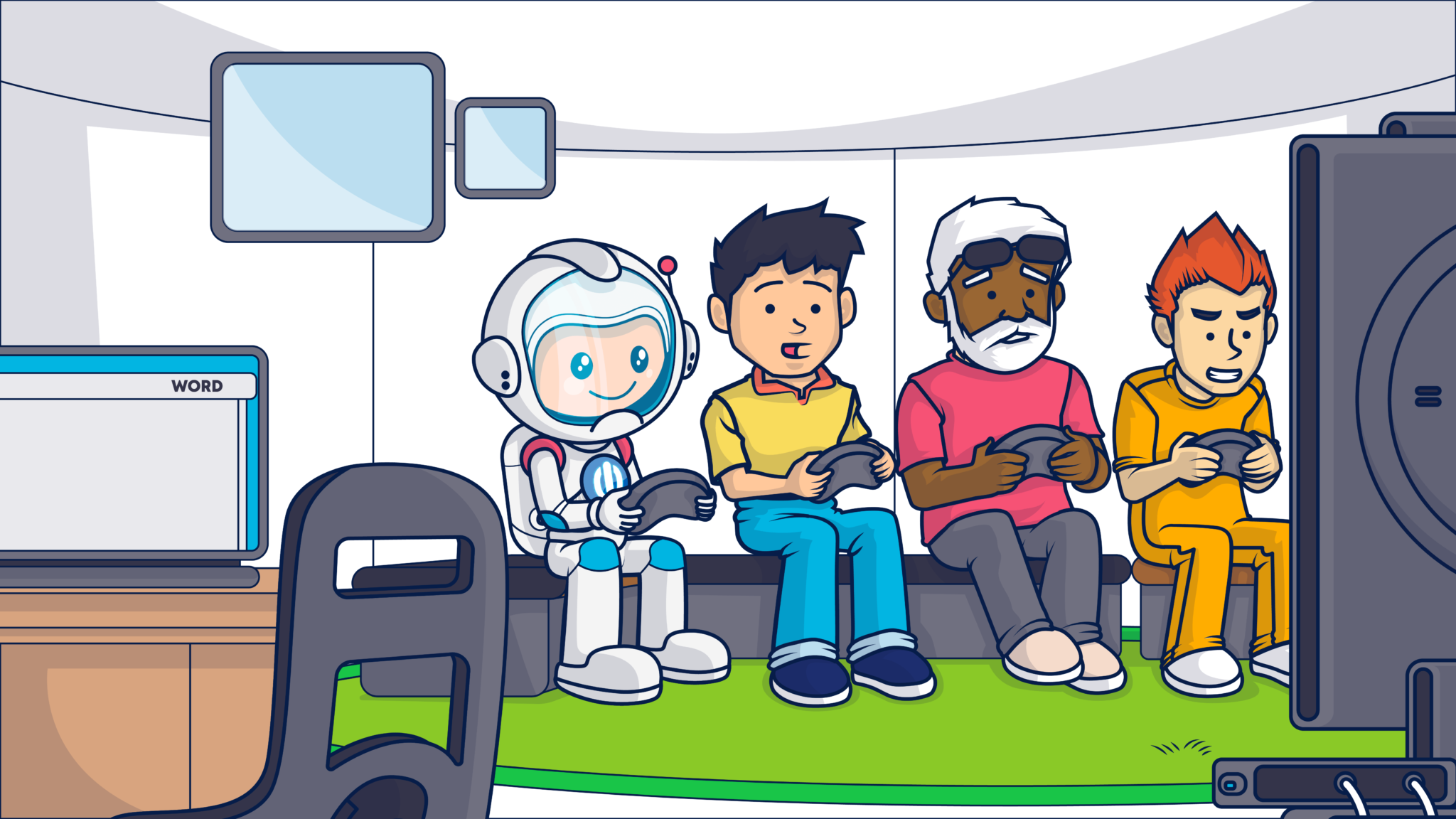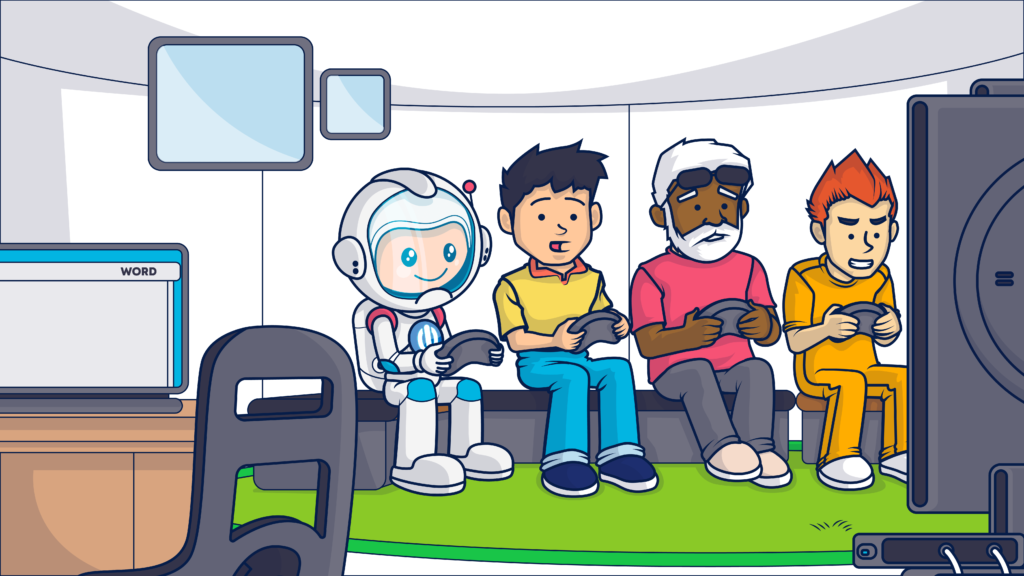 How do last chance emails convince your subscribers to take the action you've been waiting for them to take?
It's all about persuasion, my friend.
Your last chance emails make subscribers aware of the benefits of acting and the consequences of failing to act and, by doing so, move them forward on their buyer's journey.
For instance, people procrastinate because they are trying to avoid something. They either consciously or subconsciously believe that taking action will have a negative outcome.
The subconscious part is what trips most of us up. We think we have good reasons for our decisions, but our minds are playing tricks on us!
You might put off responding to a colleague's email and tell yourself it's because you're busy, their question isn't a high priority, Judge Wapner was on, whatever–you have a good reason.
But deep down inside, you are responding because you're afraid of how your colleague will respond, or the answer will result in you having to do more work, or writing out the answer is just too darn boring to deal with today!
Stimulating a little FOMO or pointing out other consequences of inaction works as a tool of persuasion by pushing back against procrastination.
How's that work?
You know that whole "an object at rest tends to stay at rest" thing? This is you.
If you're stuck and absent a push, you will keep putting off the unpleasant task of answering the email. Negative emotions are that push. When the negative of missing out, being reprimanded or suffering other consequences is greater than the negative of performing the task, then you move.
A message saying, "Last day to order to get guaranteed delivery by Christmas," implies that if they don't order now, their gift won't arrive on time, and it may embarrass them or hurt someone's feelings.
That reminder of the consequence of inaction is the push to act.
A 'carrot' message that says, "Order today and get 40% off, plus free shipping," stimulates positive emotions, the pull to act.
But is the positive pull enough to overcome inertia?
Maybe not.
People don't like to have to click through, select their items, confirm their address, and choose a payment option–all those negatives trigger procrastination. We discussed similar points of friction in our list-building article, The Ultimate Guide To Sign-up Forms.
This is where a little more push can help.
A last chance message that states, "these are the final hours to save," reiterates the consequences of inaction and what's at stake.
If the person doesn't order in the next few hours, they'll have to pay more to get the items they want. Now the negatives of not acting are starting to pile up.
Ideally, your last chance emails will inspire recipients to act by reminding them not to let their subconscious sabotage them and by offering them plenty of positive reasons to move forward on their buyer's journey.
10 tips for writing last chance emails that overcome all obstacles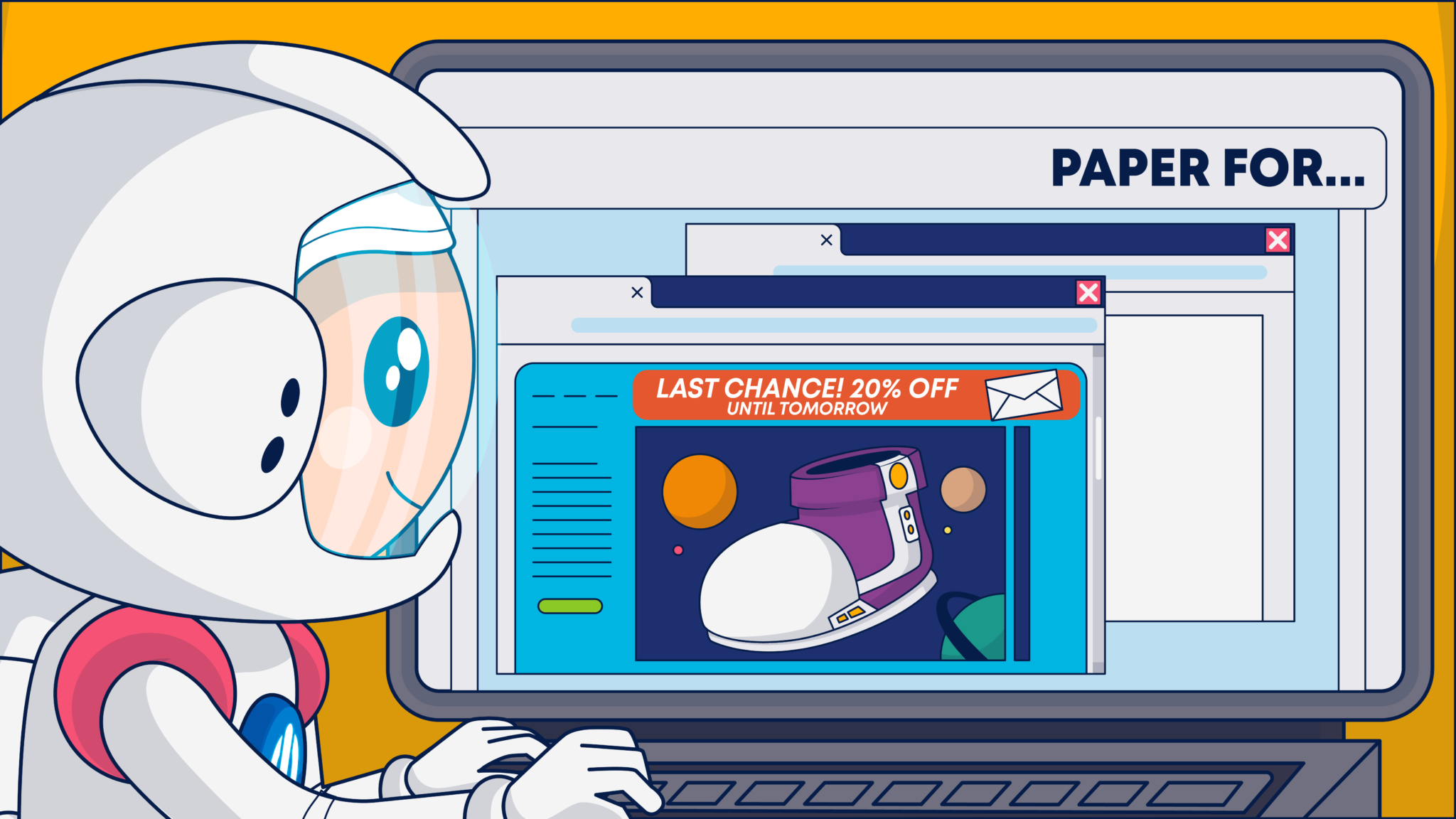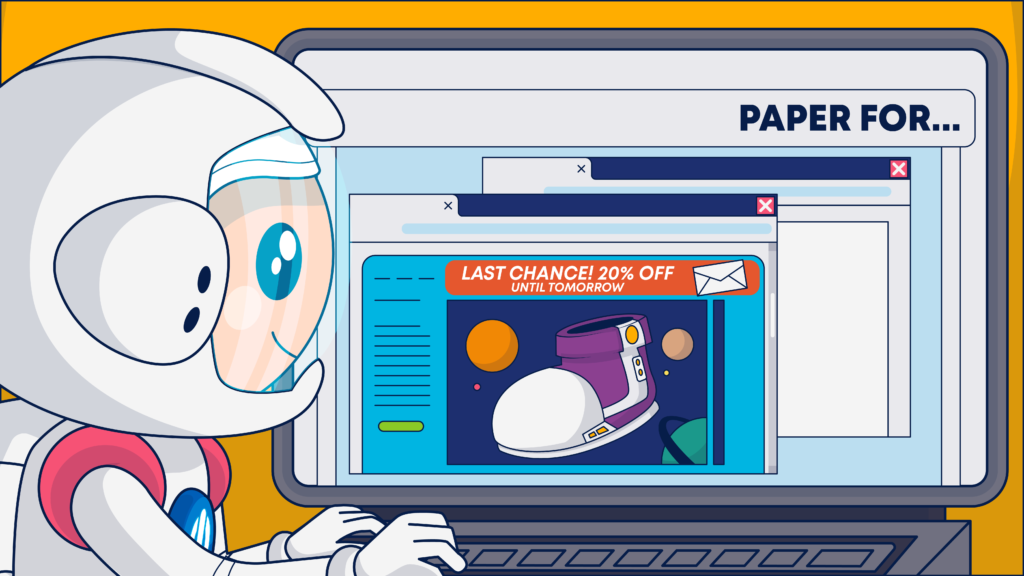 Use a subject line that tells it like it is. Last chance messages are highly conversion-focused. From their subject line and preview text to the final call-to-action, last chance emails are built to explain why subscribers need to act and urge them to act quickly.
Add context and details in the inbox display with an email preview text that finishes what your subject line started. Subject line character counts are limited and so is their visibility on mobile devices. Use your preview text to add details to your offer message and extend your inbox footprint.
Personalize your last chance emails in the subject line and copy. Use dynamic fields in your last chance email templates to add your subscriber's name or other information to their email or take your personalization up a notch by adding a customized offer to their message using merge tags.
Keep your last chance emails clear and to the point, because your subscribers won't have a lot of time to act. Avoid information overload or triggering decision paralysis with too many choices.
Combine messages of urgency ("you're running out of time") and scarcity ("there are only a few of these left") with other positive persuasive devices such as belongingness, exclusivity, social proof, or authority to tip the scales of favor action in your last chance emails.
Be authentic and transparent. If your last chance offer gets extended again and again, your subscribers will eventually catch on. Include the details of any limited offers and don't mislead your audience with false out-of-stock or similar claims.
Offer your last, best incentives to act and explain what's in it for them. A last chance email is your subscriber's last chance to act and your last chance to win them over. Don't hold back when making your pitch.
Use high-quality product images, animated GIFs, and engaging graphics to keep your subscribers attention and show them what's at stake. Display featured products or a customized selection of recommended products at their best to entice subscribers.
Employ interactive elements such as countdown timers in your limited-time messages and inventory countdowns in your limited quantity emails to illustrate just how close to the last minute your subscribers are.
Offer your subscribers alternatives in case they missed out on your last chance offer. Include other ongoing offers or information about coming deals.
The last chance email examples in the next section captured our attention with messaging and graphics that made us want to click.
12 Inspiring examples of last chance emails straight from our inboxes
📧 Buy them before they're sold out alert from UrbanStems.
UrbanStems last chance email combines inventory and time urgency for a double dose of FOMO. The featured flowers are only available for a limited time due to supply and seasonal constraints.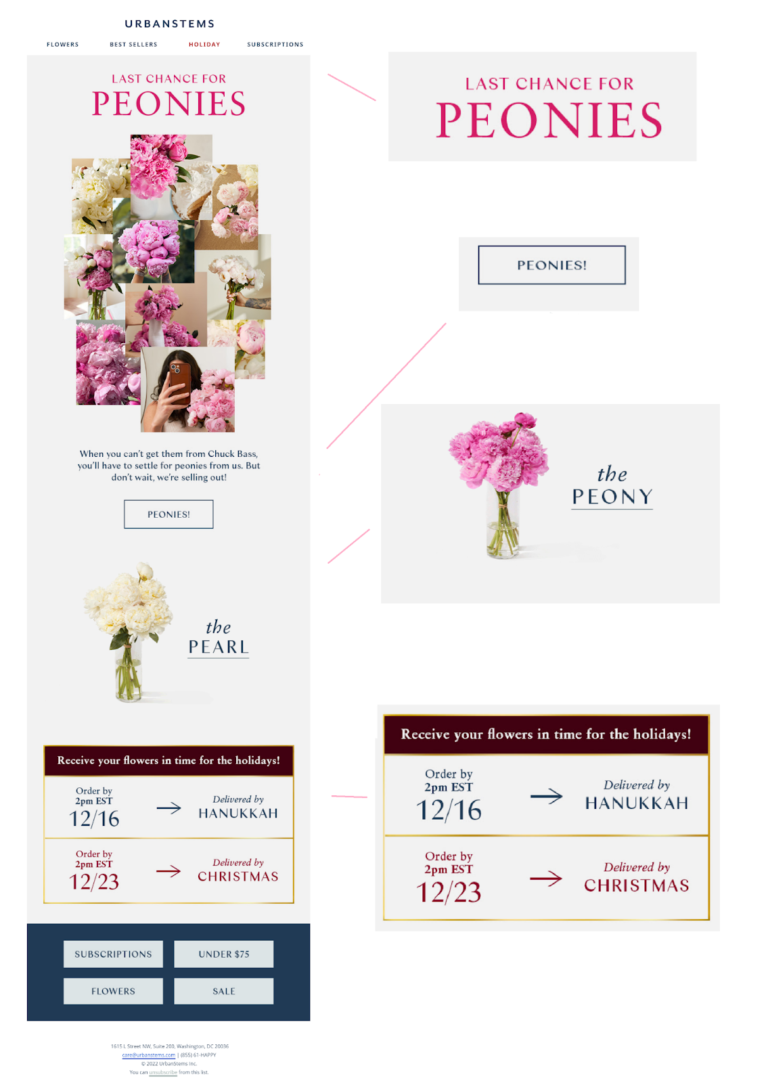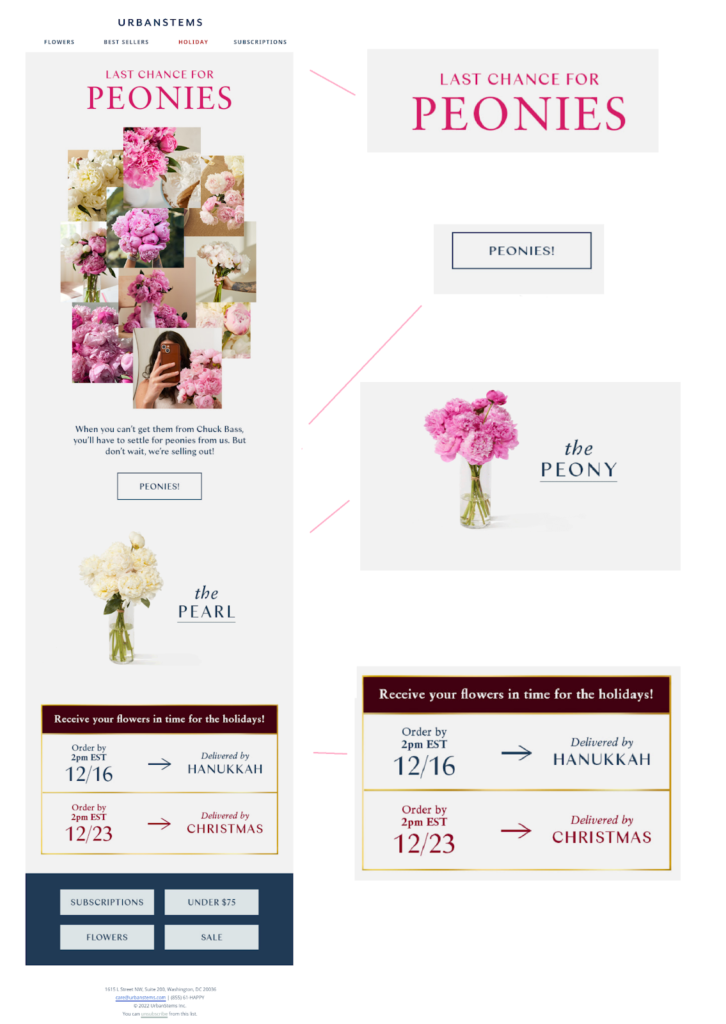 Going, going… – Saying goodbye to peonies (UrbanStems)
The headline inside this email, "Last chance for peonies," is concise and clear. It's accompanied by copy that ramps up the urgency by warning, "Don't wait, we're selling out!"
The call-to-action text doesn't use an action verb but manages to convey a sense of urgency and fun. It simply reads, "Peonies!"
The high-quality collection of images displaying bouquets of peonies in both available colors, along with an animated GIF, makes me feel the FOMO.
This email was distributed during the 2022 holiday marketing season when supply chain issues were a major concern for sellers and their customers. A "last day to order" chart at the bottom adds an extra nudge for subscribers to act fast.
💡 Use visuals such as charts and countdown timers (along with text) to communicate complex delivery timelines, emphasize important dates, and convey urgency.
📧 Gigantic! gives subscribers one last chance to save.


🍫 we're selling out fast! last chance for BOGO 50% OFF 🍫 – stock up for the holidays (Gigantic!)
Candy bar maker Gigantic! puts everything into this last chance subject line. There are emojis, scarcity, capital letters, and disclosing the percentage discount using numbers. This one definitely stands out in inbox displays.
Inside, the brand's personality shines through with a header that reads, "Selling like HOT CAKES" and a punchy graphic that says, "BOGO 50% off ends today."
Applying the classic email copywriting best practice of telling people what's in it for them, Gigantic! explains that this is their best deal of the year. There's also free shipping if you order two or more boxes.
Uh -oh, some people are going to be disappointed. The pre–CTA paragraph lists three product selections that are already sold out.
💡 Informing your subscribers of what they've already missed out on can be risky. On the one hand, it proves that the F (fear) in FOMO is real. On the other hand, they may experience the angst of "acquisition failure" or the negative emotions associated with not getting what they want.
Gigantic! candy bar fans can't say they weren't warned, though. This last chance email is a follow-up message. One week earlier, the confectioner let everyone know that the BOGO sale was on and available for a limited time.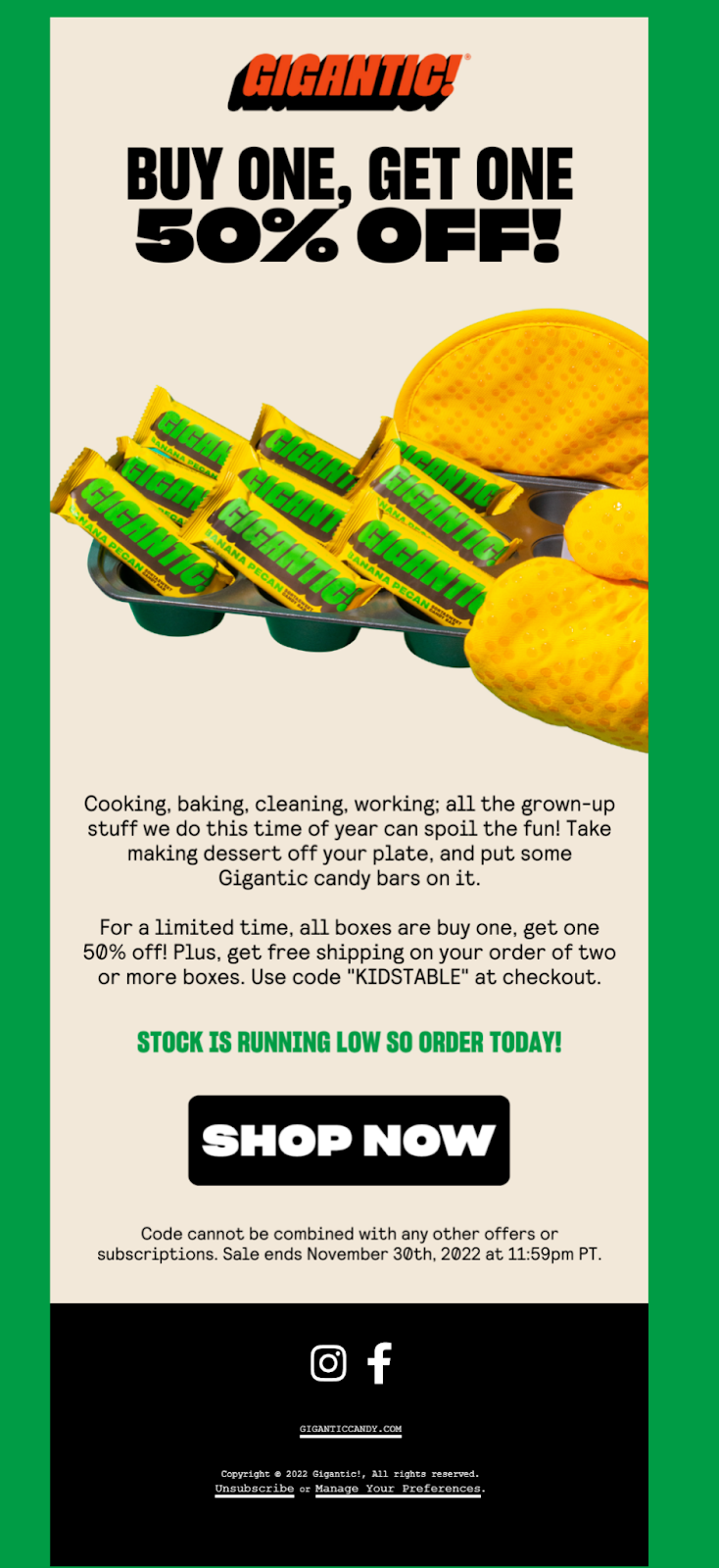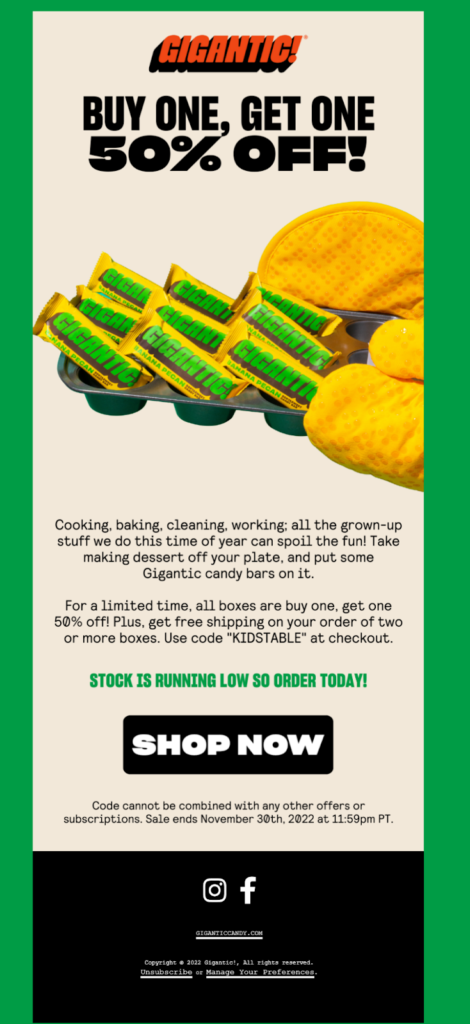 🍫 you're in for a real treat 🍫 – buy one, get one 50% off! (Gigantic!)
This earlier sales announcement even urged subscribers not to procrastinate with an above-the-CTA subheading saying, "Stock is running low so order today!"
💡 Transparency goes a long way toward avoiding hurt feelings when brands make offers that can't last forever.
📧 Applying gentle pressure with a low stock warning Modern Citizen tries to recover a website visitor
This browse recovery message from clothier Modern Citizen reminds the recipient of the item they viewed and warns them that availability is limited. A limited-time 15% offer adds to the urgency and the incentive to act now.


Don't wait — only a few units left – Timeless designs made in limited runs (Modern Citizen)
Modern Citizen's subject line and preview text tell the story. The brand doesn't produce large volumes of clothing and this item is running out.
Inside the email, a preheader offers 15% off for a limited time. Under the header, "Going Fast," the copy asks, "Love this style as much as we do?" Then explains, "Our collections are timeless in design but made in limited runs—this is a gentle reminder to add this to your bag before it's out of stock."
The email's messaging signals not only scarcity but also exclusivity. Not everyone will be able to own one of these garments because not many were made.
In case you didn't get that message, the CTA button's copy, "Check Availability," makes it clear.
The FOMO is powerful in this one.
💡 Don't forget to explain why it's the recipient's last chance to act in your emails. Is the threat of missing out real or abstract? Don't use implied urgency such as "happening soon" or "act now" when you can point to real threats such as "only 100 units left" instead.
📧 HighKey gets the FOMO started early with an exclusive RSVP
Mystery, exclusivity, and animated GIFs featuring available products inspire subscribers to act in this last chance email from snack maker HighKey.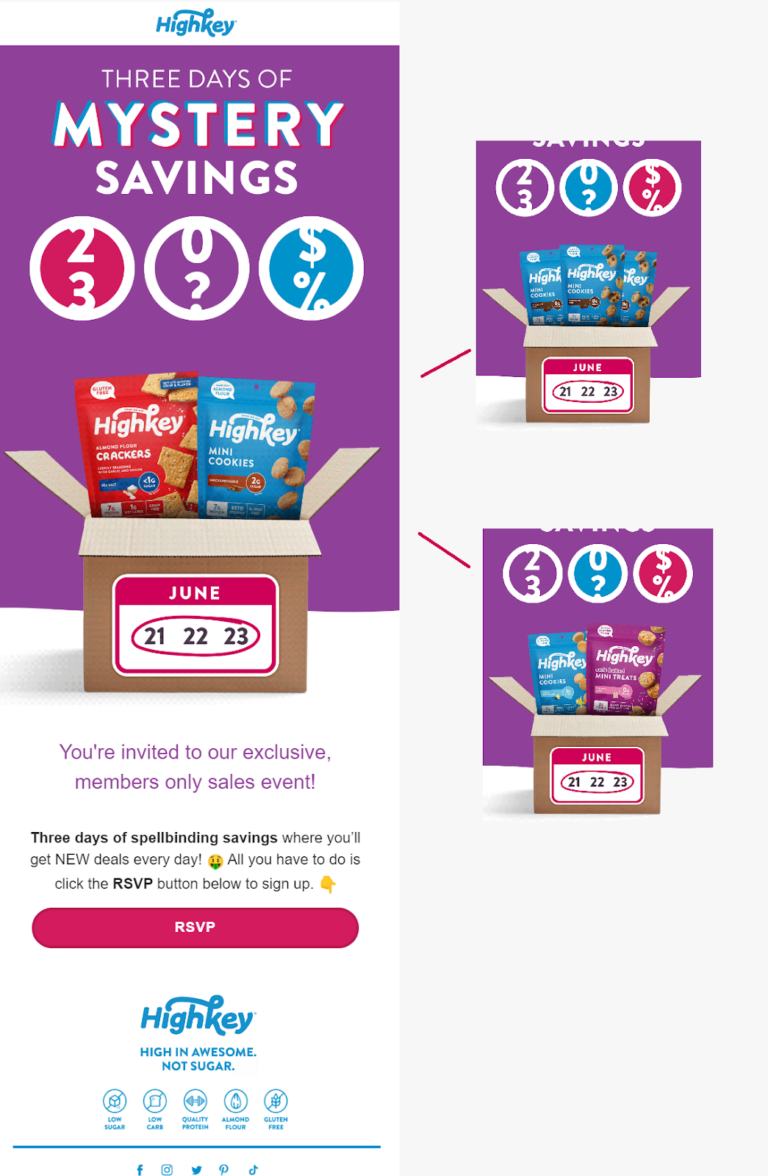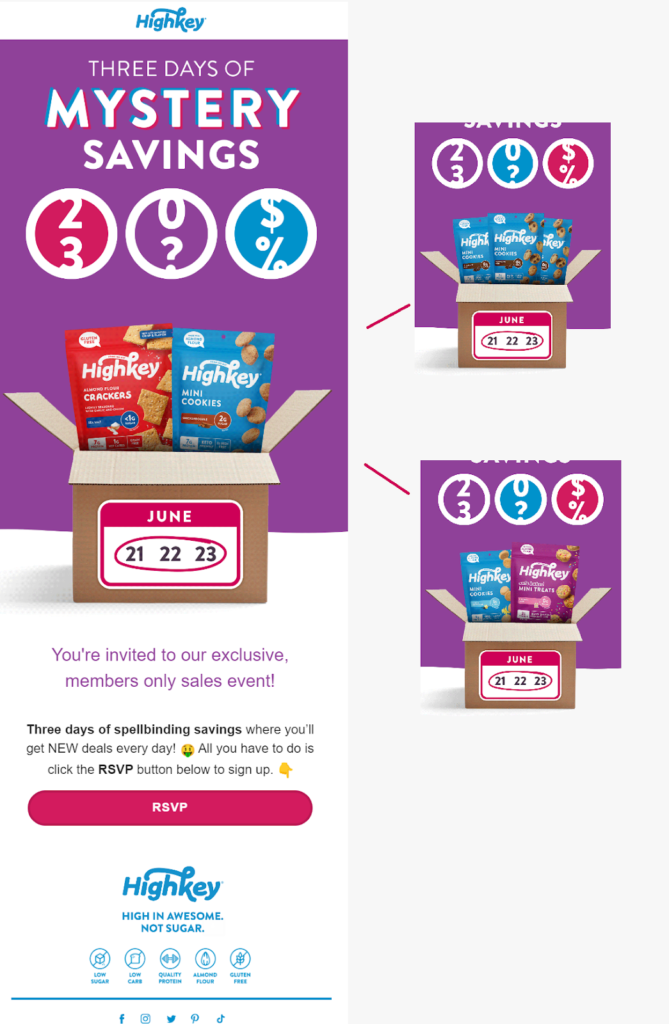 LAST CHANCE TO JOIN! – You could save major $$ this week… (HighKey)
HighKey's subject line emphasizes urgency and hints at exclusivity. It's the last chance to join something. The preview text offers a peek at what the deal is but doesn't reveal all leveraging curiosity to earn the open.
The copy inside this mass email campaign invites subscribers to join the HighKey Club, after which they'll be able to attend a members-only 3-day sales event. But of course, you have to become a member before the sale ends.
Because this is a pre-sale sign-up and to add to the sense of exclusivity, the CTA button text reads, "RSVP."
💡 With careful planning, you can employ urgency at more than one point across a single campaign like HighKey did with this multi-stage event.
📧 Seasonal savings are on the line and Designlabs clock is counting down
Designlab's last chance message uses several effective persuasive devices, starting with a subject line that states the amount subscribers can save and ending with a CTA that does the same.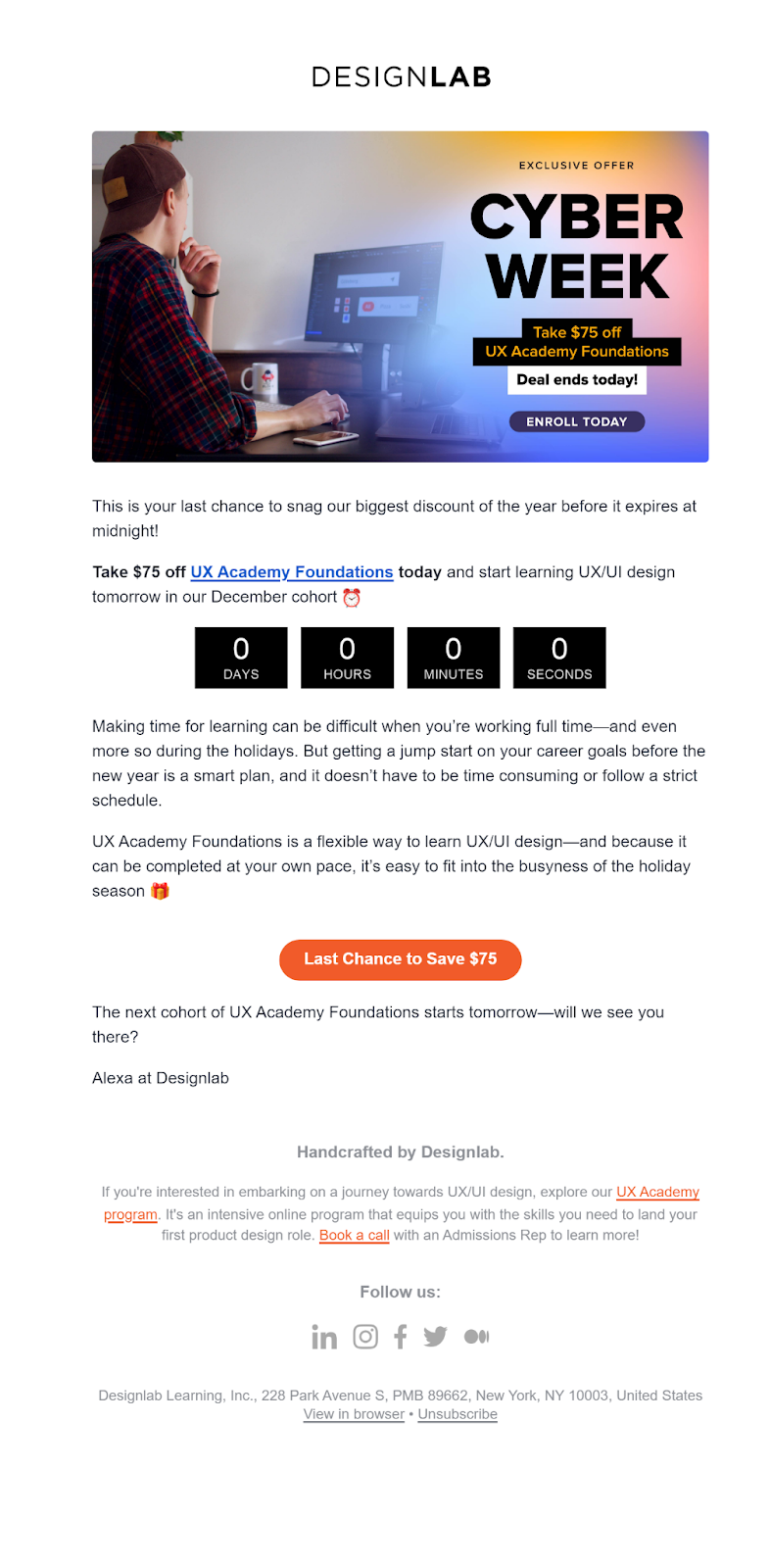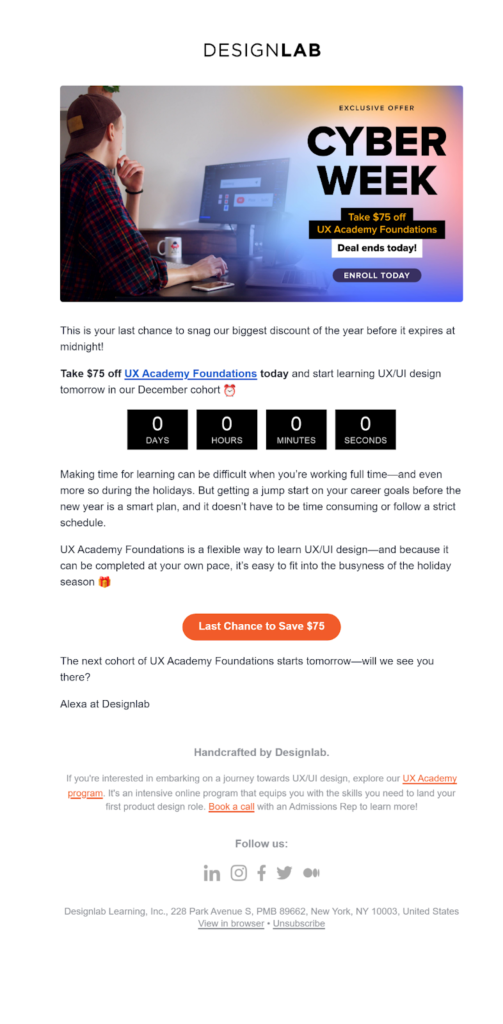 Last chance to save $75 ⌚ – Our biggest UX Academy Foundations discount expires tonight! (Designlab)
Designlab's inbox display uses numbers, symbols, and an emoji to capture subscribers' attention. The preview text provides interesting details, informing subscribers what's on sale and when the offer ends.
A quick scan of the inside of the email conveys the most critical information. The header banner explains that the last-chance offer is tied to a seasonal event, Cyber Week. Additional banner copy informs readers that the deal is exclusive and "ends today!"
If that's not enough to convince subscribers that time is short, the message includes an active countdown timer. Yes, in my example, image time is up.
Giving one last shot at getting subscribers to act, the brightly colored bottom CTA button says, "Last Chance to Save $75." (This is one of several click-through points in the message, including an inline text call to action.)
💡 Whether to include more than one CTA in your email is a much-debated subject. If you think of your promotional emails like a miniature landing page, then it makes sense to add an above-the-fold CTA for those who are ready to act while offering other opportunities to click through for those who need more convincing.
📧 Event Marketer gives subscribers a heads-up that their chance to enter is ending soon.
This B2B last chance email announces the final countdown for agencies and professionals in the experience design industry to enter their work in Event Marketer's Experience Design and Technology Awards.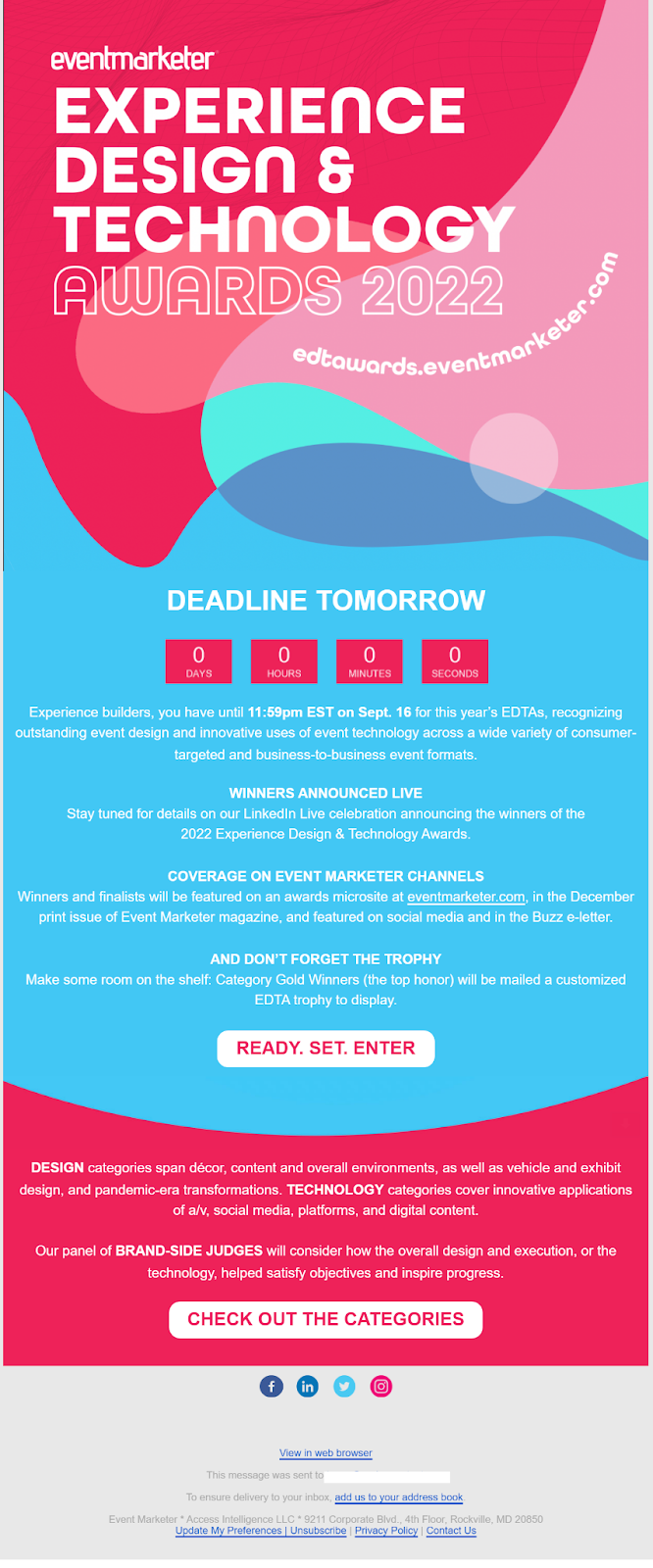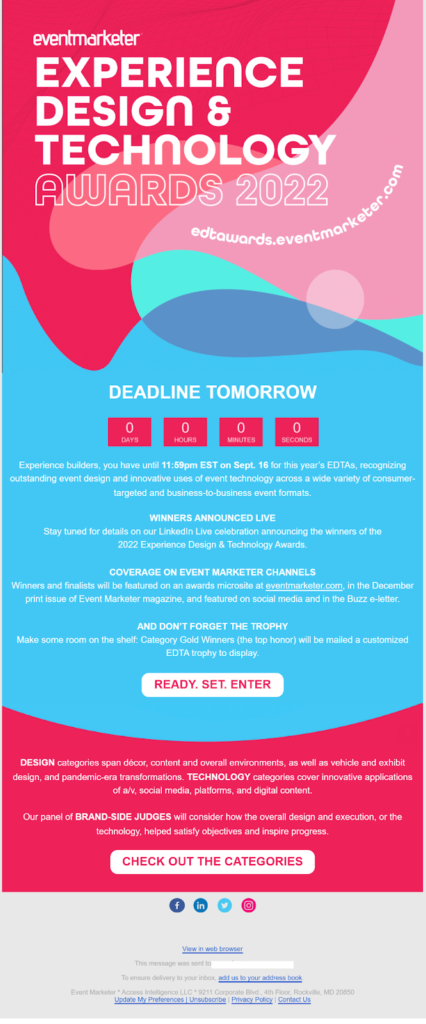 The countdown is on! ⏱ EDTA Deadline – EMS 2022 | April 27-29, 2002 | MGM Grand Las Vegas (Event Marketer)
The annual competition is the star of this colorful email with high-design header highlighting the event. A subheading that says, "deadline tomorrow" crowns an active countdown timer.
Two white CTA buttons stand out against the email's colorful background. The first CTA is aimed at recipients who know what they want, saying "Ready.Set.Enter." The second CTA, for those who want to know more, invites subscribers to "Check out the categories."
Is it just me or do the background graphics in this email seem to point to the countdown timer and cradle the CTA? I suppose when the email comes from an experiential design-focused publication, you can expect the design to be on point.
💡 Every element of your email has a role to play when it comes to driving conversions. In our article, How Engagement Boosts Email Deliverability, we explore several ways to improve your email's performance by improving your subscribers' email experiences. Check it out!
📧 Leaving no room for error, Brass Roots explains exactly what to do in this last chance email.
Specialty food seller Brass Roots' last chance email explains the offer and the steps subscribers need to take to get it–with numbered instructions.


Don't miss out! – Get a FREE gift with your next purchase 🙌 Offer ends tonight at midnight! (Brass Roots)
Brass Roots instigates urgency with a "Don't miss out!" subject line. The preview text fills in the details. Subscribers can get a free gift if they buy before midnight.
Inside, the email is infused with the brand's distinctive style with big letters and bold colors. A bright "Last Chance!" banner tops the message, followed by text and images to explain the deal and a "Click here to shop" CTA button.
The design and copy team at Brass Roots understands the importance of clarity. The email includes step-by-step instructions detailing how to claim the deal.
Add 2 cases of 1 oz Crunch Puffs to your cart (any flavor!)
Add 1 jar of Sacha Inchi seed butter to your cart (any flavor!)
Use promo code FREEBUTTER at checkout for a free jar!
Wait a minute.
Are all those instructions necessary? Can't people just click through to the website and figure it out?
Well, yes, they probably can. However, these in-email instructions are a clever way to explain the conditions of the deal and share the promo code. The 1-2-3 numbering adds a sense of momentum to the message.
💡 It's important to make the terms of your offer clear, especially when you are asking your subscribers to act fast. But that doesn't mean you have to make your explanations boring.
📧 No need to open this 'ending soon' message from Wolverine (unless you want to)
Rugged boot and clothing brand Wolverine is the opposite of mysterious when announcing the final hours of its seasonal sale. The subject line and preview text reveal the details of the deal, including the discount code they'll need at checkout.


The Clock is Ticking and it's the Final Hours… – Use code WINTER40 for 40% off select Gold Boots and Pike Flannel (Wolverine)
Wolverine uses an animated GIF as its hero image, showing off several styles of the boots that are on sale. The image includes a large graphic repeating the 40% off offer, too.
A text block explains the offer before the email switches back to images of recommended products.
When does the deal actually end?
Not until approximately 2 days after this email was sent (according to the terms and conditions disclosure at the bottom of the message). So this message isn't a "the last chance" one. I suspect there was at least one more email in this "time is running out" sequence.
💡Revealing the details of your promotion in your inbox display copy may cost your campaigns opens but earn your brand sales. A shopper who had been waiting for a deal to buy the items on their wishlist or in their cart can head straight to your website and grab the discount. No extra reading required.
With experts predicting that 46% of all ecommerce sales will be multichannel in 2023, giving your subscribers a choice of paths to purchase will give you an edge over the competition.
📧 Latico aims to convert subscribers with a personalized offer
They visited, they browsed, they subscribed. But they didn't buy. Latico isn't giving up on this new subscriber. Instead, it's upping the ante with a 20% off flash sale.


Pssst – there's 20% off inside! (Latico Leathers)
This abandoned cart recovery email makes a personal appeal by offering the recipient a special deal on the items in their cart.
Here's what it says: "Hi friend,
We thought we'd brighten your day with a FLASH SALE! Click below to save 20% on your entire cart of buttery-soft, heirloom leather!"
Below the button CTA, the copy continues,
"20% off has been automatically applied to your cart and is waiting for you at checkout."
The product recommendations in this message are customized based on the subscriber's browsing history, too.
💡 Personalizing your last chance message with product recommendations based on your subscriber's browsing or other website activity increases the chances that they'll decide to act by reminding them of the items they could be missing out on.
📧 A tale of two registration reminders: Scarcity from CX Network versus urgency from ON24
This example is actually a twofer, demonstrating two different business brands' approaches to persuasion.
First up, CX Networks uses a message that goes light on the HTML and adds a touch of personalization to warn a subscriber that seats for its upcoming masterclass are filling up fast.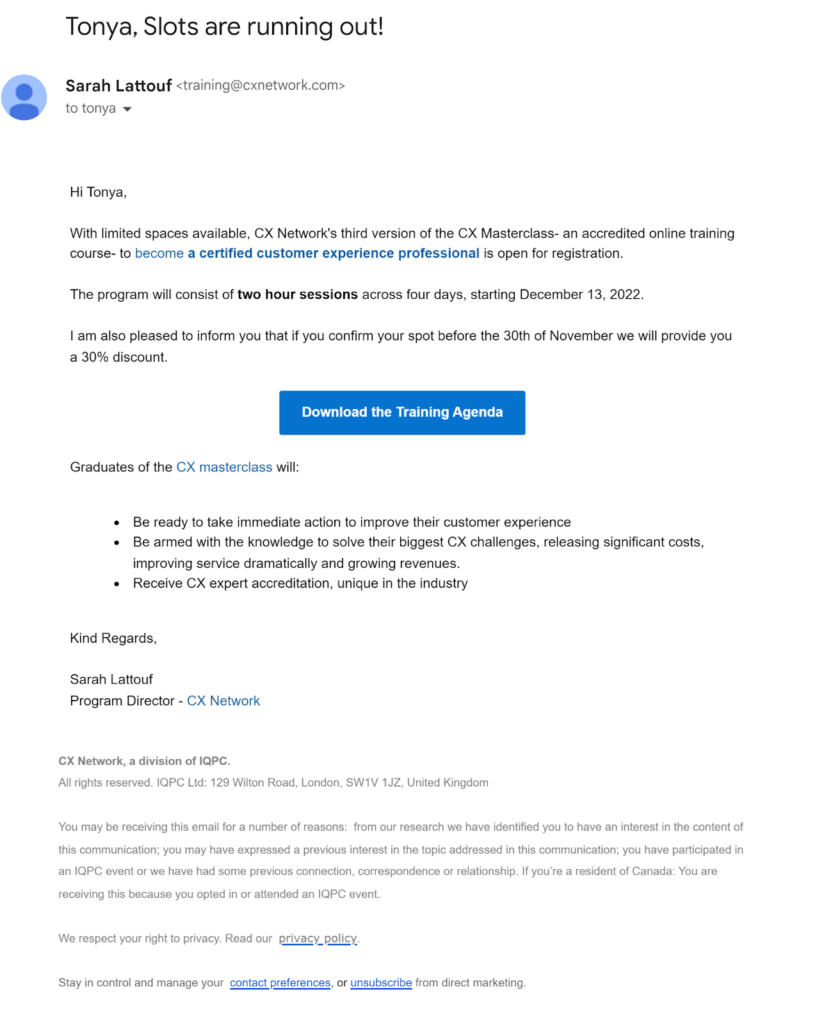 [Name], Slots are running out! – Would you like to become a certified CX professional? (CX Network)
This email opens with a scarcity appeal but there's also an urgency kicker. Recipients who register before November 30 receive a 30% discount.
Interestingly, the CTA button for this message doesn't go straight for the sale, instead encouraging readers to learn more with the text, "Download the Training agenda."
💡Keeping your HTML to a minimum can make your email messages look more personal and less promotional. Also, this strategy may increase your message's chances of landing in the primary inbox. Although being in the promotions tab isn't so bad.
Space constraints aren't an issue for ON24's webinar about planning a webinar strategy. (No, I'm not making that up.) Instead, this last chance email aimed at a B2B audience is all about timing–and they aren't kidding. This email arrived at 8:46 am on the day of the event which was scheduled for 2 pm.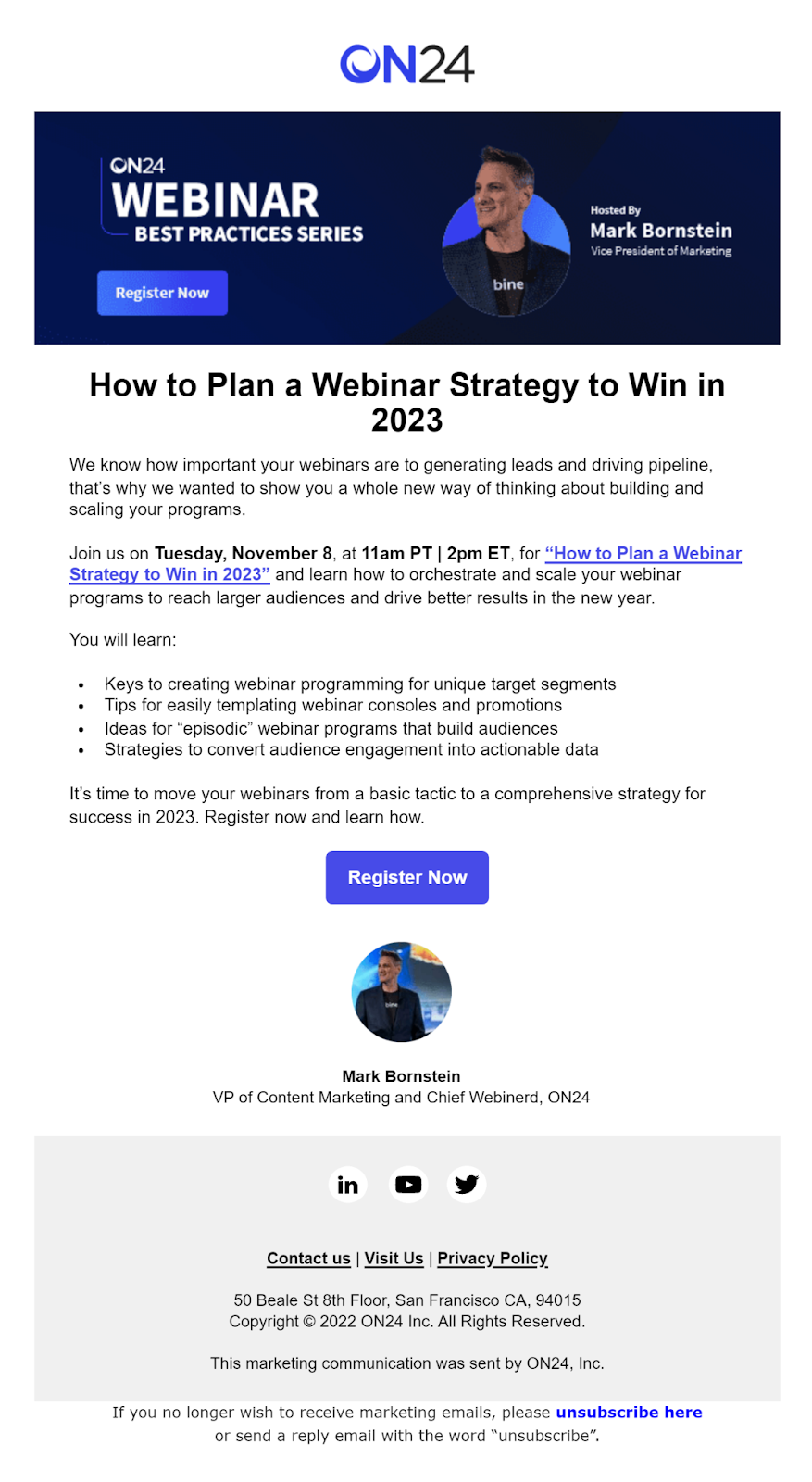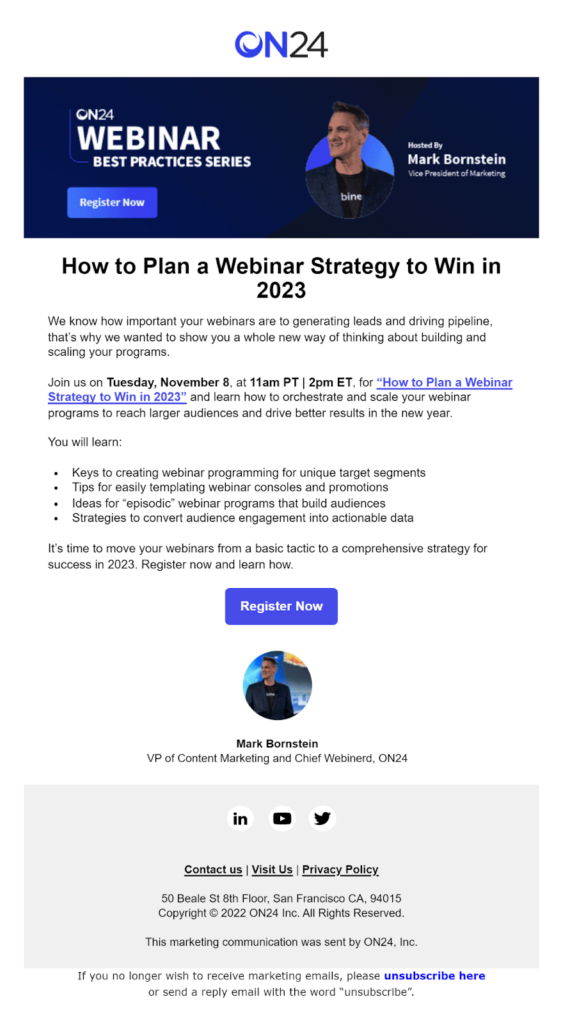 Last chance to register – Planning a webinar strategy to win in 2023 (ON24)
This email relies on the subject line to convey the urgency with the body filling in the details about the event. Button and in-line CTAs make sure anyone who wants to attend can click and go.
💡 Using their standard webinar template with a last chance subject line enables rapid deployment of your email promotions. A few tweaks to the inbox copy, pop in your webinar template, and you're ready to go.
📧 The Popcorn Factory is so not kidding about time running out
Whatever it takes to get you to act, this email is going to do it. There's a compelling subject line, a discount deal, and only hours left.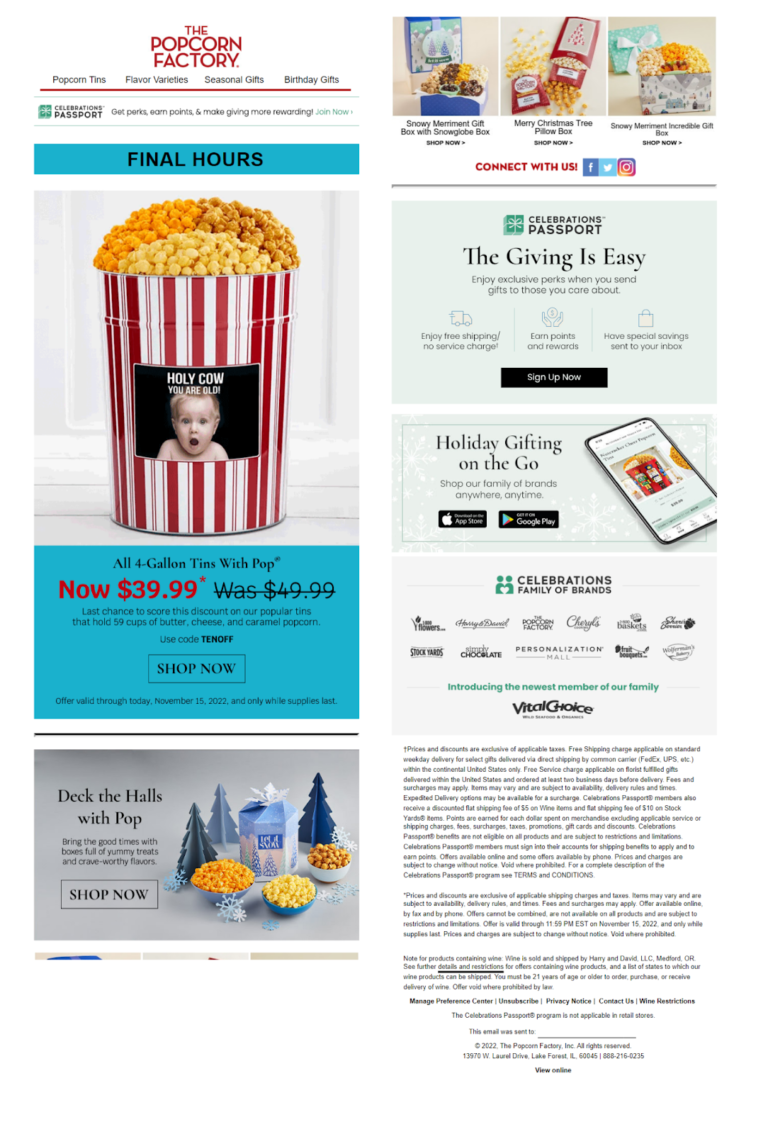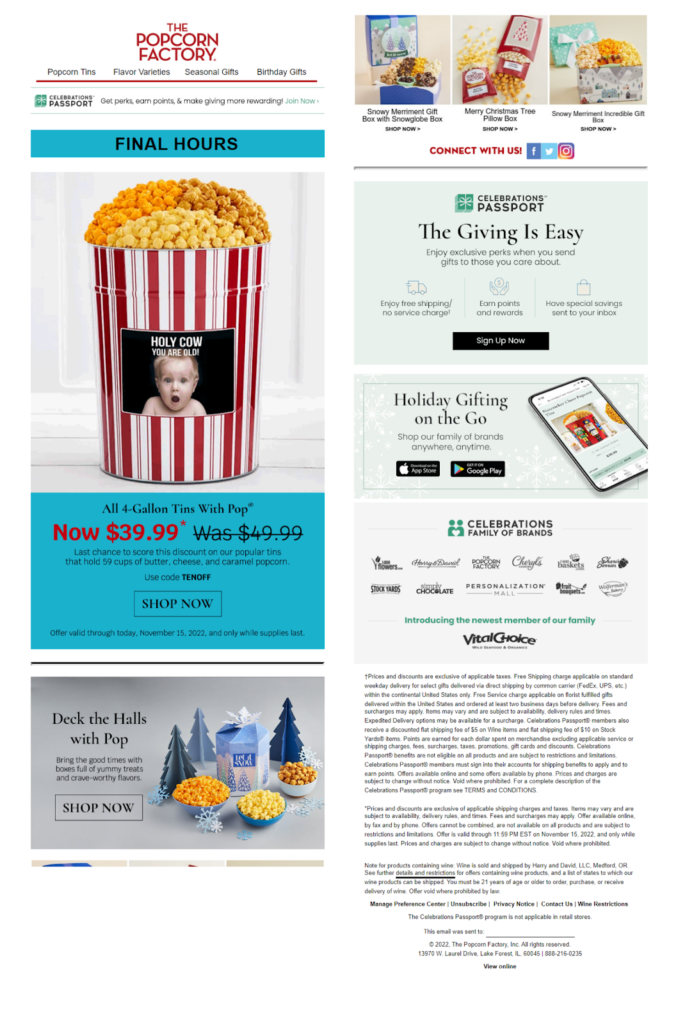 FINAL HOURS >>> $39.00 popcorn tin sale is almost over. – Steal this sweet deal before the day ends. (The Popcorn Factory)
This email is a day-of last chance message for a sale that is in its "final hours." The copy makes a subtle nod to social proof writing, "Last chance to score this discount on our popular tins…"
The brand also does the math for you, displaying the before and after price for the 10% off deal.
A few more nudges can be found in the fine print under the "shop now" CTA button. This line reads, "Offer valid through today, November 15, 2022, and only while supplies last." Uh-oh, better not wait until the end of the day to pick your favorite tin.
Just in case subscribers miss out on the deal, though, this message also includes several other tasty product recommendations.
💡 When you want customers to act fast, don't make them do the math. Show them the money with a before and after price comparison or the amount they'll save. (What is 33% off of $56? Just tell me already!)
📧 A last chance message to get subscribers' opinions attract engagement from Engineering.com
Last chance emails can support objectives other than making a sale. In this last chance campaign, Engineering.com's conversion goal is to get community members to complete its survey.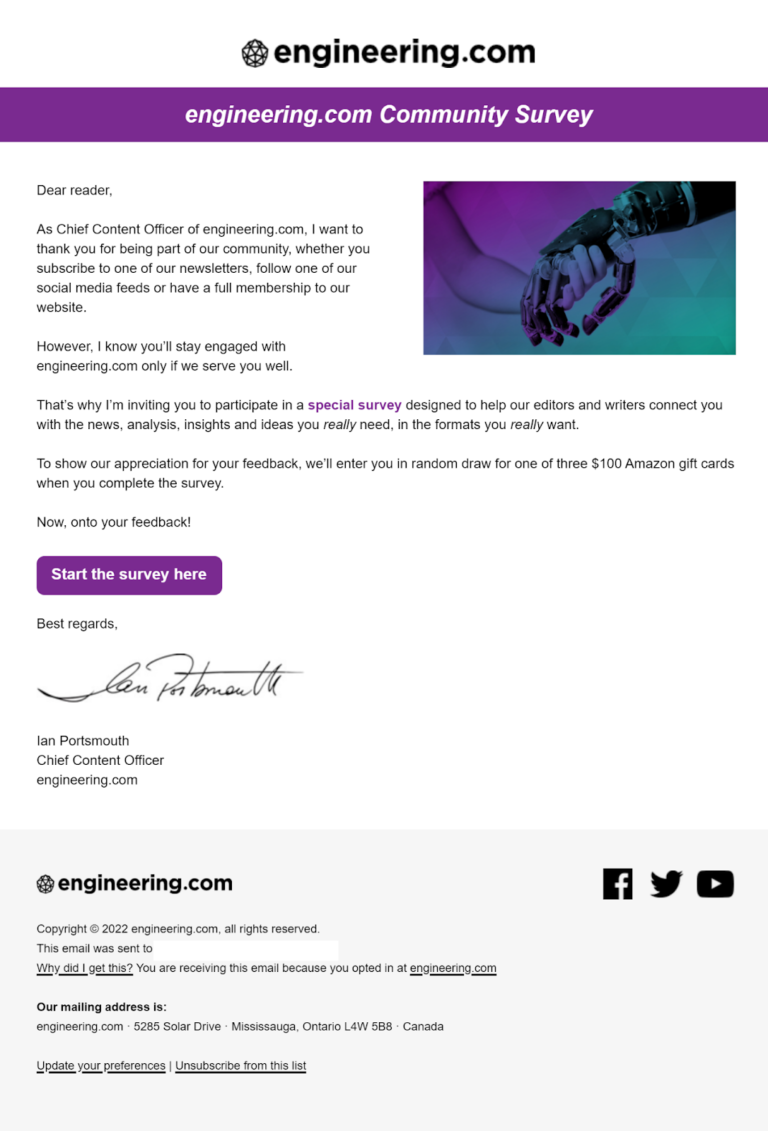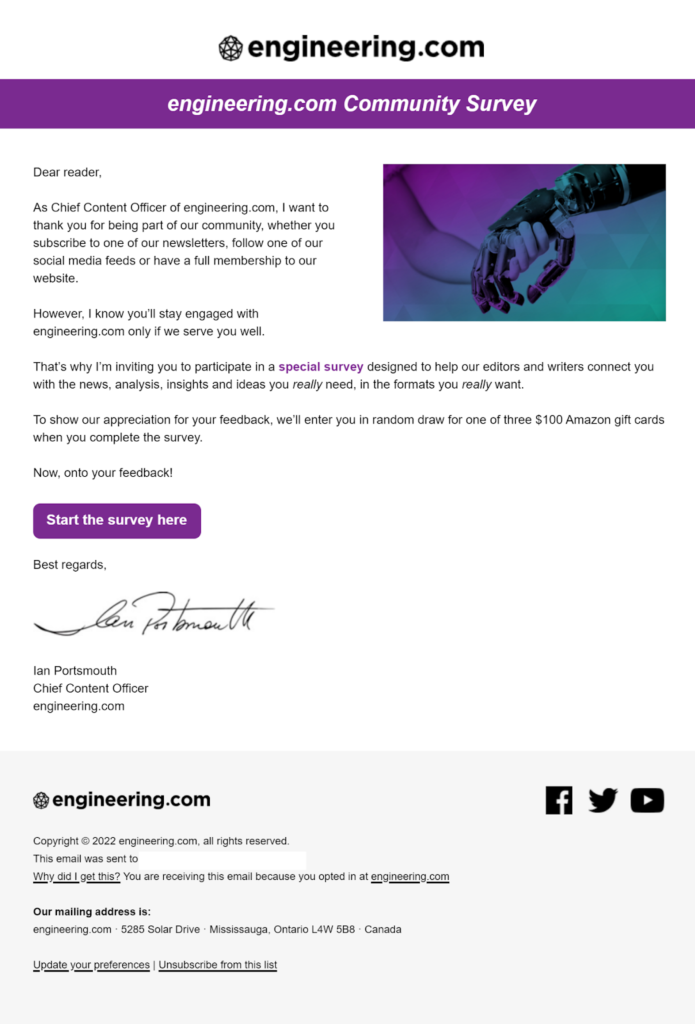 LAST CHANCE: Help us build the engineering.com you want – engineering.com Community Survey (Engineering.com)
This email's simple layout with a high-contrast CTA button makes it easy for recipients to quickly identify its purpose and decide if they want to respond. The subject line sets the persuasive tone by first establishing urgency and then asking for a favor, "help us," before emphasizing the benefit.

The copy is, dare I say it? Well-engineered.
💡 This email is mostly text and is signed by the organization's chief content officer using a script typeface which gives the message a personal feel. Humanizing your message with your design and copy and asking for a favor add relational elements to an otherwise transactional request. It's one way of doing relationship marketing.
📧 FARFETCH finds use for several key FOMO phrases in it's last chance alert
FARFETCH's newsletters always include a choice selection of trending products the fashion brand recommends. This email includes a selection of choice words and phrases aimed at triggering urgency-driven FOMO as well.


Final hours: get 22% off your new wardrobe – Selected full-price items — don't miss out (FARFETCH)
The inbox display for this 'act now' email opens with the phrase "final hours" and closes out the line with a direct FOMO warning, "don't miss out." Inside, a heading that says, "ending soon" is followed by the text, "you only have a few more hours left to shop.. Be quick: make those wishlist pieces yours before they're gone."
Were you keeping count? That's 6 trigger words or phrases (and that doesn't include the dual "Shop Now" CTA buttons). Because FARFETCH uses different methods of saying the end is near, the effect isn't overwhelming.
💡 Can you go too far when adding urgency to your copy? Yes. Make sure you aren't overdoing it by asking for opinions on the copy and design from team members not involved in the email's production. Run the final version of the email through a spam checker. And use A/B or multivariate testing to see how subscribers respond to different subject lines and push versus pull language.
What are the top FOMO phrases for last chance emails? We took a look around to find out.
Steal these words and phrases for your last chance subject lines and templates
Last chance emails don't always announce themselves that way. But the phrase "last chance" appears in enough of these urgency-inducing and FOMO subject lines that the name fits.
Want to tell your subscribers it's their last chance without telling them it's their last chance (or with a few bonus words)?
Try some of these action-inducing words and phrases in your last chance emails:
Don't miss out
Don't wait
Don't delay
Hours left to save
Going soon
Final few hours
Final hours
Last hours
Last call
Final call
Last chance to [save, register, shop, redeem your discount, steal these deals, enjoy this offer, etc.]
Final opportunity to save
Last opportunity to take advantage of these deals
Only [X] hours left
[X] hours left
One day only
Ends tonight
Ends today
Ends midnight
Sale ends [tonight, today, in 5 hours, etc.]
Space is running out
Limited-time deals
Sale extended
One more chance
Order now
Get it before it's gone
The countdown is on
Final countdown
Not a lot of time
Time is running out
You're running out of time
Time is almost up
The clock is ticking
Tick Tock (time is running out)
Low stock warning
Inventory is running out
We can't keep these in stock
Back for a limited time
Supplies are limited
Selling out fast
While supplies last
Flash sale
Last chance alert
Get [discount] today only
[Offer] ends soon
Expiring soon
These won't last
Hurry! Shop in time for [holiday or event]
Order now for [holiday or event] delivery
Best practices: How to write last chance emails that inspire customers to act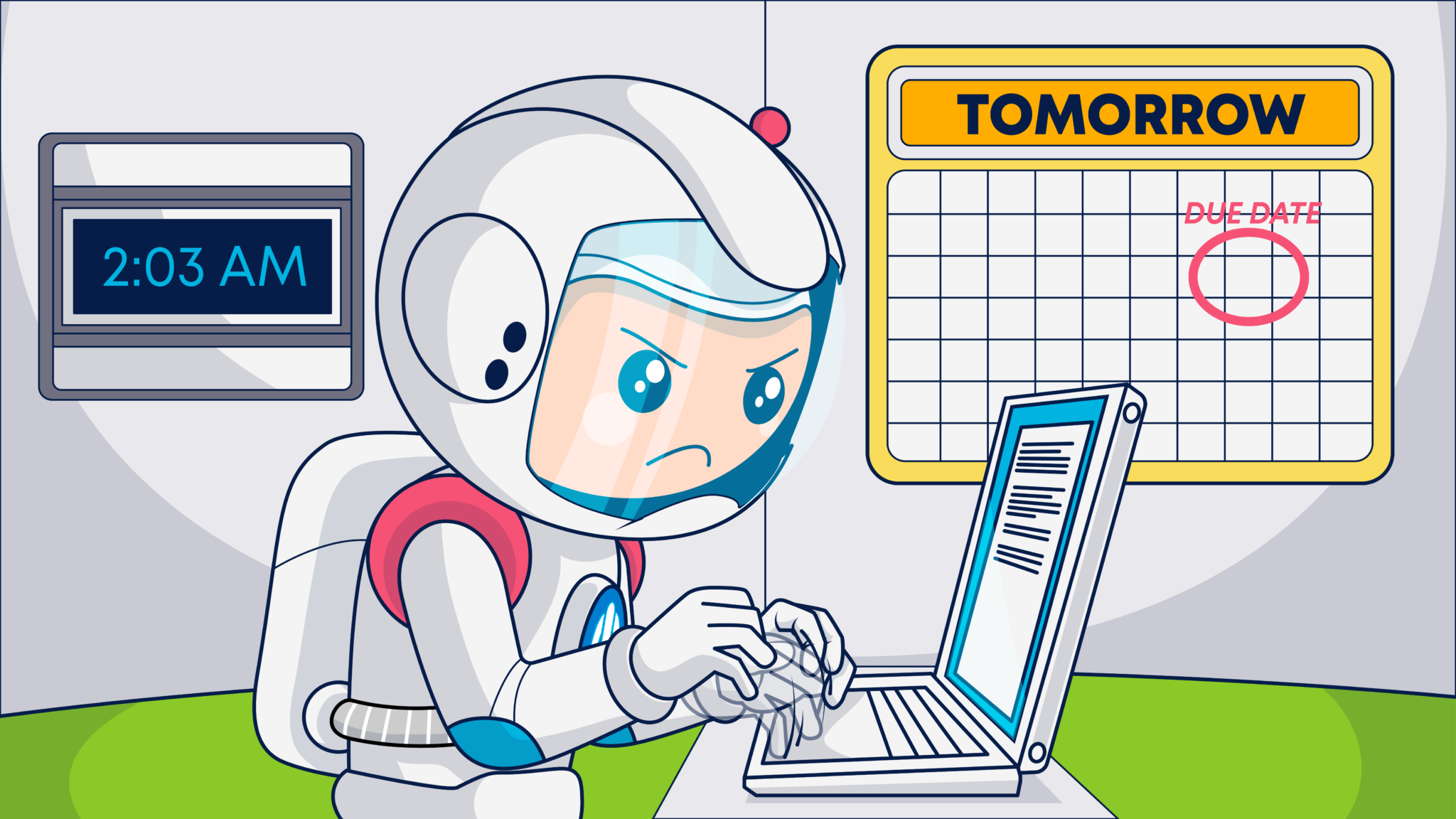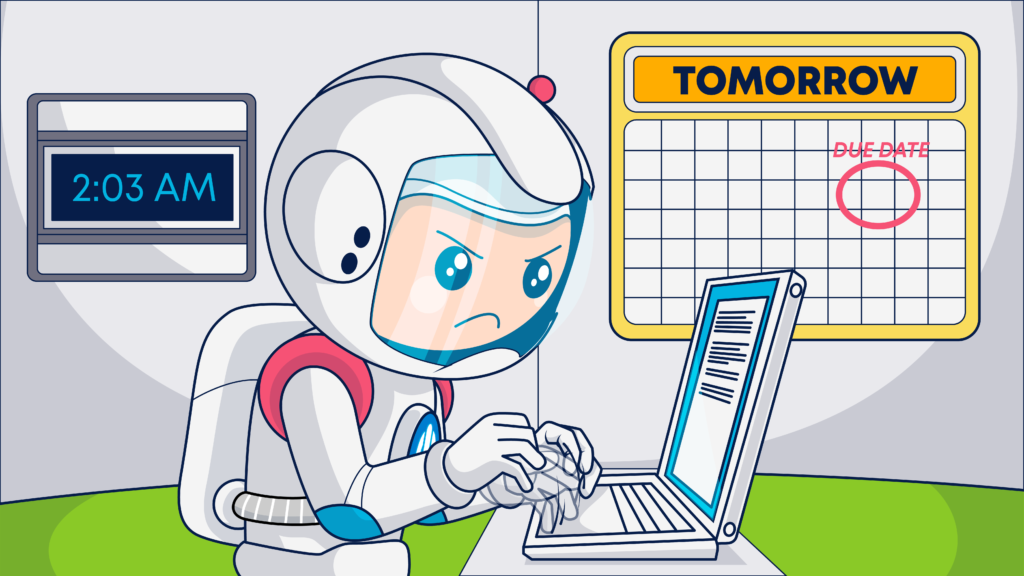 Plan your last change campaign cadence when you plan your event or offer
Develop your last chance messaging and flows to deliver the right push at the right moment for your time- or stock-limited offers. Including more than one urgency-related message in your campaigns is okay, as long as you aren't deceptive about it.
The consequences of losing your subscribers' trust can be significant. PwC reports that 71% of customers would buy less from a company that lost their trust. Deceptive last chance claims can attract unwanted attention from regulatory agencies, too.
Phrases such as "final hours," "ending soon," and "time is running out," can build up the urgency factor leading to your absolute "last chance" message.
Use event-triggered last chance emails to target individual subscribers at the right time
Examine your existing automated email campaigns for other opportunities to add last change nudges to the flow.
For example, if your sign-up and onboarding emails include a limited-time discount offer, follow-up with a last chance email notifying your new subscriber when their offer is about to expire. Or send last chance emails to service or subscription box subscribers who need to renew to lock in current prices.
Segment your audience and tailor your last chance messages
Like any other campaign, different audience segments will respond to different incentives and messaging. Use segmentation to select when to send your last chance emails and what those emails should say.
Look at your data and do some testing to choose the best time to send your last chance emails
When your messages involve urgency, timing is critical. Your last chance messages need to arrive in time for your subscribers to see them and act before it's too late. Otherwise, you'll have triggered negative emotions without providing a solution.
Use data about what time of day your subscribers engage with your emails to identify how far in advance of your deadline to send your countdown messages and choose the perfect time to send.
Make your last chance campaigns omnichannel
Your audience is omnichannel and your last chance campaigns should be too. Don't just send emails to urge your audience to act. Use social media, website banners, or pop-ups and coordinate your emails with just-in-time SMS messages to tell your subscriber when time (or inventory) is running short.
Optimize your last chance emails for mobile devices and accessibility
Eliminate friction and ease subscribers' paths to purchase by optimizing your emails across devices. Test your last chance emails before you send them. Make sure your copy is screen-reader friendly and important images have appropriate alt-text.
That's a wrap!
When it's the end of the line and your subscribers are out of time, make sure they get the message.
Use all your best tips and tricks to create concise, engaging, enticing emails that show them the benefits of acting now. And don't forget to follow your email analytics to find out what works and what doesn't.
To streamline your product processes and find new ways to add visual interest and interactivity to your last chance emails, take a peek at our Email Marketing Tools blog. You'll find all kinds of nifty tools to improve the performance of your email marketing campaigns.