Tis' (almost) the season to earn your share of winter holiday sales with holiday email marketing campaigns that drive clicks and conversions. But to make the magic happen, you'll need to start now. Don't wait until the season is upon you to make and check your plans. Here's how to prepare your content and infrastructure to deliver your offers just in time.
Whether it puts you in the black or finishes your year with a revenue boost, the Q4 holiday email marketing activities have the potential to reap the largest rewards for retailers. Ecommerce brands and traditional retailers pull out all the stops to reach consumers and convert them into holiday customers.
Since email marketing allows brands to communicate with subscribers one-to-one at scale, sending them the right messages at the right time and winning conversions, you want to know how to launch the type of conversations that lead to these conversions.
These seasonal greetings have the power to draw new consumers and existing customers to your website or store to buy for themselves and everyone on their gift list. Getting your holiday email message campaigns right is not something to leave to chance. Leaving it on repeat year after year isn't doing you any service here.
How often have you seen those pulled together at the last minute and sent to everyone via an email blast?
Companies who get the most out of the holiday season run a preparation process that begins early on because, as we all know:
"The early bird gets the worm."
And they continue and optimize throughout the year because there's a lot to learn in the process:
"The second mouse gets the cheese."
Being prepared means you may have a chance to enjoy the fruits of your labor this holiday season, watching your targeted, customized emails flow to their intended recipients right on schedule.
Instead of worrying about tasks that could have been completed before the holiday rush, you can concentrate on doubling your efforts and catering to your customers' needs while adjusting and monitoring your campaigns. All of which will bring you better results throughout the vital fourth quarter.
Plus, if things don't go as planned, you'll have the capacity to pivot because you're not already overwhelmed with all the tasks that could have been done earlier.
In this Q4 preparation guide, you'll find trends that are affecting this year's holiday shoppers, strategies for large-scale seasonal email marketing success, and the steps you need to take to ensure your email marketing program is fit and ready for whatever challenges this Q4 brings.
Ready to set the stage for an amazing end of the year? Let's go!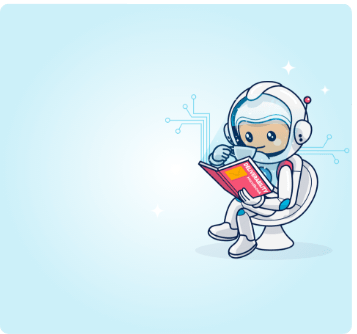 The complete
deliverability
handbook
Read the most significant, most organized volume of information written about email deliverability.
Trends shaping consumer behaviors and their effects on holiday email marketing campaigns
The last two holiday shopping seasons have been defined by the global response to the pandemic. Between 2019 and 2020, the shift in consumer behaviors was dramatic. Ecommerce sales grew, and brick-and-mortar retailers shifted their strategies to accommodate online and in-person shopping.
Shopper's attitudes about retailers shifted as well. In a 2021 Accenture survey, 40% of consumers said a brand's values-driven attributes strongly influenced their decision-making.
Among the leading issues guiding consumers' purchasing choices was sustainability. The Global Sustainability Study 2021 reported that 60% considered sustainability important purchase criteria, and 34% were willing to pay a premium for sustainable products.
What else was on consumers' minds during the 2021 holiday season?
While the economy had started to show signs of inflation, its impact on holiday spending was limited. For many shoppers, tired of the pandemic and ready to celebrate, getting what they wanted delivered on time was more important than what they had to pay.
Will the same hold for 2022?
Don't bet on it. Plans for celebrating the winter holidays with gifts and gatherings will be tempered with more practical concerns.
Keep in mind these 12 trends will influence the 2022 holiday shopping season:
Ongoing inflation and the resulting increases in costs of living will limit consumers' holiday budgets.
The numbers:
The holiday shopping season will get off to an early start as Amazon, and other major brands make their first seasonal pushes in October, and consumers heed the lessons from last year's supply chain problems.
The numbers:
38% of the US shoppers who participated in Amazon's July 12, 2022, Prime Day purchased holiday gifts during the event. (Digital Commerce 360)
37% of consumers expect to start their 2022 holiday shopping as early as October. Nineteen percent of shoppers in 2021 reported beginning their quest for the perfect gift in August. (RetailWire)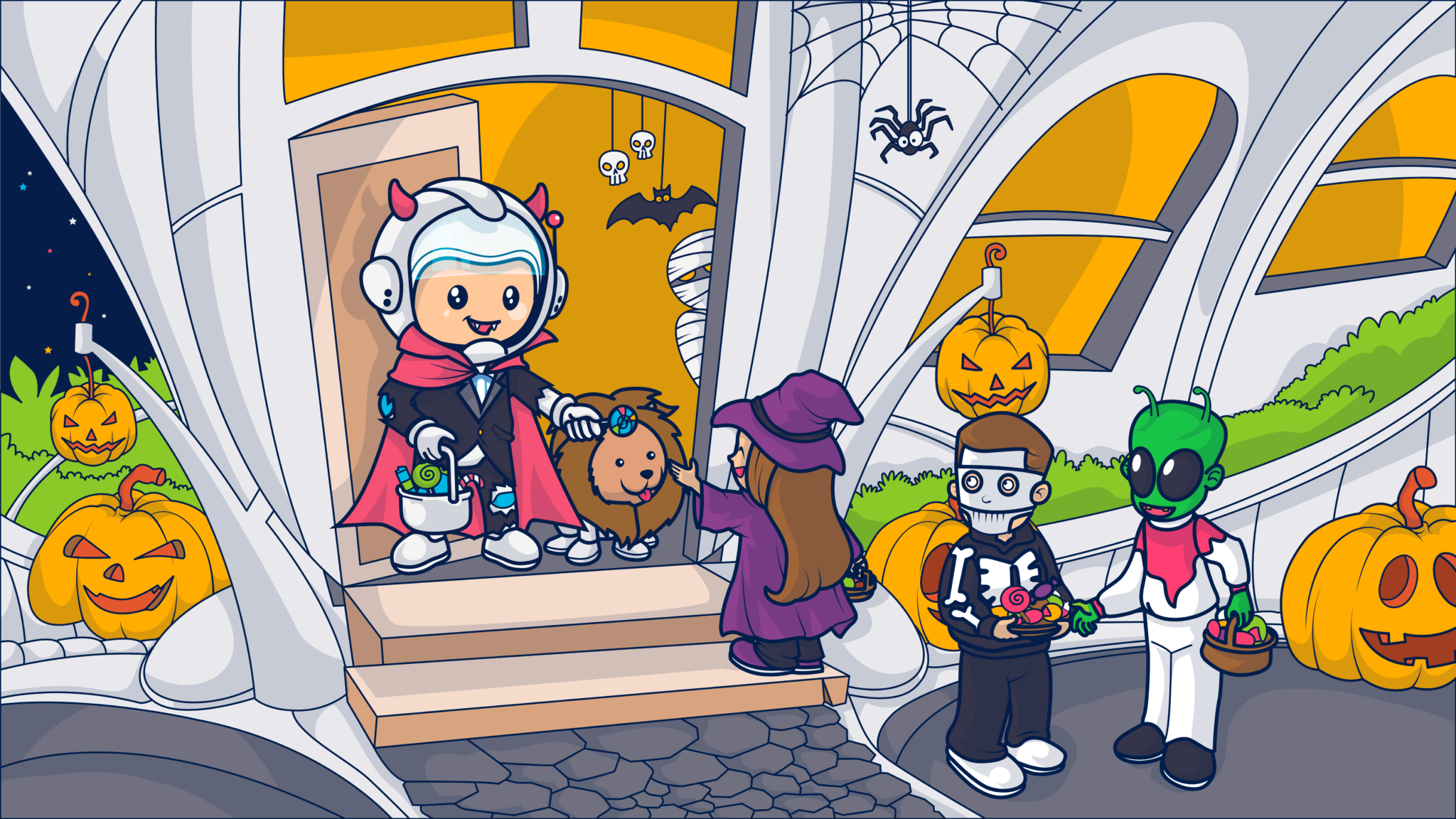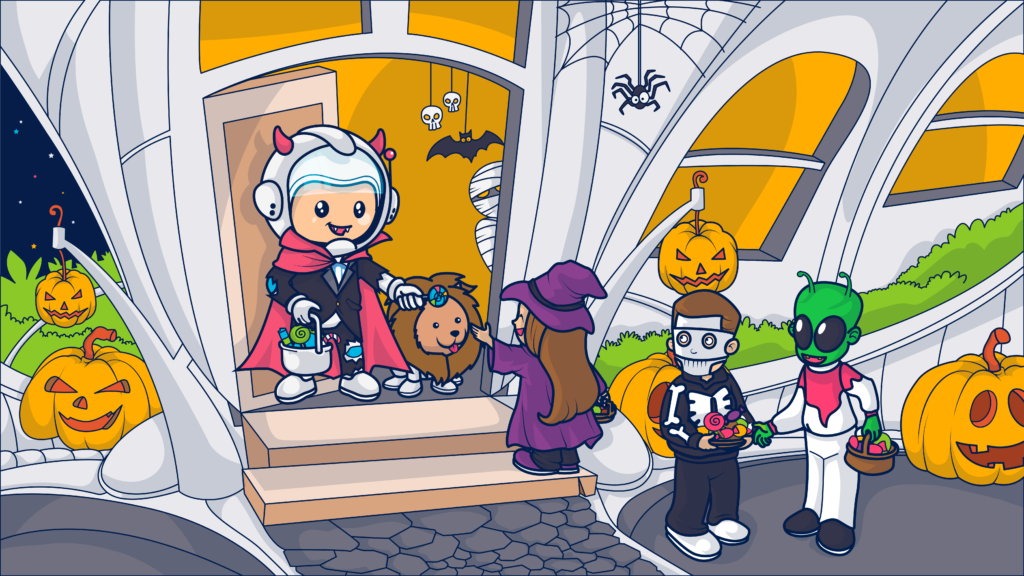 Consumer goods prices will continue to rise through the end of the year. Brands that need to replenish their inventories late in the season may have to choose between reducing their margins or raising prices for last-minute shoppers.
The numbers:
The average selling price for retail goods will increase between 8% and 12% each month through the end of 2022. (Salesforce UK)
The US Producer Price Index for final demand goods excluding foods, energy, and trade services increased 5.8% for the 12 months ended in July 2022. (US Bureau of Labor Statistics)
Supply chain issues outside retailers' control, from inventory shortages to late deliveries, will continue to be a threat to customers' experiences and brands' reputations.
The numbers:
Online shopping will hold steady, but many consumers will return to brick-and-mortar locations to examine items in person and participate in the seasonal shopping experience.
The numbers:
Among US shoppers, 46% preferred shopping in stores while 28% preferred shopping online. In-store shopping prevailed among global consumers with the expectation of those in China and South Korea. (Morning Consult Retail and E-Commerce Industry Trends)
52% of consumers prefer to find new products in-store instead of online. (5WPR)
Consumer loyalty won't come free. Shoppers who became accustomed to switching brands to get the products they wanted will continue to seek out the sellers who offer the best value and experience.
The numbers:
51% of consumers have become less brand-loyal to find cost savings.
75% of consumers are replacing their favorite brands with less expensive options. (Dynata)
Values and sustainability will continue to influence shoppers' choices.
The numbers:
82% of consumers want the brands they shop with to have values that align with their own. (Google Cloud)
54% of consumers in a 2022 survey said they read brands' communications about sustainability programs, and 53% would shop with a store or brand less often if they discovered it didn't support sustainability efforts. (Sensormatic)
Convenience options such as buy online, pickup in-store (BOPIS), curbside pickup, free return shipping or in-store returns, and partnerships between e-commerce brands and physical stores will become increasingly common. Morning Consult reports that among US consumers, convenience and speed were the two most important factors guiding their decision to choose BOPIS or curbside pickup among US consumers.
The numbers:
44% of major retailers offer BOPIS, up from just 4% prior to the pandemic.
US BOPIS fulfillment values will reach an estimated $96 billion by the end of 2022. (KIBO)
Consumers are embracing digital and mobile wallets, including Venmo, Apple Pay, Cash App, Google Pay, and PayPal, and will expect retailers to accept their payment method of choice.
The numbers:
49% of global e-commerce transactions and 29% of the point of sale payments were completed using a digital or mobile wallet in 2021. (The Financial Brand)
Between 60% and 65% of US adults use digital wallets. (Payments Dive)
Buy now, pay later (BNPL) will be the deciding factor for many shoppers trying to maximize their purchasing power.
The numbers:
US BNPL transactions are expected to exceed $75.60 billion in 2022, a 77.3% year-over-year increase. (Insider Intelligence)
45% of consumers surveyed about their use of BNPL said they used the payment option to purchase something that wasn't in their budget. (Bankrate)
Consumer expectations of a seamless omnichannel experience that includes online and offline contacts will grow. Mobile and social shopping will be key players. As will their expectations that those omnichannel experiences will be personalized.
The numbers:
75% of consumers want brands to use their personal data to make it easy for them to navigate in-store and online, and 76% are frustrated when brands show or recommend products to them that aren't relevant. (McKinsey)
59% of retailers don't orchestrate consumers' experiences as they move between channels. (Retail Dive)
The competition for consumers' seasonal dollars and their year-round loyalty will be fierce as economic pressures put a squeeze on disposable spending.
Other 2022 developments that will impact your holiday email marketing campaigns
People's buying behaviors aren't the only thing email marketers need to have their eye on as we enter the 2022 holiday season. The following issues should also be on your prep for the season checklist:
On-site user experience: Consumer expectations for seamless, personalized, cross-channel experiences pressure sellers to ensure that every email communication is part of a positive end-to-end experience. This means ensuring that your subscribers click through to a web page that delivers what is promised, plus a worthy user experience (UX).
Make sure your website has incorporated the latest recommendations from Google's Q1 page experience update, which emphasizes security and response speeds (first input delay), and favors pages that limit the use of intrusive interstitials.
Are your pop-ups negatively affecting your users' experiences? It's worth checking out.
Additionally, as more people purchase smart assistants, voice shopping is becoming increasingly popular. Robust website voice search capabilities improve accessibility and meet a new generation of shoppers' expectations. And, of course, mobile-friendly websites and email designs are a must.
The phase-out of third-party cookies: Website owners got a reprieve from the phase-out of third-party cookies in 2022 (the phase-out is now expected in 2023). But don't get too comfortable. When the final day arrives, companies that haven't already collected data about their subscribers and customers will be left without the necessary information to create hyper-personalized messages at scale.
Your end-of-year email marketing plan should include an assessment of the data you'd most like to have about your subscribers and customers and strategies for collecting it.
Expanded support for BIMI: BIMI is having its moment at last. Brand Indicators for Message Identification (BIMI) is an email specification that enables brands to display a logo next to their From name in the inbox. The adoption of BIMI by email clients hasn't exactly been consistent or speedy.
Apple's September 12, 2022 iOS for iPhone users will include BIMI support, significantly increasing the number of email recipients who can view these eye-catching brand identifiers. Email marketers who have delayed implementing BIMI for their brands may want to get on board before they're competing for attention in the inbox this holiday season.
Now that I've given you a few things to think about, have some cookies and milk, and dig into this step-by-step holiday email marketing prep guide.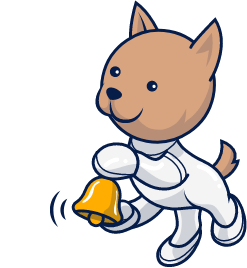 Stay on top of everything that matters in email marketing
Stay on top of everything that matters in email marketing
Kick off your holiday email marketing by reviewing your infrastructure and sending framework
Prior to the beginning of your big holiday sends, identify which domains and IPs you'll use to send holiday blast campaigns and make sure they can handle the volume.
If you've experienced throttling, sending delays, or other volume-related issues with your ESP throughout the year, you can expect these problems to be magnified during the seasonal sending rush.
Be prepared for delayed sending times, throttling, and fluctuations in your sending reputation because of the actions of other senders if you are using a shared IP for your email marketing program.
While new senders may benefit from the cost-savings established reputation of a shared IP, we recommend that high-volume senders operate using dedicated IPs so that only their own sending behaviors impact their capacity and reputation.
Finally, double-check your data interfaces. What information is critical to your holiday email marketing program, where does that information come from, and how secure and reliable are your connections between sources?
Your subscribers and customers will expect you to keep their data secure and use it to deliver great content across all your marketing channels and transaction platforms.
Check if you stand to benefit from an API integration. If you need to enable fast, accurate data exchanges between our platform, your CRM, or other customer data platforms, do it now.
In addition, and when possible, employ systems that support real-time cross-channel updates that allow shoppers to switch between your website and mobile and social commerce apps without losing their browsing progress (or their cart's content!).
Set up and warm up your domains and IPs to support your holiday email marketing objectives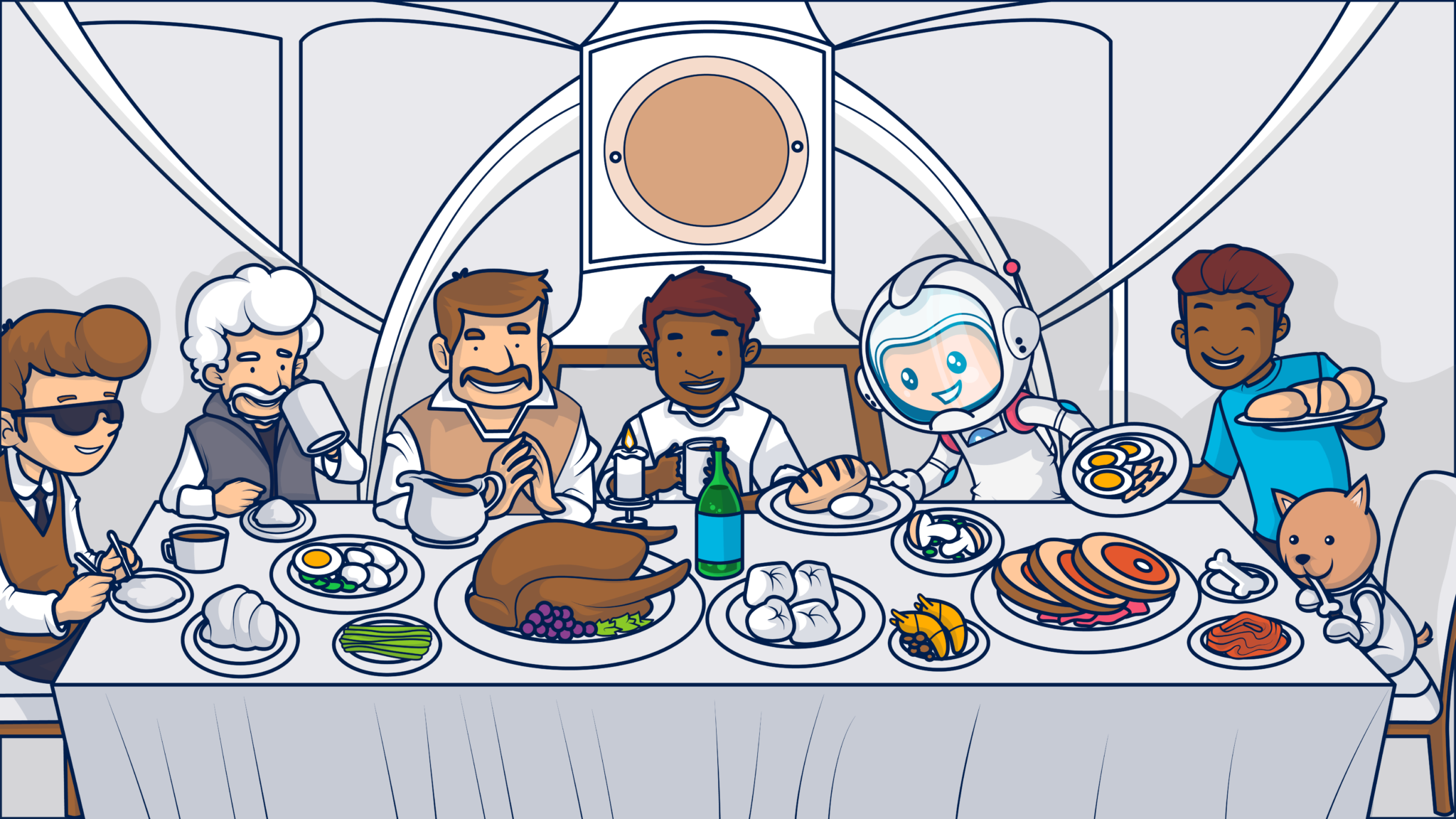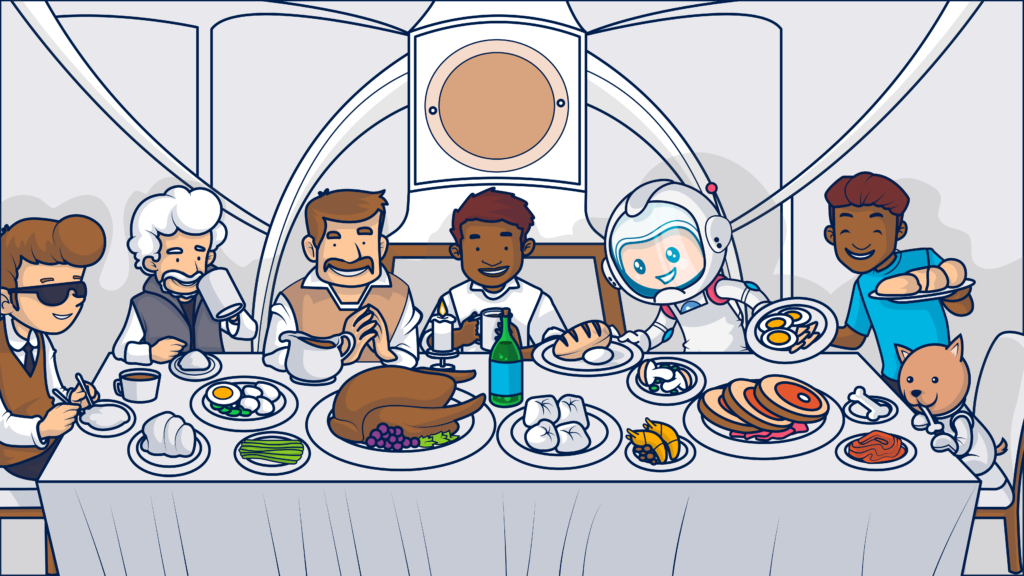 Relying on a single domain or IP for all your email communications is nearly impossible for a high-volume sender and is certainly inadvisable. Choosing the domains, sub-domains, and IPs for your holiday shopping campaigns requires consideration of strategic and tactical factors.
Capacity is a primary concern. But deliverability, process management, and your messages' appearance in the inbox matter, too. Separating your email communications among several IPs and/or domains allows you to control better sending volumes, manage audience segmentation, and track metrics.
Diverting messages at risk for low engagement to a separate sending sub-domain or IP protects your other domains' sending reputation. And, because transactional messages are important to maintaining positive customer experiences, it's also a good idea to use a distinct sending IP for your transactional emails.
As part of your domain and IP selection process, you may designate a sending IP specifically for your seasonal campaigns or assign this year's new subscribers (those who sign up between now and the end of the year) to a separate IP.
A separate IP for your newest subscribers enables you to send double opt-in or other confirmation of interest messages while protecting your sending reputation. Plus, you can closely monitor this new subscriber segment's engagement and conversion metrics and put what you learn into action now and for next year's holiday campaigns.
Your inbox presentation should also be top of mind when you decide which domains, sub-domains, or IPs will be your flagship holiday vehicles. Examine your current From Name strategy.
Do you use separate sender names for different messages?
Will you create a special seasonal From Name for holiday promotions or newsletters?
A seasonal From Name can attract attention in the inbox as something new. You can give your seasonal identity a sentimental or humorous twist to enhance its effect. However, there is a risk of appearing unfamiliar in the inbox when sending messages to established subscribers.
It's time to test different strategies to find out what works for your audiences.
Speaking of attracting attention, remember that BIMI is gaining traction as more email clients support the feature. To implement BIMI, your sending address must be fully authenticated, including DMARC verified. Full email authentication is a must-have for large-volume senders whether they use BIMI or not.
You'll need to have a Verified Mark Certificate as well. According to BIMI.org, your BIMI logo may not display in every inbox as mailbox providers still have ultimate control. But deploying the protocol will enhance your chances of appearing branded and authentic in subscribers' inboxes.
Warm and ramp up your IPs for the volumes you expect to send
Old or new, bring your IPs up to temperature before the high-volume holiday sends. Warming up a new IP before you start using it to send out massive email blasts is an absolute must.
Some might ask: but why should I worry about my existing IPs?
Part of planning any holiday is organizing plans with your family and friends. This isn't always easy. Everyone has an awkward aunt, uncle, or cousin who wants to do something completely different or needs strict instructions on how to behave.
ISPs are a bit like your awkward family members.
They're integral to a good holiday season—but you need to put in some work to be aligned.
Part of the problem is that ISPs hate big changes – and an increase in send volumes over the holidays definitely counts as a big change.
Of course, you can't sit an ISP down and reason with it the way you would with a difficult aunt.
Instead, you have to make sure that your holiday plans don't come as a 'shock' to the ISPs. You have to start increasing the volume of emails you send in advance.
Your existing IPs are known to ISPs, but they may not be known for the volumes of messages you plan to send over the holiday season. For example, if you usually send 1M emails per day and your holiday strategy calls for 3M emails per day, you need to get the ISPs used to your new sending volume slowly.
Make sure IPSs have no reason to scrutinize your sending behaviors by gradually ramping up your IPs until you reach your planned sending volume.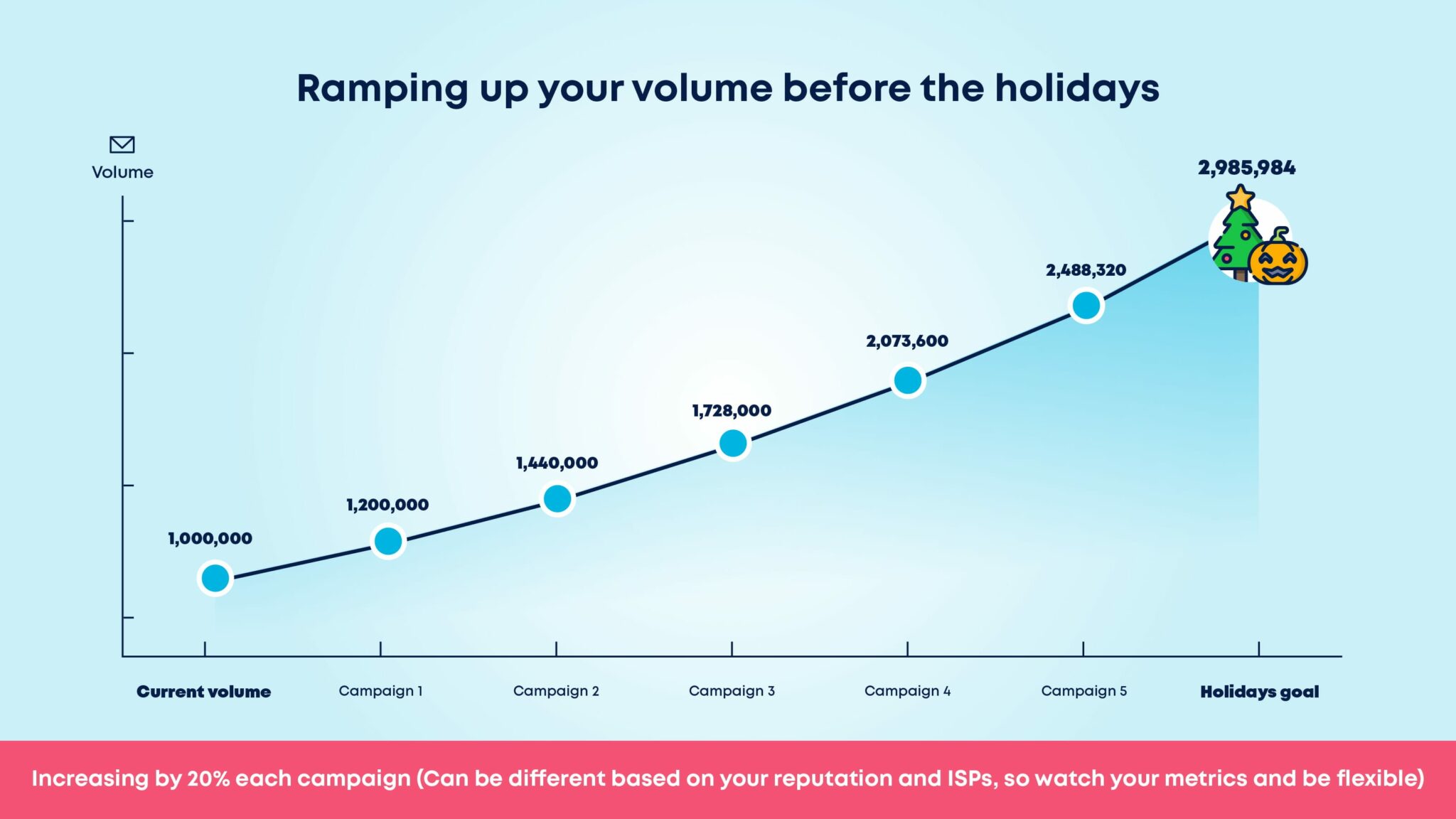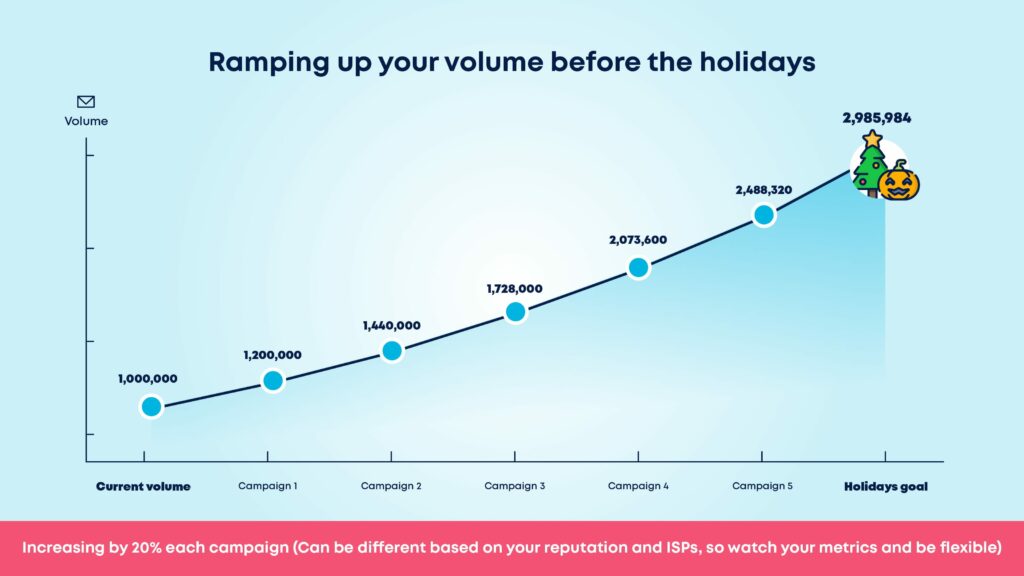 We recommend increasing your volume by 20% per campaign until you reach your holiday goal. Although you may need to bump up your speed (or reduce your early season sending volumes) if you have less than a 30-day head start. Use Ongage's automated IP warm-up service to take this holiday task off your list and put it onto ours.
Keep in mind this is a general rule of thumb, and the number can be different based on your current sender reputation and ISP. Some ISPs are harder to warm up than others, and you may find that you need to scale down and warm up more slowly in some cases.
Monitor your performance during and after you've done your warm-ups.
Watch for these warning signs that an ISP is getting wary of your email blasts:
Rising bounce rates—especially soft bounces. Soft bounces indicate a temporary reason that your email could not be delivered. That temporary reason may be that the ISP isn't sure whether or not to trust you.
Dropping open rates—especially when this metric drops with one particular provider. Open rates don't offer the same level of accuracy we once enjoyed. But you can still use open rate data for comparative purposes.
Deliverability problems with one provider, which may be signaled by low open or engagement rates, could indicate that a trust issue is developing. You may need to lower your send volume with this particular email client.
Rising spam rates—if spam rates rise, it could indicate that people don't appreciate your content, which will cause ISPs to later mark your communications as potential spam. Maybe your planned sending volume is a little over the top.
Remember, there is no need to send higher volumes of happy holiday emails if there's no real justification for it. You have to provide value with each email you send, or you risk them being thought of as holiday spam.
The Email Marketing Activity Book for Kids
Enjoy engaging brain teasers, colorful illustrations, and playful games with your loved ones.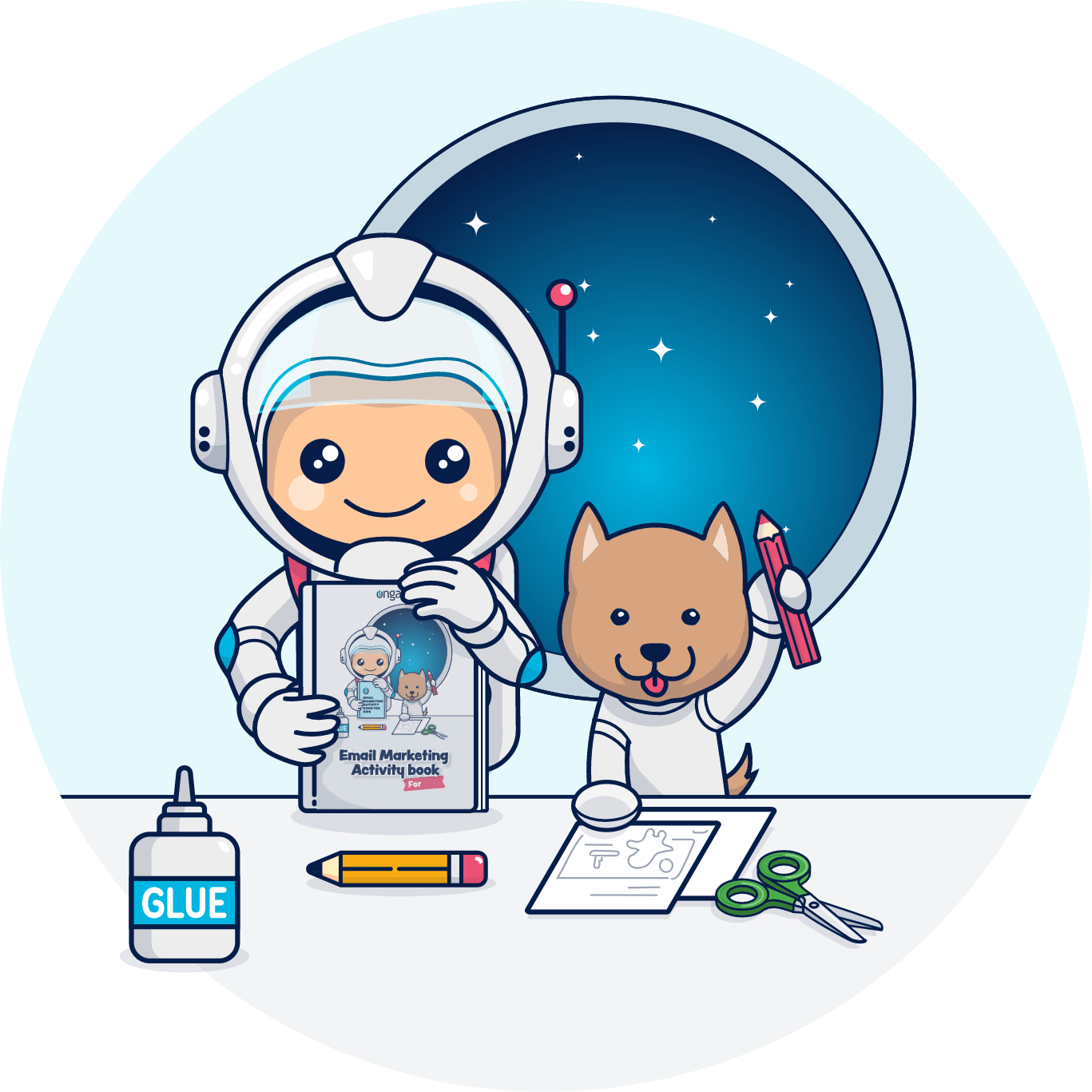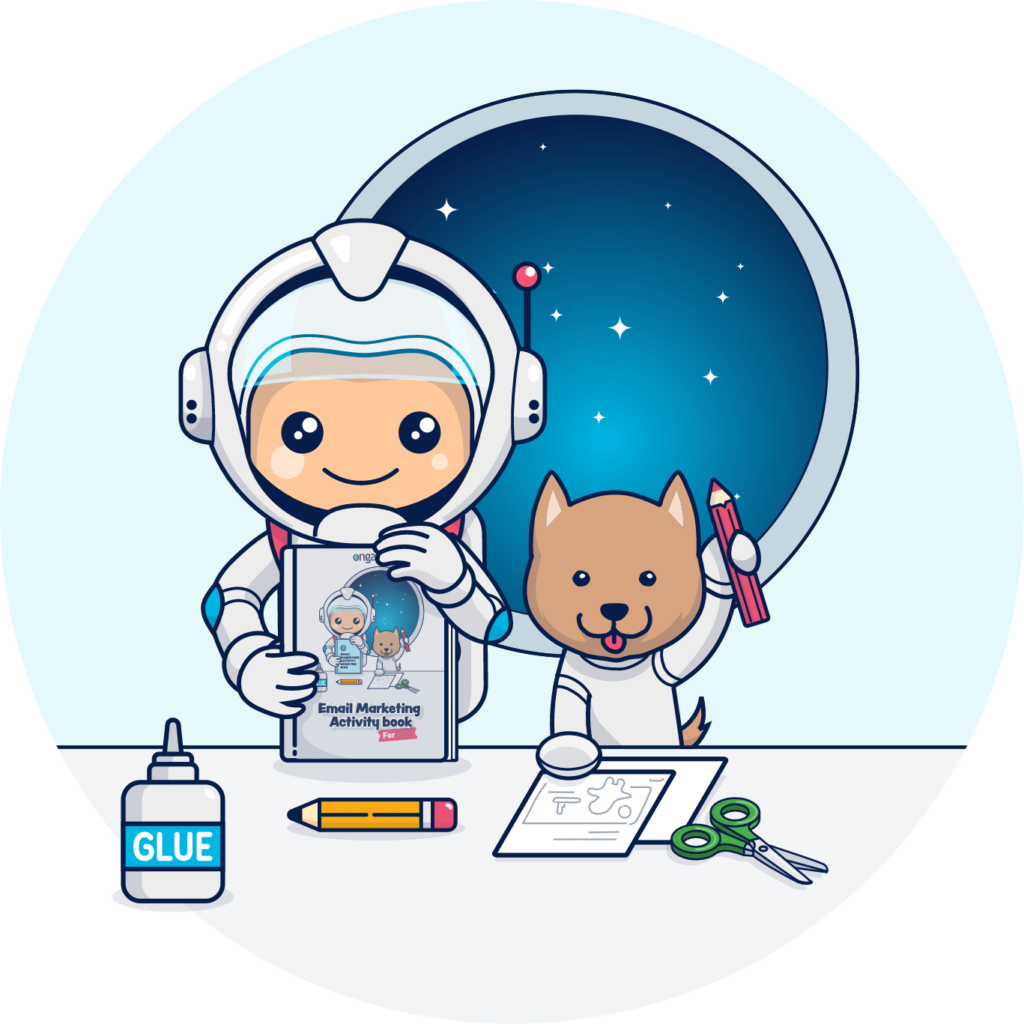 Get your list ready for the holiday email marketing campaigns!
Before the season begins is the time to ring in the new and clear out the old. Experts predict that consumers will be seeking new brands to shop with this holiday season as they look for the best bargains.
This means you'll need to make extra efforts to impress your customers and earn their loyalty. It also means you have an opportunity to expand your subscription list and customer base.
Grow your subscription list with offers to attract seasonal shoppers
Use the pre-holiday and holiday season to attract new subscribers and begin building new customer relationships.
Prime your email sign-up for maximum impact with compelling incentives and clear statements that set expectations and explain what's in it for them to website visitors.
Follow the best practices in our sign-up form setup step-by-step guide to win new subscribers for your holiday campaigns.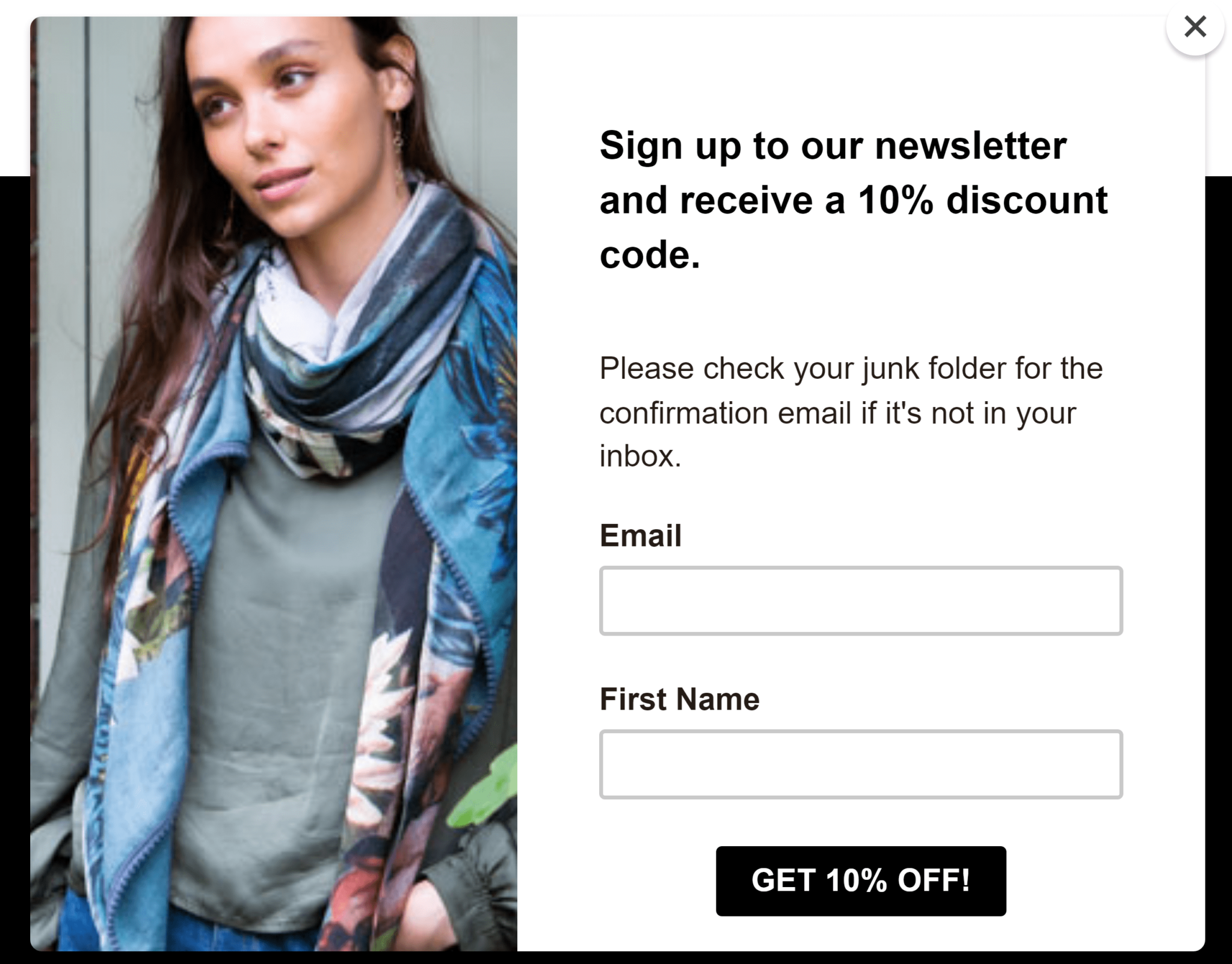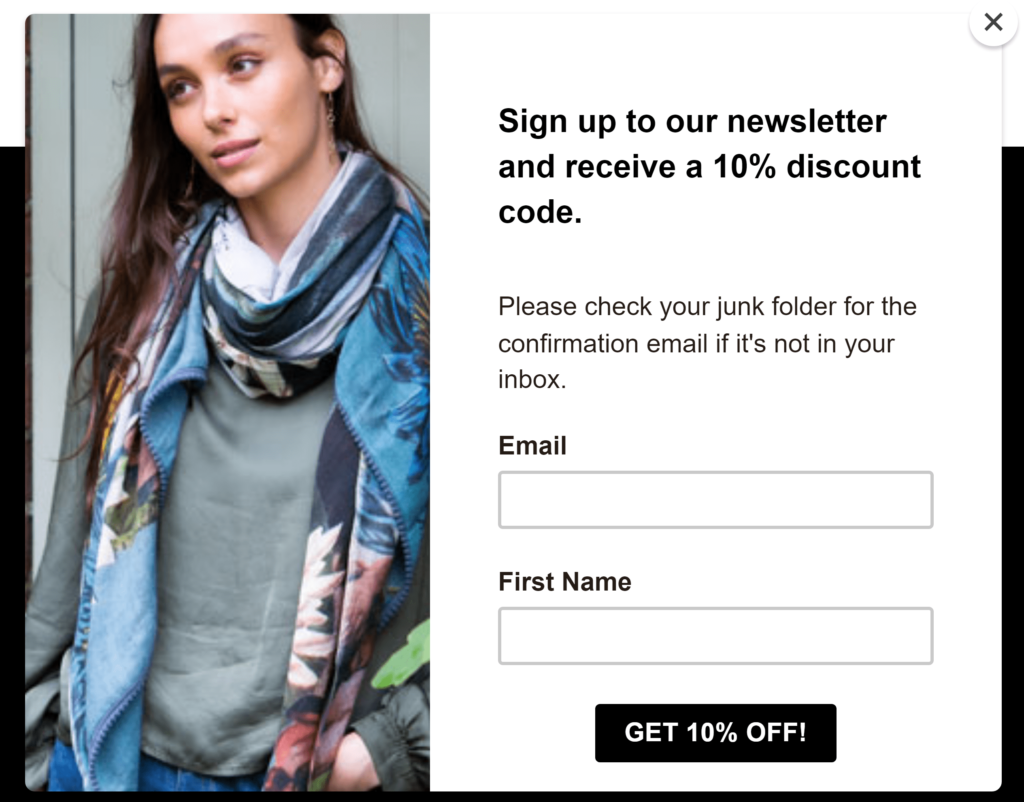 This sign-up form from clothier Cleverly Wrapped (one of several variations on the website) makes its offer clear and reminds subscribers to keep an eye out for a confirmation email from the brand.
Take the opportunity to gather some data
We usually recommend that you keep your sign-up forms short and sweet so that people have no reason not to complete the sign-up process. You can always gain more information about them later using interactive quizzes, email communications, and your preference center.
But, for your pre-holiday sign-ups, I'm going to suggest you test adding one extra question to your subscription form.
Create a special holiday pop-up, slide-in, or sign-up page that asks for subscribers' email addresses and includes an opt-in acknowledgment or checkbox, as usual. Then, add a question such as, "Are you interested in shopping for yourself, for gifts for others, or both?" with boxes subscribers can check to answer.
Use this data to help you segment new subscribers and send them more relevant content.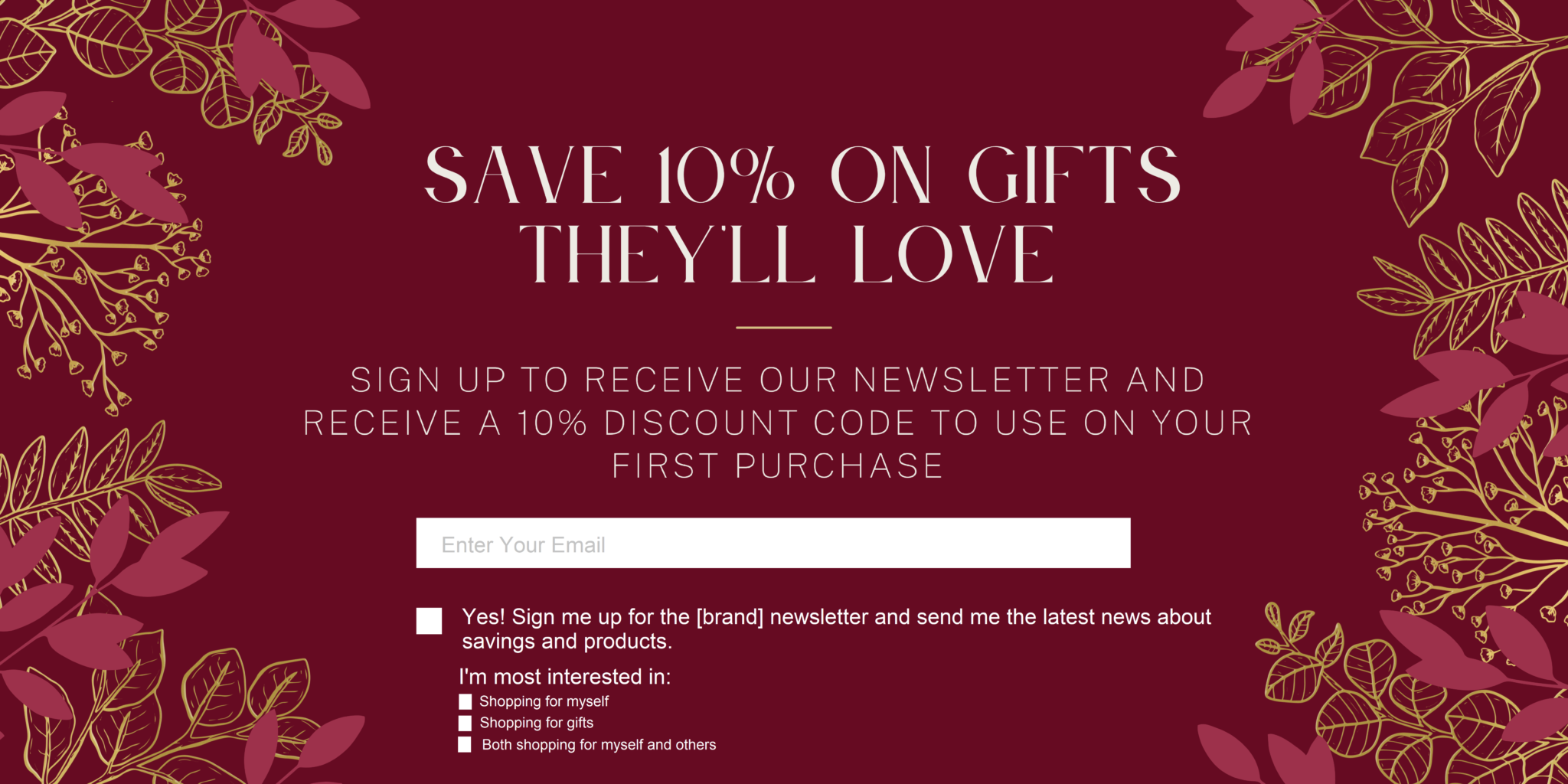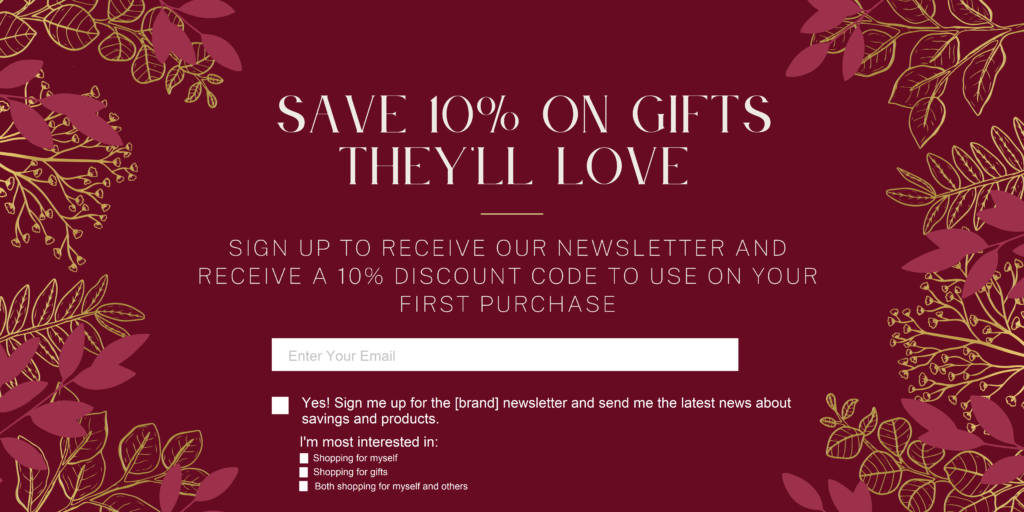 Catch website visitors' eyes and put them in the holiday spirit with seasonal-themed subscription forms.
Don't forget to validate new subscribers' email addresses before you start sending them.
Validating new addresses will help you avoid reputation-damaging hard bounces and intentionally set spam traps, but that's not all you should do to ensure your deliverability stays strong during the holiday sending season. You should also do a pre-season list cleaning that includes clearing out unengaged subscribers.
Reengage or remove lapsed subscribers from your list
The holidays are supposed to be a time of togetherness. Sometimes, the holidays are our one opportunity to connect with distant friends and family. However, it's always good to be transparent when making these plans.
If one old friend doesn't want to go to your Thanksgiving dinner this year, it's a lot better to know that in advance. Not after you've ordered the food and arranged the seating chart.
Similarly, it's worth reaching out to inactive or less engaged audiences on your email lists before the holiday season really starts ramping up. Otherwise, you risk damaging your sender reputation just when you need it the most.
All email lists have less-active addresses. Sending regularly to these addresses is a bad practice that can damage your sender reputation. By sending to inactive or unengaged users, you risk not just lower engagement rates, but also spam complaints and possibly even spam traps.
Good list hygiene, including implementing an automatic sunsetting policy, can save you from hanging on to subscribers after they've moved on.
However, this doesn't mean you should drop your subscribers without asking them how they feel. Before you let them go, make sure the relationship is truly over with a re-engagement campaign.
If people do not respond to your re-engagement campaign, you can remove them from your list while ensuring that your holiday emails will go to fully engaged subscribers.
If your regular (automated) re-engagement process is working properly, your lists of subscribers to check in with should be short. But if you haven't implemented event-triggered drip campaigns to handle re-engagements, now's the time to clean house.
Start by validating your email list to remove invalid addresses and those that have been converted to spam traps. Then, create criteria based on your historical data and buying cycle to identify what a "lapsed subscriber" is. In other words, what length of non-engagement will qualify a subscriber for sunsetting.
Order gap and recency, frequency and monetary value RFM) analysis can help you set your criteria. Consider all engagement channels when choosing how to communicate with lapsed email subscribers.
Create separate segments for subscribers who are engaged via SMS, social media or your website but not via email and those who have no engagement with your brand. The former aren't unengaged subscribers; they are just subscribers whose communication preferences have changed. Send this group a message that acknowledges their continued connection to your brand and direct them to your preference center to clarify their wishes.
Also, evaluate whether some of your seemingly unengaged subscribers are actually seasonal customers. Maybe they only engage with your emails during the holiday shopping season because they purchase your products as gifts instead of for personal use.
You may not be able to determine the intent of the previous year's subscribers (or they may have already been removed from your list).
This year, use your seasonal sign-up form, preference center, or other methods to find out whether they are gift or personal shoppers. Create a separate list or segment for your seasonal shoppers and adjust the engagement criteria for sunsetting them.
⚠️ Reengagement campaigns often have low response rates. So be smart when choosing your IP and domain for this effort.
Review and re-engineer your list segments for seasonal shopping
People are going to receive a lot of emails this holiday season. How will you ensure your messages reach the right people, at the right time and with the right offer? Through thoughtful, data-guided segmentation.
You probably already have several segments within your email list and, hopefully, you are happy with how your email marketing campaigns are performing with those segments. But don't let complacency blind you to opportunity.
Could new or different segments help you achieve more?
Before the holiday email marketing season hits its peak, take a moment to abandon all your preconceptions, your confirmation bias and complacency and look at your subscriber data with fresh eyes. Who are your VIP shoppers? Where are their opportunities to gain referrals, upsells, and increase your revenue?
I highly recommend looking at data like:
Average order value.
Average transaction volume.
Number of clicks and opens per month.
This will help you to determine which of your customers present the best prospects this holiday season.
By placing these 'VIP' recipients into a specialized segment, you can retain and build on their loyalty with targeted offers.
And there's more.
When segmenting according to engagement, order value, and so on, you will feel a lot safer sending high volumes of emails to 'VIP' segments.
These people clearly like your brand and want more of the good stuff you're sending. That kind of engagement is crucial for excellent sender scores.
Also, experiment with using other data to identify your most likely to convert subscribers and the types of messages that will appeal to each group. Maybe this is the year you create separate segments for impulse buyers versus wishlist watchers.
On the flip side, look for segments that don't hold too much promise for holiday sales. You shouldn't invest a lot of time creating customized emails for these groups during your busy season.
Prepare your holiday email marketing messages to entice, delight and convert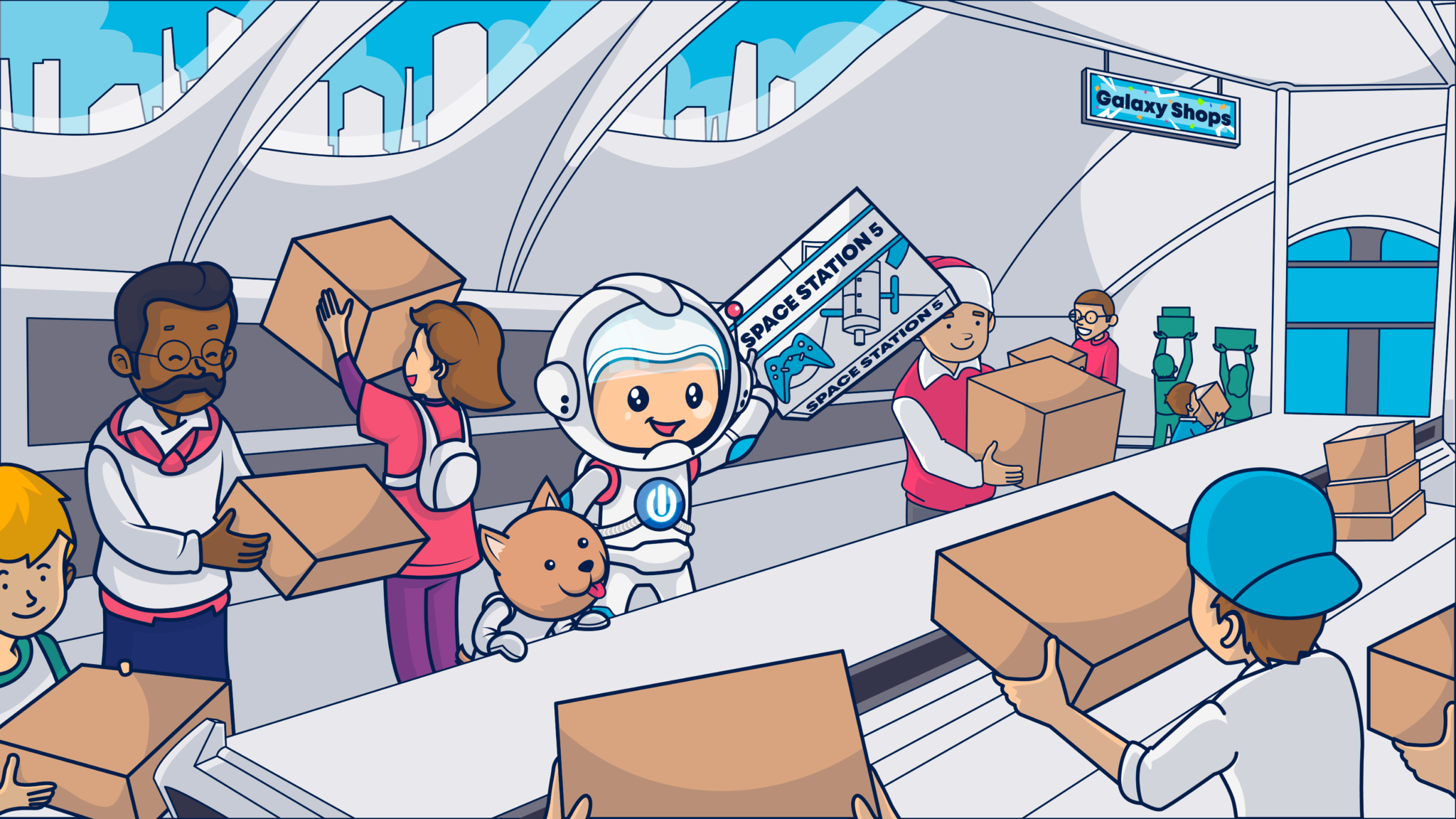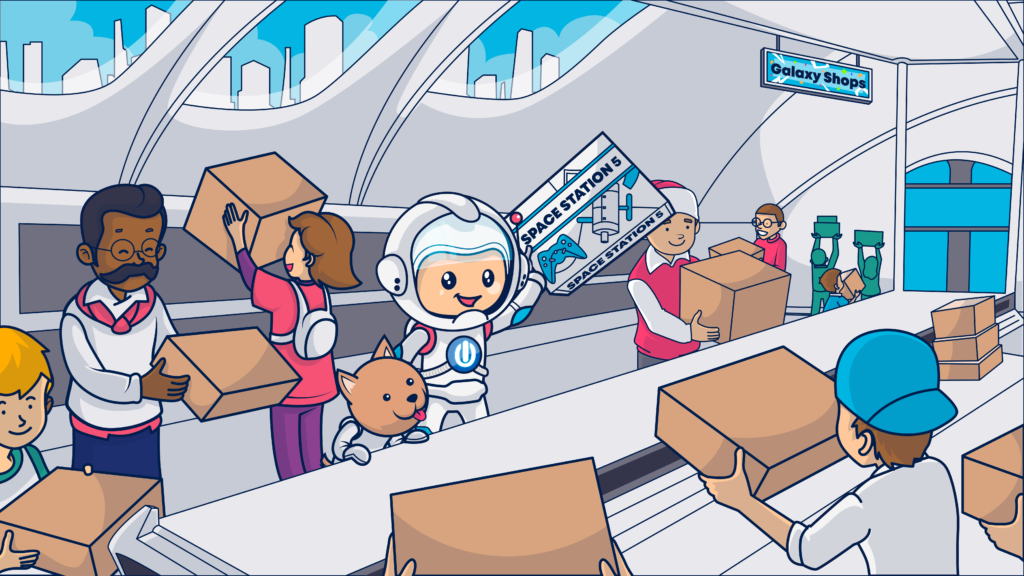 Shopping for gifts before the Christmas shopping rush ensures that you get what you need in time (and save yourself a lot of stress!). So does preparing your holiday content strategy and email templates in advance.
Why wait until the last minute and risk not having the content you need to win over shoppers with plenty of options appearing in their inboxes?
Develop a content strategy that identifies the types of content and specific campaigns you'll send, to which segments you'll send each campaign, your email and cross-channel messaging for each campaign, and when you'll send our messages.
Your Q4 email content strategy should include both blast emails or newsletters and triggered messages. Take the opportunity during the pre-season to develop unique, seasonal drip campaign templates that keep your customers in the holiday (buying) spirit.
Use the following tips and best practices to get your template library in peak condition:
Review and update your stock of subject lines and prepare multiple alternatives that you can grab in a flash if you notice your first choice isn't performing well. You can use our subject line guide to create your selections. Then, A/B test your subject lines to pick your winners.
When building HTML emails, always include a plain text version to maximize accessibility and to accommodate recipients who don't accept or whose inbox providers don't support HTML.
Watch your image sizes and overall file size. Busy shoppers may not take the time to click to view the parts of your messages that are clipped.
Prioritize mobile-friendly, accessible design.
Build season-specific headers and footers that match your seasonal designs across your other marketing channels and website to make your messaging consistent and memorable.
Check your links, then check them again. Review the standard links included in your templates before using them.
When prepping your content and offers, keep this year's trends in mind.
Include dynamic fields and blocks in your templates that allow you to customize your promotions with personalized product recommendations based on your subscribers' browsing or purchase history, regional finds, or your inventory levels and popular items.
Make your value proposition clear. Highlight your pricing and discounts, but also other value-adding features such as multiple payment options, free delivery and free shipping for returns, and local pickup options.
Help shoppers decide what to buy with interactive quizzes that guide them to the products that suit them best. Use gamification to make moving forward on their buyer's journey fun.
Then overcome any last-minute hesitancy with loyalty-based incentives that offer benefits now and later for shoppers who say "yes" to your offer. Add to the sense of urgency and persuade consumers to place their orders early with interactive countdown timers, inventory updates and "Last day to order to receive by Christmas" advisories.
Also, for your subscribers using Gmail, expect your messages to land in Gmail's Promotions tab – don't listen to the bad rep it got, and use this to your advantage. Embrace the benefits of Gmail Annotations and upgrade your inbox appearance.
Gmail Annotations allows you to add graphics to your subject lines. You just have to include the appropriate code snippet in your email header. It provides you with that 'shiny wrapping paper' effect – but more so! Customize your annotations for the season with festive holidays graphics and your best seasonal offers.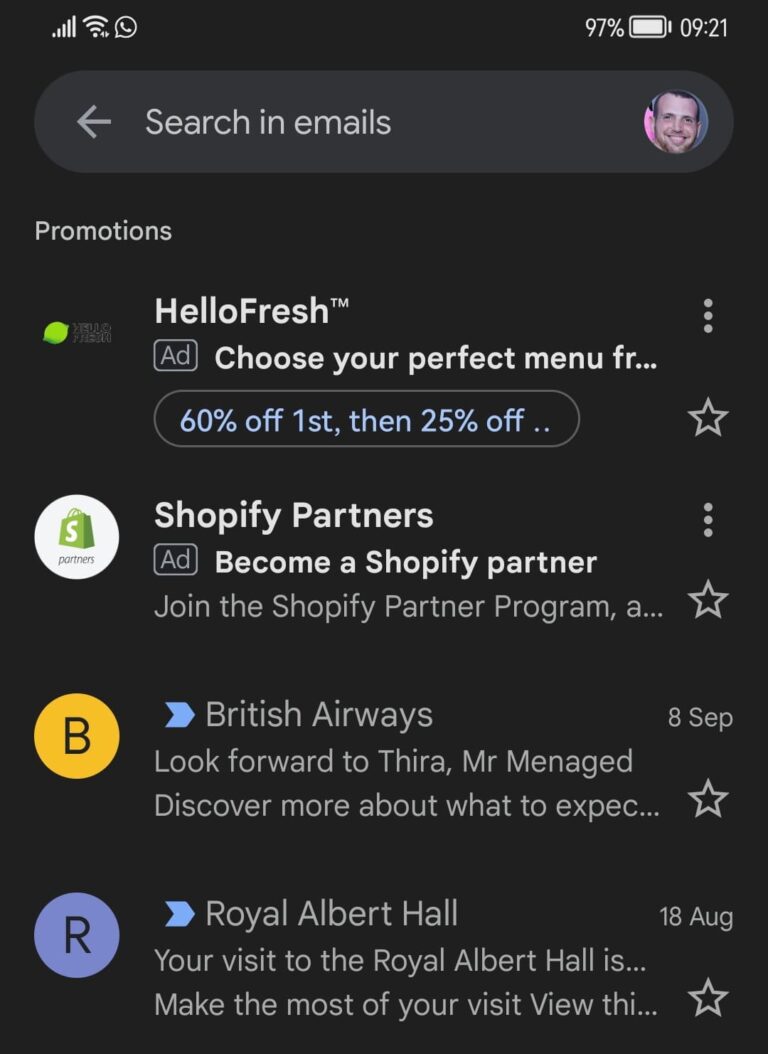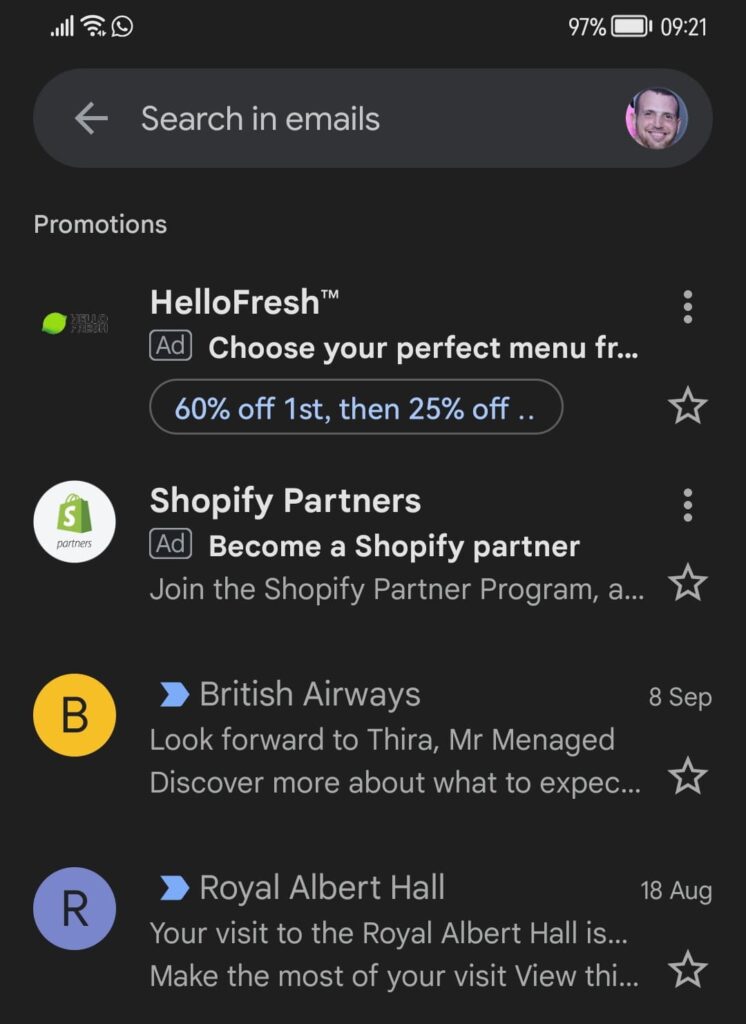 The editors at email trends blog, FreshInbox spotted these examples of top brands' holiday-themed annotations in 2020.
Just as with subject line copy, make sure that your annotations are relevant and engaging, and that the email behind the jump fulfills its promise.
Questions to anticipate and answer in your 2022 holiday shopping season emails
For your content to engage your audience, you'll have to predict what they'll wonder about during their journey.
Having answers to the below questions in any format, is bound to create the type of interactions that will lead to trust, and eventually some sort of engagement:
What are this brand's values and do they align with mine?
Do I trust this brand?
Is this brand proactive about solving my problems?
Do I feel that this brand treats me like a human?
Do the messages I receive from this brand, its products, shopping experience and customer service make me smile?
Is this product popular? Are other people buying it?
How sustainable is this product?
How can I be sure I'm getting the best deal?
What happens if there's a problem with my order or I don't like the items once I've seen them?
Will shopping here help me stretch my seasonal dollars and give my family and friends the holiday I want them to have?
Having answers to the above questions, integrated inside your email campaigns, website pages, and spread throughout social media is a great way to allow your potential customers to get some preemptive exposure.
I wanted to take this a step forward, and I organized for you a few critical holiday email templates that will help you to get ready and kick off the season into gear.
16 holiday email marketing templates for the upcoming season
Seasonal opt-out invitation. Not everyone celebrates the same winter holidays and some don't celebrate at all. Some of your subscribers may wish to keep commercialism out of their holiday experience and others may have personal reasons for not wanting to receive holiday-themed messages. Give your subscribers a choice to say "no," to seasonal messages from your brand with a pre-season opt-out invitation.
Include an easy to locate link to your website's preference center in your "put me on pause" invitation along with an unsubscribe link (as always) in your footer.
Also, make sure that this and every other email you send has an active reply address that is monitored by your customer support team.
Below is an example of holiday opt-out copy that expresses empathy and gives subscribers a choice.
Holiday opt-out

Subject line and preview text: It's that time of year again. Can we give you a break?

Body copy:

The fourth quarter of the year is a busy season for lots of people and the rush to meet everyone's expectations can sometimes be overwhelming.

We'd like to think that our messages sharing our latest product news, deals and shopping guides help you stay ahead of it all. But if you'd prefer to take a break and not hear from us during this season, we understand.

To opt-out of our holiday and other seasonal messages from now until January 1, 2023, just click the link below and tell us your preferences.

You can also visit your profile any time if you change your mind or want to make other updates to your communication preferences.

We wish you all the best this year and next and look forward to assisting you with your next purchase!

[Company name]
⚠️ If you create seasonal versions of your transactional messages, be sure to create branched flows that ensure that your opted-out subscribers and customers don't receive them and are sent messages using your regular transactional templates instead.
Welcome email. First, decide whether you'll stick with your traditional welcome template or create a seasonal version. Even if you don't switch things up for the season, now is a good time to give your welcome email templates a refresh. Make sure your footer data is accurate and up-to-date, your images are crisp and clear and your messaging and design reflect your current brand voice and style.
While you're at it, why add a swappable image block to your template that you can change to suit any occasion?
The email below from beauty retailer Lush includes a subtle nod to the season with a golden-hued hero image featuring holiday treats.


(Get the code for this email at Really Good Emails)
What else can you do to make your welcome message shine?
If your new subscribers have signed up to receive a discount or other incentive, they may be ready to purchase right away. Don't keep them waiting! Also, use a subject line that makes it clear that this is the message they've been waiting for. Your welcome email is also a good vehicle for introducing new shoppers to your brand and its values and offering them tips for navigating your site.
Welcome back email. After your reengagement campaign, you need to show your returning subscribers some appreciation. Prepare a welcome back email to show them the love and give them a reason to keep opening your email messages.
Promotional blasts and newsletters. This category covers a lot of territory. Your promotional messages may be single blasts that go out to multiple segments to promote a single sale, a new product or present some other value offer. But most ecommerce and retail brands also distribute a promotional newsletter that is sent to all or part of their list on a regular schedule.
Use your promotional messages to encourage consumers to complete their buyer's journey and make a purchase with limited-time promotions, exclusive deals, value bundles, and flash sales.
Don't forget to offer reassurances that convey your brand's reliability and trustworthiness, and highlight features that make shopping with you easy and convenient. Savings and ease will be top of mind for this season's inflation-pressured consumers.
Use the following examples to inspire your 2022 promotional email templates:
Flash sale

Subject line and preview text:
This is the moment you've been waiting for (if you like great deals)

Body copy:
We appreciate our customers all year round but wanted to give them something special for the holidays. So, to help you stretch your holiday gift budget, we've put our [most popular/best gifts/fastest moving] inventory on sale!

Starting now through [day, date and time UTC] or while supplies last, get any of our [category or product] for [discount %, additional discount % off already reduced price]. We'll even ship your order for free.

Don't delay, though. Fill your sleigh with some of the best deals of the season today!
With longer shipping periods and potential stock outs, getting your customers to shop early this season is worth a mention, too. I put together the following shop early promo to give you a head start.
Early-bird

Subject line and preview text:
We aren't trying to rush you. But the holidays aren't that far away.

Body copy:
Last-minute shopping is a time-honored holiday tradition that adds a special thrill to the season. Or maybe that's just us.

Our inventory is packed with amazing gifts that are sure to surprise and delight recipients. But this year's supply chain challenges mean you should order early if you want to guarantee that your packages will arrive by Christmas day.

We know it's hard to make a choice when you want your gift to be perfect. So let us make it easier.

Place your order by [early bird date] and get [offer of discount or free gift]. Plus, you'll get free delivery and free shipping on any returns.

Once you place your order, you'll be able to track its progress from our store to your door by [visiting your account page and selecting your order or other instructions for tracking]. That way, you can enjoy the thrill of giving instead of the rush of last-minute shopping.

Happy holidays!
Experts are predicting that shoppers will to be less forgiving about missed delivery deadlines this year than last. Thus, the onus will be on sellers to set expectations and keep their promises. Earn your subscribers' trust and avoid causing disappointment by being transparent about your brand's situation in your email and other communications.
Customer appreciation messages and holiday greetings. The holiday season and year's end are the perfect time to send a message of appreciation to your loyal subscribers and customers. And if you want to give them a little incentive to shop for themselves–even better!


This seasonal message from PlayStation includes a voucher code enabling subscribers to download a free gift.
You don't always have to accompany your message with an offer. Sometimes, just "Happy [holiday]" is enough.
In recent years, consumers have become more interested in finding brands that share their values and with which they can feel a personal connection. Sending sincere, authentic messages that accurately represent your brand's tone and purpose enhances your brand's credibility with subscribers.


Artifact Uprising skips the pitch and shares sincere thoughts in this Thanksgiving message to subscribers.
This greeting from Output strikes a festive fun note with a "warm fuzzies" CTA that invites subscribers to get to know the brand's team better. The enticing click-through button also encourages deliverability-boosting engagement.
Recovery emails. Shoppers can drop out of your funnel at any stage. Don't give them up too easily, though. Use triggered browse, cart and checkout abandonment messages to bring them back. A well-timed recovery message can boost your conversion rates, especially if it includes an irresistible offer.
But will subscribers see your email message before they've decided to buy somewhere else? This is where your omnichannel strategy can save the day. For your email subscribers who have also signed up to receive text messages, initiate your recovery sequence with an SMS message that encourages them to complete their transaction.
Follow-up your initial communication with an email that anticipates objections and offers assistance such as referring the shopper to your payment or returns policy pages or invites them to chat with a customer support member. Have your teams on high-alert and ready to resolve questions about shipping, returns and other common issues.
What else can you do to convert the hesitant shopper?
In past years, we've recommended not starting your abandoned cart or checkout negotiations with a discount offer. Sometimes, a simple, "Hey you left this in your cart" gets the job done and you don't need to shave your margins to make the sale.
Well, this year things are a little different.
The combination of earlier shopping and tight budgets means that you may only get one chance to make your best offer.
Decide what that offer will be, and when you'll make it before the season starts. Consider the cost of shipping, risk of returns and the total order value when creating your abandoned cart and recovery incentive policies for holiday season 2022.
Customize this holiday-themed abandoned cart template to include images of the products your subscriber has selected (to remind them of what they are missing) along with pricing and other relevant data such as their color and size selection. Then further customize it with the offer you want to make. Test different offers among segments or change your offer based on delivery deadlines and other factors.
I included copy related to contacting customer support in this template. If you already provide this information in your emails' footers, I recommend modifying the text to encourage subscribers to use those resources if they have questions.
Abandoned cart email (holiday theme)

Subject line and preview text:
[Name], you left something in your sleigh | Get [offer] when you complete your checkout now

Body copy:
We noticed you added some goodies to your cart but haven't checked out yet.

[Dynamic block featuring cart contents]

Would an [extra % off, free gift, shipping upgrade] make it easier to say yes?

Let's make a deal!

Complete your purchase before 2023 and we'll give you [deal]. Just enter this code: [unique code] at checkout.

Shipping is free, and payment is easy. Choose your favorite from among [your payment methods] or take advantage of our buy now, pay later offer to put off payment until after the holidays.

Have questions?

Contact our shopping experience experts at:[phone, email, social channel] or visit our website for assistance via live chat.

We look forward to helping you make this holiday season bright!
Wishlist reminders. These messages are similar to abandoned browse messages which can be customized based on the subscribers' browsing history.
Wishlist entries represent stronger buying intent. So they are definitely worth their own template.
Like your recovery messages, you can't afford to waste much time when sending these reminders. Use your available data to determine how soon after wishlisting an item customers have purchased that item in the past, then plan to send your nudge sooner.
Gift guides. What better way to get your best products in front of your audience than to include them in a gift guide? Help your customers and help yourself with curated lists based on interests, age, gender identity or other factors. You can even mix things up with some quirky categories such as "Things that sparkle" or "Sweet versus spicy."


Bath & Body Works updates its subscribers on the brand's latest promotions regularly. During the holiday season, the company adds holiday themed rows to its template with content like a link to a Top 5 Gift guide.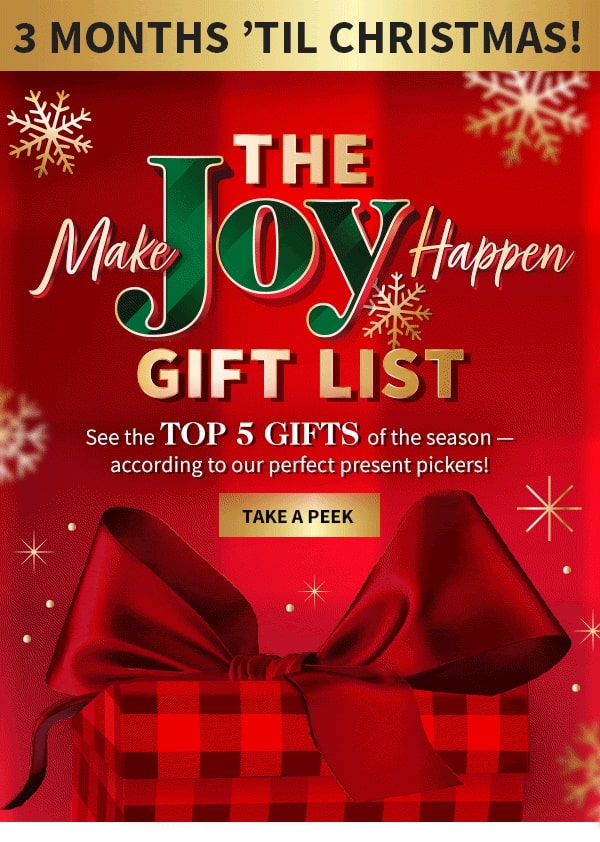 FAQs. Whether you're answering questions about how to order and track shipping progress, explaining your return policies or describing the uses of a specific product, FAQ content adds value and demonstrates that you care about what your customers care about. These messages offer your customers a break from the usual, "Buy now!" holiday chorus.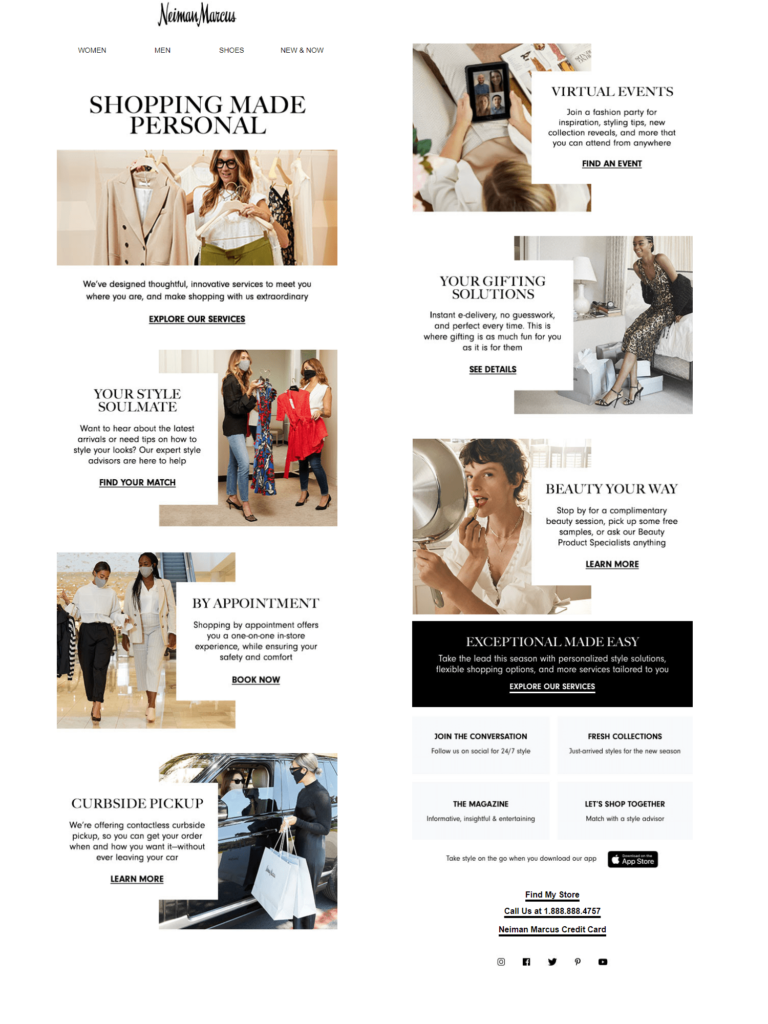 This message from Neiman Marcus introduces subscribers to the many ways the brand makes shopping convenient, including its exclusive gift selection service.
Charitable appeals and community updates. Shared-values are still a powerful motivator. Some brands offer to make a donation for every purchase made during a specified period. Others encourage their brand community to support a selected cause with no strings attached. There's nothing wrong with doing both! Giving Tuesday is the perfect time to encourage your subscribers to support their favorite causes and share your own philanthropic plans.
Reminders and updates. What types of reminders will you send this holiday season and will they be segment-wide blasts or triggered messages? You may want to create a selection of both types.
For example, you might send a triggered low-stock warning or back-in-stock advisory to customers who have browsed a specific product or added it to their cart. The same message might be appropriate for a blast email if the product is highly popular and moving fast.
This back-in-stock alert is aimed at busy holiday shoppers and uses subtle social proof to persuade them to grab this item while they can.
Back-in-stock alert (holiday theme)

Subject line and preview text: They're here! They're here! | [Products] are back in stock and ready to ship

Body copy:

[Image of product or UGC featuring product]

Great news! This customer favorite is back in stock!

The season was starting to look a little dim earlier this year when we thought there were no more [products] to be found. But we didn't give up!

The latest shipment of [products] has just arrived in our warehouses and we are ready to deliver them to your doorstep.

Place your order soon to make sure you get yours in time for holiday gift-giving and before we run out.
If you like [products], check out these other great items, too.

[Products related to sell-out item or other popular sellers]

Have a great week and may you find everything on your holiday shopping list before time runs out!

Your back in stock messages will pack extra visual punch and urgency topped with a real-time "Days left to order for Christmas delivery" countdown timer.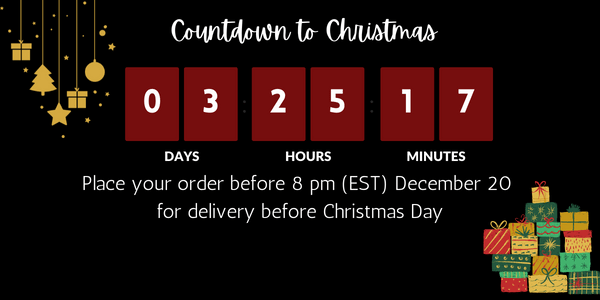 As we can expect 2022's supply chain to have a few kinks, prepare a series of templates that countdown the last days to order for on-time delivery. Also, tell your customers about any available expedited shipping or buy online, pick up in store options.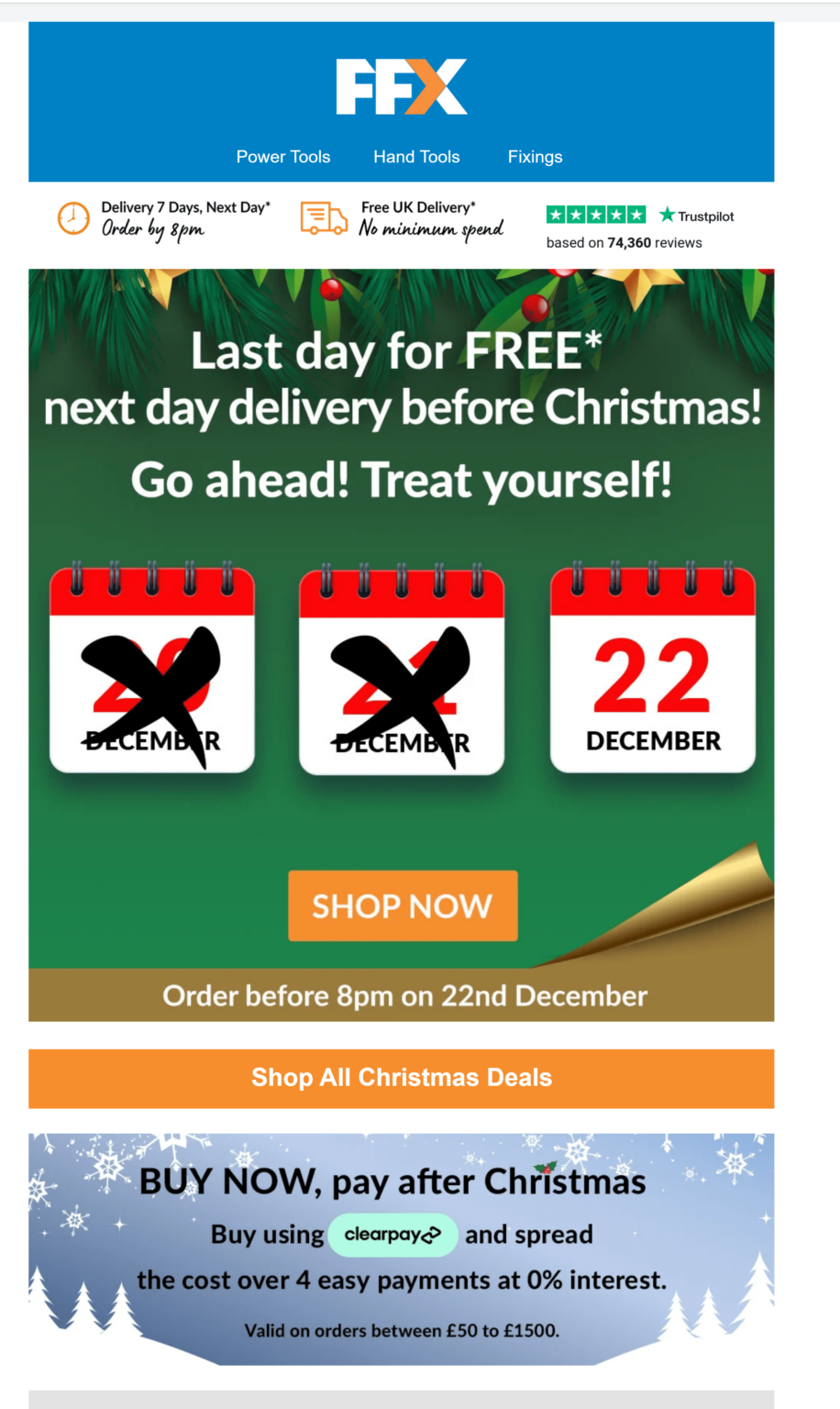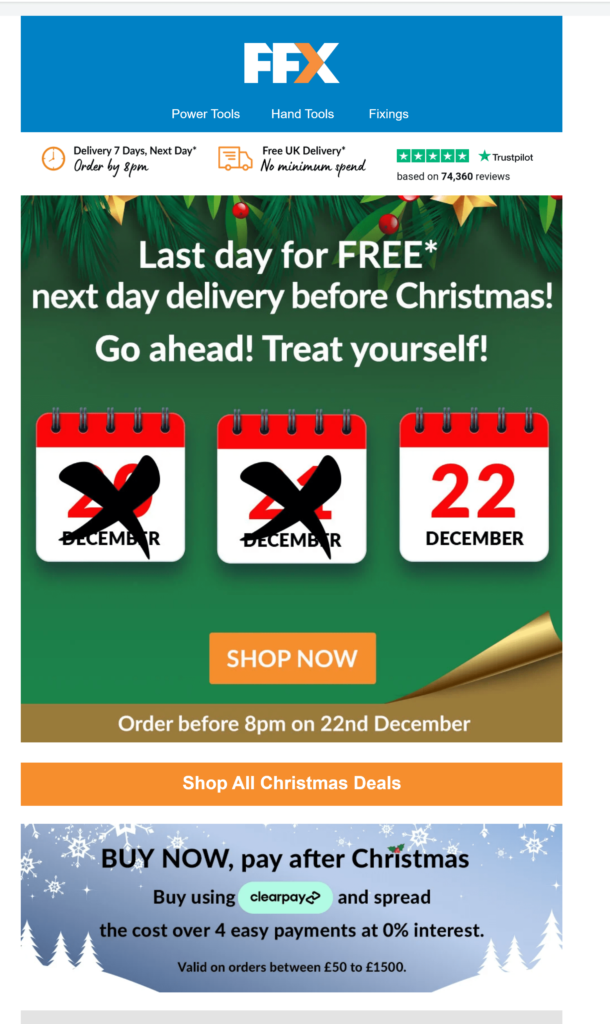 The email (above) from FFX focuses on logistics over products, using both text and images to alert subscribers that time is running for free delivery in time for Christmas. (Source: Milled.com)
⚠️ Watch your tenses. I chose to use a plural form of the product name in my back in stock template because sometimes the singular of an item accompanies a plural verb. (Shoes, for example.) If you are manually producing each alert, you can exercise more freedom in choosing the tense that best suits the product.
Contingency collection. This is the set of templates you need to prepare but hope to never use. What's worse than sending an erroneous message to your subscriber list? Sending a correction message that also has errors! Argh!
So, even though your pre-season preparations have eliminated bad templates and inaccurate copy, prepare the following Oops emails anyway:
Wrong or broken link. You've seen these messages. They follow shortly behind an email that has the best of intentions to send subscribers to a specific webpage or resource. If you need to send one of these during the holiday season, focus on creating a subject line that applies humor or humility to convince subscribers to give you another chance. (But, please, please, check your links before you send. Your sending volume during peak season will be high enough without you having to double-up with a correction blast.)
Wrong price/discount. Unless your correction is offering a lower price or better discount, be prepared to offer some concessions in this message. Consumers looking for the best deal won't be pleased to learn that your deal is not all it seemed. Consider carefully the costs of retraction versus the costs of honoring the original offer. Be authentic and transparent and appeal to your customers' better natures when you break the bad news to them.
Out of stock. According to Adobe, retailers sent over 6 billion out-of-stock messages to consumers during the 2021 holiday shopping season. Prepare a triggered out-of-stock message to send to individuals who have place their orders.
But also prepare a message like the one below to send to subscribers in instances where your promotional mailing featured a product that it turns out–you can't supply. Evaluate the benefits of making your message more sincere and personal by signing your mea culpa with the name of a member of your executive team (versus the risk of them becoming the target for angry responses.)
Out of stock

Subject line and preview text:
Our last email worked a little too well. Please accept our sincere apologies

Body copy:
We recently sent you an email that featured the [out of stock product]. This is one of our favorite products and apparently we aren't alone. Our email message inspired more purchases than we expected.

Even though we thought we had plenty of [product] in stock to meet consumer demand, we've run out.
If you were one of the customers who logged onto our website and received an out-of-stock notification, please accept our sincere apologies. We're in the process of resupplying our inventory and hope to have more of [product] available before [end of year/deliver for Christmas cut off, etc.].

In the meantime, we'd like to suggest a few alternatives that we also like.[product alternatives]

To show you how much we appreciate your patience, enter [discount] when order these or any item on our site between now and 2023 and receive [discount] your total purchase.

Best wishes for a holiday season filled with joy.

[Company name or individual (e.g., VP of Product)]
Shipping delays. Like stock outs, shipping delays may be something you can't avoid this year. Prepare a set of messages that update your customers about what is happening and why. Be cautious when adding information about when they can expect their orders. Once a problem develops, you may not be able to predict when it will be solved. While your customers won't like being left without a definitive answer about when their package will arrive, they will like a broken promise even less.
Site down. Good news! So many shoppers visited your site that it crashed. (Or, bad news! You've been the subject of a bot attack.) Either way, you should act fast to communicate with subscribers once your site is stabilized.
Some shoppers may have moved on to another seller immediately. However, for those who didn't, send them a "We're back!" message and capture those sales.
When communicating in a crisis or bearing bad news, make sure your messaging across channels is consistent and everyone in your organization (especially your customer success team) has access to the information they need to address people's concerns.
Create a centralized record of what the problem is, when it occurred, when it was detected, what you are doing to fix it and any estimate of when the fix will be complete.
In your messages to customers and subscribers:
Acknowledge the problem.
Express empathy and make it clear that you understand the impact of the issue on your customers.
Don't try to evade responsibility for the problem.
Explain what you know about why the problem occurred (without going into too much detail).
Describe what you are doing to fix the problem and what you will do to make amends to those affected.
Where can you find more holiday-themed templates or build your own? Check out BeeFree's selection of seasonal templates. You'll find templates for Black Friday, Cyber Monday, Giving Tuesday, Hanukkah, Christmas, New Year and winter-themed options.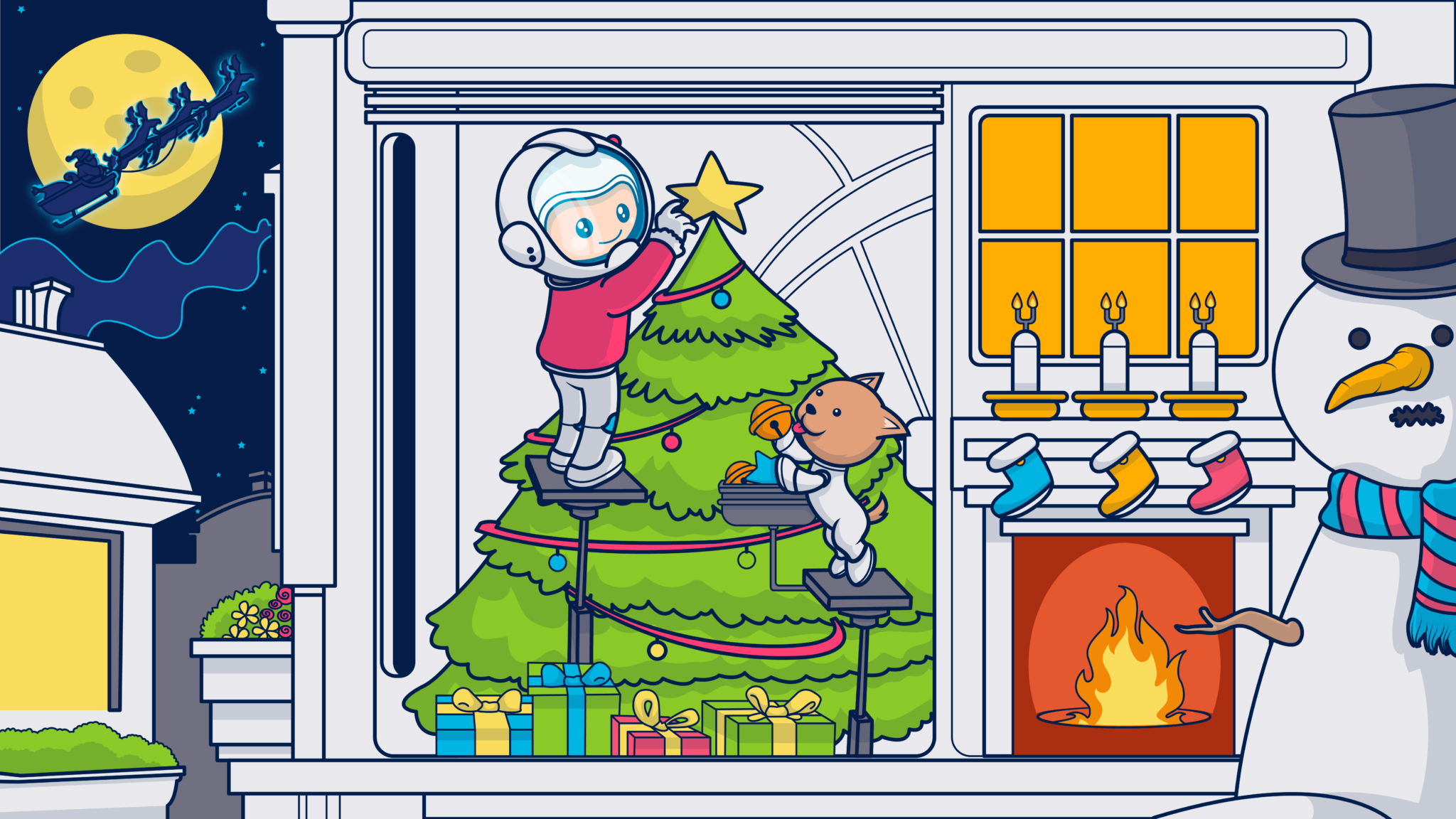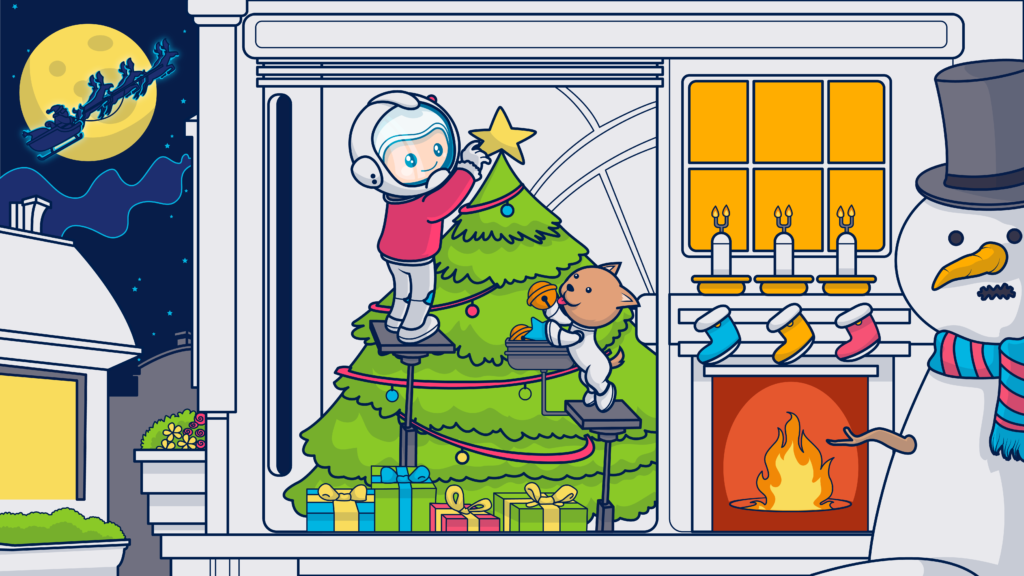 9 Holiday emails examples that deliver the goods
We've covered a lot of ground in this article! You deserve a treat. As it's (almost) the holidays, we'll share with you some of our favorite holiday emails.
Sugarfina says, "Why wait?"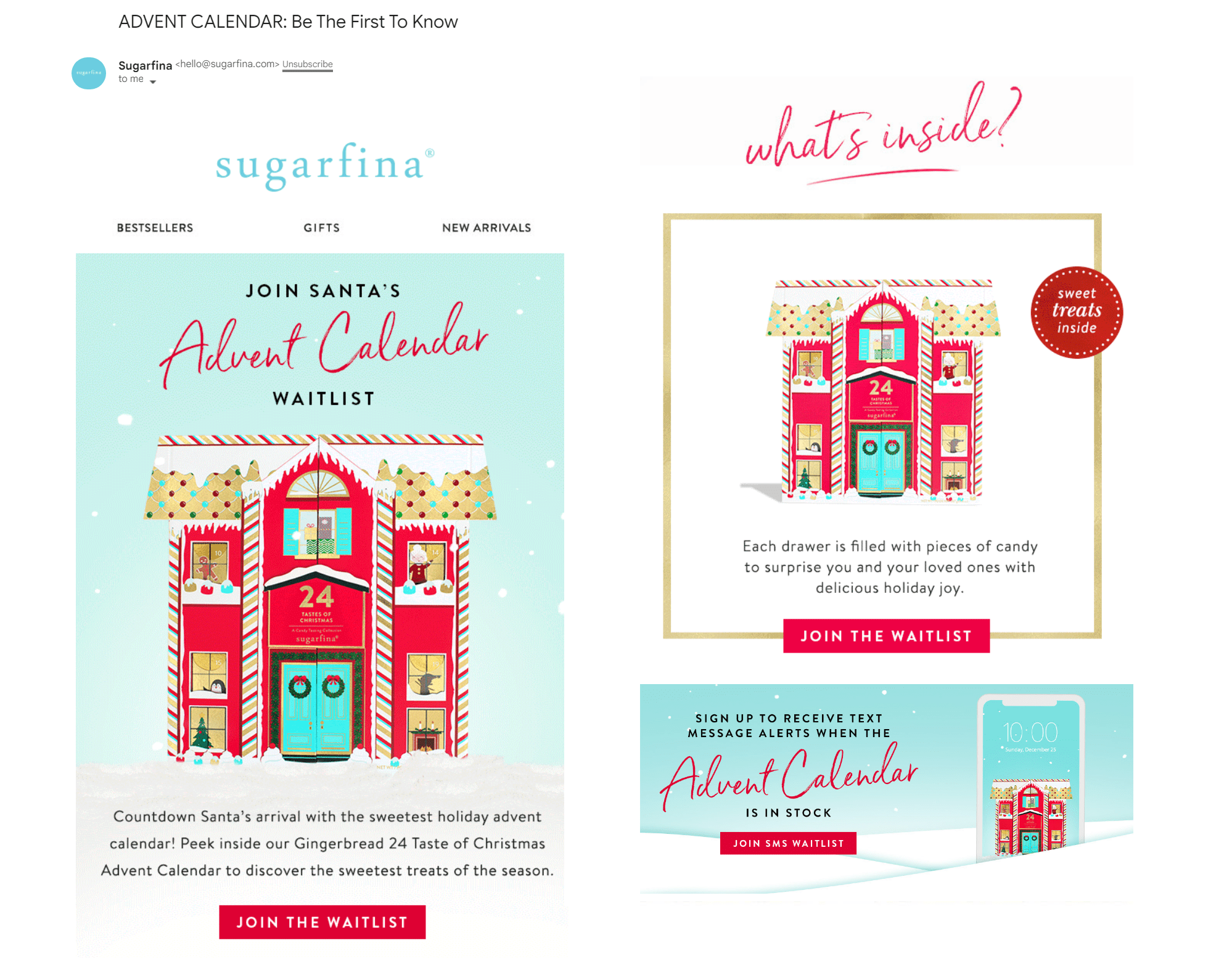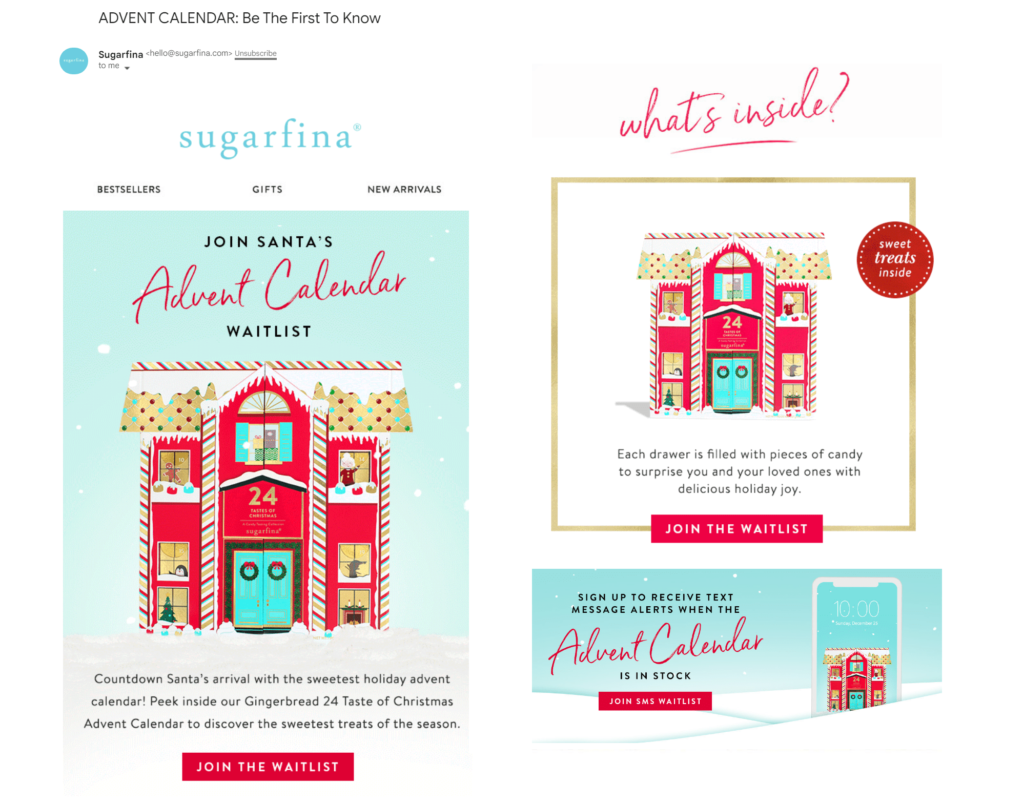 Sugarfina started the 2022 holiday season early with invitations to join the waitlist for its annual treat-filled Advent Calendar in August and September. The brand's template is colorful and festive and includes animated GIFs that add sparkles to the hero image and show an inside view of the calendar. The message also highlights several available payment methods and a buy now, pay later option.
Stash's connects sales to toys donations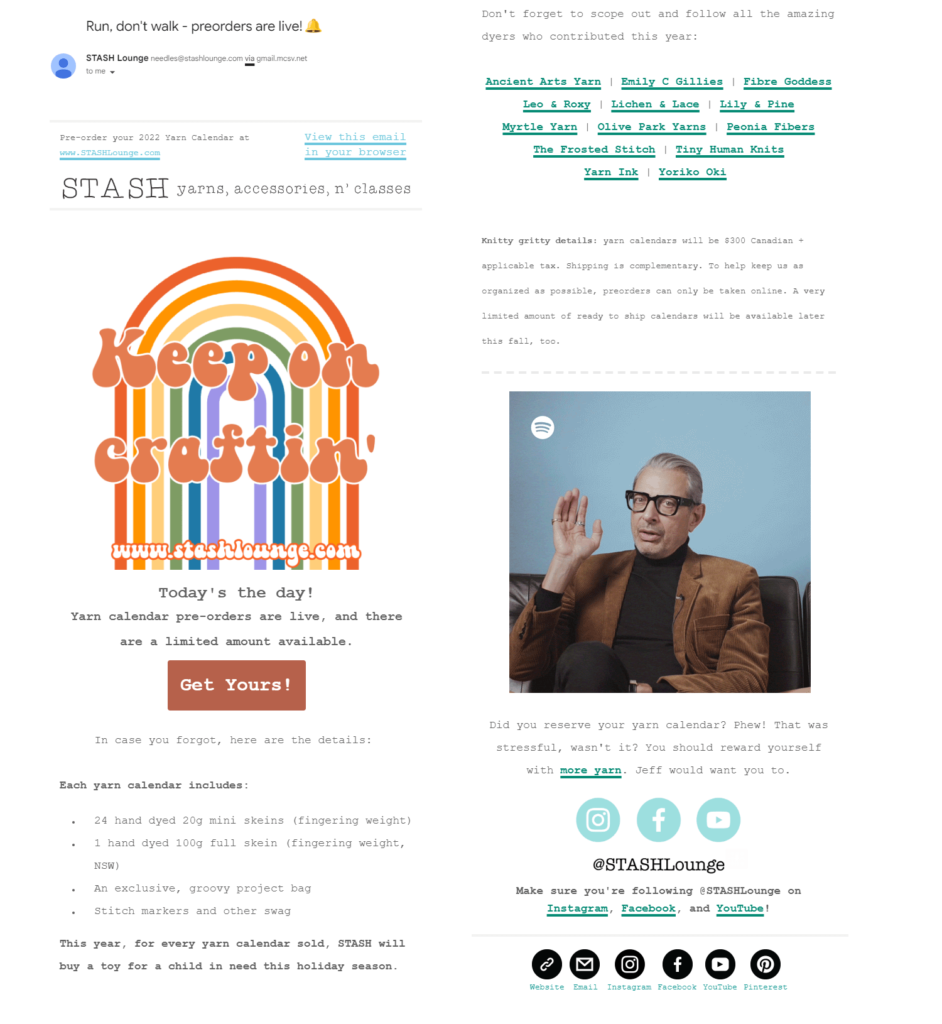 The goal of this message from yarn seller Stash is to register pre-orders for its seasonal yarn calendar (I'm not really sure what that is but it involves a lot of yarn). But they sweeten the deal by committing to purchase a holiday toy for a child in need for every yarn calendar sold.
Notice how both Sugarfina and Stash are using these pre-season messages to get a sense of demand for their seasonal products. David's Tea takes a similar tack.
David's Tea teases seasonal flavors
The first message in the series offers subscribers an exclusive sneak peek (or taste) of the brand's Christmas-themed tea flavors. The email gives recipients an incentive to join the brand's free "Frequent Steepers" loyalty program because you have to be a member to spill this tea.
The email copy is peppered with phrases such as, "early access," "shop it first," and "before everyone else," that express exclusivity and urgency.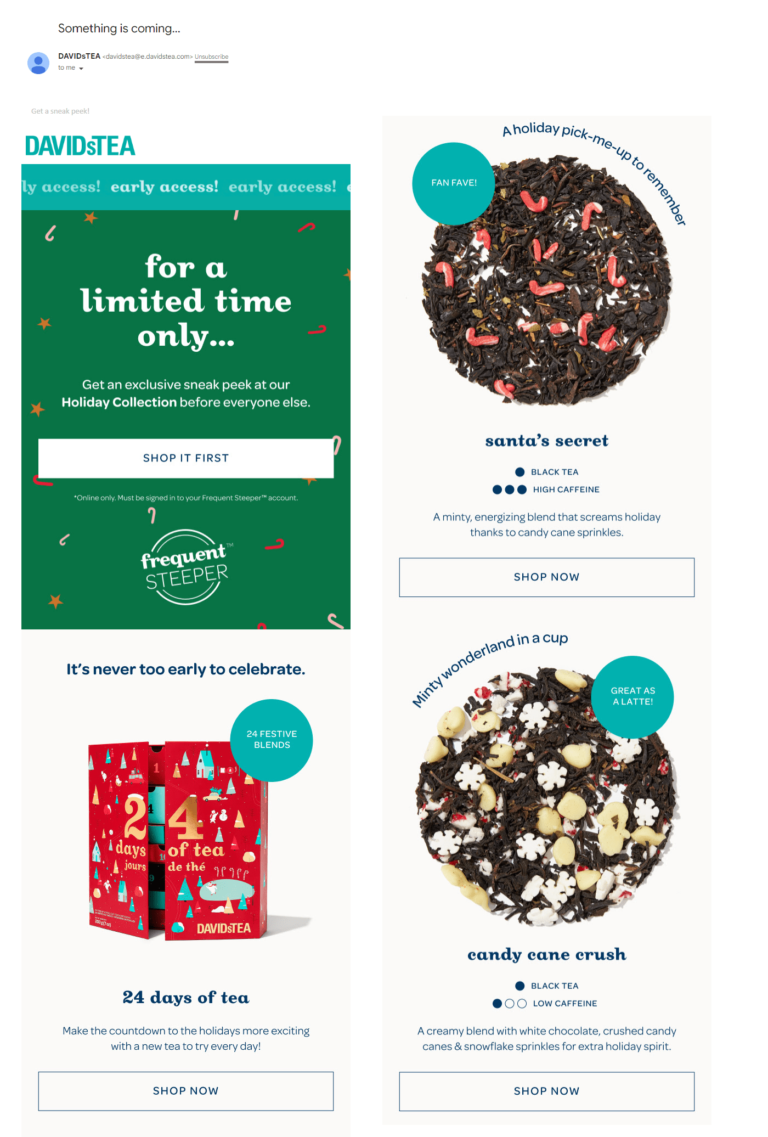 A second Q3 email from David's Tea is more inclusive, offering everyone a chance to sample Thanksgiving-themed flavors like sweet potato pie. This promotional email also primes subscribers for Christmas shopping with an image of a tea-themed Advent calendar.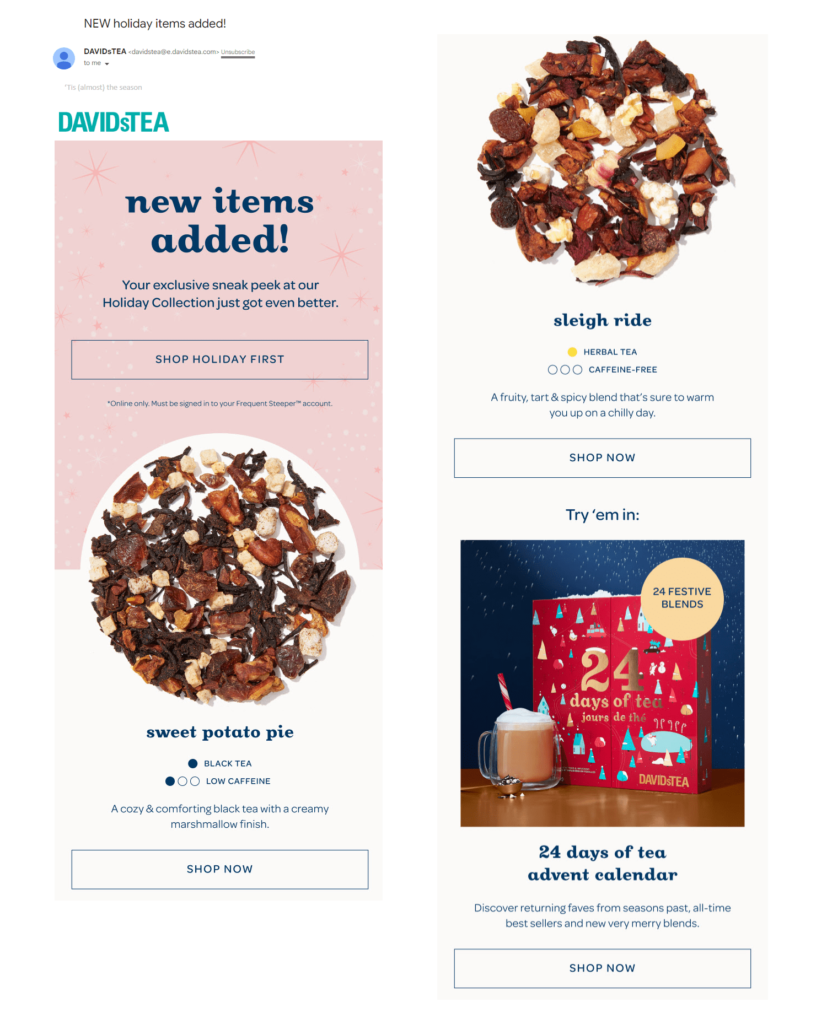 Ugmonk does it all
This holiday email shows appreciation, shares values, publicizes donations, and offers special holiday shopping bundles. You might think that's too much to cover in one email, but Ugmonk handles it elegantly with a nice balance of images and text and good visual hierarchy.
Oh, did I mention, the message also communicates convenience with links to a set of interest-based gift guides and a reminder that there's always the choice to buy a gift card. They even tell you the last day on which you can order to get your gifts on time. And… personal touch for the win: The email is signed by the founder.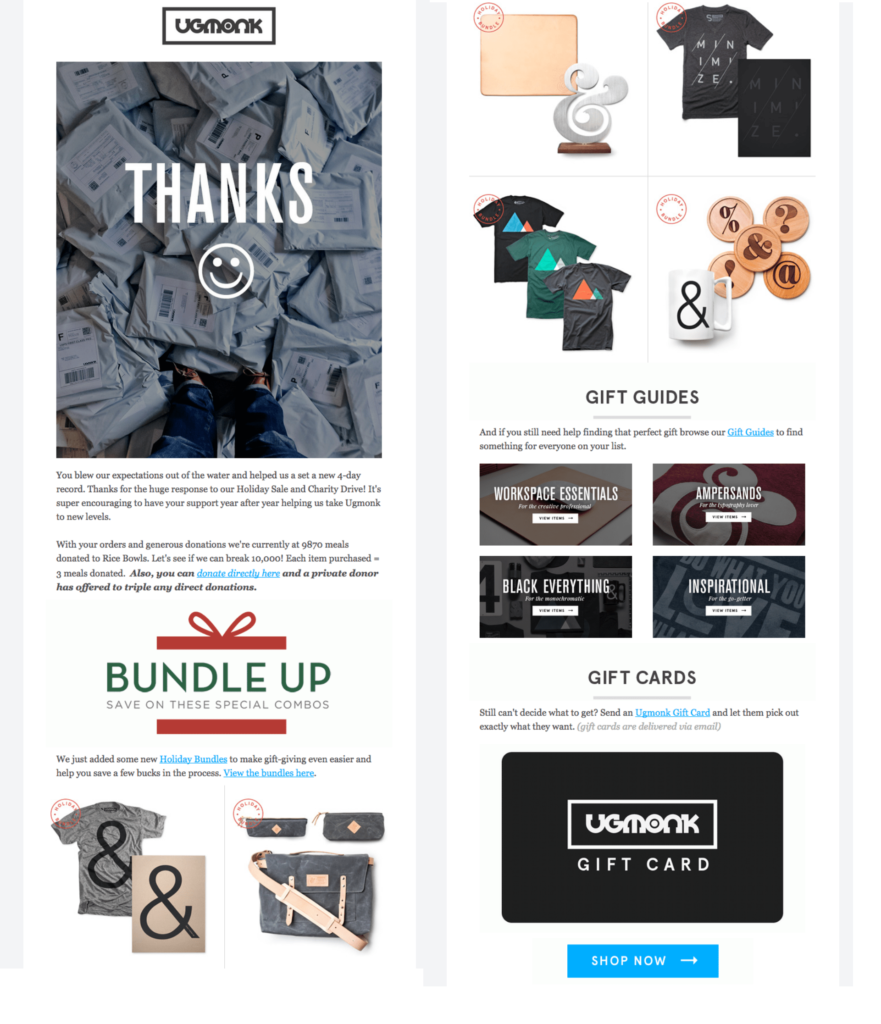 Now, it's my turn to say "Thanks" to Really Good Emails for this great find.
The Rockettes announce the season
The subject line of this email from the Rockettes doesn't shy away from the holiday cliche, "It's beginning to look a lot like Christmas." The Rockettes' holiday performance is an iconic sign of the season, so it makes sense that the brand would make the claim.
I like this email because it's simple, yet visually compelling. The performers are the star and the imagery makes me want to be there on opening night.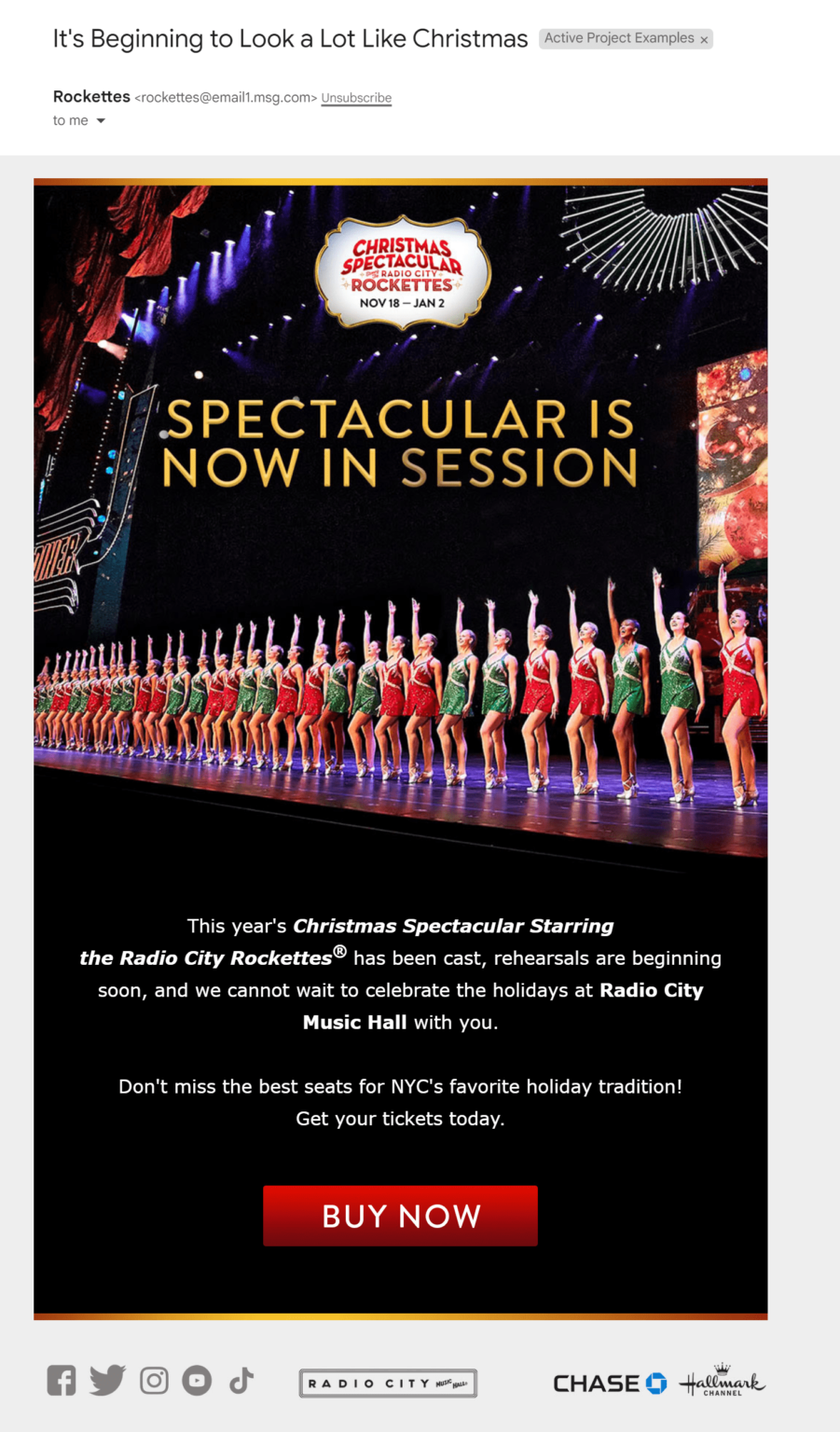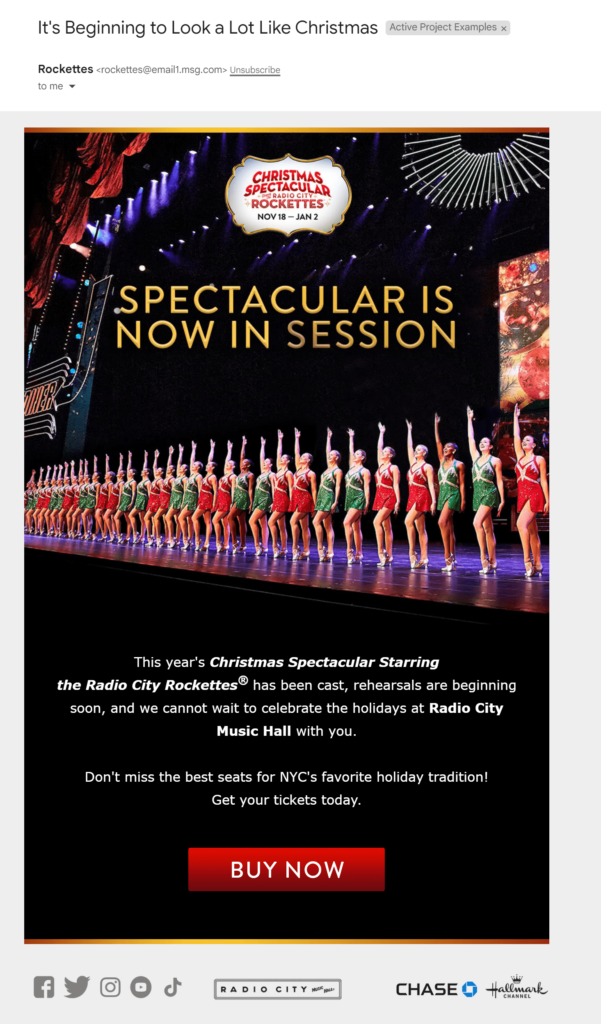 Julie Measures keeps it simple and inspiring
While not a plain text email, Julie Measures email inspires subscribers to begin their holiday preparations with links to recipes and craft ideas–each one described in an appealing, conversational tone of voice. This message isn't personalized but still conveys a one-to-one feel while also encouraging a sense of community. It's like getting a chatty update from a friend (albeit a very crafty friend).


Uncommon Goods shows and tells
Uncommon Goods offers a wide variety of products and its emails often feature many of those products. Each one is a mini buying guide. In this email, the brand doesn't disappoint, displaying a selection of products suitable for gift giving or a personal treat.
But letting subscribers window (or inbox pane) shop isn't all this email newsletter does. This email is an example of how to anticipate and answer your audiences' questions and objections with style.
The hero image conveys the email's core message: Shop with us and your holiday hassles are over. Throughout the message, products are curated by categories such as "Gifts for Him" and "Bestselling Gifts" to help guide shoppers.
Knowing that free shipping is on consumers' wishlist, Uncommon Goods uses a banner image to explain how to get this perk (by joining the brand's Perk club) and mentions the option again later in the email. There's also an invitation to sign up and make individual gift lists with a $5 incentive to get started. Finally, the brand touts its commitment to earth-friendly packaging.


Anthropologie emphasizes selection and convenience
The holiday product images in this Anthropologie newsletter are stunning and put me in a holiday shopping mood. But it's the copy that describes all the ways the brand makes shopping easy that truly inspires me.
The email introduces a limited-time discount, then provides links to product collections so shoppers can easily find what they want. The messaging addresses people's concerns about their gifts not arriving on time with phrases such as "Have it for the holidays!" and a "Shop Ready-to Ship Gifts" and "Shop In-Stock Pillows & Throws" CTAs.
The email also reminds subscribers that they can get their wrapping paper and other wrapping supplies in stores or on the website, too. Finally, the email closes with a list of other convenience features including curbside pickup, buy now, pay later, and the brand's free gift and styling services.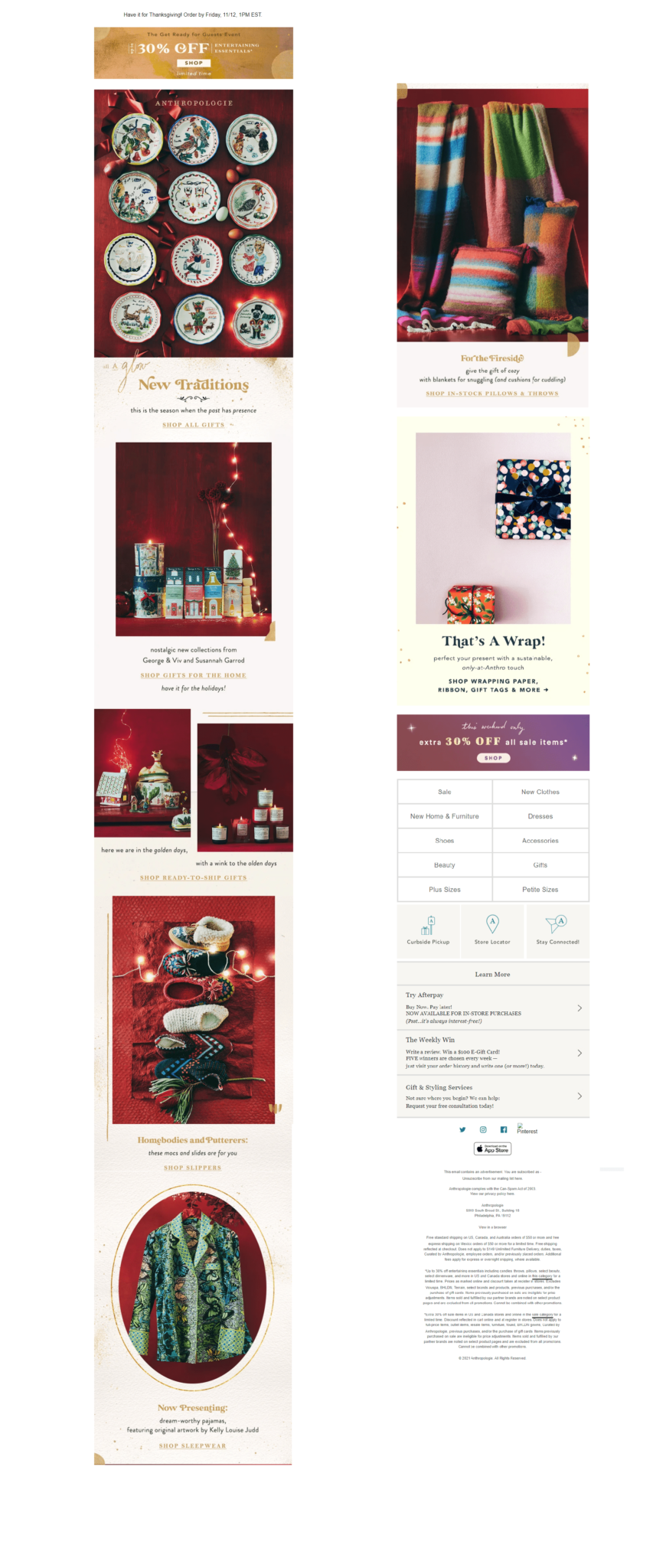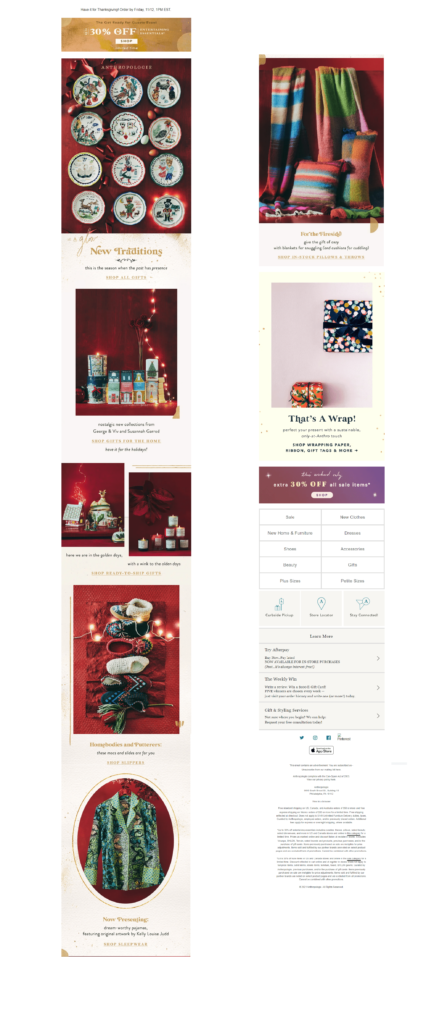 You can find more examples of email newsletters from top brands at Milled.com. Watch this season's campaigns as they roll out or use the search feature to find specific brands. To see what top retailers sent their subscribers during holiday season 2021, customize your search to include only the 2021 holiday season date range.
What to do after your holiday email marketing effort was launched?
Sit back and relax? It's never an option for email marketers, but yes, I do believe that you've earned it, we all need to repose.
Keep an eye for your delivery, deliverability engagement and performance metrics closely and be prepared to pivot. Maintain continuous communications with your team and counterparts in other departments. Check in with your customer support department for signals of trouble or ideas for FAQ emails. And hold on tight, we may be in for a bumpy ride.
Now, if you're feeling nostalgic or need just a little more inspiration, check out our BFCM guide from last year. We assembled a panel of experts who shared their best advice for this one!