Email marketing enables brands to send targeted, relevant communications at scale. Email advertising, such as newsletter sponsorships, programmatic email ads, or other paid placements, opens the door for advertisers to reach these highly engaged, opted-in audiences. Email senders benefit from cold, hard cash or placement swaps that put their brand in front of new audiences, too. Is email advertising right for your brand? Find out how placing ads in email works, what's in it for you, and see examples of how other brands are making it work in this article.
Some of you may be too young to remember what life was like before smartphones.
Well, let me tell you, not having access to the world through a window you could hold in your hand was hard.
Finding a product or service when you needed it and reaching the right audience to tell them about your product or service meant getting creative.
In fact, early advertisers (I'm talking ancient civilization early) used their creativity by painting or carving advertisements onto the sides of buildings or on rocks along high-traffic routes.
In popular trade centers, these early entrepreneurs would often use symbols instead of text to convey their message so that people who didn't read or spoke a different language than the locals could find their way.
Can you imagine trying to attract attention in a busy marketplace with a sign or symbol etched into a wall?
Well, maybe you can.
It's not as if there's less competition for peoples' attention now that they carry a virtual billboard in their pocket!
The many channels competing for consumers' attention today definitely dilute digital marketers' power to reach people.
That's one reason email advertising has risen in prominence.
Email marketing has been an effective method to reach consumers at scale for many years. During the pandemic, it became one of the most dependable channels to stay in touch with customers.
Plus, government anti-spam regulations and consumer sentiment regarding privacy and consent have been a boon for email marketers who play by the rules. Those marketers created email marketing programs built on permission-based communications with engaged subscribers.
Now, all that hard work is paying off.
Today, email subscription lists and the zero-party data associated with each subscriber are highly valuable assets.
But here's the thing. No two brands' subscription lists or data sets are alike.
Is there an opportunity for other brands to reach these unique subscriber groups?
Yes, there is.
Placing ads in someone else's email newsletters is that opportunity.
Through email advertising, brands can access another company's subscribers, use that company's data to select their audience, and expand awareness beyond their current customer base.
Businesses that have built a robust, highly engaged email list can supplement their revenue by renting ad space to other brands.
That's a good deal for everyone!
But is it the right opportunity for your brand?
Is email advertising a way for publishers and brands to cope with the loss of third-party cookies, walled gardens, distracted consumers, and increasing PPC and programmatic ad costs?
Let me introduce you to the world of email newsletter advertising, and you can decide.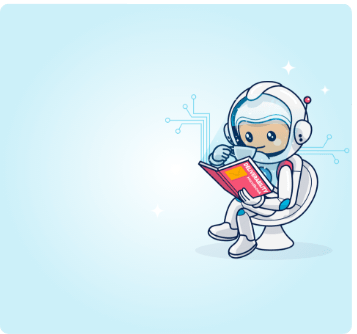 The complete
deliverability
handbook
Read the most significant, most organized volume of information written about email deliverability.
What is email advertising?
When your organization sends mass emails or newsletters to its subscribers, you're engaged in email marketing. You might also call it email advertising. But that's not the email advertising I'm talking about in this article.
I'm talking about the kind of advertising that involves placing other brands' ads in your emails.
Email advertising is a marketing tactic in which one company or individual pays to get their content or ads placed in another company's email messages or sent to another company's subscriber list.
To execute an email advertising strategy, an advertiser rents ad space in another brand's newsletter or email blast or pays to send a promotional bulk email to some or all of the host company's subscribers. (In this latter case, the publisher must have the consent of subscribers to send partner messages.)
Like most marketing concepts, ads in email aren't just one tactic but a collection of tactics–many of which have their own label.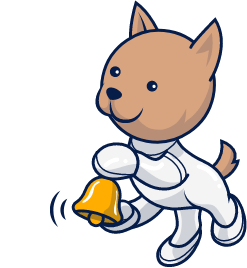 Stay on top of everything that matters in email marketing
Stay on top of everything that matters in email marketing
What are email ads called?
Marketers use different names to refer to various categories of email marketing depending on what type of email the ads are placed in, how the ad space is acquired or paid for, and its format or appearance.
Email advertising is often called email newsletter advertising or newsletter sponsorship because email newsletters' consistent delivery cadence and audience targeting capabilities make them a prime space for advertisers.
While newsletters are a placement favorite, email ads can appear in transactional emails, blast campaigns, and other types of email communications, too. So don't get too hung up on the name.
Publishers and advertisers who seek placement matches on open ad exchanges, email ad networks, or programmatic ad platforms frequently use the terms programmatic email or programmatic email advertising to describe their email ads.
The Email Marketing Activity Book for Kids
Enjoy engaging brain teasers, colorful illustrations, and playful games with your loved ones.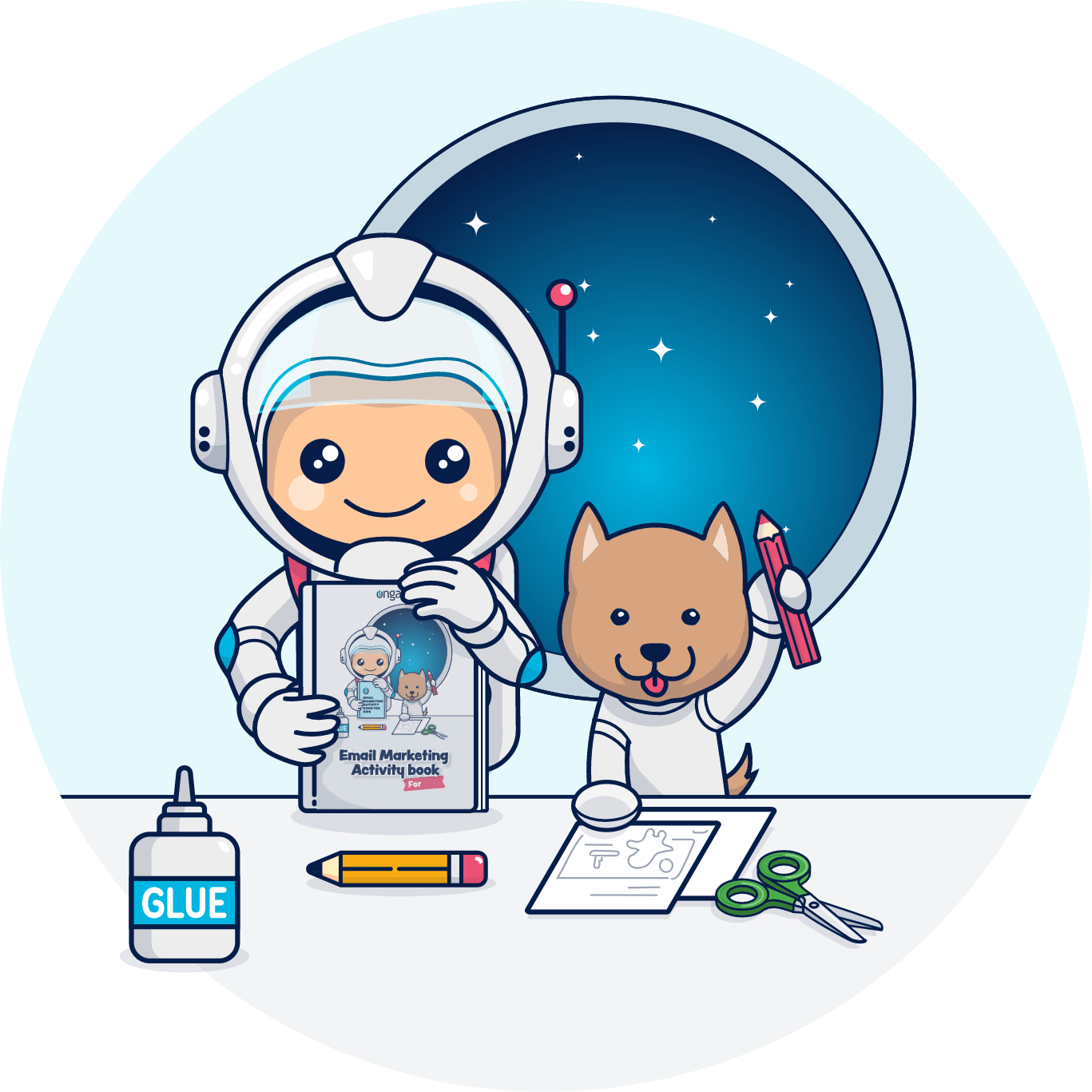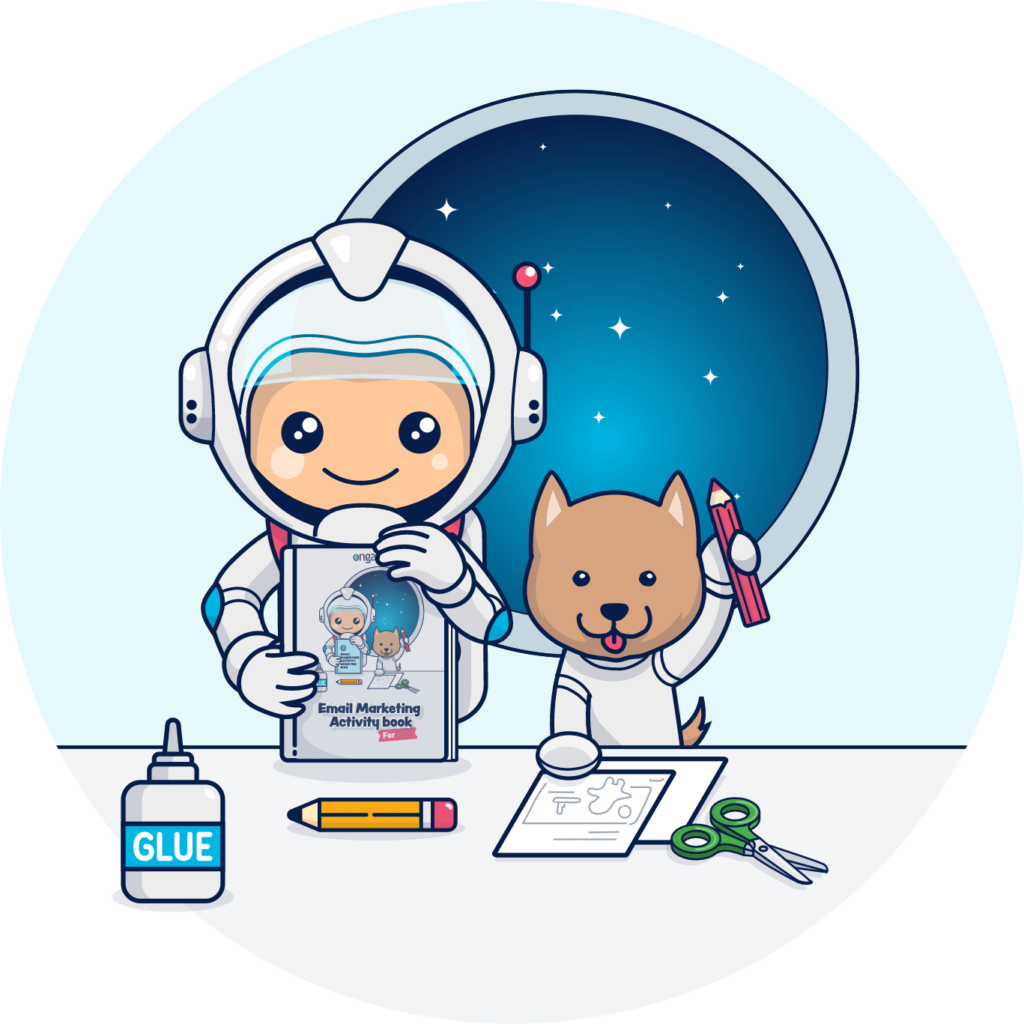 How do brands place and send email ads?
Businesses seeking to place ads in emails or monetize their email newsletters have several methods from which to choose.
The details of a specific advertising agreement are hammered out between the participants or set in advance for companies using programmatic or exchange platforms. Each party to the transaction will look for a placement that meets their company's objectives.
How much does a newsletter ad cost?
Fees for email ads may be calculated based on the number of subscribers reached (CPM), number of click-throughs (CPC), or leads generated (CPL) by the ad.
The cost of a specific ad placement will depend on its relative value to the advertiser and publisher. List size, audience attributes, dates of placement, and list engagement rates are among the factors that influence an email ad's cost.
📊 Advertisers may pay as much as $30 CMP ($300 per 10,000 subscribers), according to a 2022 report published by Influencer Marketing Hub.
📊 Digiday puts the CPM rate for newsletter ads at between $5 and $25, depending on the total list size.
It's not always money that changes hands when a publisher agrees to place another brand's ad in its email, either.
Businesses can exchange other benefits to gain the opportunity to introduce themselves to another brand's audience.
Sometimes, organizations make a placement trade where each one places an ad in the other's email newsletter. This enables both brands to reach new, complementary audiences for only the costs of their creatives.
Publishers can also earn extra income from their subscription lists by including affiliate ads or links in their email messages. Instead of being paid for ad placements, these senders earn a commission when they generate a lead or a sale for their affiliate partner.
⚠️ Not all email service providers permit their senders to include affiliate ads in their content. Check with your provider before employing this tactic.
Similarly, companies place ads for their own brands in their emails to generate leads or conversions for a separate division or special event.
For example, a company might create a banner ad promoting an annual conference or on-demand webinar and place it in an informational or product-focused newsletter. Maybe the funds to pay for the ad come out of some other department's budget or from a co-sponsor; maybe they don't. 🤷‍♀️
📧 Winter sports equipment and clothing retailer Arc'teryx included a promotion for the company's 3-day Backcountry Academy experience above the footer of its promotional newsletter.


The idea behind these ads is to distinguish the content from the surrounding copy, emphasizing that the ad's message is about something else of interest to the subscriber.
Common forms of email advertising include:
Paid placement ads or other marketing content in another brand's email messages.
Paid or in-kind sponsorship of a company's email newsletter.
Sponsored mailing to a partner brand's subscribers.
The placement of income-generating affiliate links or ads in a brand's own messages to subscribers.
A business's inclusion of an ad or promotion for a distinct product or event within its own email newsletter, either individually or in partnership with another brand.
Inbox ads which are brokered through each email client and appear as distinct messages in a recipient's inbox.
With so many advertising options, understanding what you are buying or selling can get a little confusing.
As with any good relationship, communication is critical. It helps to understand the different terms businesses use to describe email ad placements and opportunities and to clarify the specific terms of each agreement.
For example, publishers may choose to limit each mailing to a single advertiser or allow access to several advertisers and decide how many ads or the total space they will dedicate to ads in their email content.
Using either display or native ad formats, email ad creatives can range from simple texts with links to the advertiser's website or colorful banners and animated GIFs.
Within an email, brands may negotiate a hero or header placement, a spot in the middle of the email, or a banner or snippet near the email footer.
What do these different types of ads in emails look like?
Check out these real-world examples of ads in emails.
Examples of the six main types of email ad placements
🎯 (Exclusive) sponsorship has its privileges and delivers a good subscriber experience
By becoming an exclusive newsletter sponsor, the advertisers' only competition for attention is the publisher. This prevents subscribers from being overwhelmed with ad content and allows sponsors to focus on quality over quantity when creating their ads.
📧 Fashion publisher Coveteur allows newsletter takeovers by select brands.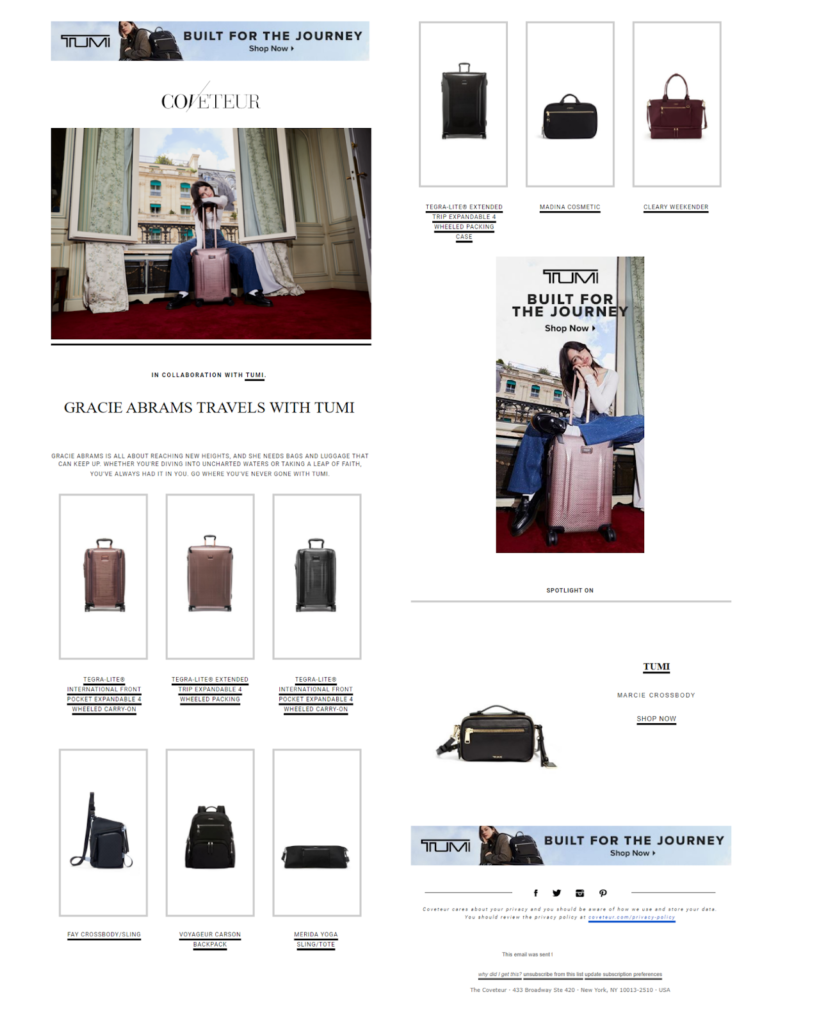 Sponsored Coveteur newsletters feature a banner ad for the supporting brand, select products from the brand and a subheading saying, "In collaboration with…" that discloses the sponsorship. In the example above, Tumi luggage is the featured advertiser.
In the past, Coveteur has featured sponsoring brands' products in its newsletter's "Item of Day" section.
🎯 Add value and build awareness and momentum for an upcoming event by publishing co-sponsors' content
Whether through a paid, in-kind or free mentions, complementary brands can benefit from introducing their subscribers to trusted partners.
This type of mention establishes both brands as active industry participants, enhancing their credibility as industry leaders and making their brands more attractive to consumers. It's one way to do attraction marketing.
📧 All the attention is on the partner brand in this dedicated email blast from Advertising Week highlights the appearance of a partnering company, Healthline Media, at the AWNewYork 2022 conference.


📧 Brandpoint announced a "special partnership" with The Social Media Strategies Summit in its newsletter with an ad inviting subscribers to sign up for the virtual summit and receive 10% off their registration fee using a branded discount code.


🎯 Use an ad exchange and leave the email ad matchmaking to someone else
Ad exchanges and other programmatic platforms enable email publishers to open their email messages to advertisers beyond their network.
Businesses that are willing to host ads set their terms and parameters, then place ad zones in their newsletters or other email templates using custom HTML code.
The platform then automatically inserts appropriate ads in the designated spaces.
📧 Balanced Bites makes extra dough by embedding programmatic ads fed from the LiveIntent platform into its email newsletters.


🎯 Present low-friction advertising with native content
Some newsletter sponsorships are structured similarly to traditional sponsorships where one one or more brands pay to be mentioned at an event or have its name placed on a building. Mentions of the sponsoring brand are limited and often use native content.
Native ads that complement the host newsletter's content are less intrusive than irrelevant ads. In some instances, the copy adds value by informing subscribers about a useful product or service.
📧 LinearB's sponsored content in TLDR's newsletter takes the form of a native ad, blending and offering value in the same format as the rest of the email.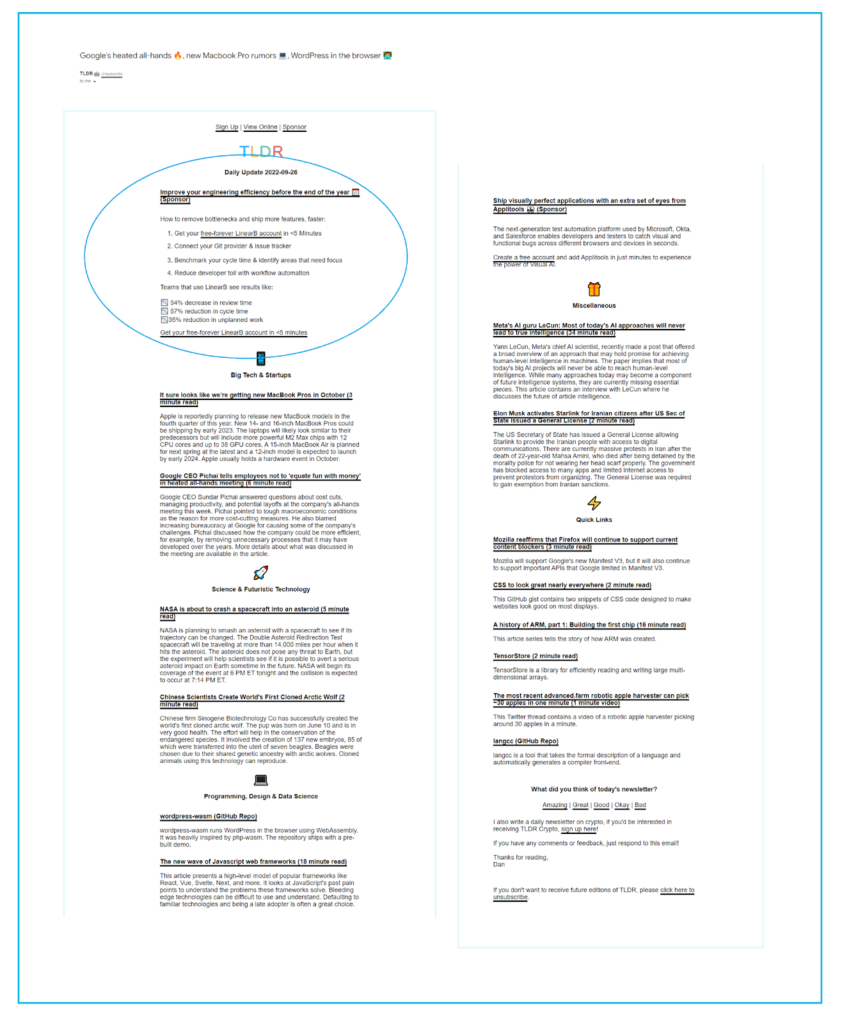 🎯 Balance your content and and theirs
Adding paid content to your emails can seem like a conflict of interest.
Aren't your emails supposed to be about earning your brand engagement and click-throughs among other critical email marketing KPIs?
I'll dive more into this later, but for now I'll claim that adding ads to your content mix can help maintain a proper balance of attention.
📧 In this newsletter from The Information, graphics are reserved for ads, one for the newsletter's sponsor and the other for the publisher's ad. A note at the top of the content also acknowledges the sponsoring brand.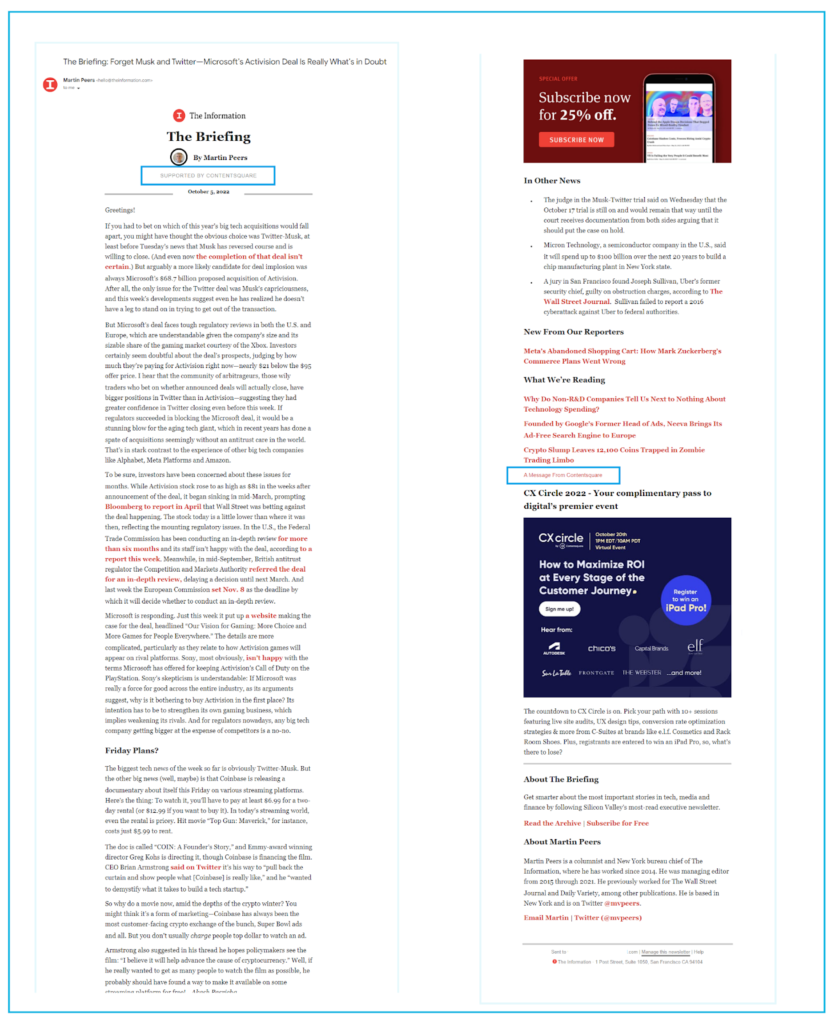 🎯 Not all email ads are in the email
Inbox ads leverage email client's data to help brands target their ideal audience in the inbox. These entries in a subscriber's inbox look like other email messages (except for the [Ad] designation) but are paid ads placed there through a deal made between the brand and the email client.
Ads in Gmail on desktop are designated by a green [Ad] block and may appear at the top of users' inboxes or under organic listings.


This outlook inbox hosts ads in the inbox and sidebar.


⚠️Depending on where your subscribers are located, inbox ads may be subject to the same consent requirements as other forms of email marketing.
In most instances, this means that the email service provider's terms of service must disclose that they will distribute third-party ads to users.
Should you publish ads in your brand's emails?
There are lots of good reasons to add email ads to your marketing mix. But there are some causes for hesitation, too. The balance of risks and rewards depends on your business objectives, position in the marketplace and which side of the transaction you're on.
Will you be an ad buyer or a space seller? Maybe you'll do both.
Consider this list of pros and cons for parties on each side of the table to help you decide.
Potential benefits for email ad publishers
From the publisher's perspective, the benefits of hosting email ads include boosts to the brand's revenue and reputation. Reputation is also a risk factor for email advertising hosts, along with potential damage to their subscriber relationships.
👍 Increased income and lowered costs
Per subscriber ad revenue provides publishers with a predictable revenue stream that can supplement the return their newsletter generates from sales. Editorial newsletter publishers may monetize their offers solely through sponsorships or ad income.
Email ad platform LiveIntent reports that news publisher CNET increased its newsletter revenue by 67% after implementing a program to sell native ad space in its newsletters.
Brands that elect to receive in-kind payments or exchange publishing opportunities instead of cash for ad placements benefit by reducing their total marketing spend.
By negotiating to trade ad space with another business, both save the costs of purchasing ads on the open market or finding other methods to reach the desired audience.
👍 Enhanced credibility and brand reputation
You might not think of ads as the type of content that would boost a brand's stature among subscribers. However, an ad from a highly respected brand can have a halo effect and enhance the publisher's credibility with subscribers.
Landing an ad from a luxury brand may enhance subscribers' perceptions of the other products a fashion retailer offers in its promotional newsletter.
A high-profile ad may signal that a niche editorial newsletter has arrived.
Imagine an independent technology consultant's newsletter being selected by a FAANG company to host its employment ad. If the sender has attracted the attention (and ad dollars) of a major industry player, perhaps subscribers should pay it more attention as well.
Publisher tip: Increase the odds that brands will choose to advertise with you by documenting your good sender behaviors and maintaining an updated, engaged subscription list via various email hygiene best practices.
Potential risks for email ad publishers
👎 Loss of stature or respect
Reputational effects can work for or against brands that host email ads. If they publish content from businesses that have a bad reputation or aren't aligned with their subscribers' values, these ads will harm the publisher's standing with its audience.
👎 Reduced engagement
Excessive or poorly crafted ads can wreck the publisher's engagement rates by turning off subscribers. If subscribers weren't expecting to receive third-party ads when they opted in to receive marketing content, they may be frustrated enough to unsubscribe or mark the messages as spam, increasing your spam complaint rate.
👎 Dilution of content impact
Any email content that doesn't move subscribers forward on their journey with the sender is content that may distract or lead them away from that journey. If subscribers click-away from your email to sign up for the advertisers' webinar or browse its products, will they come back?
What about the perspective from the other side? Is email ad placement a good use of a brand's marketing resources? I explore the pros and cons of advertising in emails, next.
Are newsletters an effective marketing tool for advertisers?
The advertiser's side of the email ad equation offers many benefits that make the model attractive, especially given the disruptions affecting other ad channels. But the marketing method has some downsides, too.
Potential benefits for email advertisers
Businesses that place ads in other brands' email newsletters, blast campaigns and send content to those brands' subscribers gain the following benefits:
👍 Access to new consumers and ideal audiences
Gaining access to publishers' proprietary list of subscribers is the top benefit of email advertising. This access to audiences is becoming harder to obtain as third-party cookies are being phased out and social media platforms are raising their walls.
Advertisers that use email to reach consumers can select publishers that are aligned with their brands and enable them to increase awareness among their ideal customers. They can send their ads to hyper-targeted segments and customize their creatives to appeal to different groups.
Advertiser tip: Save money and reach new prospects only by sending publishers a list of existing customers' email addresses to suppress from the campaign.
👍 Engaged audiences
Ads placed on social media platforms or through regular programmatic placements are intrusive. While retargeting and platform data offers some guidance, advertisers really can't control whether they are displaying their content to consumers who don't want to be bothered.
Email marketing messages arrive in the inboxes of people who have agreed to receive them. They've already signaled their intent to engage with the sending brand. With proper selection, advertisers can ride on the coattails of this engagement to present relevant, interesting information and offers to a willing audience.
👍 Data availability and certainty
Email marketing affords publishers and advertisers a level of data certainty that other marketing methods don't. Instead of relying on a household or multi-use IP address, brands can identify exactly which email address received their message.
When selecting target audiences, employing location-based marketing or matching ad content to a subscribers' likes and interests, advertisers can leverage the zero- and first-party data of their partner publisher.
For example, a brand advertising winter clothing can negotiate with a publisher to send its ads only to subscribers in cold climates. A technology brand might ask its publishing partner to target business subscribers at specified levels within their organizations.
Deterministic IDs and accurate incoming data enables advertisers to track and improve their targeting, execute retargeting campaigns using email, and improve their messaging.
👍 Cost and process efficiencies
Better targeting, improved data collection, higher engagement all lead to efficiencies for advertisers. Not having to create their own subscription lists allows companies without these assets to reach consumers via email quickly.
They can start email marketing through email advertising immediately instead of waiting to develop an audience. There's no need to warm up an IP, develop email templates or a full email content strategy either.
Brands that want to achieve reach only during certain times of the year or for specific effects can get the benefits of email marketing without the investment. (Although, really, you should invest in email marketing. Give ads a try and you'll see why!)
With the availability of programmatic ads in email, advertising brands can easily set up an account and enjoy the flexibility of choosing when they want to place ads, how much they want to spend and what type of creatives they want to use.
Using email ads also reduces the likelihood that you'll experience click-fraud. It's not too difficult for a bot to scour the internet looking for ads to click.
But few scammers will take the time to create an email identity, subscribe to email newsletters, open them and click on the ads inside just to cost you ad dollars. 💸
That's not to say placing ads in emails is risk-free…
Potential email advertisers' risks
👎 Reputational risk
Advertisers take a reputational risk when they associate their name with an email publisher, just as the publisher does. Advertisers also risk their brand's good will if their ads annoy the publisher's subscribers.
Remember, the subscribers opted in to receive information or promotions from the publisher–not you.
If your content displeases, it can damage your and your partnering publisher's customer sentiment scores.
👎 Data inaccuracies
You read that right. Gaining actionable data is a plus of using email to advertise but it's not a perfect system. Apple's Mail Privacy Protection causes emails to register as opened as soon as the email client processes them. This can lead to inflated engagement figures for publishers.
Gmail, Apple Mail and other ISPs may cache your ad images skewing your impression counts, too. Image caching by email clients can also mess with your geo-targeting plans if you rely on IP addresses to identify a recipient's location. (That's where having access to the publisher's data, such as subscribers' physical addresses, can give you an assist.)
📧 This Freshworks ad placed in a Vogue Runway Newsletter uses UTM tracking to identify where the click came from.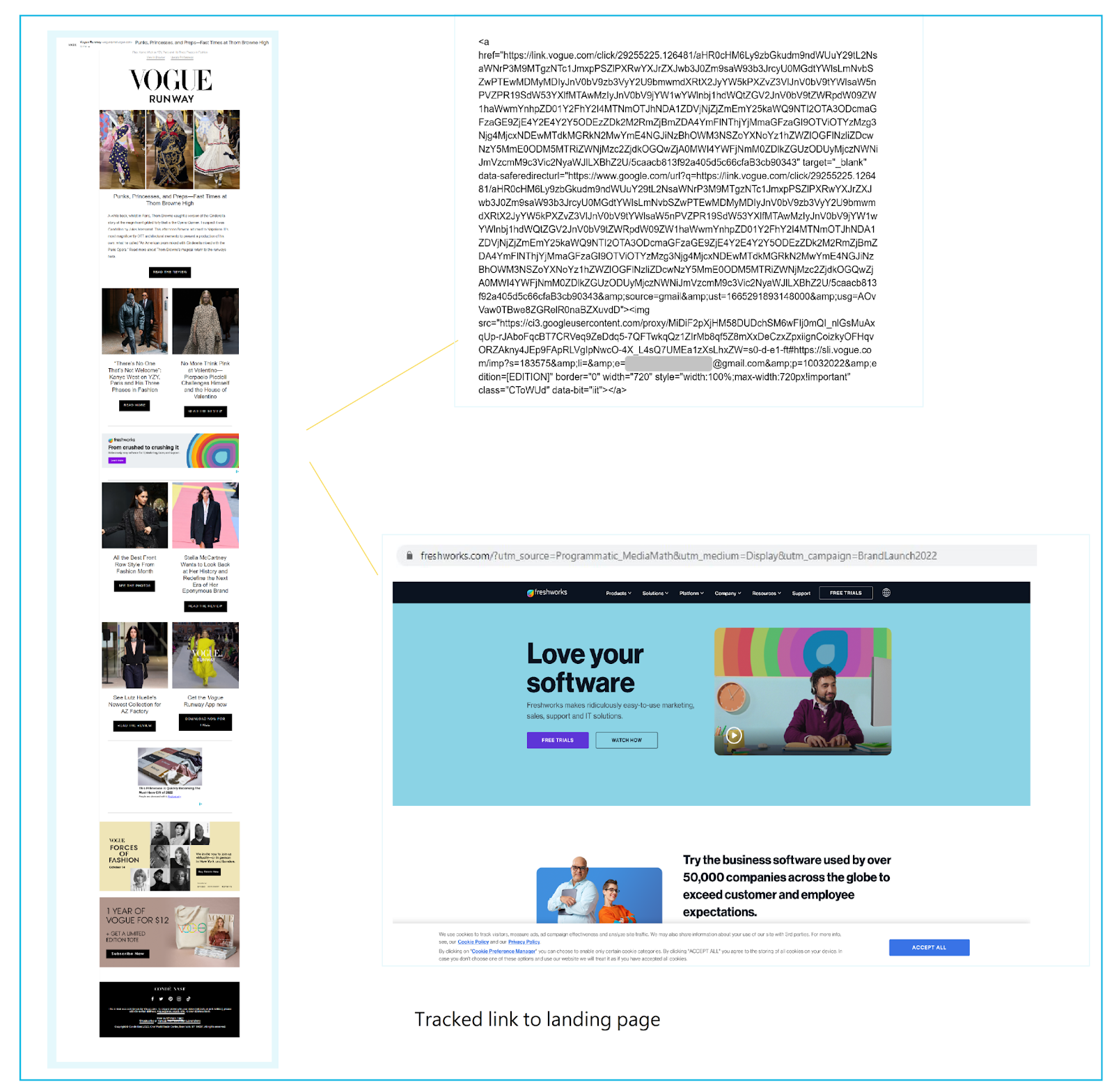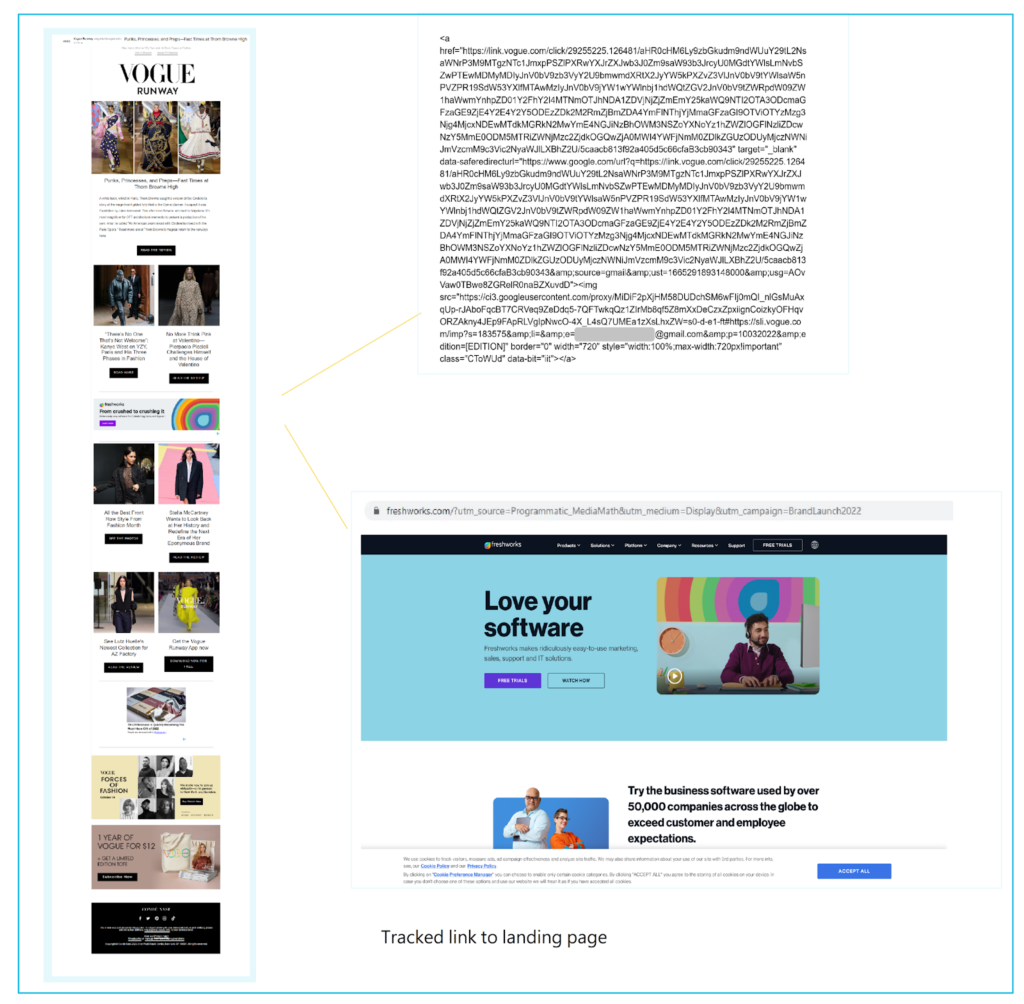 👎 Bad ad fits or rendering problems
Email ads must be compatible with email clients' standards to render properly (if at all). This means you can't use JavaScript, iFrame or other non-HTML formatted creatives for your email ads placements.
You have as much flexibility as your host publisher allows in terms of using text, animated, GIFs, and graphics and sizing your ads. But whatever ad you place must be created in plain text or as an HTML-compatible image.
⚠️ Your creative must be acceptable to the publisher and compatible with the email clients that serve their subscribers. Some ISPs don't support GIFs, may not download images or clip messages with excessive images.
Not sure if the benefits outweigh the risks for your organization?
In the next sections, I'll show you how brands make email advertising work for them.
How to add email ads to your email campaigns (and track their performance)
How to put an ad into an email newsletter or blast campaign depends on the type of ad you plan to place and how you've connected with your advertising partner.
For instance, when a publisher and advertiser strike a direct deal, then the two parties will also decide who completes each step in the placement process. Usually, though, the ad placer will build assets that meet the terms of the agreement and are email-compatible.
The parties on each side of the transaction must set up their content and templates to accommodate the specific platform's processes if they have connected through an ad network or platform.
At its simplest, a guest brand can add a promotion to its host's email by creating a few lines of copy and adding a compelling text call-to-action with a UTM-enabled link.
Advertiser tip: Prepare a coordinating landing page to greet subscribers who click-through and include an email capture form so they can become your subscribers.
Publisher-placed ads aren't limited to copy with a link, though.
📧 National Geographic goes multi-channel, hosting the advertiser's article on its website, then promoting the content in its newsletter.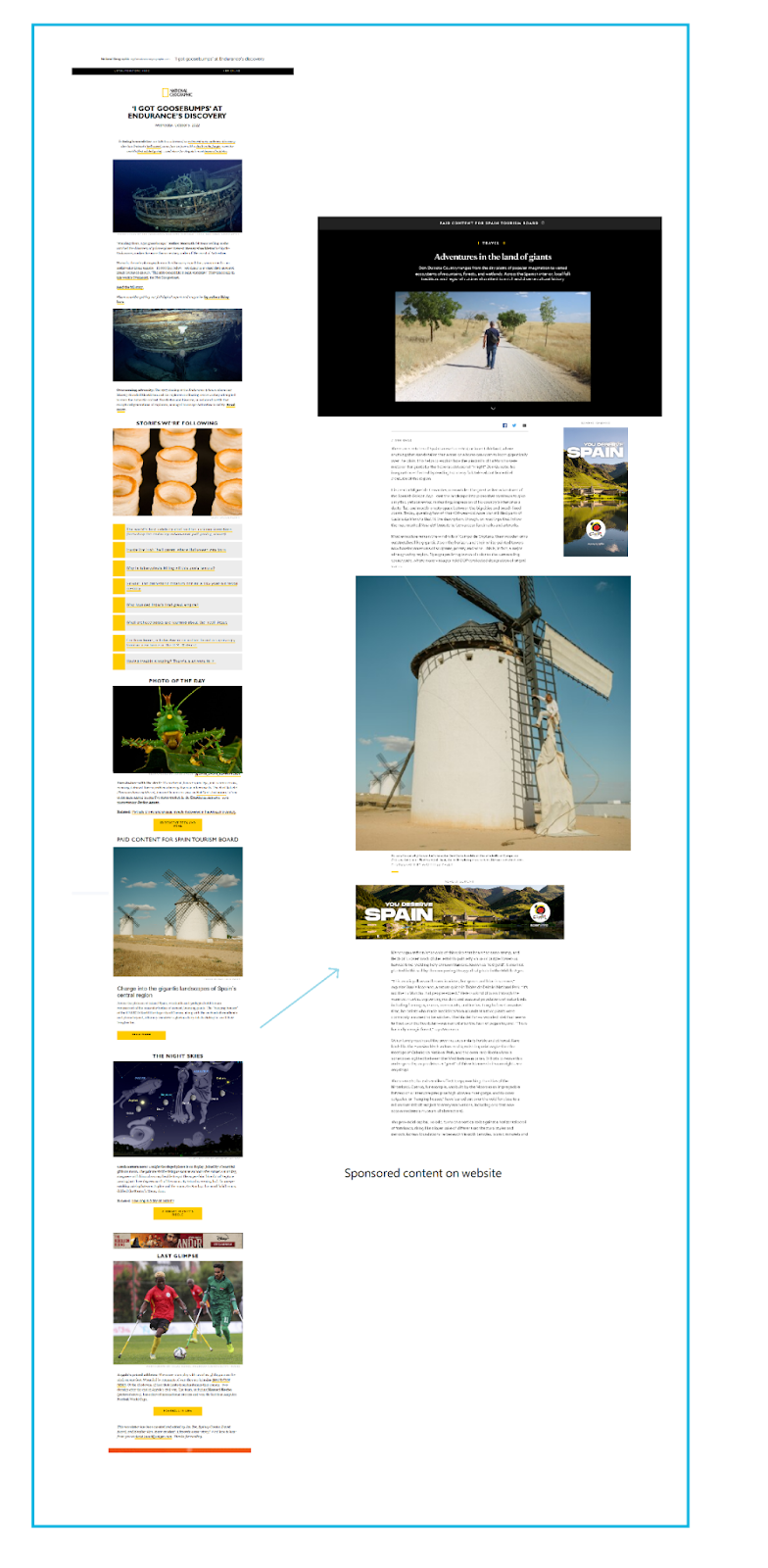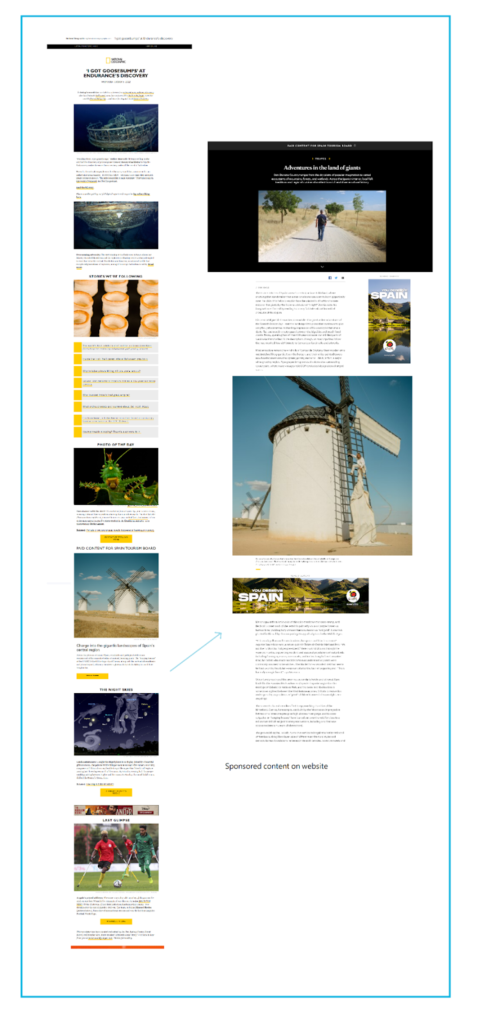 Ad infrastructure company, Kevel, helps publishers build custom email ad servers from which they sell and manage email ad placements to interested partners.
Prospective advertisers and willing publishers may also find matches through supply or demand-side platforms (SSPs and DSPs), private marketplaces (PMPs), and email-only newsletter ad platforms.
Companies such as LiveIntent, Ampjar, and Criteo help connect email publishers with brands seeking advertising opportunities using programmatic and/or manual placement methods.
Facilitating ad placement through a third-party platform requires the email sender to include a HTML code that assigns a location and parameters for the ad space following the instruction provided by the placement platform.
Placed ads in emails may be dynamic display ads that load in real-time and include unique email IDs to identify which recipients viewed which ads.
Using a platform such as AdButler, a publisher can create designated ad zones and define whether the ads displayed in those zones remain the same or rotate at a set interval by setting the ad's persistence window.
📧 Vogue Runway's newsletter rotates ads showing different display ads after a specific interval has passed. The display ad below switched between Blissy silk pillowcases (a new-to-the-user brand) and a promotion for Outdoor Voices (a brand the subscriber has engaged with).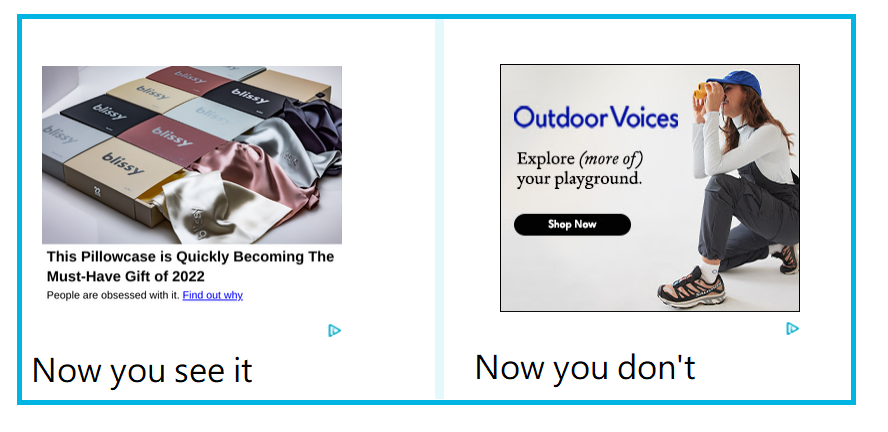 Dynamic space designations allow ads to vary in size. For example, a publisher might designate a fixed height for all ads but allow the display to be square or rectangular by setting a dynamic width.
With so many ways to place ads in the body of marketing emails, how can you optimize this outreach opportunity?
The following best practices will give you a great start!
What makes an attractive email ad?
Brands large and small use newsletter sponsorships and email ads to broaden their reach and increase awareness. How do they incorporate advertising content into emails in ways that make them appealing and attractive (and not just noise)?
When placing ads in emails, it's important to balance the desire of the advertiser to be seen with the expectations of subscribers. Flashy, invasive ads that distract from the email's primary content aren't going to make publishers or subscribers happy and probably won't deliver results for the advertiser either.
Use color, copy and design elements to make your email ads distinctive but not disruptive. Separate ad content from other parts of the email using lines or other graphics and white space. Distinguish between publisher and advertiser content using different typefaces, fonts sizes, colors or formats.
You can also incorporate each brand's distinctive personality and voice into the email's copy and design–just make sure the ads are a match for your audience.
Use high-quality graphics, product images and images of real people using your products or enjoying the benefits of your services to increase the chances of a positive response from viewers.
Also, don't forget your CTA! Create call-to-actions that are clear and nudge consumers toward the next step, and optimize your buttons so they are easy to click even on small screens.
Best practices for email advertisers and publishers
Along with following the technical and policy guidelines of your ESP and the ad exchanges and partnering brands, these best practices for publishers and advertisers will help you minimize the risks of using ads in emails and maximize the rewards.
Choose your advertising partners carefully. Whether you are a buyer or seller, work with partners with values that align with your own and those of your customers.
Be transparent with subscribers. Communicating your intent to advertise to your subscribers preserves their trust and prevents violations of privacy and anti-spam laws.
Publishers that intend to send third-party content should include this information in their opt-in or terms of service disclosures. Advertisers should not attempt to conceal the fact that their content is an ad. This doesn't mean you can't use native advertising that adds value and blends in with the surrounding content. However, don't use intentionally misleading copy or graphics.
📧 The Points Guy discloses to subscribers that the travel tips publisher receives income from sharing ads in its newsletter and on its website along with links where they can learn more about its ad policies.


📧 Retail Consumer Experience uses text and graphics to designate the ads included in its newsletter. The banner ad at the top is labeled as an advertisement.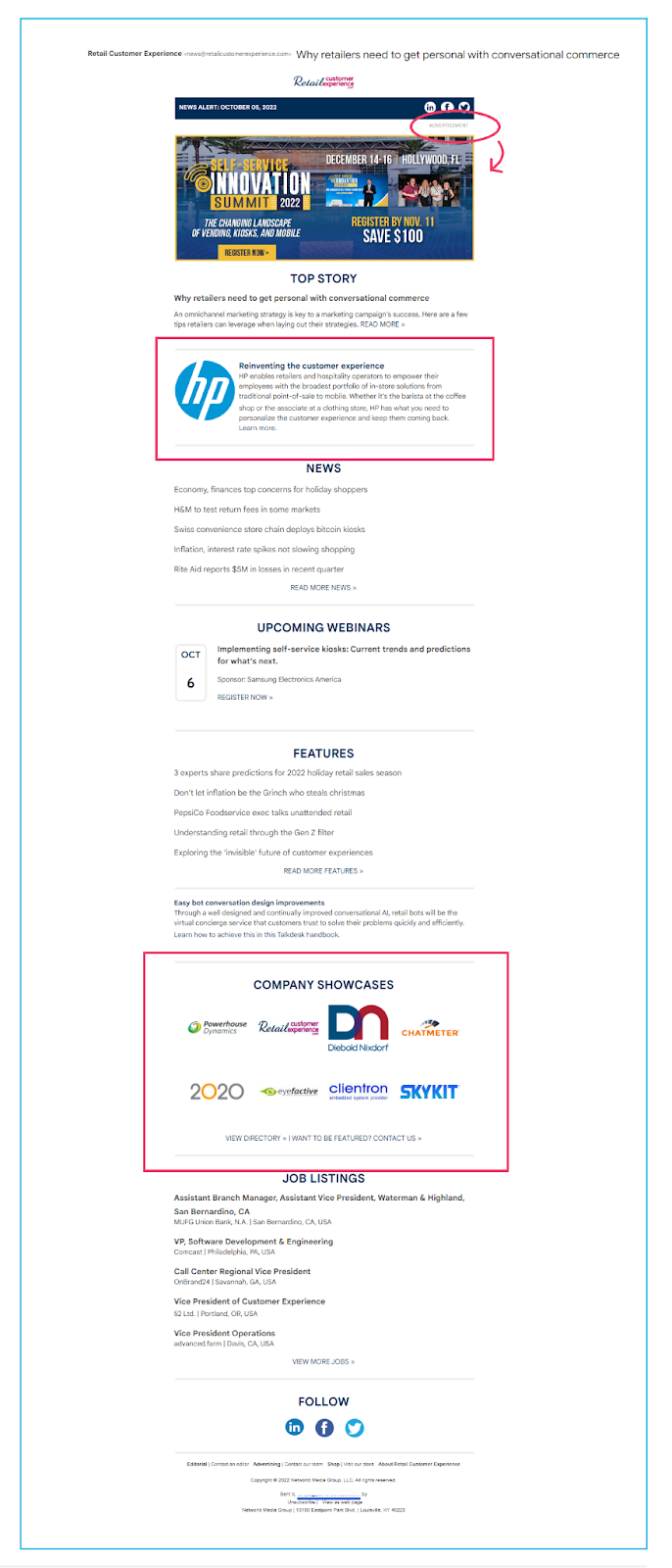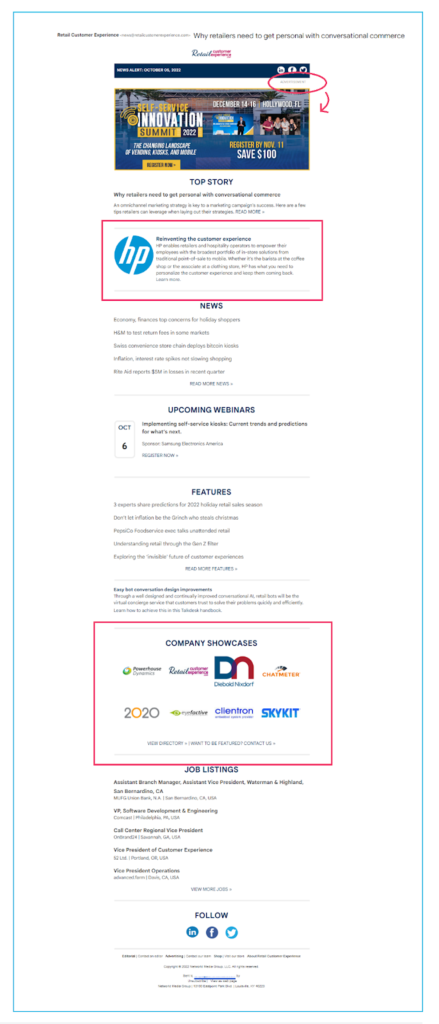 A native ad from HP and a segment inviting readers to click-through to learn about companies featured in the publishers directory are distinguished from surrounding copy with horizontal lines.
Keep it contextual. Email marketing's success hinges, in part, on the ability of companies to send their subscribers relevant, timely content. Ads that don't match the tone, timing or topic of the host email lose this advantage and can annoy subscribers.
📧 Content Marketing Institute hosts ads from complementary services and a relevant webinar (co-sponsored by the publisher) in its editorial/informational newsletter targeting members of the content marketing industry.


Choose quality over quantity. An avalanche of ads served up in a single email serves no one well. The advertiser doesn't gain subscribers' attention because the space is overcrowded. The publisher loses disappointed subscribers who unsubscribe or disengage. And, subscribers don't receive the value they expected.
Know your audience. Both parties to an email advertising agreement should understand the subscribers who will view the ad so that the content they deliver is appropriate. Relevance is part of this understanding but values and beliefs are crucial as well.
Monitor your metrics. From beginning to end, publishers and advertisers should monitor their performance metrics for signs that the relationship is (or isn't) working out.
Advertisers will need to check their attribution numbers via multi-touch attribution to ensure that they are tracking performance properly, and publishers should keep an eye out for increased unsubscribes or spam complaints.
Are you ready to put email ads on your menu?
Whether you plan to become an ad buyer or an ad seller, maximizing your reach and engagement will boost your results.
Looking for more ways to maximize the ROI of your email marketing program?
Discover how to fuel growth and boost revenue with these amazing resources:
🛸 Keep the Ones You Have: How to Recognize and Reduce Customer Attrition
🛸 Your Guide to Achieving Out-Of-This-World Results Using Lifecycle Marketing