The seasons–especially the holiday shopping seasons—govern the life of many email marketers. As New Year's promotions and Valentine's Day gift-giving fades, you're looking for ways to maximize your performance for spring's first major shopping holiday–Easter. How do businesses shape their marketing message to appeal to shoppers during this springtime celebration? Take a look at these examples of Easter emails to inspire your own.
Ah, spring! It's a time of renewal and hope.
Animals emerge from hibernation, trees sprout fresh leaves, flowers begin to bloom and email marketers turn their attention to achieving their Q2 KPIs.
Among the many marketing themes of spring are those that target the first major produce shopping season of the year.
Valentine's Day may have captured gift givers' hearts. But it is Easter that appeals to home cooks. (Easter is a really big deal if you're an egg or asparagus producer!)
Confectioners have to be on their toes at this time of year, too. Candy and confectionery sales bloom during the weeks before Easter.
Easter isn't just about the food, though. Families gathering to celebrate the holiday stimulate sales in home decor and entertainment, travel and hospitality, and apparel, too.
Easter gives consumers an excuse to refresh their homes and their wardrobes, gather to celebrate and indulge their sweet tooths and email marketers an opportunity to hone their holiday email marketing skills.
Hop on board the Easter express and increase sales by creating Easter-themed email templates that inspire your subscribers to fill their baskets with purchases from you. Get fresh ideas for your Easter newsletters, blast campaigns and email designs right here.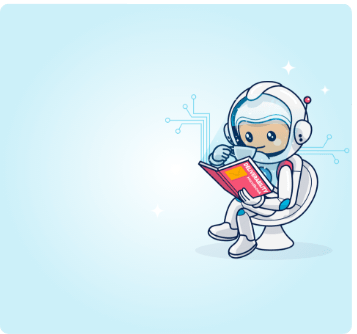 The complete
deliverability
handbook
Read the most significant, most organized volume of information written about email deliverability.
Easter trends 2023: How consumers plan to celebrate and spend
As a familiar holiday, there are many tried and tested ways to market to your subscribers and customers throughout the Easter shopping season. But each new year brings new consumer behaviors and market conditions to contend with as well.
How is Easter shaping up for consumers and marketers this year?
The results of a 2023 survey of US consumers conducted by Numerator give us a clue.
🐣 85% of US consumers plan to celebrate Easter this year.
In comparison, 69% of those surveyed planned to celebrate Valentine's Day. March's St. Patrick's Day is in the plans for 44% of respondents, while 88% will do something for Mother's Day.
🐣 57% of US consumers plan to gather with family or friends for Easter and 38% will be cooking or baking.
The Monday after Easter is a bank holiday in several countries. The long Easter weekend offers just enough time for people to travel to visit relatives or take a short leisure trip.
🐣 92% of consumers planning to celebrate Easter will make Easter-related purchases.
Much of consumers' Easter spending will go toward purchasing groceries for the get-togethers they've planned. But 50% of Easter celebrants will be buying candy. Another 21% will purchase gifts (with over half of those gifts being toys or games). Easter is a great time to be a kid!
🐣 Current economic conditions are affecting 85% of people's Easter spending plans–with the majority (63%) anticipating a slight or moderate impact.
One-third of survey respondents plan to spend less on Easter in 2023 than they did in 2022. Consumers will also be looking to purchase more items on sale (58%) and using coupons (37%).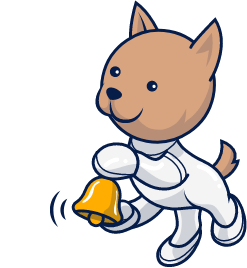 Stay on top of everything that matters in email marketing
Stay on top of everything that matters in email marketing
When do people begin their Easter shopping?
Consumers will buy Easter confections to treat themselves as early as January (if they can find them.) Robins, schmobins! We all know spring is coming with the Cadbury Creme Eggs and original chick-shaped Peeps arrive, right? 🐤
More than half of all Easter sales and 70% of traditional and novelty egg sales (for Easter egg hunts) in the UK take place during the 3 weeks leading up to Easter weekend.
Twenty-eight percent of Easter sales happen in the last week as shoppers purchase fresh produce for the dinners they plan to host and grab their final stashes of candy.
Where do people shop for Easter?
More than 80% of US consumers told Numerator that they would do their Easter shopping in person. Thirty-two percent said they would do some of their shopping online.
How can ecommerce brands maximize their share of Easter spending and keep email marketing KPIs growing? 
Your customers want to enjoy the delights of spring and indulge their family and friends with special treats. Help them achieve their goals by sending messages offering affordable luxuries and springtime fun.
Lean into your strengths when sending Easter email promotions. Reference your unique, exclusive merchandise, good deals and fast, guaranteed delivery in your Easter promotional copy. Don't forget to capture after-Easter commerce by promoting sales of spring merchandise!
Use Easter and spring themes as part of your relationship marketing efforts, too. Publish cooking or holiday travel tips, share user-generated content and send messages that keep you present in your subscribers' inboxes–even if you aren't selling chocolate bunnies. 
Do you have to mention Easter in your subject lines and email copy to gain these seasonal sales?
Despite the bunnies and eggs, Easter is a religious holiday that not all your subscribers will be interested in celebrating. But that doesn't mean they don't want in on your latest spring deals or aren't interested in the season's sweets and treats. Many businesses don't mention Easter in their email messages.
If you want to opt out of Easter campaigns, you can still share your spring merchandise and promotions by using words related to spring and celebrations. (I've included some examples in the collection of Easter and spring-themed subject lines at the end of this article.)
Ready to warm up your creative chops and build an Egg-celent collection of Easter email templates for 2023? Take a peep at these examples of Easter email and springtime campaigns.
The Email Marketing Activity Book for Kids
Enjoy engaging brain teasers, colorful illustrations, and playful games with your loved ones.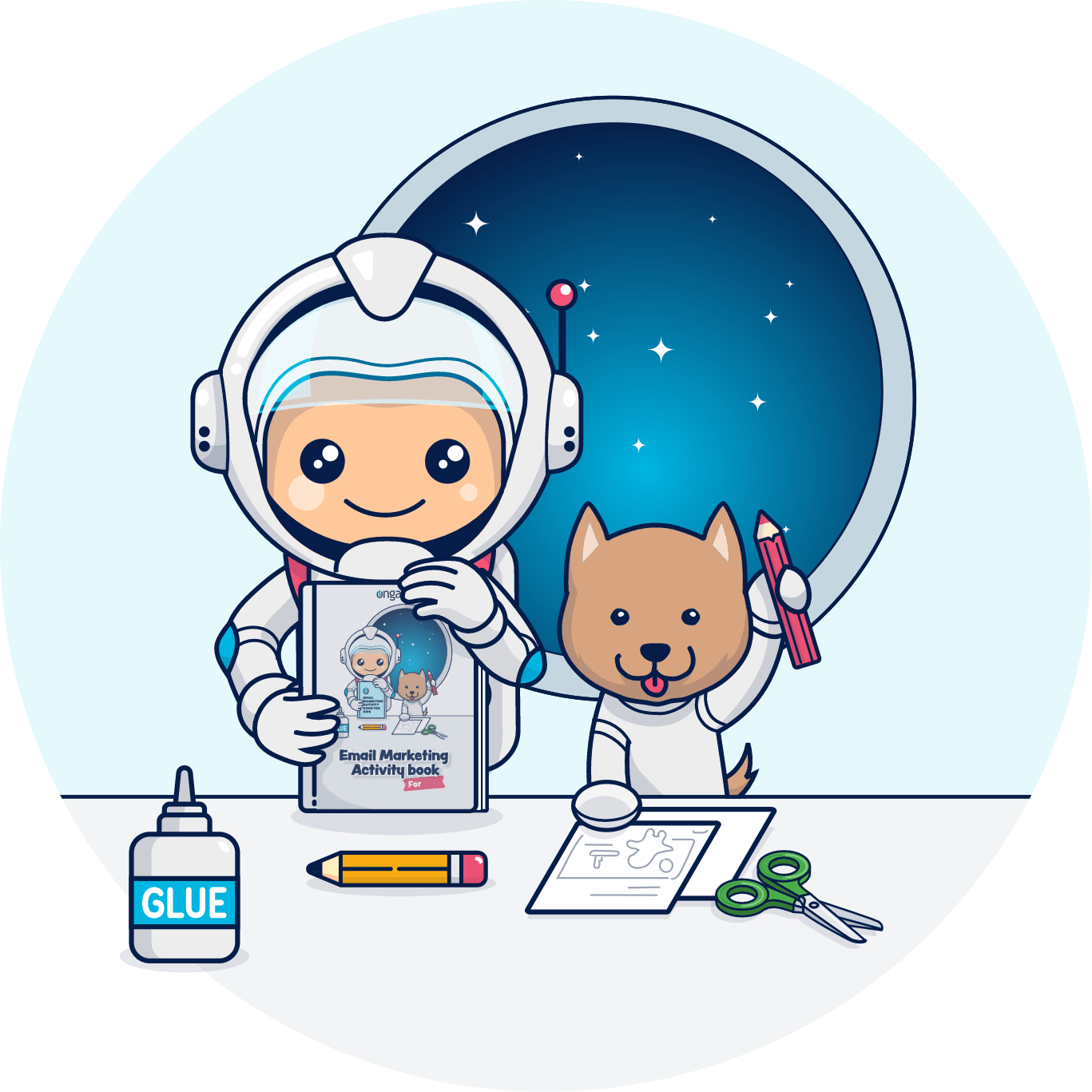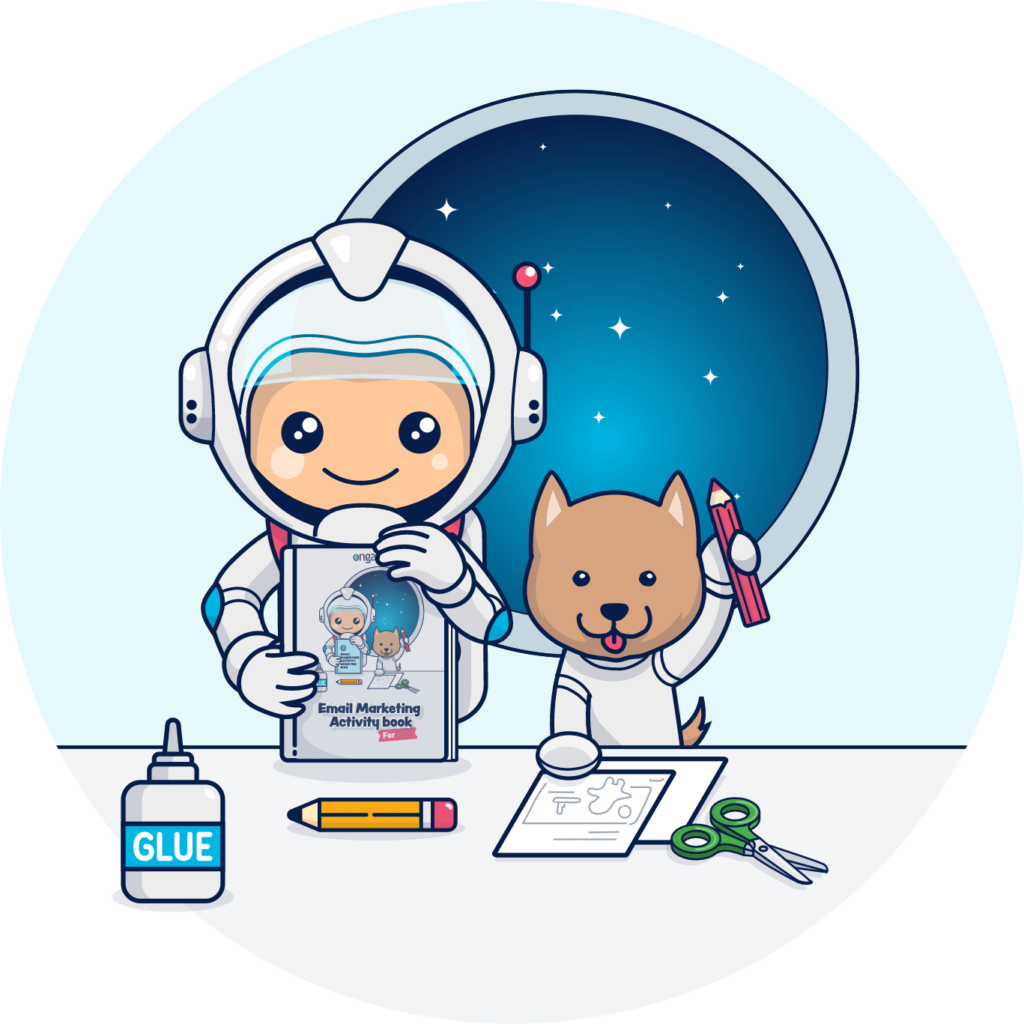 15 examples of Easter promotional emails and newsletters to inspire your 2023 campaigns
Easter emails began arriving in the Ongage Team's inboxes in February and we continue to find new treasures each week.
In keeping with this year's consumer trends, many of this year's messages emphasize value. You'll also notice lots of images and copy that reference togetherness.
Of course, there are plenty of Easter puns and wordplay in these holiday promotions, too. A lighthearted tone is the perfect way to welcome spring.
📧 KidsBooks email promotion offers subscribers affordable options to fill their kids' Easter baskets this year.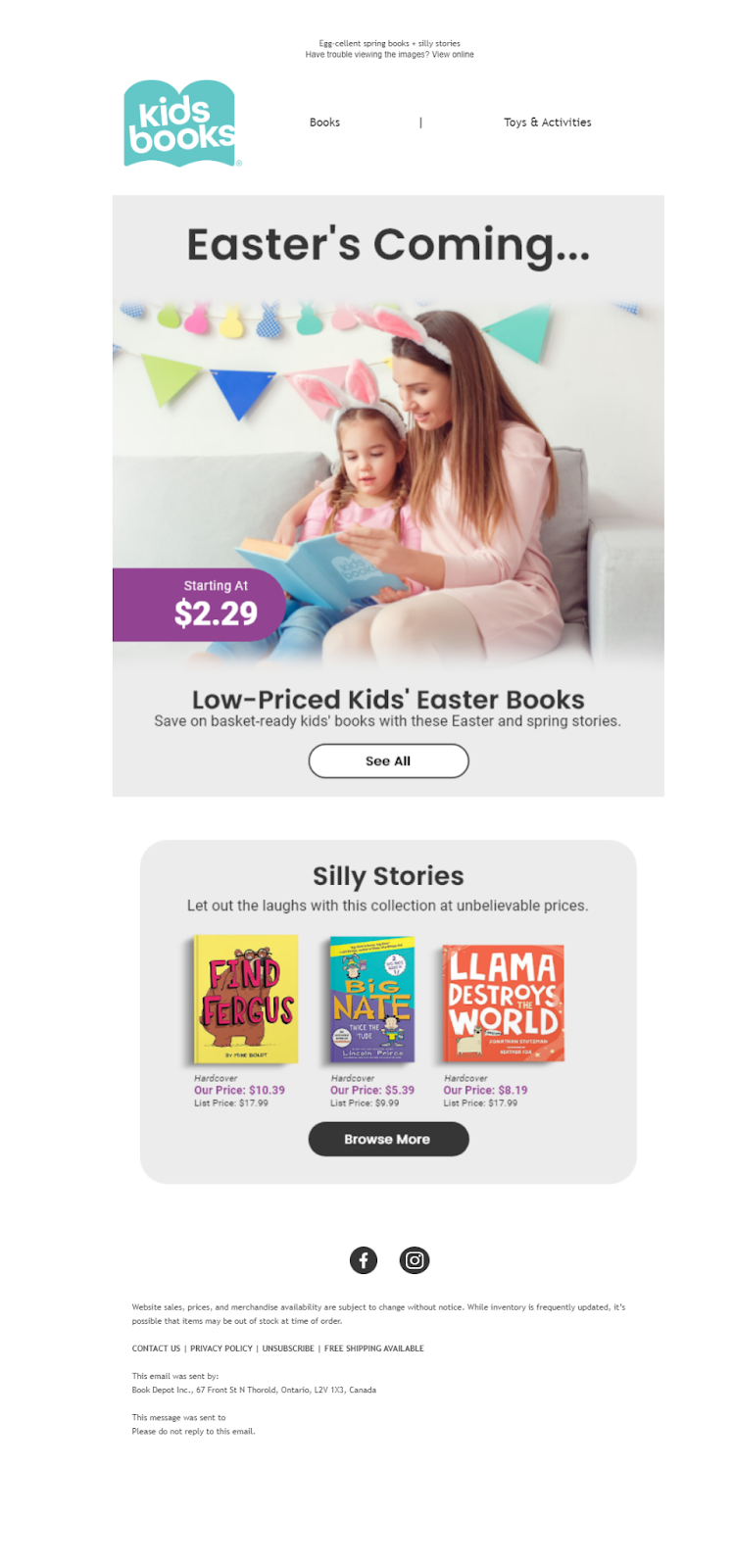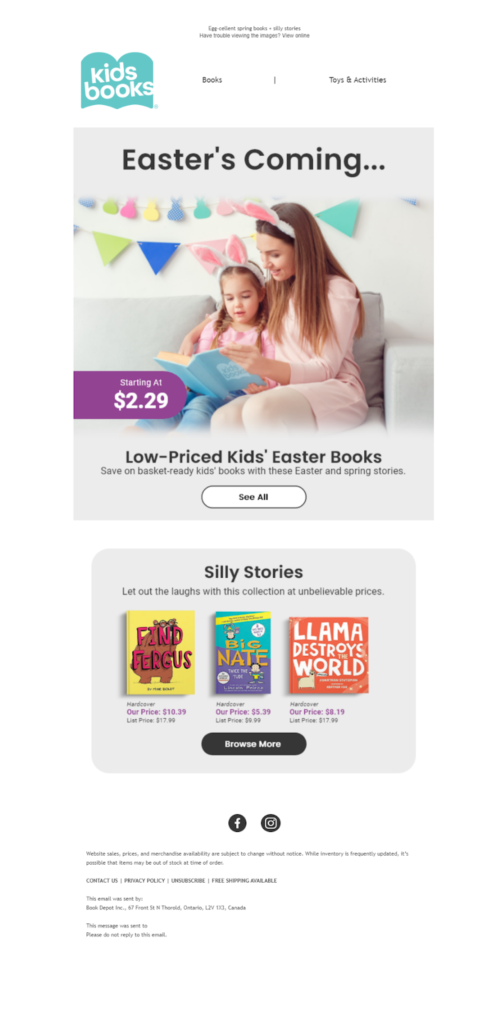 📨 Spring into Easter fun 🌷 – Egg-cellent spring books + silly stories
KidsBooks kicks the Easter shopping season with a late February email reminding parents that Easter's coming and suggesting that they,
"Save on basket-ready kids' books with these Easter and spring stories."
The click-through button with copy that says, "see all," takes customers to a curated selection of spring and holiday-themed books. Appealing to consumers on a budget, the email points out the savings and recommends a gift that will last more than just one day.
Books, puzzles, and toys that are light and easy to pack are great gifts to promote before families embark on Easter break travels.
📧 Bronnley incentivizes sales by offering a free gift in its pre-season Easter email promotion.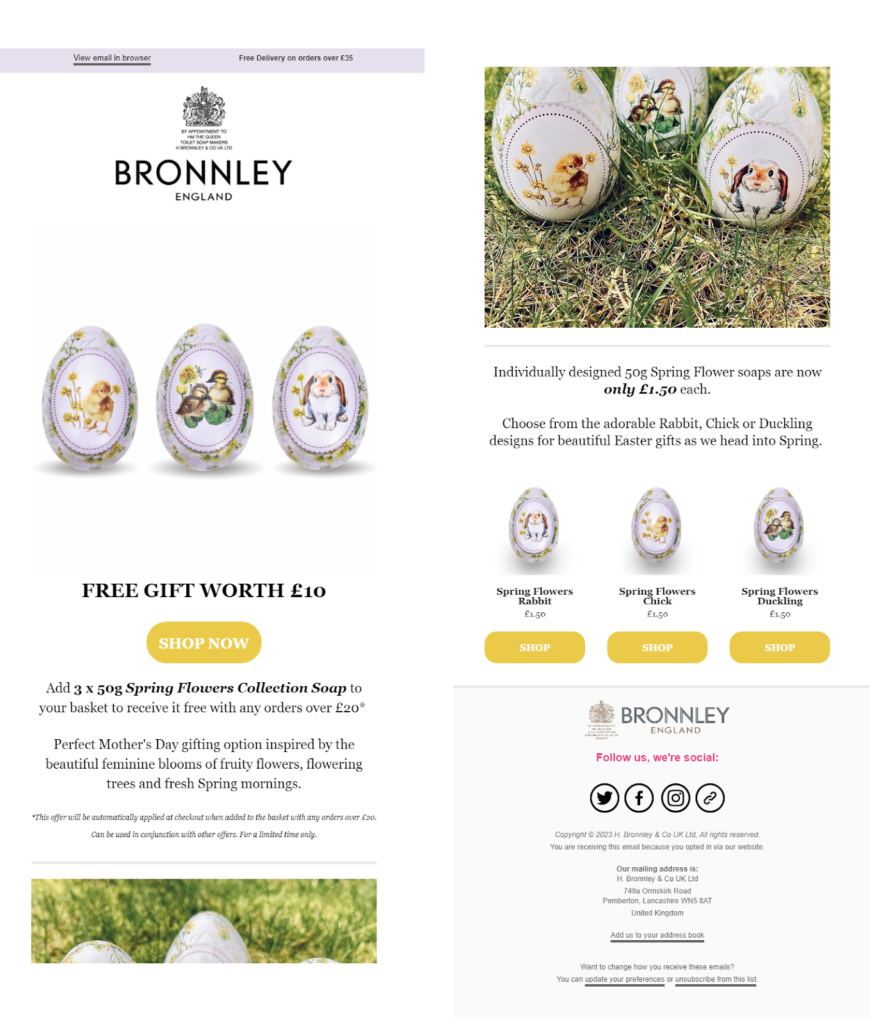 📨 FREE GIFT 😍 – With all purchase over £20
This email introduces Bronnley Spring Flowers Collection soap as the perfect gift for spring holidays, including Easter and Mother's Day. Subscribers who spend £20 or more with the brand can get three of the soaps free.
Above individual product images and colorful button CTAs, the copy says,
"Choose from the adorable Rabbit, Chick or Duckling designs for beautiful Easter gifts as we head into Spring."
📧 Personalization Mall gets an early start to Easter sales with a series of email messages initiated in February.
Personalization Mall sends regular newsletters to its subscribers to inform them about new products and promotions. Beginning in February, a sequence of Easter-themed messages was added to the flow.
The brand's Easter messaging was the primary theme of some of its newsletters, while others promoted general spring merchandise or other holidays or events.
Email newsletters present you with an opportunity to show your subscribers some variety while maintaining a steady communication cadence. 
The first email in the Easter campaign sequence arrived on Valentine's Day and announced a preview sale.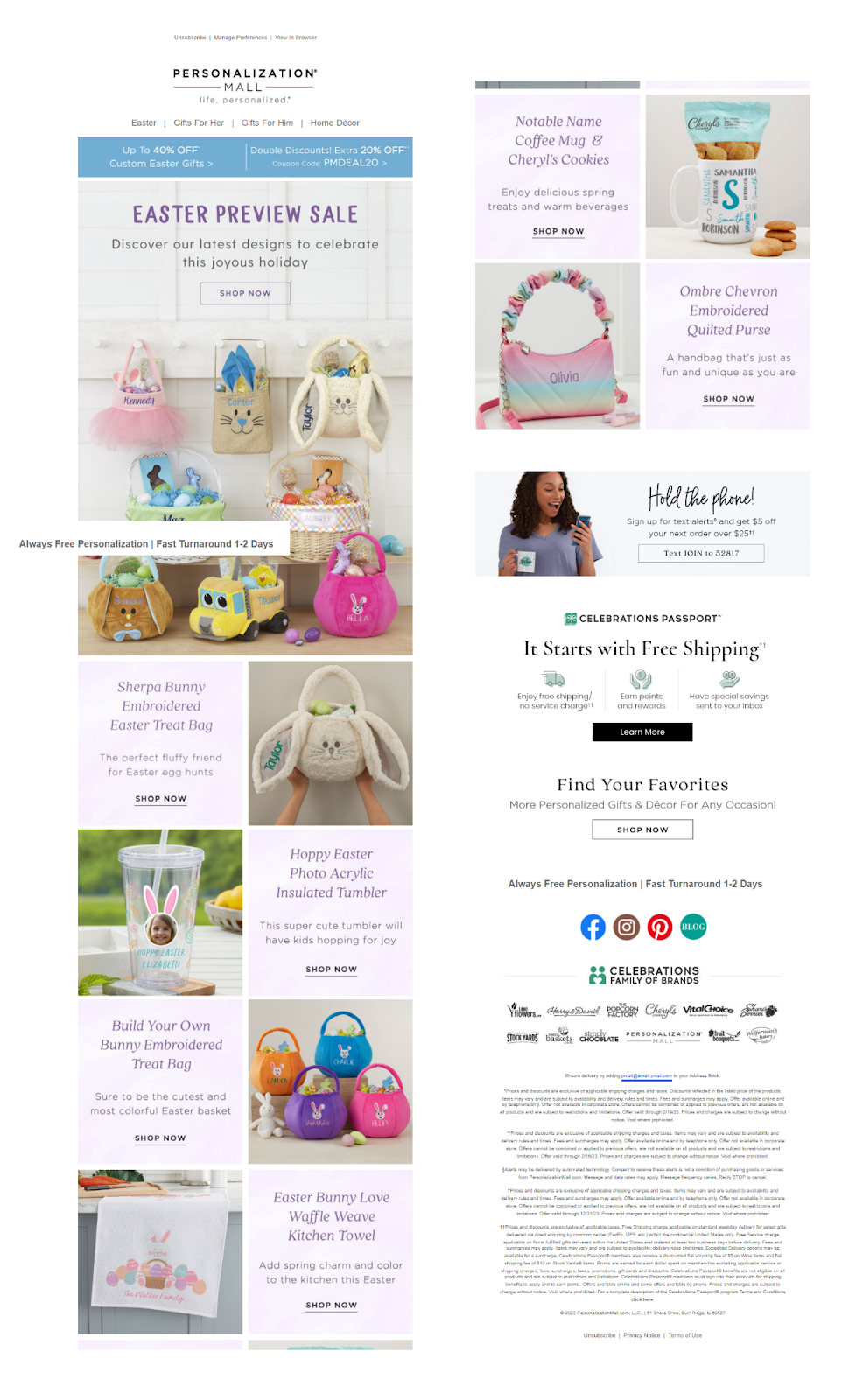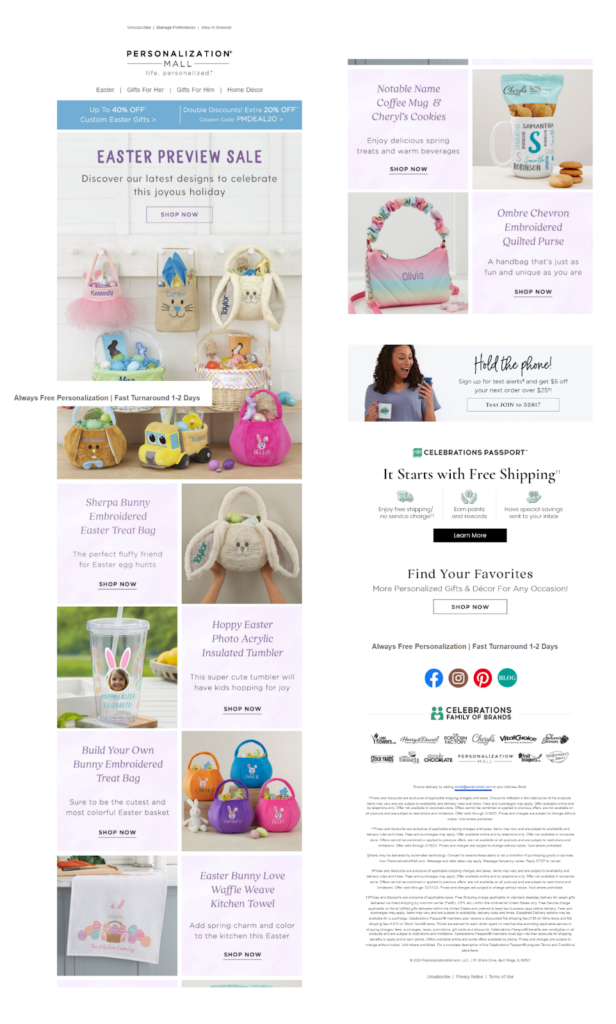 📨 🐰 40% Off Easter Preview Sale – Discover our latest designs to celebrate this joyous holiday
A second message arrived two weeks later to remind subscribers that the sale is underway and add a bit of urgency in the subject line with the phrase, "hop to it."


📨 🐰 Hop To It | 40% off Easter Gifts and Décor – Create your own personalized Easter gifts for family and friends
The third email in the series added gamification to the mix–introducing an Easter egg hunt and inviting subscribers to click through to find their savings. Gifts for children and family are the leading themes in these first two emails.
The second email includes an attention-grabbing touch of whimsy– the "Hop to It!" banner is an animated GIF.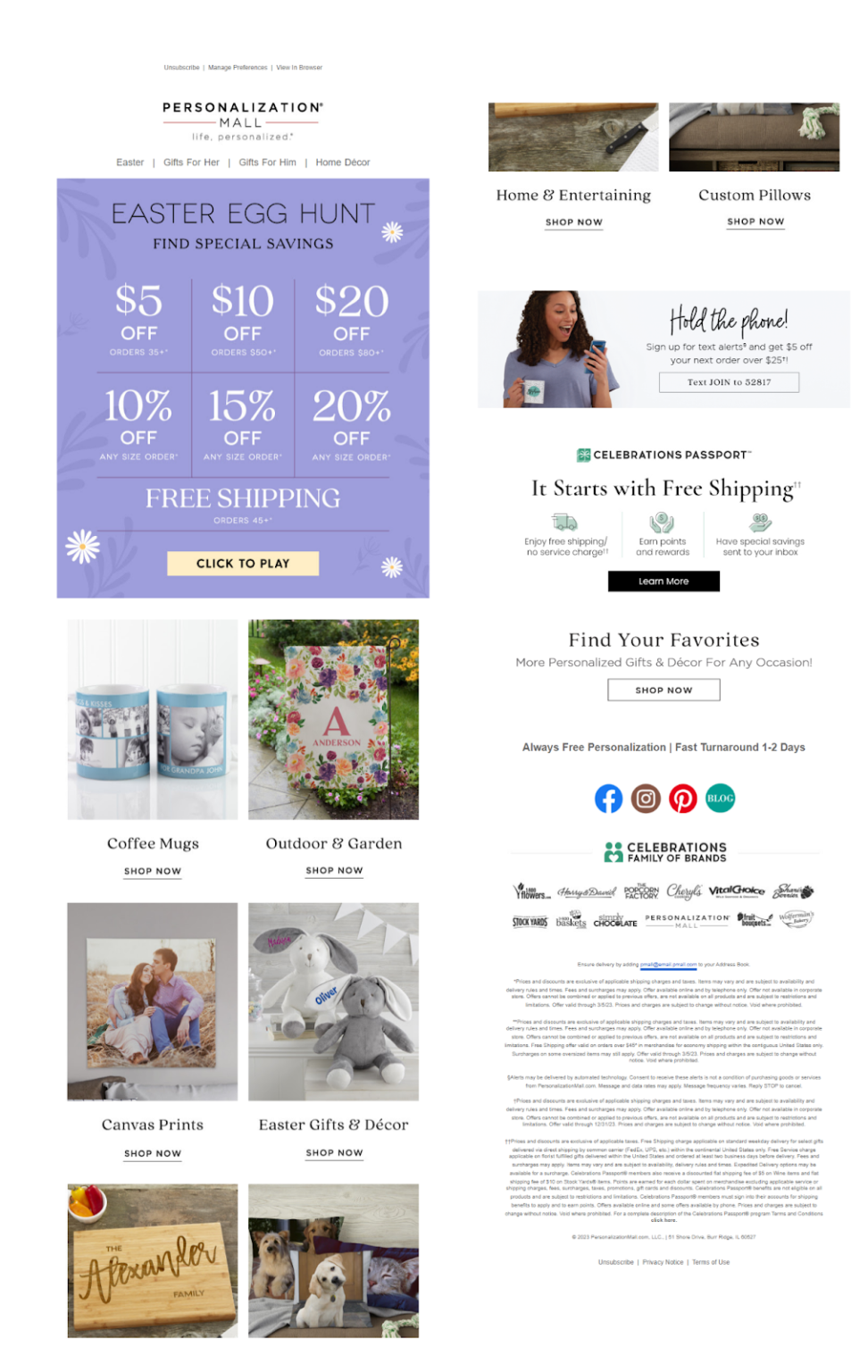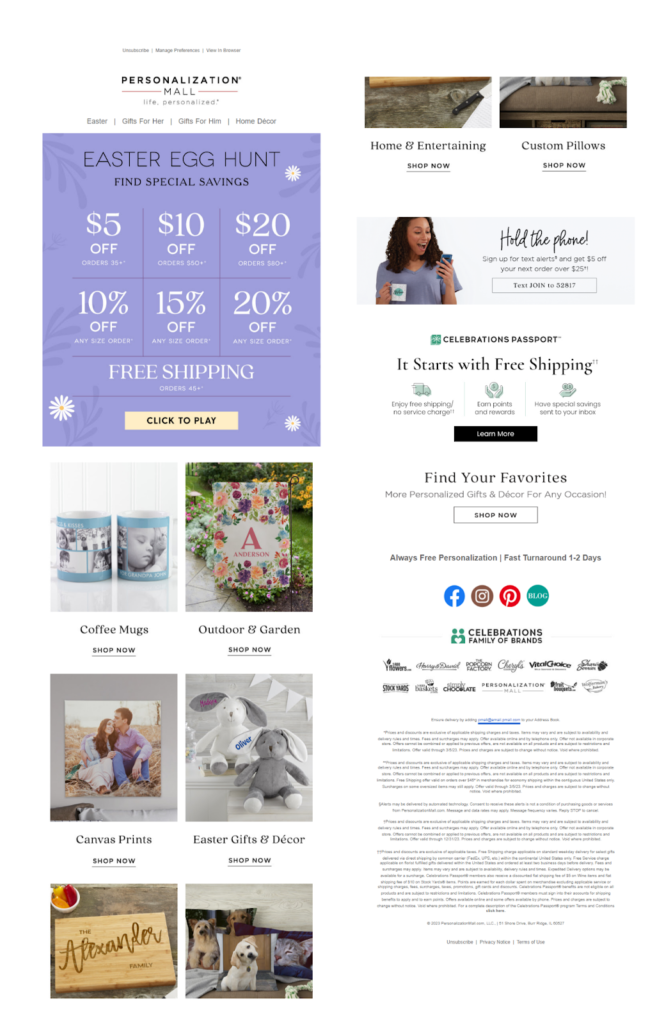 📨 🐰 Easter Egg Hunt! Find Special Savings – savings on personalized gifts and décor
Clicking through this email leads subscribers to a landing page featuring a selection of spring and Easter-themed products and a coupon code for their Easter Egg Hunt prize. Visitors can click to "play again" on the website, too.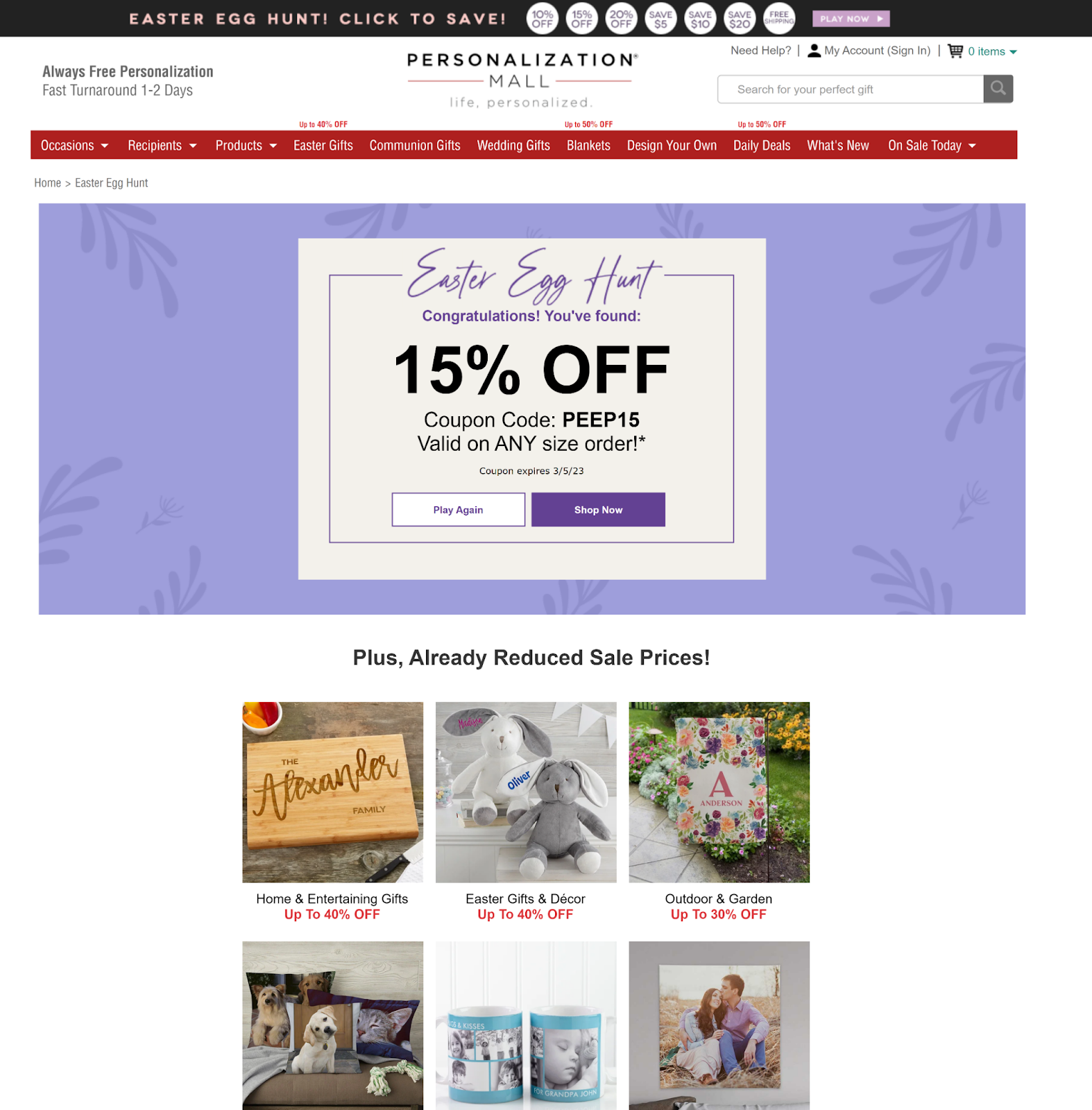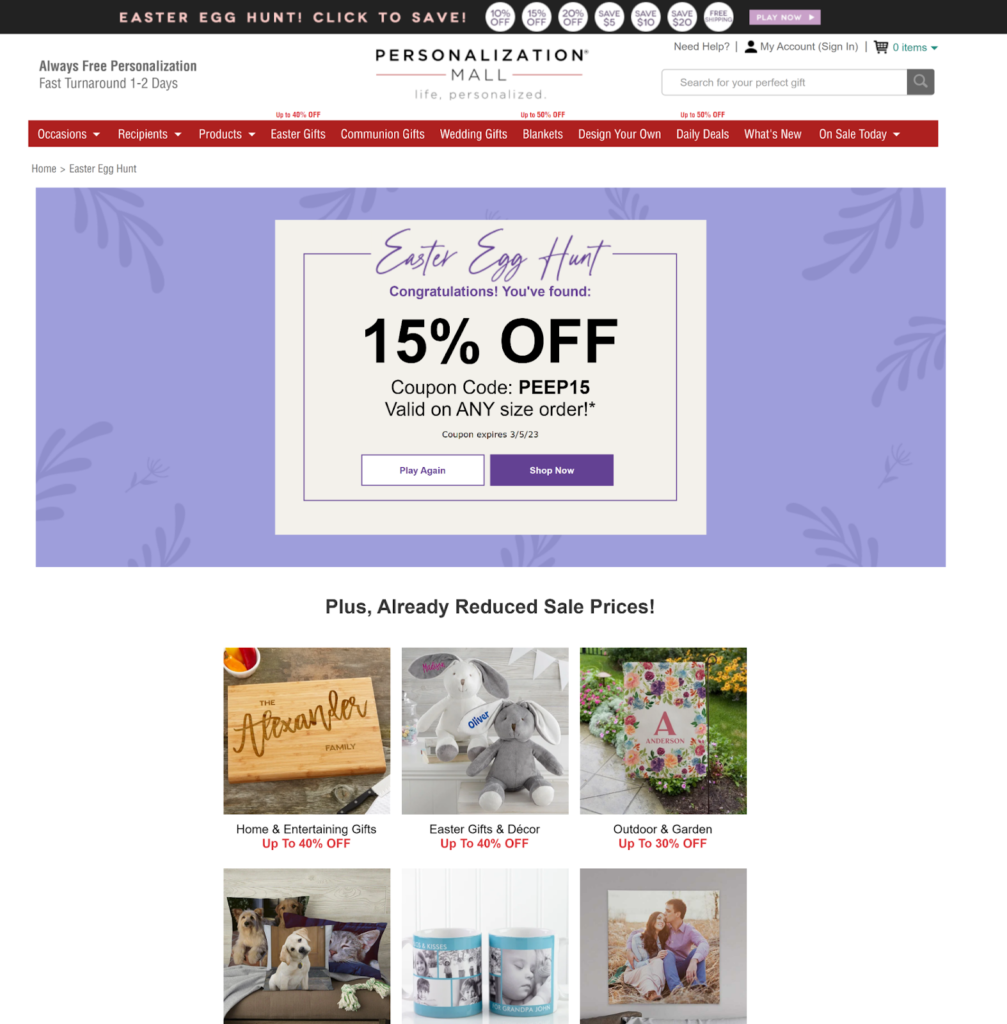 While many shoppers won't make their Easter purchases until the final weeks before the holiday weekend, brands like Personalization Mall, which require a longer lead time to produce and ship customized gifts, can't afford to wait.
Adding Easter messaging to your campaigns in February and March enables your brand to get your best deals in front of shoppers before they spend their Easter budget elsewhere.
📧 Riff Raff Baby's promo email promises its limited edition bunny cuddlers will arrive in time for Easter.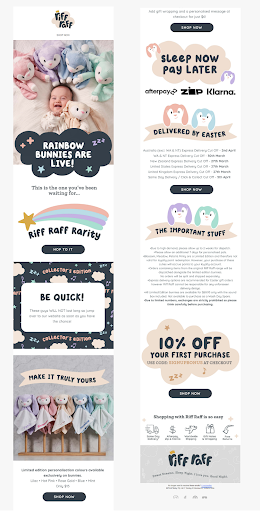 📨 💗Limited Edition Bunnies are LIVE 💙 – Be quick 🐰
In an email that's all about the bunnies, Riff Raff urges subscribers to "hop to it" and order these collector edition rainbow bunny blankies. The email's copy adds to the urgency, saying,
"Be Quick! These guys WILL NOT last long so jump over to our website as soon as you have the chance!"
Noting that these items make perfect gifts, the email also explains available personalization and gift wrap options, along with "sleep now, pay later" financing.
A schedule at the bottom of the email tells subscribers when they must order to receive delivery by Easter.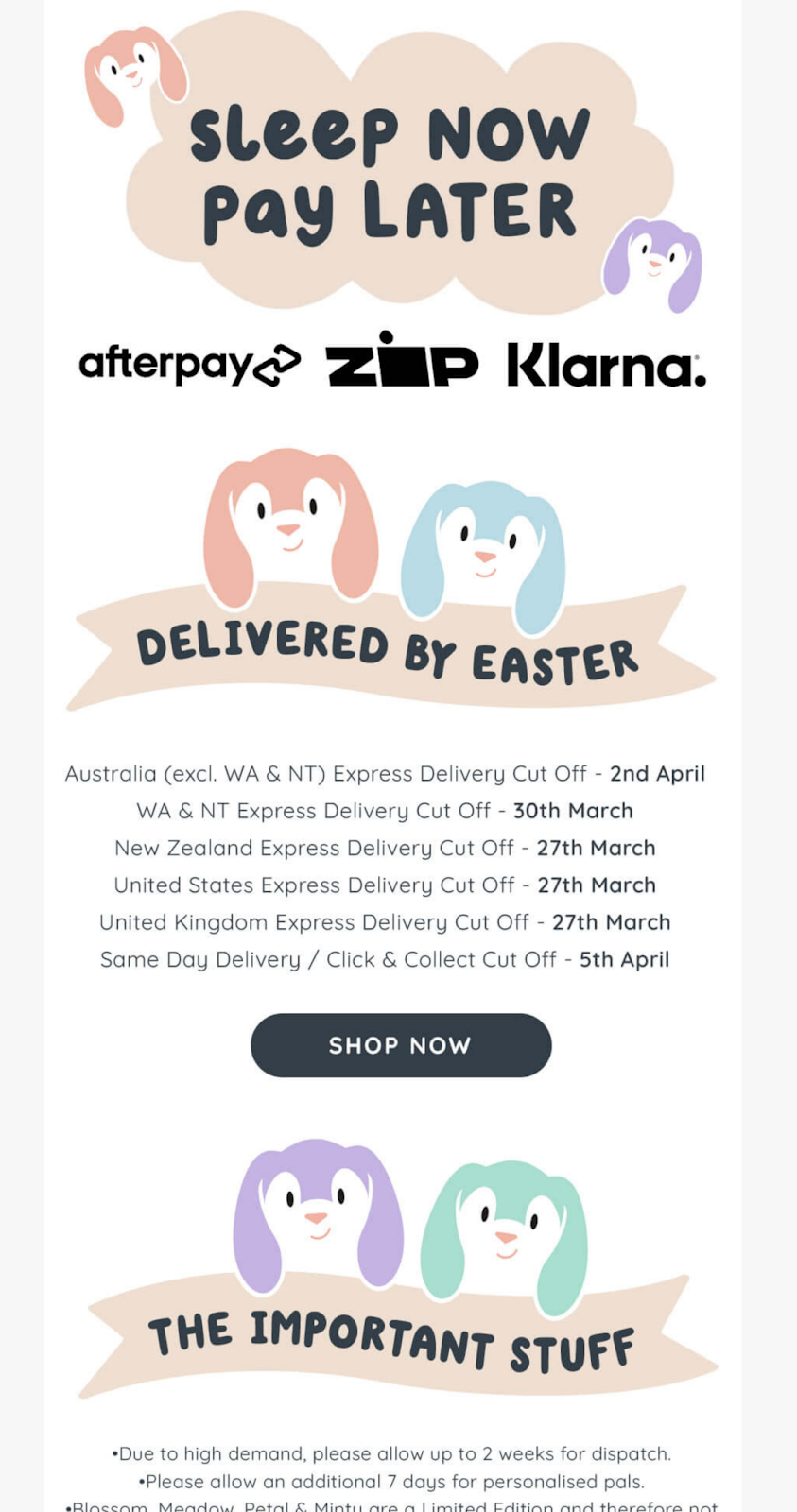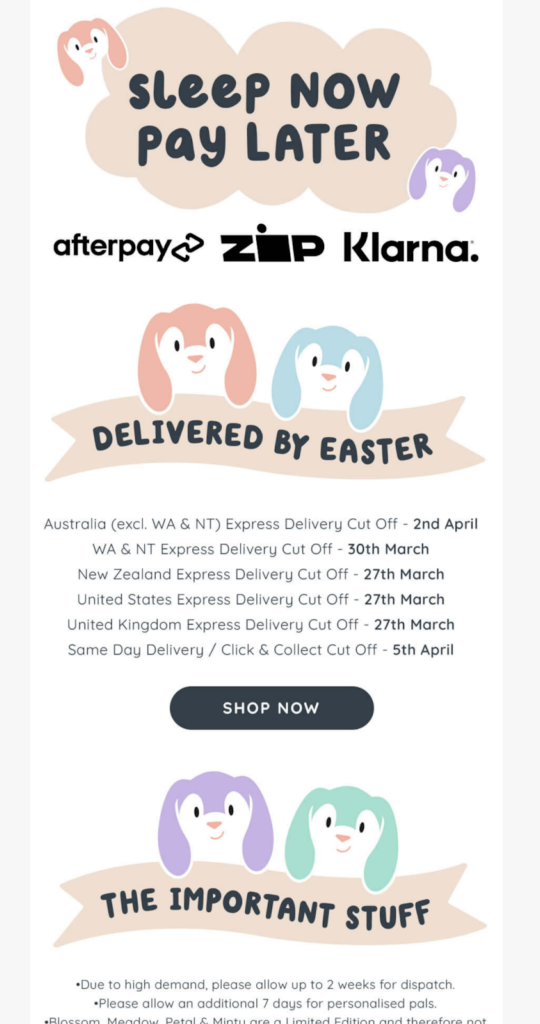 Customers ordering gifts or other items for a special occasion such as Christmas, Valentine's Day or Easter are especially sensitive to delays. So be sure to provide complete information (and reassurances) in your occasion-themed emails. Develop a plan to obtain and update delivery and other supply chain data as part of your holiday email preparations.
📧 Terrain promotes Easter entertaining with a sequence of newsletter edits.
Retailers offering home décor and entertainment items got an early start to Easter promotions in 2023. This series from Terrain began with a February 9 newsletter presenting Easter-themed merchandise.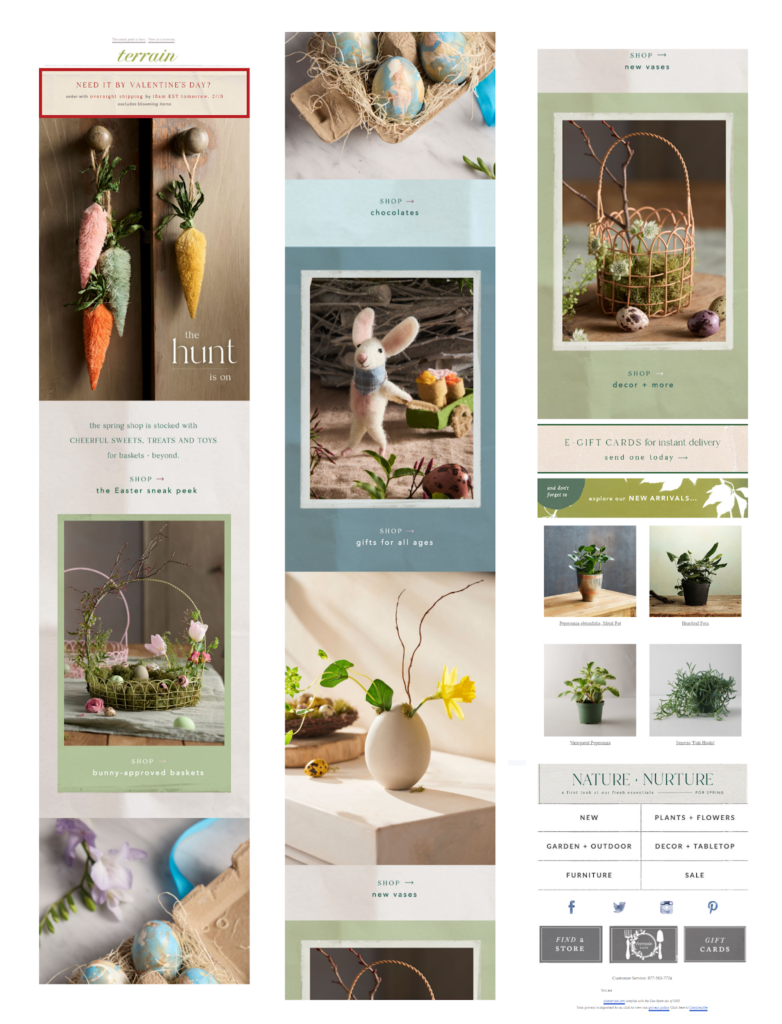 📨 Get a first look at sweet Easter favorites – The sneak peek is here.
Setting the mood with a mix of florals and pastels, Terrain offers subscribers a touch of exclusivity with an email that gives them a peek at things to come.
Because Terrain is sending a mass email that needs to appeal to the masses, the copy and design presents more than one message to subscribers. 
This email references spring and Easter, while also including a Valentine's Day banner informing subscribers that they have one more day to get delivery of gifts by February 14.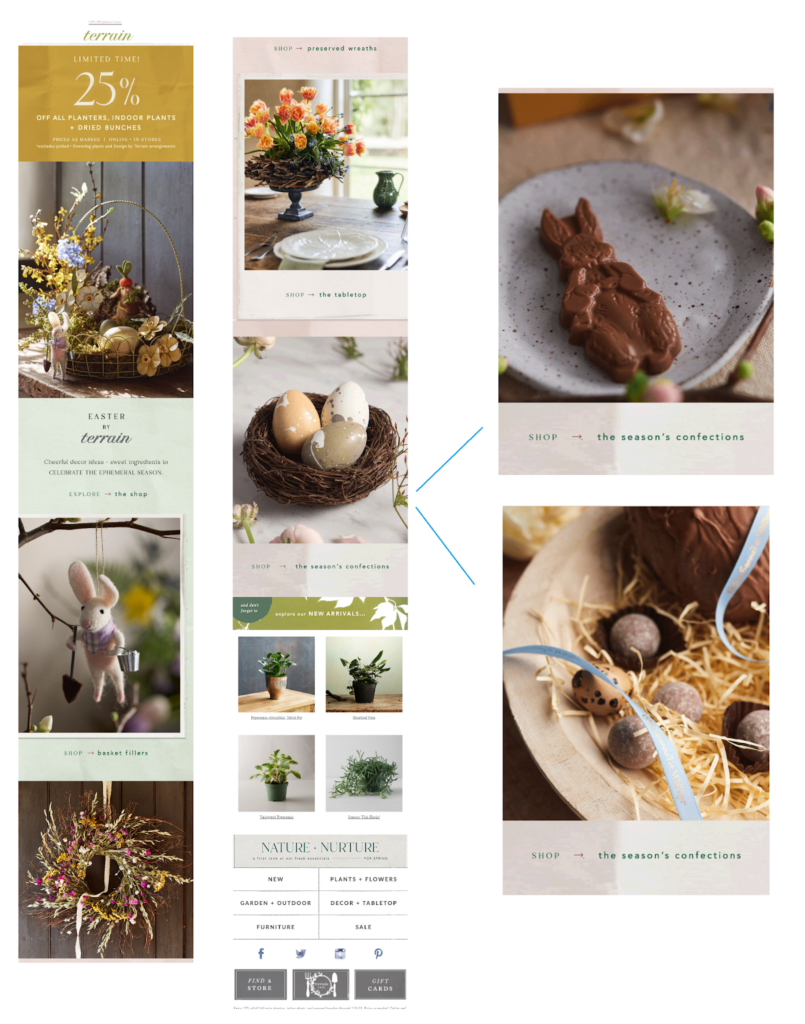 📨 The Easter Shop is OPEN 🐣- + 25% off planters + more.
The second Easter-themed email in this series introduces a spring sale and officially opens the Easter shop with images of Easter gifts and decor. An animated GIF displays three selections from the Easter confection shop.
Confections are the second top-selling item for Easter celebrations. Showing off your unique sweets can entice consumers to purchase something indulgent.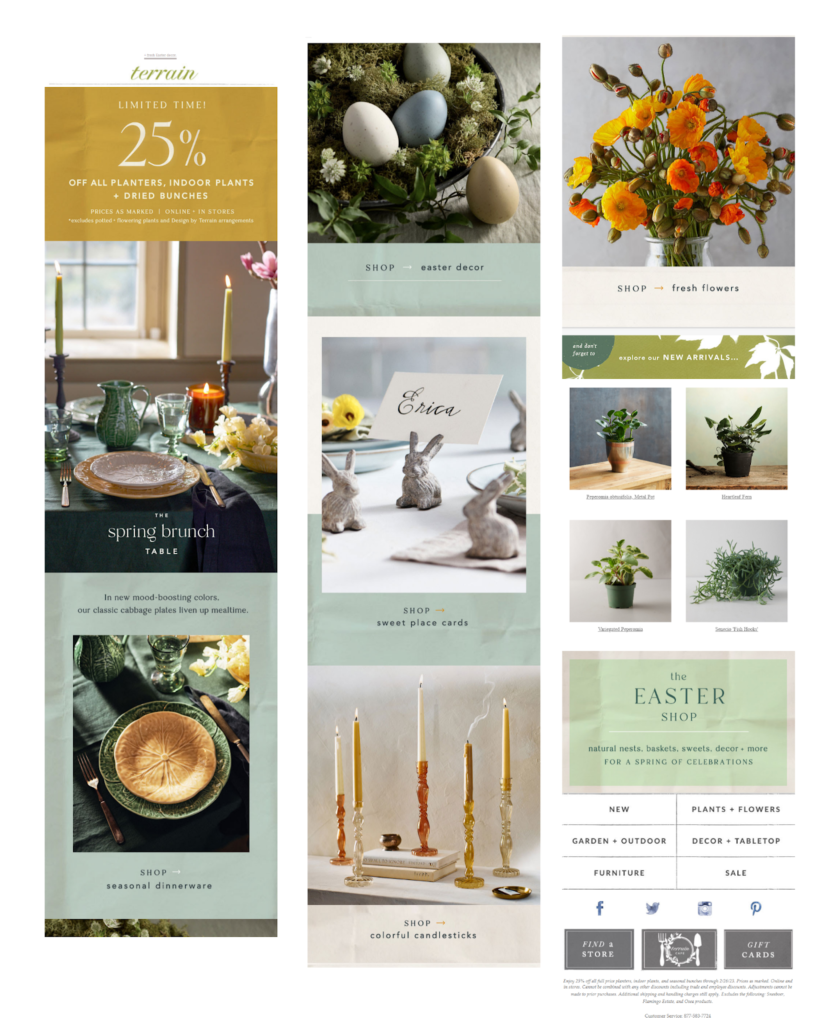 📨 Pastel plates for the spring brunch table – + fresh Easter decor.
The third email in Terrain's February Easter promotions uses the subject line to draw attention to a specific need–preparing to entertain guests for Easter brunch. Inside, the email promotes a sale on spring decor and tableware with images showing subscribers how to set the perfect table.
This newsletter offers merchandise suitable for any spring occasion as well as items for Easter and ends with a banner inviting subscribers to visit Terrain's Easter shop, "for a spring of celebrations."
Throughout this campaign, the design and color palette remains coordinated on-brand, supporting brand recognition.
📧 Sugarfina delivers a tempting, treat-filled Easter email.


📨 Just Launched: Our NEW Easter Collection – Shop our egg-stravagant new sweets!
Candy maker Sugarfina presents new collections and limited edition sweets throughout the year and introduces each new set with an announcement email.
This email includes a tiny touch of animation in the heading (one of the eggs wiggles) and a trifecta of pitches.
The hero image presents the special collection along with a bright yellow "shop now" button. The email's design then shifts to a pastel panel highlighting the brand's free shipping offer.
The third panel includes more images of tempting treats and invites subscribers to get 20% their order by signing up for SMS.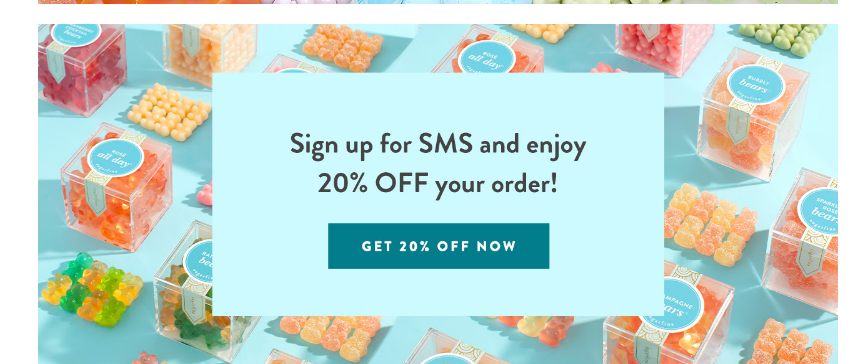 Your website isn't the only place to include sign-up forms. Use your email campaigns to grow your SMS subscription lists and improve your ability to reach your subscribers at the right moment, with the right message, and through the right channel. 
📧 Food52 offers subscribers a taste of indulgence and a touch of urgency in a promotional email newsletter.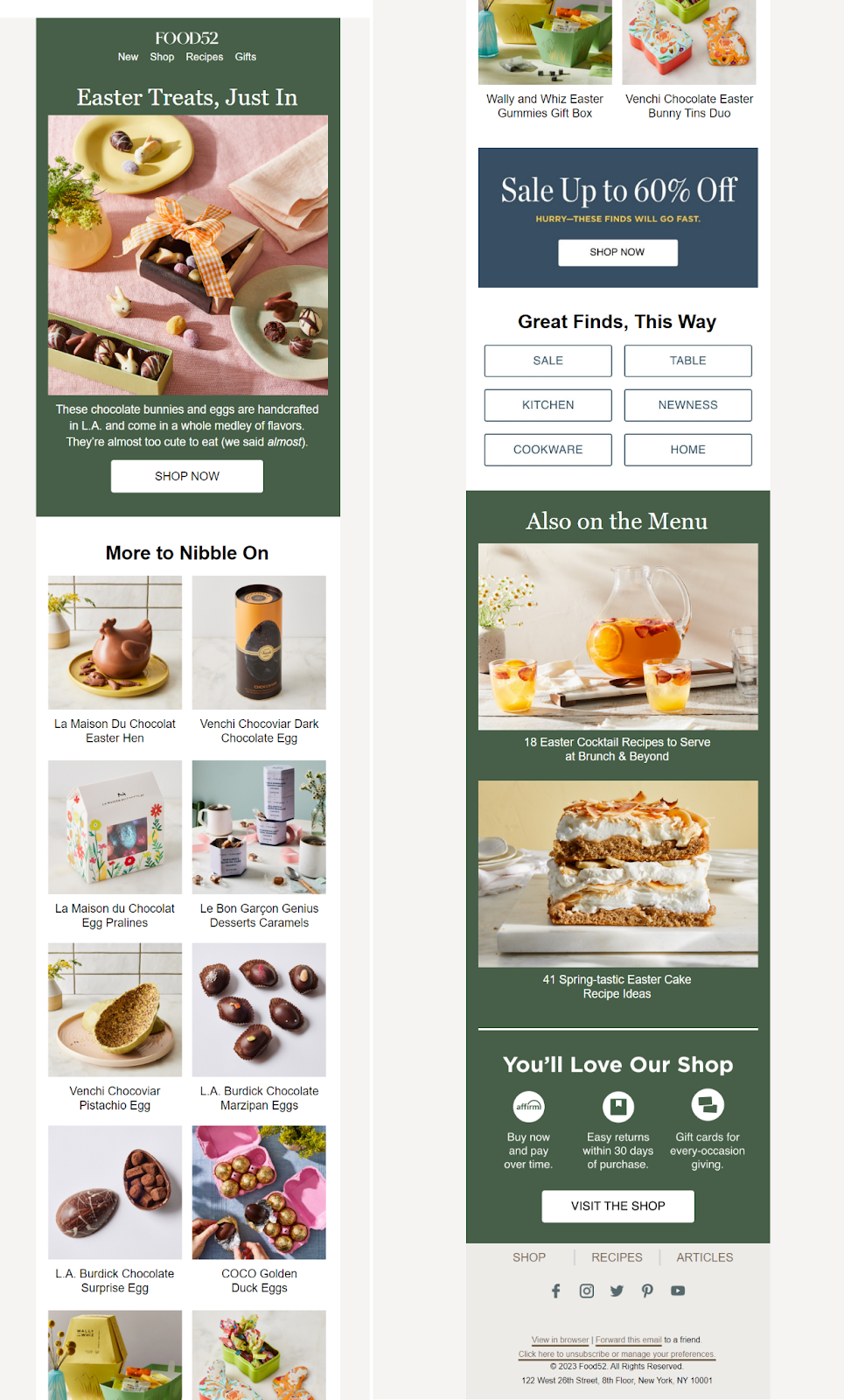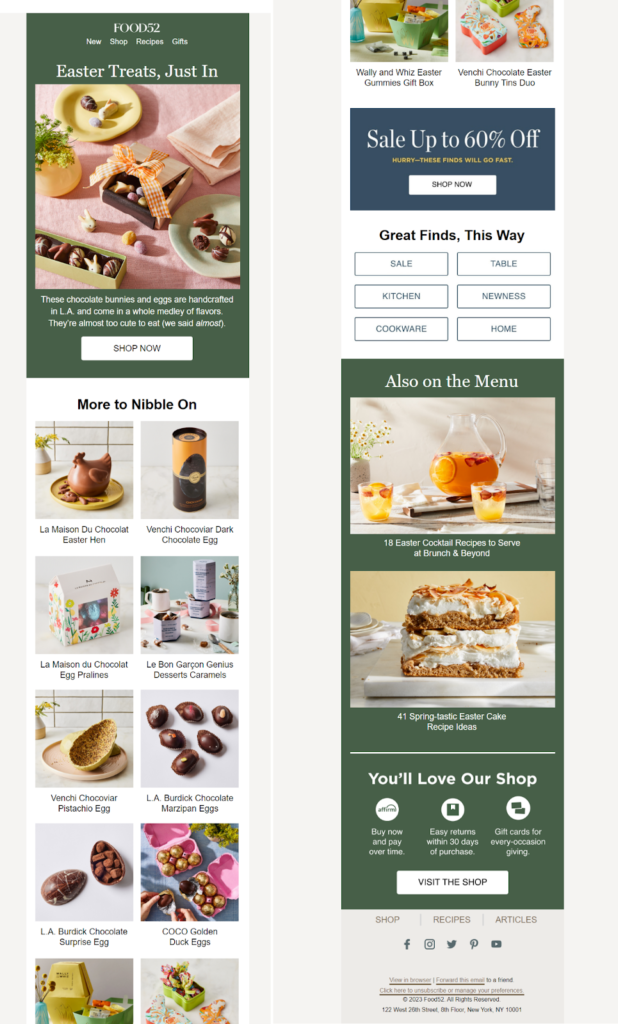 📨 New and finally here! Easter chocolates 🐰 – Ganache-filled bunnies, praline eggs…better hop to it.
Food52 focuses this Easter email on presenting prettily packaged, unique treats that make giving and receiving an experience. As consumers become more cautious about their spending, they look for purchases that deliver a multi-sensory experience–like gifts that delight the eyes and the tastebuds.
Along with attractive images of each item, Food52 plays up the exclusive, unique nature of these Easter treats with copy that says,
"These echolocate bunnies and eggs are handcrafted in L.A. and come in a whole medley of flavors. They're almost too cute to eat (we said almost)."
🥕 I'm noticing the word "handcrafted" appear in a lot of B2C emails this year. With a whole world of merchandise available at their fingertips, words such as custom, handcrafted, or limited number fulfill shoppers' exclusivity desire.
📧 Paperchase chooses a famous rabbit to hint at its email's Easter theme.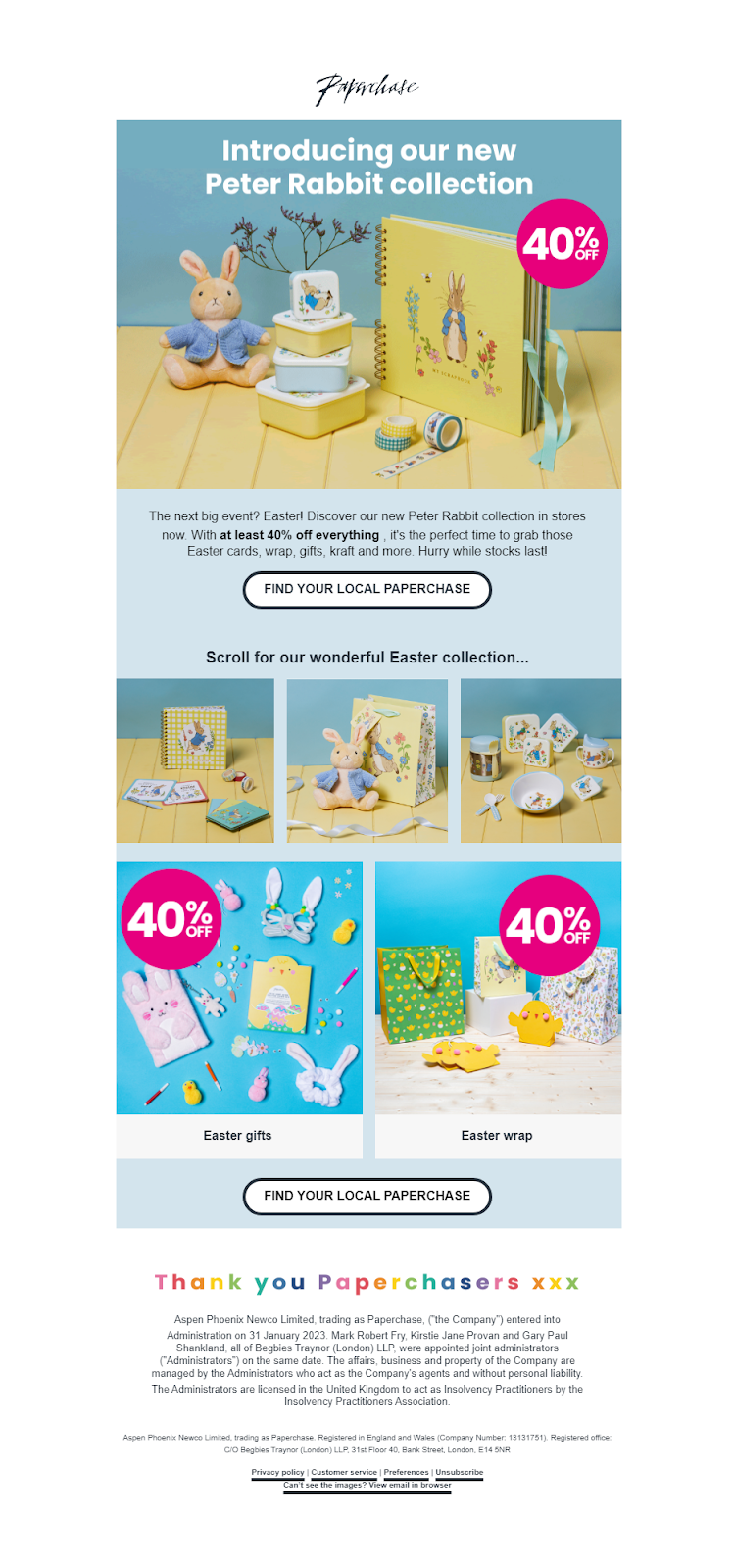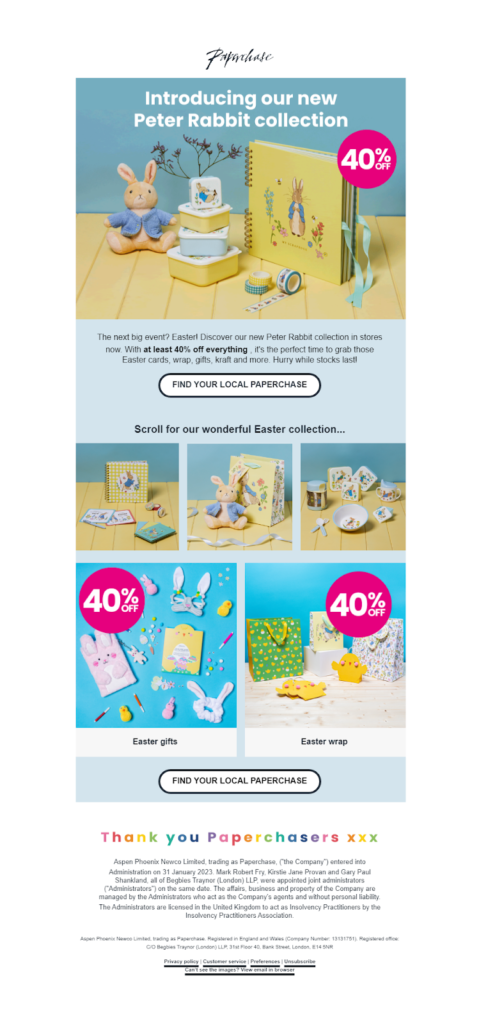 📨 Our new collection: Peter Rabbit – with at least 40% off in store
Although the subject line of this email is all about Peter, the message turns readers' attention to the coming holiday with copy that says,
"The next big event? Easter! Discover our new Peter Rabbit collection in stores now. With at least 40% off everything, it's the perfect time to grab those Easter cards, wrap, gifts, kraft and more. Hurry while stocks last!"
This copy employs excitement, urgency and savings to entice customers to visit their local Paperchase store. The email also gives shoppers a preview of what's in stock with several images of Easter-related products including gifts and wraps.
Discover other persuasive devices that drive conversions in the Ongage guide to email copywriting mastery.
📧 Skyscanner offers useful information and promotes ticket sales in an Easter break-themed email to subscribers.


📨 The top 15 Easter break destinations for 2023 – Thinking about an Easter break getaway? Here's a list of the best destinations for spring travel.
Physical gifts aren't the only thing consumers are shopping for during the Easter season. Travel brands can take advantage of spring fever and the Easter holiday season to present experiential gifts or travel packages, and share useful tips for finding the perfect destination.
Skyscanner's email template uses dynamic content blocks to allow the content to be customized based on recipients' preferred locations. This edition of the newsletter open with an Easter-themed list before introducing other articles, trending travel destinations and an invitation to download the brand's app.
 Engaging your subscribers across multiple channels helps you gain more data about them and send them more relevant content. 
📧 Flowers for a spring celebration is the offer of this seasonal email promotion.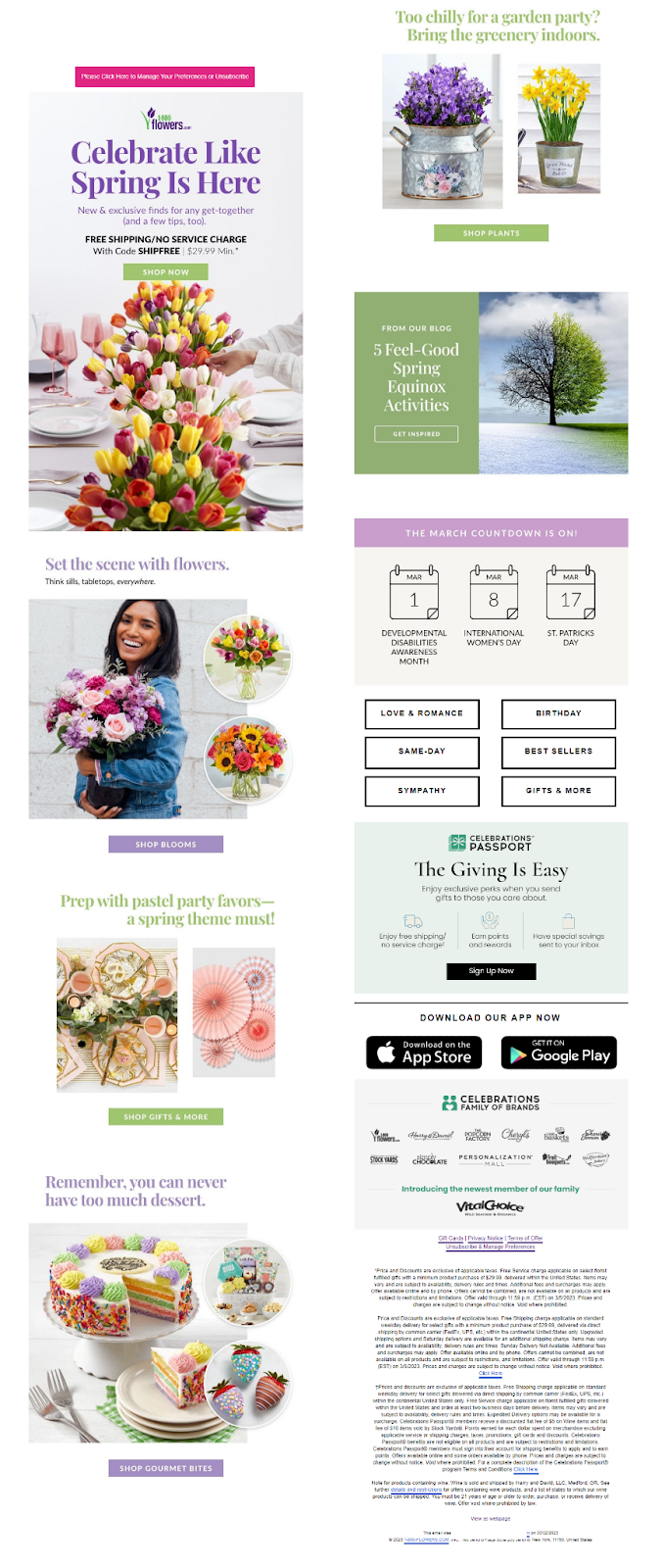 📨 Destination Celebration – Free Shipping on Exclusive Finds for A Season of Gathering
1-800-Flowers doesn't mention Easter in this March newsletter promotion. Instead, the copy zeros in on spring celebrations, gift giving and hosted gatherings featuring patel decorations and gourmet bites. The copy also includes links to information about Spring Equinox celebrations and spring garden parties and a graphic panel that lists March events.
Your March and early April emails don't have to be only about Easter. Send a blend of messages that include some Easter-specific offers and some that have a universal appeal.
📧 Mechanical keyboard shop Drop's newsletter drops a seasonal design for spring 2023.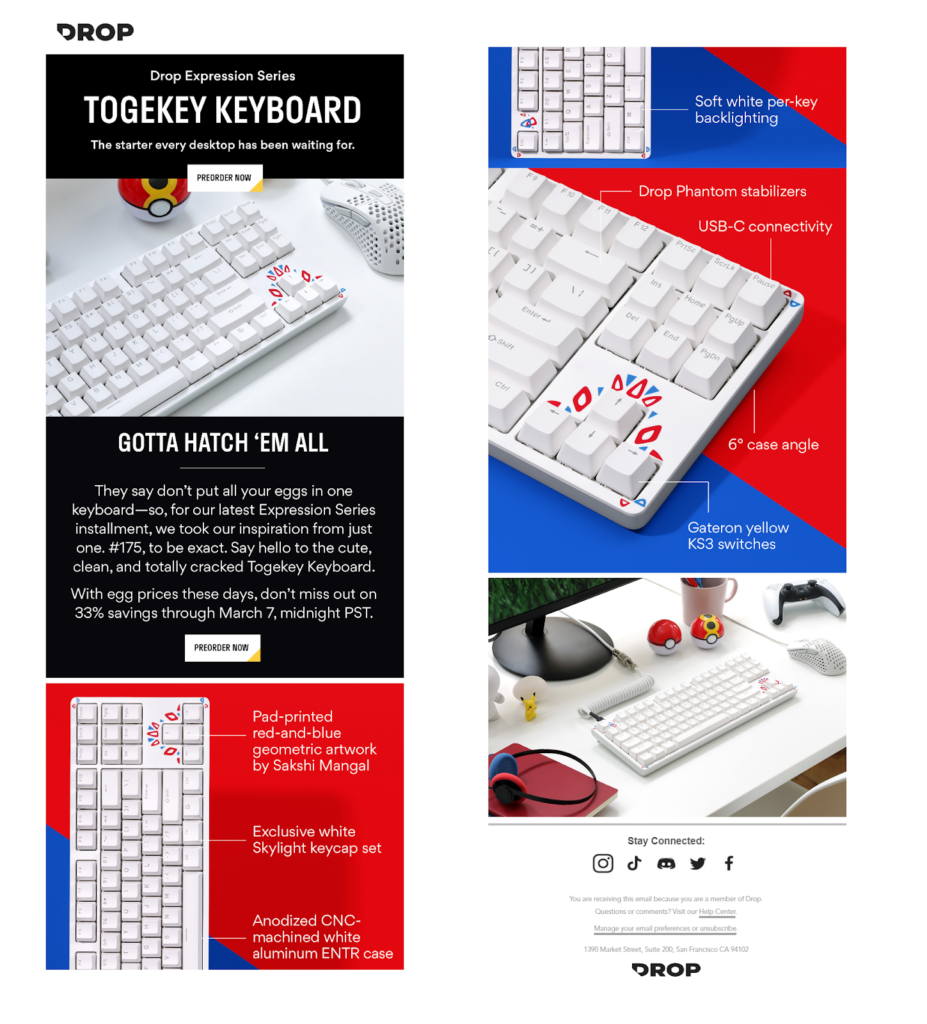 📨 This Keyboard is a Good Egg – Inspired by #175—meet Togekey.
Okay, I dunno if Drop meant to hop on the Easter theme with this egg-citing new keyboard design inspired by egg-bodied, Togepi Pokémon. But this email newsletter from the hardware seller illustrates how to think outside the basket when it comes to holiday promotions.
The subject line caught my attention in my inbox and the images inside the email are bright and engaging.
This message doesn't go light on the puns, either.
"Gotta hatch 'em all" is the headline which is followed by copy that says,
"They say don't put all your eggs in one keyboard–so, for our latest Expression Series installment, we took inspiration from just one. #175, to be exact. Say hello to the cute, clean, and totally cracked Togkey Keyboard.
With egg prices these days, don't miss out on 33% savings…"
Go ahead. Surprise and delight your subscribers by having a little fun with your seasonal campaigns.
Now, what's a great email without a great subject line? 
Some bunny was thinking of you when they put together the following lists.
(Okay, it was me. I'm the same bunny. You're welcome. 🐰)
80 Spring and Easter email subject lines and preview text
Don't hide your Easter email messages behind a boring inbox display. Intrigue your subscribers from their first peek by crafting sensational Easter-themed subject lines and preview text using this collection of ideas.
Easter email subject lines that announce a sale or nudge your customers to get hoppin'
It's time, it's time! – Pre-order your personalized Easter gifts now for delivery by Easter day
25% off sitewide sale ends soon – Get your Easter [product type] before they're gone
Easter sales egg-stravaganza starts today!
Spring sale egg-stravaganza starts today!
Get egg-straordinary savings during our Easter sale
Hop in for unbelievable savings
Exclusive Easter bundles drop today
These egg-straordinary deals won't stay hidden for long – Fill your basket with Easter savings before they're gone
Easter preview sale starts today
One for you, one for some bunny special – Grab your B1,G1 Easter deals now!
You won't believe what the Easter bunny left in our baskets!
Can you find these Easter bonus prizes? – Find the Easter eggs in this email to uncover your free gift!
The hunt is almost over – Find the eggs and earn your Easter bonus rewards before they're gone!
Crack open the savings with our limited-time Easter sale – Upgrade your spring wardrobe and save up to [X]%
Can't resist the ears? – Get your own chocolate bunny to chomp during our B1, G1 sale
It happens every Easter… Going, going, gone! – Our special edition [product] sells out every year. Order yours today.
Easter accessories are selling out fast! – Place your order now to not miss out!
Easter styles on sale now – Up to [x]% off clothes for [demographic or "the whole family"]
Even the Easter bunny was impressed with these sweet deals
Egg-celent savings are here now!
Save a bundle with these Easter basket favorites!
You have the basket, we have the goodies to fill it – Get their favorite treats in time for Easter!
Grab this must have Easter decor before it hops away
The Easter bunny came early and dropped off these great deals!
Back-in-stock! Limited amounts! – The Easter bunny dropped off more [limited edition products] just in time to ship before Easter
Free gift with purchase – Celebrate Easter with a special treat from us.
Sweet deals you won't want to miss!
Fill your basket for less!
The big spring sale is on now
The deals are in full bloom – Just in time for Easter
Subject lines and preview text with Easter and spring references that set the mood and tell readers what they'll find inside
This just hatched – Check out our latest Easter and spring arrivals
Spring into Easter fun – Egg-cellent [product or promotion]
Get these fan favorites for Easter
Easter surprises for the whole family
Make this Easter unforgettable
Top picks for every Easter basket
Fill your Easter basket with fun
Spring gifts for some-bunny special
The Easter shop is open – Treat yourself to new decor
New Easter collection just launched – Order your treats today!
We're filling baskets with exclusive Easter treats – Order yours now for delivery by Easter day
Just hatched: Our Easter [product] collection
The best gifts for Easter
Hop to it! – New spring prints are available now!
Shop Easter looks
The Easter edit drops today
Show us your spring style – What's your look for Easter this year?
Dressing up for Easter – Don't forget to accessorize!
Send a gift card to some bunny you love this Easter
Did someone say chocolate? Order your custom Easter basket filled with premium chocolates today.
Easter snuck up on you? We've got your last-minute gifts covered
A-tisket, a-tasket let us fill your Easter basket!
Easter DIY sale starts now – Craft your way to a one-of-a-kind holiday celebration
Get your spring refresh on – Our Easter sales is packed with seasonal goodies at unbelievable prices
Easter wreaths and fresh-cut flowers are waiting for you – Pick up in store or get delivery to your door
Welcome spring with these fragrant Easter bouquets
Check out what just hatched! – New spring styles arriving daily
Happy Easter from [brand]! – Hop in to see our new spring lines!
Brighten up your spring celebrations
Decorate for spring
Spring is in the air
Easter email subject lines for B2B, non-traditional, and experiential offers
Renew your body and soul this Easter – Get your [product or experience] now
Hoping for something other than chocolate in your Easter basket? – Get 10% off when you sign up for [service] during our Spring sale
Be a good egg – Renew your subscription today and don't miss out on a single issue
Fill your basket with savings – Renew or expand your subscription during the month of April and get 10% off plus a free [item]
Looking for something special to do this Easter – Treat your family to a day of [adjective] at [experiential location]
Make this Easter memorable – Book your reservation at [experience] today
Our Easter brunch is selling out fast – Reserve your seats now
The top 15 Easter break destinations – Book your flight today!
Tired of Candy? Try these awesome Easter basket fillers instead
Forget the eggs. These amazing Easter gift ideas are vegan and animal cruelty-free
Easter subject lines for attraction marketing emails that engage and inform
Where does the Easter bunny go to take a break? – Check out these top spring destinations
New recipes just in time for your Easter get togethers
Our best recipes for Easter – Your family will loves these special holiday treats
Should you get a real bunny for Easter? – Hundreds of bunnies and chicks are abandoned or neglected every year. Do this instead.
Happy Easter – We wish you and all those you love a day of celebration and renewal
Don't spoil the fun! – Food safety tips for your Easter get-togethers
How to care for your Easter blooms
Ten tips for an eco-friendly Easter celebration
Make it to the sunrise service on time – Try these make in advance breakfast favorites
Pep up your March and April newsletters and email blasts with these catchy Easter slogans, words, puns and emojis 
Egg-citing
Egg-stremely
Egg-stravaganza
Egg-tra
Egg-celent
Egg-pert
Egg-cersizer
Egg-actly
No egg-cuses
Hatch a plan 
Hoppy
Hop to it
Hare-raising
Some-bunny
Very bunny
Every-bunny
I don't carrot all
Get cracking
Hoppin' good time
Crack up
Be a good egg
Put all your eggs in one basket
How's it going, Peeps?
Hang out with your Peeps
Share with your Peeps
Use these Easter-themed emojis to add a splash of color to your Easter email subject lines and preview text. (Find more emojis and their codes here.)
🐰 U+1F430, 🐇 U+1F407, 🐣 U+1F423, 🐤 U+1F424, 🐥 U+1F425, 💐 U+1F490, 🌸 U+1F338, 🌼 U+1F33C, 🌷 U+1F337, 🥕 U+1F955, 🥚 U+1F95A, 🍬 U+1F36C, 🎀 U+F1380
Assemble all this inspiration to build your own amazing Easter emails for 2023
Send your subscribers Easter emails that share your values and offer them value, present them with a unique way to celebrate the season or give a special gift and deliver content that educates, informs, surprises or delights.
As you build your Easter email templates, remember to follow the tips we've shared throughout the Ongage blog.
🥕 Discover tips for dressing up your email inbox appearance all year round in this article about preview text best practices.
🥕 Optimize your email call-to-actions with the advice of our comprehensive guide to creating compelling CTAs.
🥕 Then give everything one last review using our email marketing checklist to make sure you're ready to send these special spring campaigns.