Sending your happy holidays' email is not a one-off task. Large-scale email operations pour thousands, if not tens of thousands of dollars/hours into perfecting their process. Here's what they do.
With quite the bang for your buck, happy holidays' emails are not something to be trifled with.
That's why I decided not to write the next "How to Black Friday/Insert Holiday Name Here" kind of post, and instead dived into segmentation, deliverability, optimization, personalization, and habit creation (your habits as an email marketer) regions.
All the rest is noise.
The holiday season, beginning with Halloween in October and stretching through to the New Year, represents massive profit potential for many companies, yours included.
But for some reason, we still see those last-minute patchwork email blasts. You know the ones I'm talking about, right?
They look like a bad copy/paste from last year's bad copy/paste, and feel like they're targeting Ho-Ho-Who-Knows-Who?
Companies who get the most out of the holiday season run a preparation process that begins early on, because, as we all know:
"The early bird gets the worm."
And they continue and optimize throughout the year because there's a lot to learn in the process:
"The second mouse gets the cheese."
We all know the above inherently because we've all been there, in stores, and person.
Everyone has found themselves desperately scouring the shops for a last-minute gift or treat. And, every year, we all vow that this will be the year we manage to have a perfectly organized holiday season.
Of course, we don't always manage it. We don't always have Thanksgiving spread in the freezer by Halloween and all gifts wrapped by Christmas Eve.
But when we do, we're relaxed, and there's a feeling that everything will be alright because we're prepared.
In much the same way, organizing your festive email operation in advance means you'll have less to do when the busy holiday season arrives.
It also means that you can concentrate on doubling your efforts, focusing on catering to your customers' needs while adjusting and monitoring your campaigns. All of which will bring you better results throughout the vital fourth quarter.
There is a lot at stake as the holiday season gets underway. The more prepared an organization is, the more revenue it will reap.
You need to be ready with a sound sending strategy, relevant email messages, and a robust IP reputation that can land your holiday messages in the inbox.
In this guide, I'll take you through everything you need to prepare for the holiday season, step by step. Let's get you ready for the holidays.
#1 Planning to ramp up the volume? Start now
Part of planning any holiday is organizing plans with your family and friends. This isn't always easy. Everyone has an awkward aunt, uncle, or cousin who wants to do something completely different or needs strict instructions on how to behave.
ISPs are a bit like your awkward family members.
They're integral to a good holiday season – but you need to put in some work to be aligned.
Part of the problem is that ISPs hate big changes – and an increase in send volumes over the holidays definitely counts as a big change.
Of course, you can't sit an ISP down and reason with it the way you would with a difficult aunt.
Instead, you have to make sure that your holiday plans don't come as a 'shock' to the ISPs. You have to start increasing the volume of emails you send in advance.
For example, if you usually send 1M emails per day and your holiday strategy calls for 3M emails per day, you need to get the ISPs used to your new sending volume slowly.
One of the ways to do it is by creating a pre-holiday schedule.
Gradually warm up your email volumes, increasing each send until you reach your target.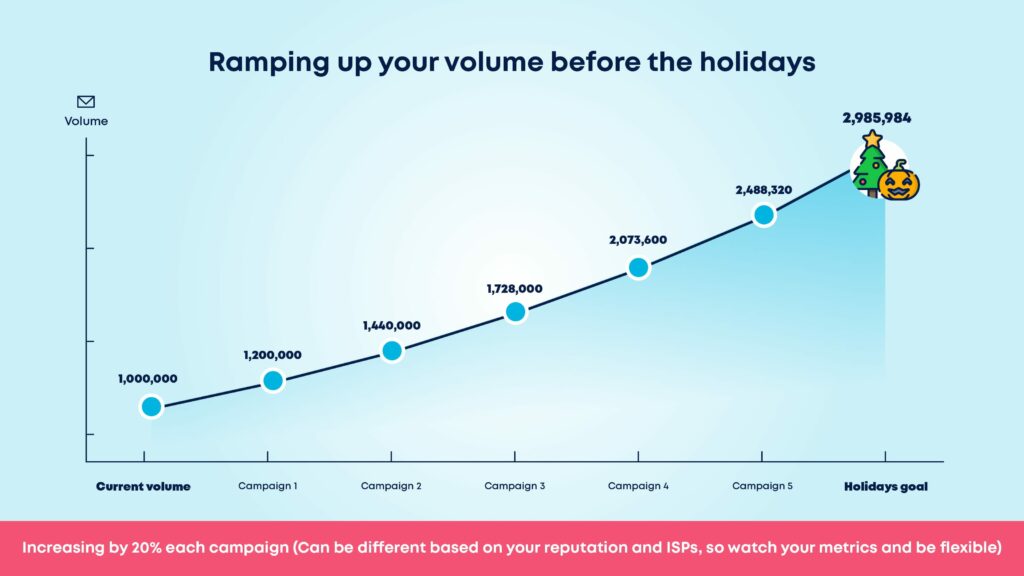 We recommend increasing your volume by 20% per campaign, until you reach your holiday goal.
Keep in mind this is a general rule of thumb, and the number can be different based on your current sender reputation and ISP. Some ISPs are harder to warm up than others, and you may find that you need to scale down and warm up more slowly in some cases.
Warning signs that an ISP is getting wary of your email blasts might include:
Rising bounce rates – especially soft bounces.
Dropping open rates – especially when this metric drops with one particular provider.
Rising spam rates – if spam rates rise, it could indicate that people don't appreciate your content, which will cause ISPs to later mark your communications as potential spam. This is definitely worth investigating.
When in doubt, use common sense. Remember, there is no need to send higher volumes of happy holiday emails if there's no real justification for it.
You have to provide value with each email you send, or you risk them being thought of as 'holiday spam.'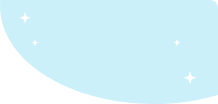 Stay on top of everything that matters in email marketing
Stay on top of everything that matters in email marketing
By signing up for our newsletter, you're agreeing to the terms and privacy policy
located at the
bottom of this page
.
#2 Re-engage now, not later
The holidays are supposed to be a time of togetherness. Sometimes, the holidays are our one opportunity to connect with distant friends and family.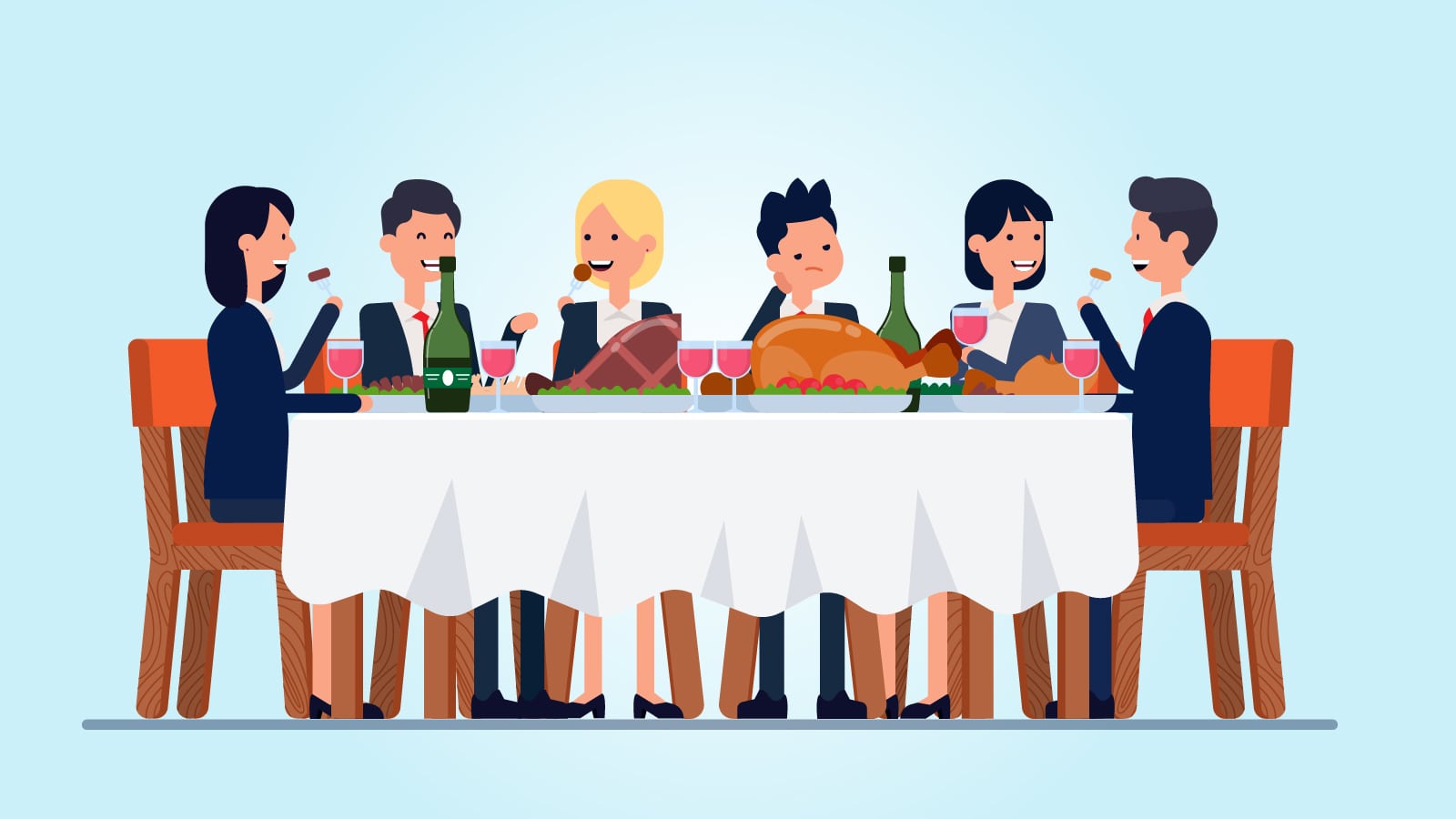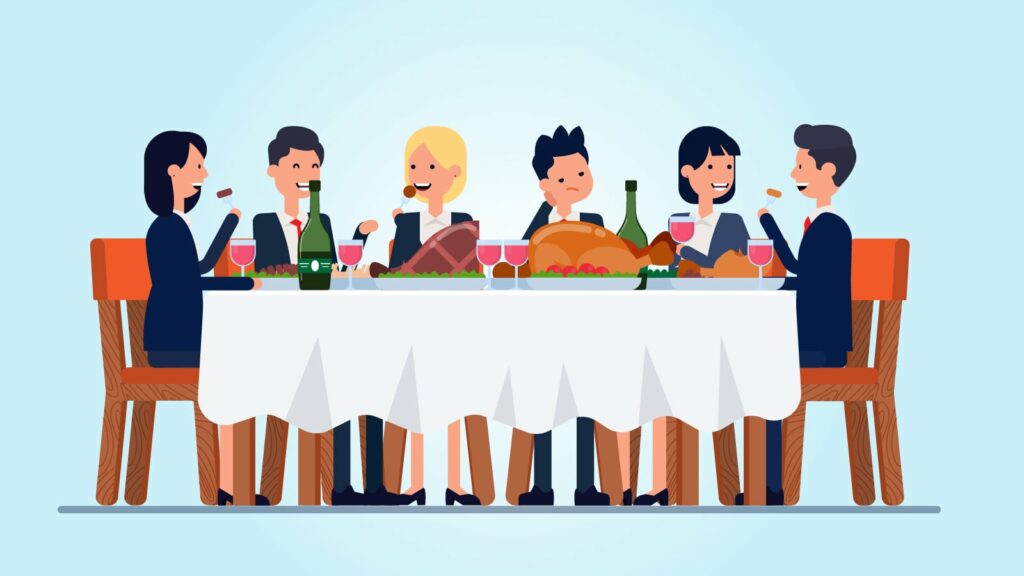 However, it's always good to be transparent when making these plans. If one old friend doesn't want to go to your Thanksgiving dinner this year, it's a lot better to know that in advance.
Similarly, it's worth reaching out to inactive or less engaged audiences on your email lists before the holiday season really starts ramping up. Otherwise, you risk damaging your sender reputation just when you need it the most.
All email lists have less active addresses. Sending regularly to these addresses is a bad practice that can damage your sender reputation. By sending to inactive or unengaged users, you risk not just lower engagement rates, but also spam complaints and possibly even spam traps.
However, this doesn't mean you can't test the waters every now and then.
Sometimes, a creative re-engagement campaign can rekindle a good customer/brand relationship. If people do not respond to your re-engagement campaign, you can remove them from your list while ensuring that your holiday emails will go to fully engaged subscribers.
If you're thinking of reaching out to your less engaged subscribers, do so before the start of the holiday season – and be sure to be diplomatic about it!
Here are some re-engagement strategies to consider:
Start with incentives to get their attention
In his book 'Principles of Economics,' Keynesian economist Gregory Mankiw came up with ten interesting principles that apply to email marketing.
The fourth one is 'people respond to incentives' (bet you knew that!)
Incentivization is a popular tactic for re-engagement. Coaxing subscribers back via special offers, gifts, exclusive content, and so on can be very successful when it's done properly.
Plus, what better time to offer incentives than right before the holiday season, when everyone has an eye out for bargains?
This email from Not On The High Street is a good example of how incentives can be used to re-engage.
The offer is displayed prominently.
The discount code is easy to remember.
The user can review important information at a glance.
This last point is important because a disengaged subscriber may not initially do much more than glance at this email.
The email also gives the user the option to update their preferences, so that their emails from the brand will be more relevant to their own needs and timescales.
The slightly tongue-in-cheek language ("sniff – yes, we've noticed!") is also a nice touch. It's familiar, without being overbearing.
There's also a prominent unsubscribe link, just in case the recipient really has had enough and wants to leave the mailing list.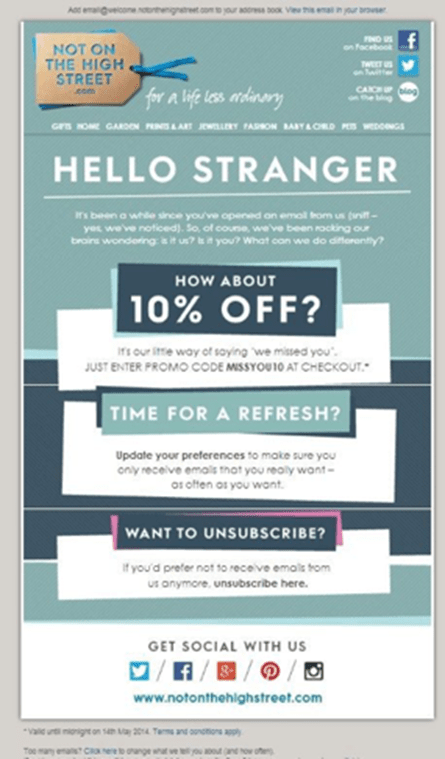 Promise you'll do better
Maybe your cousins didn't want to come to Thanksgiving this year. However, when you mentioned that grandma brought that pumpkin pie you used to enjoy as kids, they changed their minds.
Sometimes, reminding people what they're missing out on, and promising to improve on aspects they might not have liked in the past, can be all it takes to re-engage.
In this example from Lowe's, the brand quickly and clearly explains how they've improved their service while the customer has been 'away.'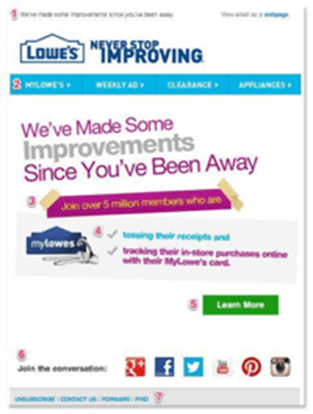 Leverage their emotions (and get them in the feels)
Reminding subscribers that they are a part of a relationship can work wonders.
Yes. It's a brand/customer relationship, but it's still a relationship. People pull on relationship connections all the time over the holidays. As November gets underway, plenty of people find their ears ringing with phrases like "You're part of this family, and we'd love to see you!"
You can use the same sort of tactic in re-engagement campaigns. In this example from Duolingo, the brand makes a brilliant use of its language, hitting you right in the feels for not focusing on your language skills and not using the app.
The simple and effective design, coupled with a very clear message and CTA, makes you want to get back to learning a new freaking language just to make that poor owl happy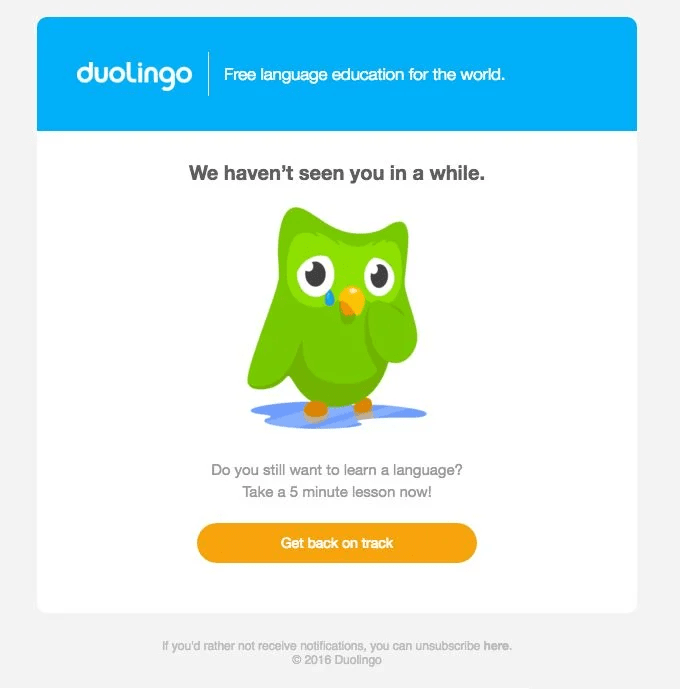 #3 Improve your reputation
Your deliverability needs a good sender score to land in inboxes during the holiday season. But if not optimized, you might not get the visibility you're after come Black Friday.
To get your sender reputation into the best shape possible, you must develop healthy email deliverability habits in your daily operation. That's not something you need to do only for the holiday season. This needs to happen throughout the year (btw, bookmark that post. That's number one on your pre-holiday reading list).
Start with segmentation analysis
The pre-holiday period is a great time to flex your segmentation muscles and provide extra value for your audience.
I highly recommend looking at data like
Average order value.
Average transaction volume.
Number of clicks and opens per month.
This will help you to determine which of your customers present the best prospects this holiday season.
By placing these 'VIP' recipients into a specialized segment, you can retain and build on their loyalty with targeted offers.
And there's more.
When segmenting according to engagement, order value, and so on, you will feel a lot safer sending high volumes of emails to 'VIP' segments.
These people clearly like your brand and want more of the good stuff you're sending. That kind of engagement is crucial for excellent sender scores.
At the same time, it's important to separate less engaged segments from the others.
Send users who no longer open or click through your emails into a re-engagement segment or even to a suppression segment. You have to keep your sender reputation and deliverability high throughout the holiday season.
We wrote a detailed step by step post about segmentation analysis. That's number two on your pre-holiday season reading list.
Dive deeper into personalization
Would you be more willing to attend some stranger's Halloween party with an invite you got non-personally? Or one that you personally received from a friend?
Personalization helps your recipients feel valued, not just `known.' It's not just <first name>.
It allows you to build brand relationships, the kind that ensures that the content you send is relevant and well received by your audience.
The more you send emails, the more you understand that true personalization prioritizes relevance and value over simple familiarity, and it must never feel forced.
Here's where you learn more about email personalization. That's number three in your pre-holiday reading list.
List hygiene practices
One of the biggest perks of re-engagement campaigns is that it will help you to clean your list from subscribers who just don't want to hear from you anymore, which is great, especially before the holiday season.
As we've mentioned, unengaged subscribers damage your engagement rates, which in turn damages your sender reputation.
However, there's more to list hygiene than simply removing or segmenting less engaged recipients. To keep your list as clean as possible, you should also implement list validation procedures.
This will ensure that every email address on your list is attached to a genuine recipient and isn't fake, incorrect, or a spam trap.
With good list hygiene practices in place, you can be assured that everyone you're sending to is a real, genuine subscriber, and (hopefully!) wants to hear from you.
This should boost your sender reputation and deliverability in time to get your holiday campaigns into inboxes.
You can learn more about email validation and list hygiene. Just add it as number four in your bookmark reading list.
#4 Prepare your happy holidays' email templates (or any other) in advance
Shopping for gifts before the Christmas shopping rush ensures that you get what you need in time (and save yourself a lot of stress!), so does preparing your holiday email templates in advance.
It's especially important to have those emails ready and polished, as most of your revenue is generated during Q4.
Why do you need all that stress a minute before it counts?
The kind of emails you send over the holidays will vary, depending on your brand. However, as a general rule, there are three kinds of emails that it's useful to have on hand over this period. Let's take a closer look:
Welcome emails
You may well see higher sign-up volumes during the fourth quarter, as people start seeking interesting holiday deals and events.
A dazzling welcome email will give these new leads the very best first impression possible – and first impressions really do count!
Welcome emails are even more important during Q4, as the stats above highlight the impact of both engagement and list building on your bottom line.
If you already have a welcome email, consider giving it a festive makeover.
In this example from lastminute.com, the brand has provided plenty of Christmas sparkle and enticed the reader with Christmassy offers.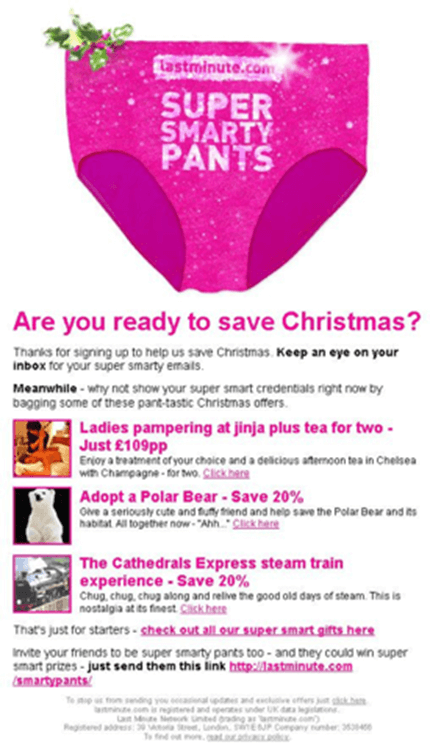 Promotional emails
These are your bread and butter, even offseason. But during the holiday season? You can make them your turkey with all the trimmings!
Yet, as always, there's a catch.
The inbox is even more crowded than usual during the fourth quarter – so your promotional emails need to stand out.
Here are some tips to help your happy holiday emails to sparkle in the inbox:
Always Bring Value (ABV)
Ask yourself: what do your customers really want from you at this time? What will be valuable for them?
Analyze your data to understand your customers' pain points and needs via their intent and habits and create promotional emails that address these.
In the below example, Puma adds serious value for panicked last-minute gift buyers by offering free overnight shipping up to and including Christmas Eve.
The 'Free Overnight Shipping' offer is displayed prominently and clearly – it's the first thing that the reader sees. It will quickly grab the attention of anyone desperate to find the perfect gift quickly.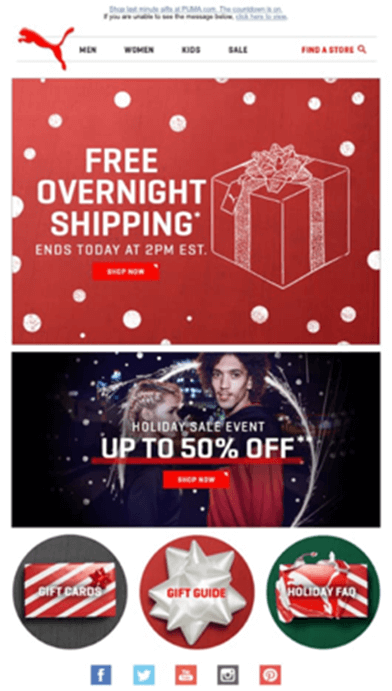 Be creative with subject lines
Here's a Gmail inbox around Black Friday.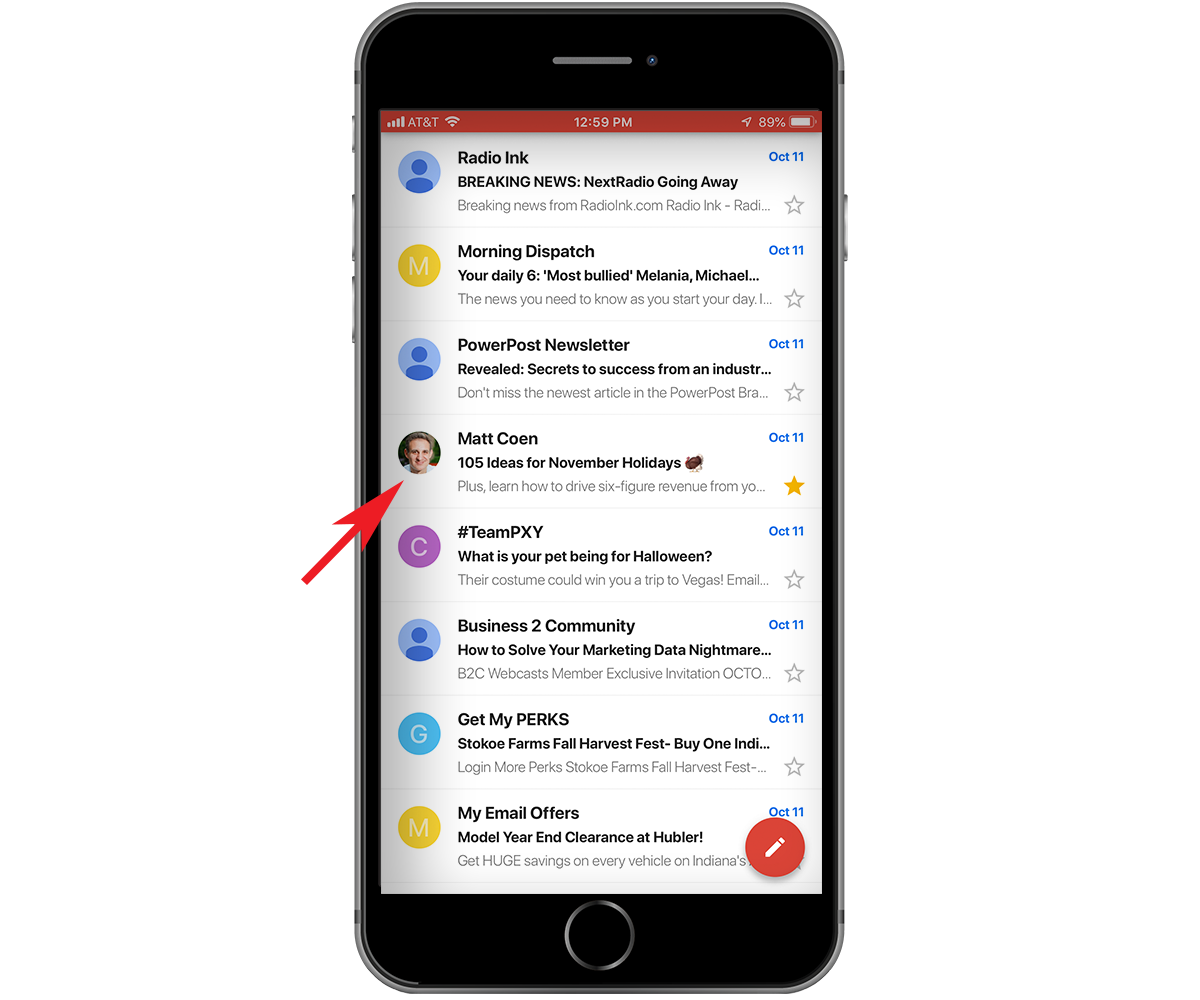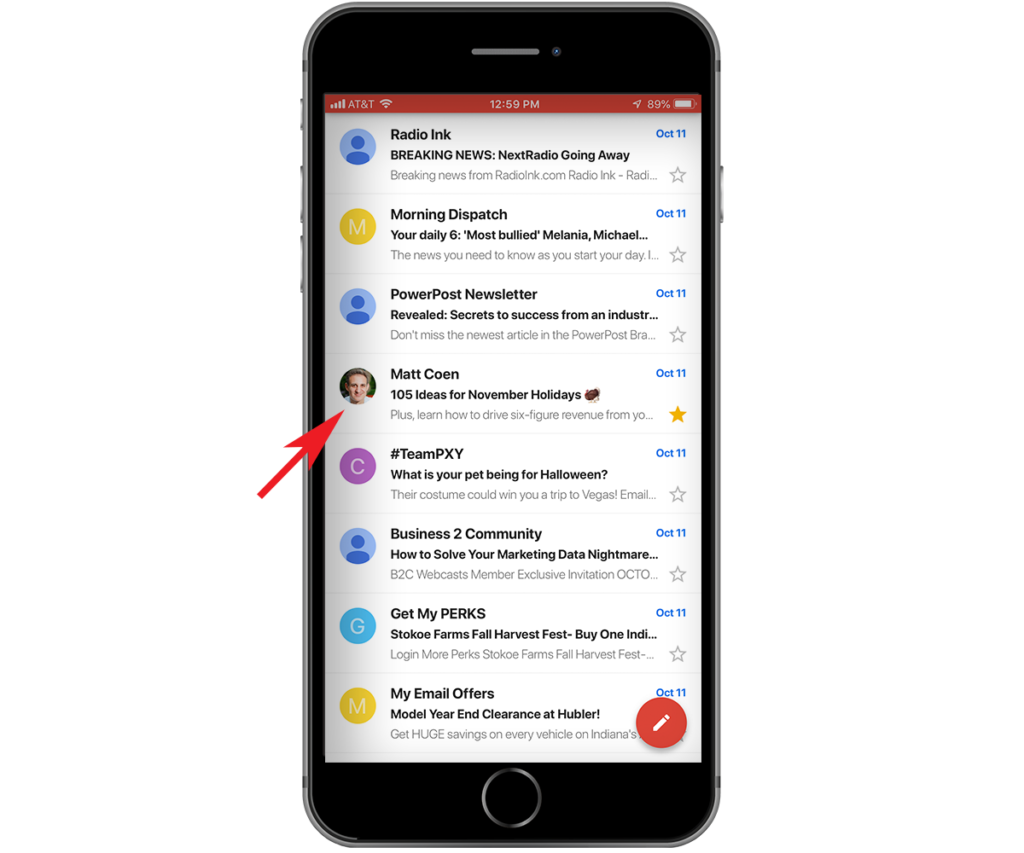 As you can see, the inbox quickly starts to fill up with very similar subject lines.
Something like "Black Friday ENDS today!!!" may seem like it inspires a sense of urgency on the drawing board – but it loses its impact when it appears alongside many similar subject lines in the inbox.
To combat this, be creative with your subject lines.
In this example, eBay, Superdrug, Moonpig, and Ordnance Survey used emojis to draw the eye. They're colorful and attention-grabbing.

Other brands have opted for putting special offers in the subject line – like BT Shop, who have used the subject line to tell the recipient that there's an Apple Watch voucher waiting for them when they open the email.
There are plenty of ways to be creative with subject lines. We recommend doing some competitor research to ensure that you're not saying the same thing as everyone else.
When you've got some potential subject lines together, test to see what works best for your segments and modify, even on the go, while in the holiday season.
Use Gmail annotations
As we've said before, the Gmail 'Promotions' tab is a pretty good place to be in.
It offers a lot to email marketers, and one of the most notable things it offers are Annotations.
Gmail Annotations allows you to add graphics to your subject lines. It provides you with that 'shiny wrapping paper' effect – but more so! Here's an example from Shutterfly: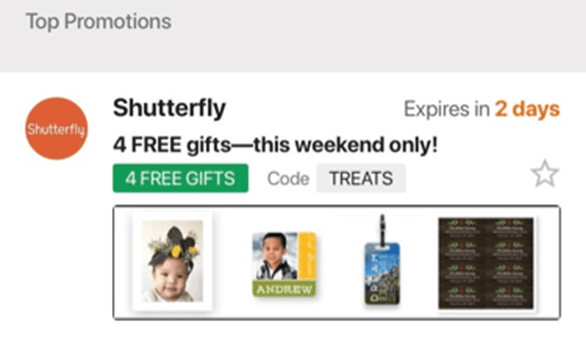 Just as with subject line copy, make sure that your annotations are relevant and engaging, and that the email behind the jump fulfills their promise.
Ramp up brand awareness with BIMI
BIMI (Brand Images For Message Identification) is an authentication protocol that allows you to apply branding to your inbox emails.
Not only is BIMI great for reducing email fraud and excellent for raising brand awareness, but it also makes your emails stand out beautifully in the inbox.
In this example, you can see how emails from Thortful and Medium stand out from the rest, thanks to their BIMI branding.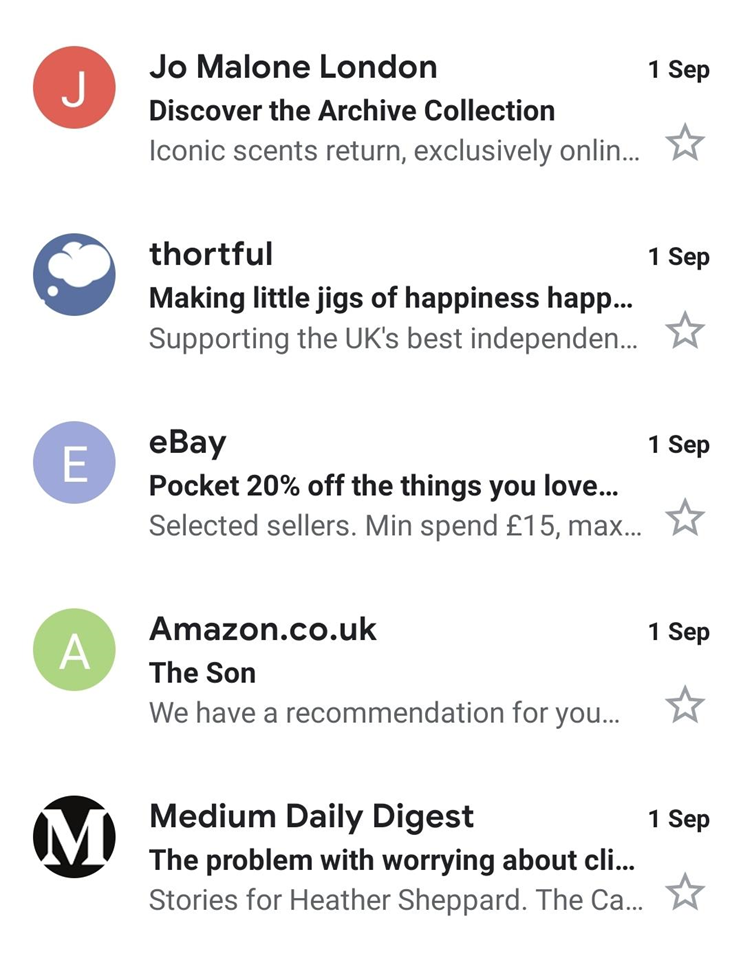 You can currently only implement BIMI for Gmail and Yahoo, but it's coming to other mailbox providers soon, so watch this space!
Use a dedicated IP address for promotional emails
Some email types get more engagement than others. Transactional emails, for example, get a lot of engagement because they're highly relevant. Everyone clicks the "Reset password" link!
Promotional emails, however, are less immediately relevant and are less likely to draw a similar level of engagement, and might be sent to Spam.
To protect your transactional messages' sender reputation and ensure they always land in the inbox (and it's vital since they're highly important for users to see), keep your transactional engagement rates from being damaged by different email types.
Consider sending your promotional emails via dedicated IPs/sub-domains. email addresses.
You will have to warm up these new IPs, of course (which I recommend doing before the holidays!), but it's worth it to keep the sender reputation of your promotional IP high.
Cart abandonment emails
Around 88% of online shopping carts are 'abandoned.' However, sending a 'cart abandonment' email to remind customers of what they've left behind is successful 29% of the time.
A 29% success rate represents a lot of revenue. By sending a timely cart abandonment email, you can gain many conversions at a minimal cost.
Here's how it's done:
Zabars' autumnal nudge
This cart abandonment email has a nice seasonal feel with the gourds, the fall colors, and the warm drink. The 'Oops!' is lighthearted, but also attention-grabbing.
The language isn't pushy – instead, the email presents itself as being helpful. "We saved your items for you" isn't too 'salesy,' which is crucial at a time when a lot of people feel really bombarded by sales messaging.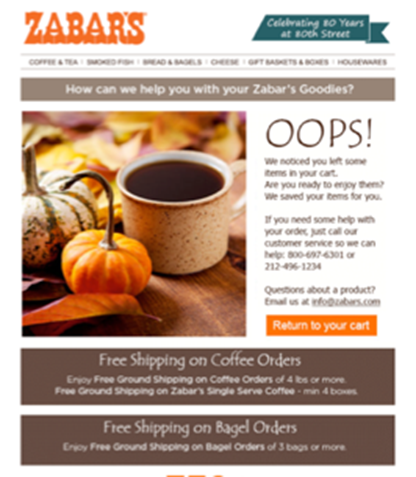 Bloomingdales' Big Brown Bag
Bloomingdales have made a brand icon out of their Big Brown Bag, making it the perfect thing to highlight in their cart abandonment email. Even though online shoppers can't physically touch the bag, mentioning it might inspire fond feelings.
The email also shows the customer what they've left in their bag, which could re-inspire them to take the plunge and convert.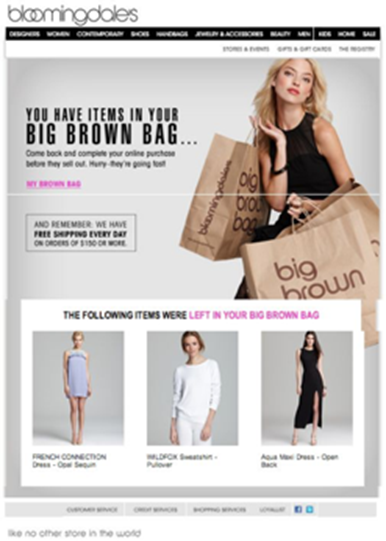 Rags' incentivized subscription
Here, Rags are encouraging the customer to complete their subscription by offering a discount on their next order. This can be a risky tactic, as it may lead to customers delaying checkout until a discount email comes in – so it's worth testing if you're considering using something like this.
Overall, the email is simple, friendly, and easy to understand. The brand has also come up with some festive designs involving their products, which is clever and might raise a smile.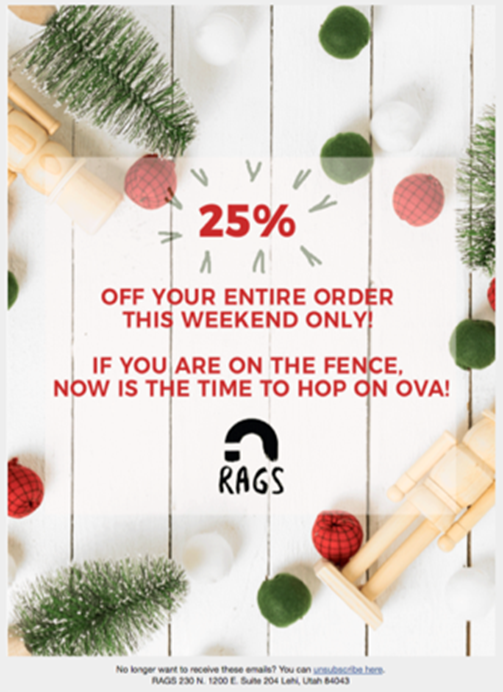 #5 Sending during the holidays
Making plans and preparing early makes your holiday email campaigning much easier. But it's not the end of the story. You may have bought that turkey in plenty of time (that's a win no matter how you turn it!), but it still needs cooking.
In this short list, you'll find quick holiday sending to-don't and to-does, covering best practices for holiday emailing that you need to be aware of:
Don't bombard your entire list
We know how it goes. Overcome with the spirit of goodwill. You find yourself inviting everyone in the neighborhood to your holiday party. And then, when the party is in full swing, you remember exactly why you swore to have a quiet, family Christmas this year.
Don't make the same mistake with your holiday marketing. While it might be very tempting to send holiday emails to absolutely everyone on your list, doing so is a bad idea.
For starters, it will increase the volume of emails you're sending. As we pointed out earlier, this can raise a huge red flag with ISPs. If you want to send your sender reputation plummeting in double-quick time, this is a great way to go about it.
Second, while some users might really appreciate your messages, others won't – especially as people are often warier than usual of spam during the holidays.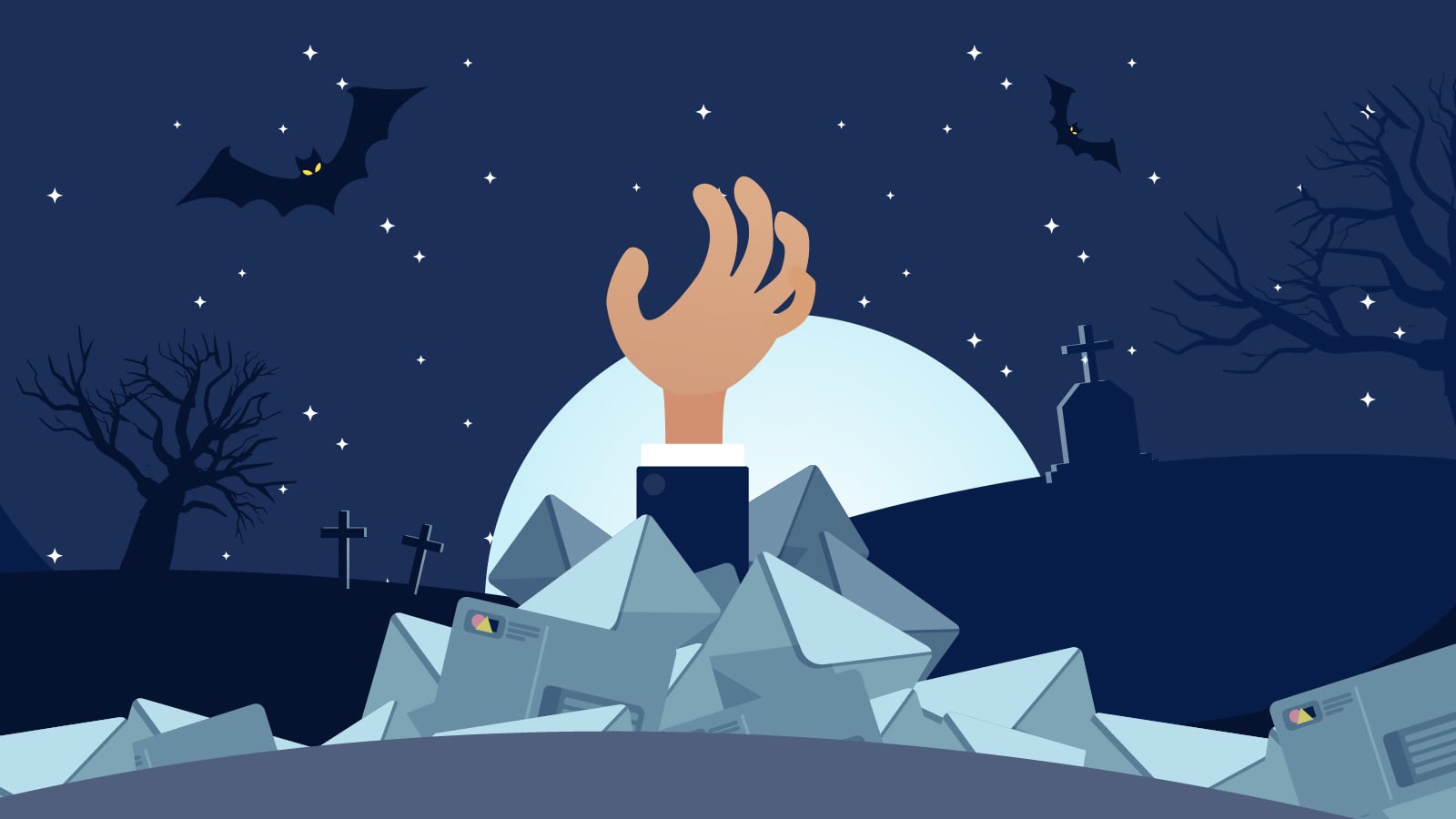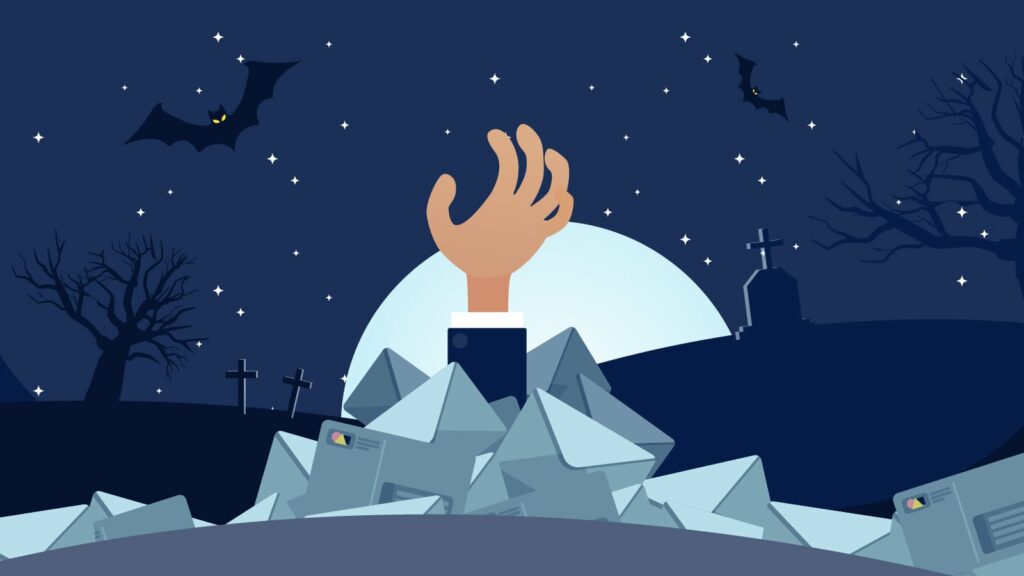 The more you send, the lower your average engagement metrics will become. Again, this will quickly tell ISPs that you're not providing value for your audience. The ISPs will respond by sending more and more of your emails to Spam at the most important time of the year.
Be prepared to throttle
When servers are experiencing a high volume of sends, they might begin bouncing emails or slowing the rate at which they allow them through.
Sending your email campaigns out bit by bit over time ('throttling' them) often helps with deliverability in these circumstances. We usually recommend testing throttling your campaigns for 2 hours to see if open rates improve.
During the holidays, when ISPs are getting hammered with emails from all over the world, spreading your campaigns out over a couple of hours helps the servers to deal with the load.
As you're doing this, examine your ISP metrics to determine the impact your strategy is having. Each ISP is likely to behave differently, so it's worth watching the numbers and adjusting your throttle accordingly.
Let people opt-out from holidays sending
Like the Grinch, not everyone is a fan of holiday marketing. If you want to keep your subscriber list, give them plenty of opt-out options, and let them set the rate of your messaging.
You can do this by offering them a preference center. Here's an example from Protein Works.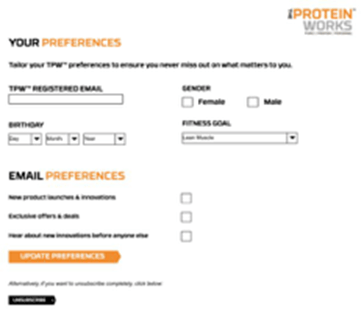 As you can see, it lets the user choose what kind of messaging they want to receive. Some preference centers also allow users to set the frequency of your emails to them.
If users don't want to hear from you during the holidays, you can easily add them to a suppression list and re-engage when the festive madness is over.
Don't send without email validation
Before the holidays, email validation helped you clean out spam traps and invalid emails to boost your sender reputation.
During the holidays, email validation will help you keep your sender reputation intact, so you can come out the other side with a sender reputation that's stronger than ever before.
Since many of your campaigns will have been scheduled in advance or automated, tying your email validation to new sign-ups is an absolute must during this period.
It's like checking the dietary requirements of any new and unexpected guests at your Thanksgiving dinner: if you don't do it, you could end up with some awkward situations on your hands.
Follow your metrics closely
Keeping a close eye on your metrics will help you to be flexible with your sending strategy.
Be particularly vigilant about negative metrics, like spam and complaint rates. Once these start to rise, you should quickly tighten your segmentation so that you're sending only to highly engaged users.
If you don't pay close enough attention to your metrics, you risk missing the warning signs that people are disengaging from your campaigns. This can harm your sender reputation and increases the risk that your future emails will end up in the Spam folder.
When you're examining metrics, be sure to do so by ISP. You might experience issues with certain ISPs, while others seem to love what you're doing.
Digging into this will help you solve issues with particular ISPs and even segment by ISP, allowing you to tighten your reach capabilities further, and through them, your audience's size.
In any case, using tools like Google Postmaster will help you gain a clearer insight into your sender reputation, taking out the guesswork.
#6 Holiday emails that we loved
We've covered a lot of ground in this article! You deserve a treat. As it's (almost) the holidays, we'll share with you some of our favorite holiday emails. These are great examples of how to do holiday emailing properly.
Casper capitalizes on the TRUE most wonderful time of the year
What's better? Christmas morning, or an extra hour in bed? If you answered the latter, then mattress brand Casper agrees with you.
This email uses humor in a way that both subverts expectations and with which people can identify. The email is eye-catching but straightforward, and, to top it all, they've added an offer as an incentive. Nice work, Casper.
United By Blue conquer Black Friday with an anti-Black Friday message
It's cool these days to hate Black Friday, and even cooler to be environmentally responsible.
United By Blue have achieved the impossible and simultaneously capitalized on these sentiments and tap into the Black Friday spending spree with this excellent campaign.
United By Blue sells 'responsible, durable goods,' but weren't above holding a Black Friday sale. However, they took pains to assure consumers that they were still ethical and responsible, by giving store employees the morning off ("to nurse our tryptophan hangovers"), and by picking up litter while other brands went on a serious sales drive.
The copy is written in a friendly, informal tone. The overall message might make ethically-conscious consumers think that, if they're going to spend anywhere on Black Friday, it should be at United By Blue.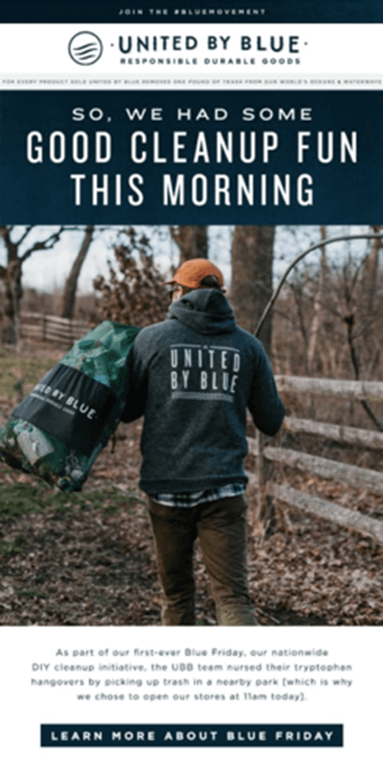 Mahabi promises the gift you really wanted
The Christmas comedown is always disappointing. Surrounded by gifts, you're not loving, feeling a bit sick from overindulgence, and probably nursing a hangover – the day after Christmas isn't great.
Mahabi, here, are promising to make everything better on the 26th with 25% off slippers. Perfect for lounging around in a post-Christmas morning.
It's also worth noting that the 26Th December is called 'Boxing Day' in the UK, so the 'Unboxing Day' pun works very well for Mahabis' British audience.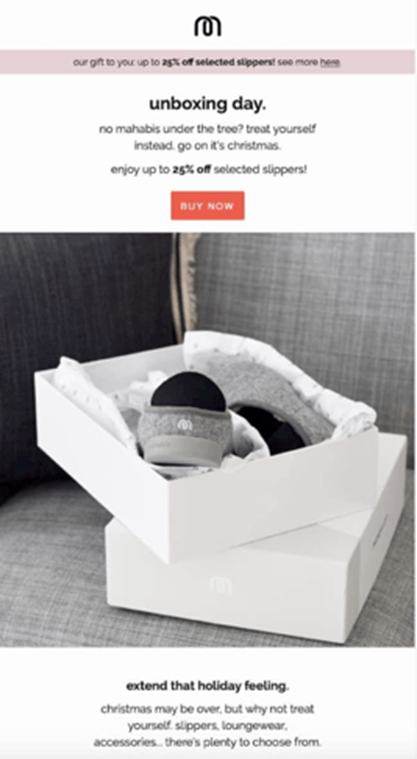 Minibar show how to make your pumpkin into a drinks dispenser
This 'how-to' is cute, simple, and very on-brand for drinks retailer Minibar. It's well laid-out, easy to follow, and bound to raise a smile even for those who don't try it out.
The perfect way to make a holiday email relevant and interesting for a brand you might not traditionally associate with Halloween.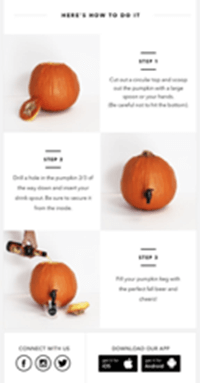 Cards Against Humanity just doing their thing
Cards Against Humanity describe themselves as 'A horrible game for horrible people,' and they're excellent at staying on-brand.
Here, they've put their own unique spin on Black Friday by asking customers to give them $5 for absolutely nothing in return.
Whether or not people actually sent them any money, this is a great way to connect with subscribers in a brand voice they've come to know very well. It will have raised engagement, and reinforced brand/customer relationships.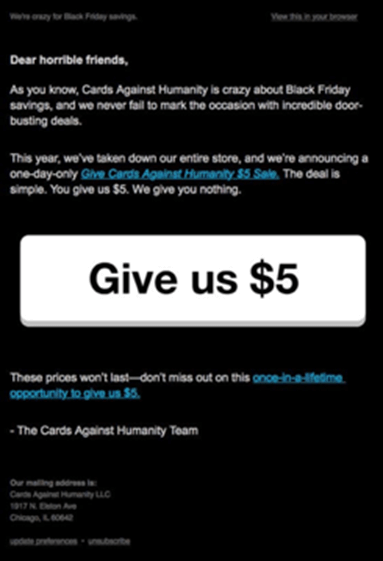 #7 Happy holidays' email marketers! Last advice
Preparation is the name of the game for everything during the holidays. Whether you're sourcing gifts or crafting campaigns, it's best to be on the safe side and start well in advance.
It's also so relaxing, and ultimately, rewarding, so why not?
Make sure that your email templates, your sender reputation, and your segments are all in great shape before you start your holiday campaigns.
If you've got a great idea and want to last-minute re-organize your strategies or audiences – save it. Now is not the time to make significant changes.
It's essential to draw on what you know and proceed according to a well-laid plan with so much at stake.
If you have any great holiday email strategies, we'd love to hear about them! Share them with us in the comments.
Keep it warm and cozy.