The past couple of years saw a steady shift in the way consumers interact with brands. Recent events have only (rapidly) accelerated this process. It's important to understand what it means for you, and how to communicate and build relationships with your customers in this brave new all-digital world.
Consumer behavior trends changed enormously over the past few weeks – especially online.
My first reaction was:
"No way in hell, the local store is still open and can probably deliver it quicker."
At that moment, my impulse was willing to overcome any outside resistance, including (but is not limited to):
It will be more expensive.
There will be less variety.
Pete will probably touch it, etc.
When you've got cravings, time matters, and when time matters, you won't wait for food deliveries (or so I thought).
When I searched for my local store website, lo and behold, there was none.
I put on my gloves, I put on my mask and went downstairs, hoping for the best.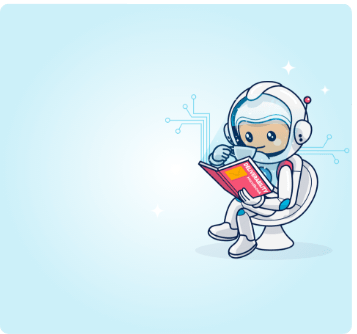 The complete
deliverability
handbook
Read the most significant, most organized volume of information written about email deliverability.
Without access to physical stores, offices, service providers, and the likes, people are now using the internet to source pretty much everything, including information and entertainment.
What does it mean?
Businesses that failed to transform digitally will die out next month.
The typical 9-5 working day has vanished.
Socializing looks totally different.
And everyone, from every demographic, is learning new ways to navigate this strange new world via the internet.
What does this mean for marketers?
Consumer behavior trends that caught our eye
It means we're in a time of transition, and we must keep a very close eye on trends as they emerge and adapt very quickly.
However, some consumer behavior trends during this pandemic are already evident, and marketers can already react to them.
When life hands you quarantine, make quarantinis
People stuck at home are stressed and confused, sure. But they're also bored.
A quick scroll through Pinterest (or, honestly, any social media platform) will reveal a wealth of weird and wonderful boredom-busting arts, crafts, DIY, stories, projects…
It's impressive, but it also shows just how badly people need entertainment right now.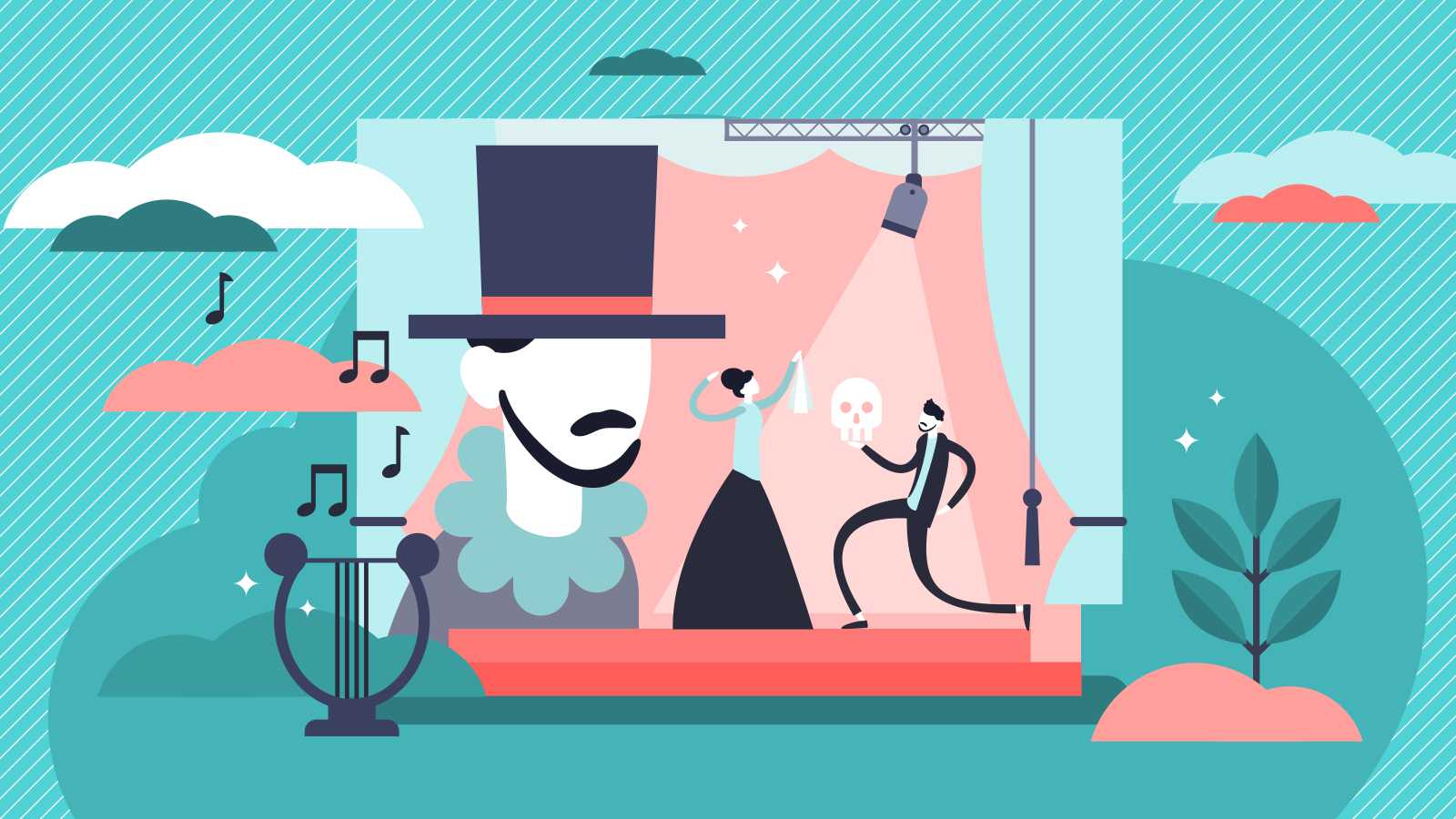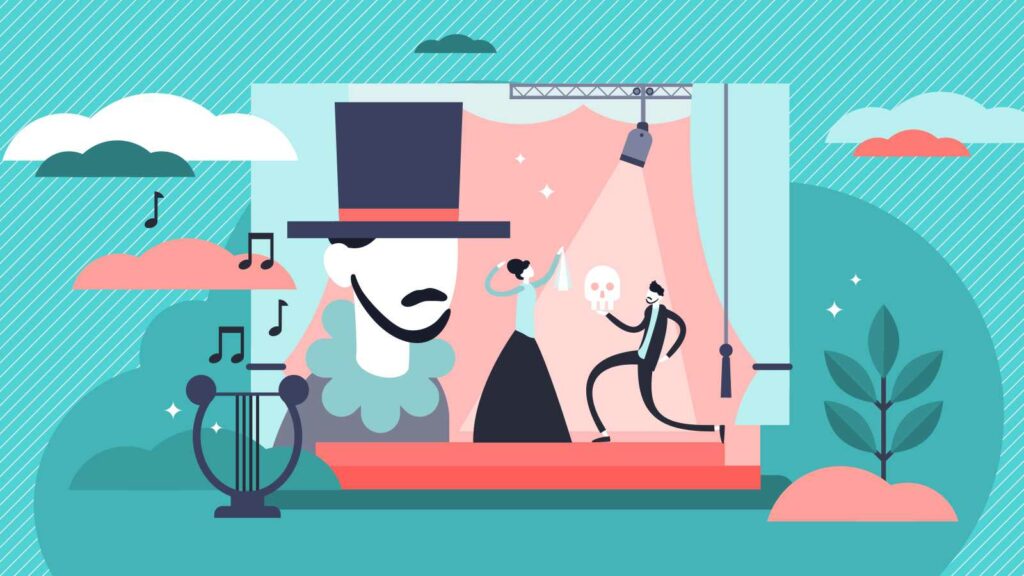 While it's not a good idea to send out entertaining emails just for the sake of it (relevance must always come before entertainment!), There are ways to make your emails a bit more boredom-busting.
The Internet Archive, for example, sent out a highly relevant but still light-hearted email highlighting the various resources they have available for bored quarantinis to consume.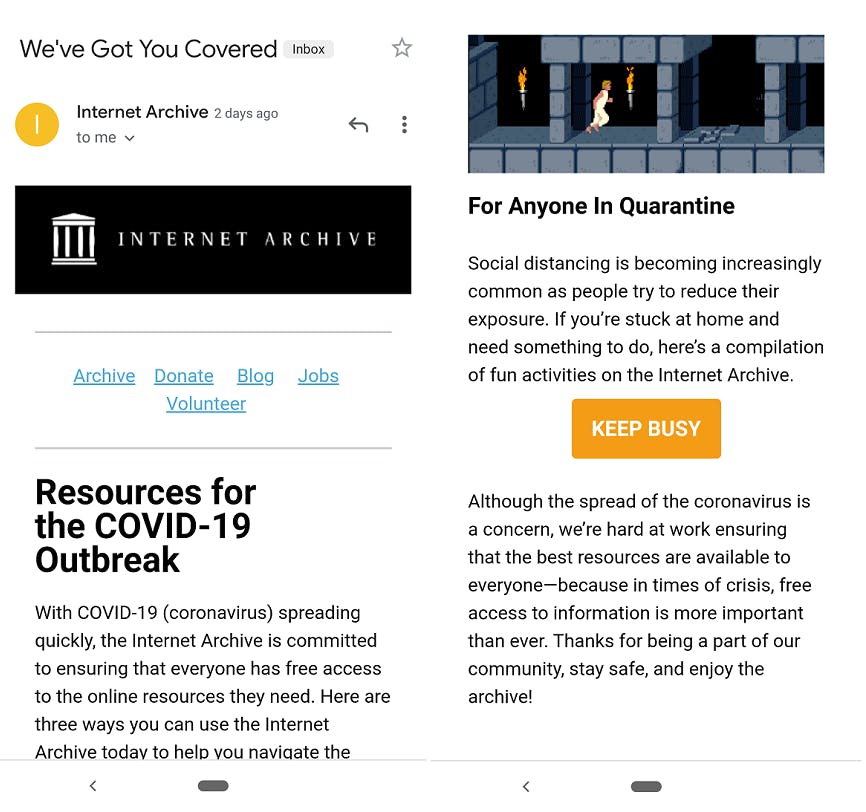 While not every brand has a library of entertaining resources at their disposal, you may be able to incorporate activities that will wow your client base, like in this quiz gamification example sent via email by Modcloth.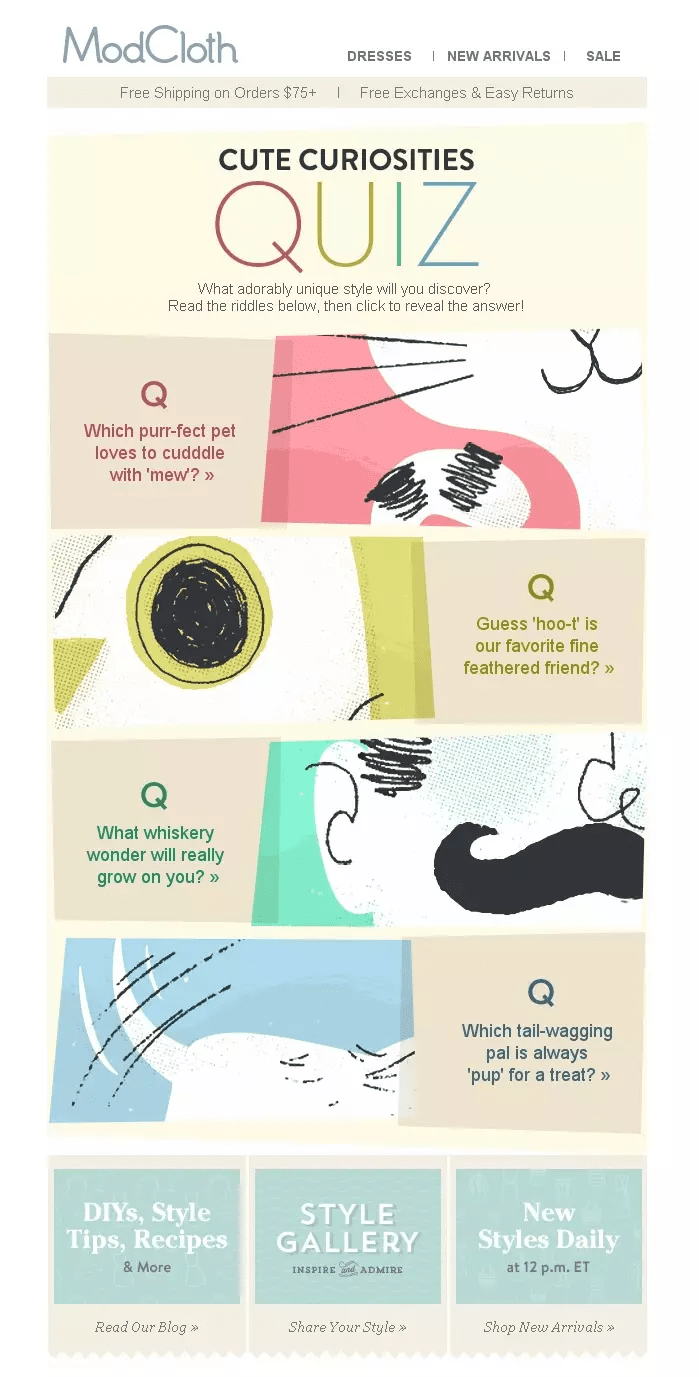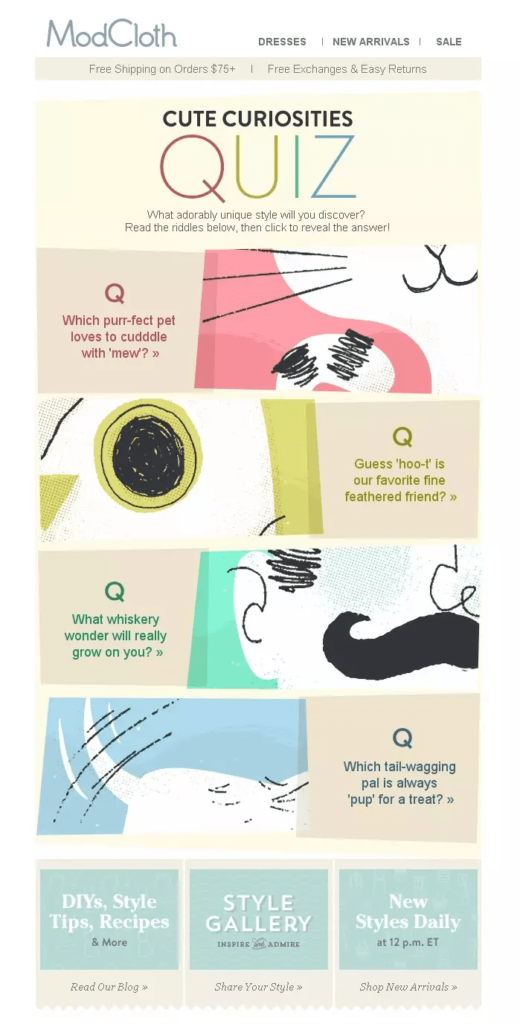 Work/Life balance, from home
Working from home and being a bored quarantini may seem similar (and they are), but there are some critical distinctions.
While non-workers at home need entertainment and reassurance, home workers are busily adapting to new modes of doing their jobs.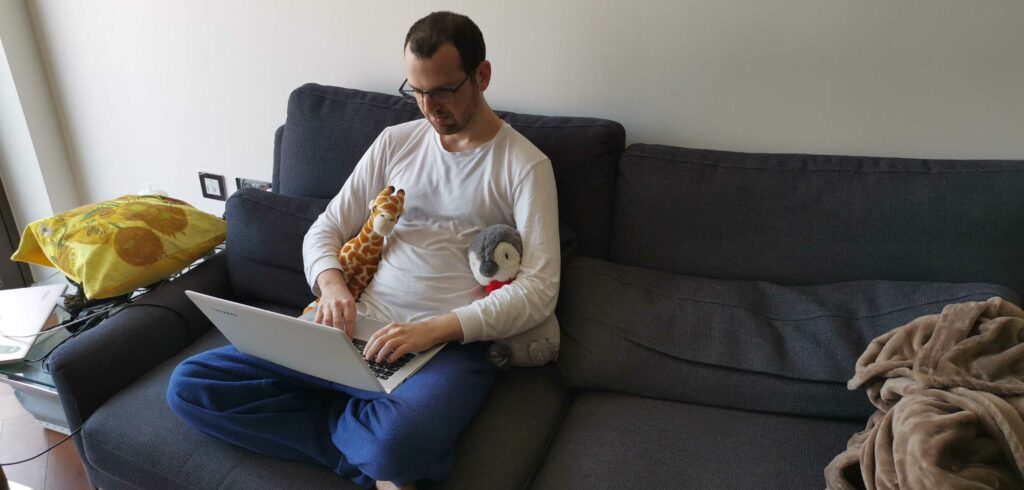 Conversations about working from home are ruling the internet right now (particularly conversations about WFH tech and tips).
People are making considerable changes to their work habits, on an unprecedented scale. And that's bound to have an impact.
They're emailing instead of talking in person.
They are video conferencing to stay aligned and connected.
Adapting their schedules to fit new routines while spending more time with their kids.
All of the above is also reflected in their consumer behavior, particularly around communications and timing.
There's a noticeable shift in the way people communicate, work, and consume via the internet.
The 9-5 office worker is gone. 9 am is no longer the "best time to send that newsletter." Learn how (and when!) to engage with the new `from home' worker.
A return to the desktop culture
Mobile searches are down by 25% worldwide as people retreat to their homes and their laptops. A culture that's no longer 'on the go' no longer needs mobile devices as much – and it turns out that we're not as glued to our phones as we thought.
This doesn't mean that you should stop optimizing your design and messaging for mobile. After all, there's still a large mobile traffic chunk that is coming in.
What it means is that you can now invest in desktop and send your clients to a fantastic experience on a larger screen.
The Facebook Renaissance
With people bored at home and missing their friends, the usage of social media platforms has skyrocketed.
Whether it's sharing Tiger King memes, joining virtual clubs, organizing community relief efforts, or just idle scrolling, social media is the place to be right now.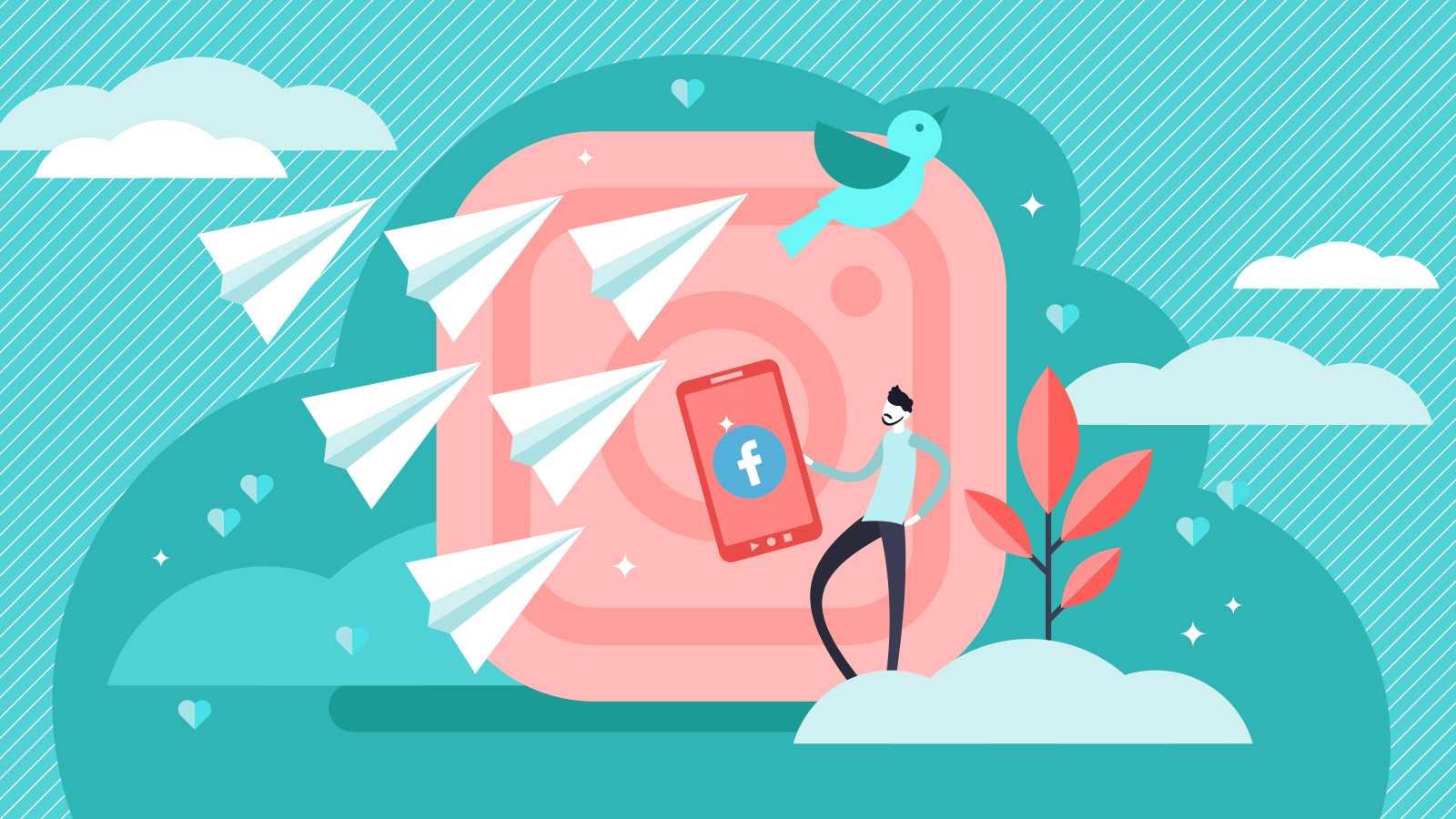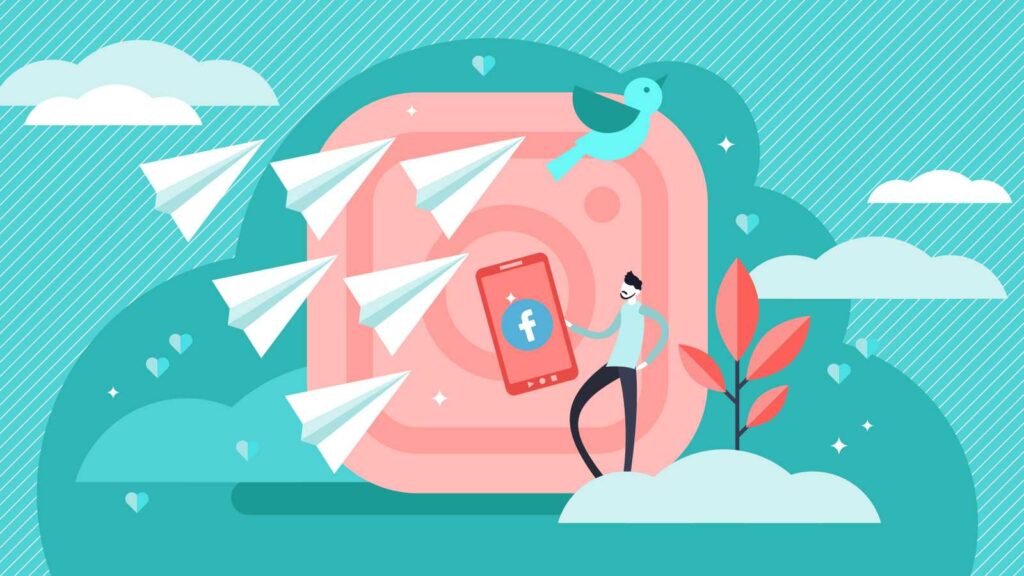 For marketers, this is a double-edged sword.
An increase in social media traffic means that more people could potentially see your message.
But it also means that it's going to be much harder to rise above the noise.
A coherent multi-channel strategy is one of the best ways to make your social media presence felt. We'll go into that in more detail in a bit.
Rise in private messaging
A lot of that social media volume increase is focused on private messaging.
Snapchat, Facebook Messenger, Whatsapp, Telegram, etc. are all experiencing a significant rise in usage, with video calling being particularly popular.
There's nothing new in messaging campaigns and bots. They've been around with us in one way or another for a few years now.
But if you dismissed them in the past, now you have to consider whether you could incorporate (or expand) messenger options in your multi-channel strategy.
Multi-channel messaging
Email is a fantastic communications resource, and using it to its full potential is more important than ever right now.
However, people with time on their hands are exploring the internet in ways they have never done before.
They are learning about the secret corners of social media, experimenting with live-streaming, discovering the joy of gaming apps, and more.
With many brands unable to cater to their customers in the way they usually do, now is the time to build a coherent multi-channel strategy.
A multi-channel marketing strategy that was carefully researched, and implemented, will help you to capitalize on all the new consumer behavior
trends we just mentioned, bringing valuable content that helps your clients and entertains them when they need it the most!
Here are some things to consider before you start: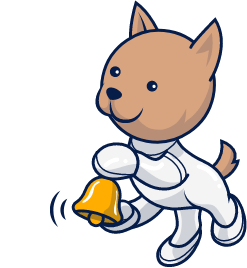 Stay on top of everything that matters in email marketing
Stay on top of everything that matters in email marketing
Consumer behavior trends that are always true
Make sure that your channels are aligned
Easyjet sparked fury last week with a multi-channel approach, which simply did not link up.
Customers whose flights had been canceled got an email with advice about rebooking, refunds, and so on.
However, in order to complete the refund process, customers had to call the company.
When getting through on the phone lines proved almost impossible, customers cried havoc and let slip the dogs of war, talking to anyone that would listen, including news channels.
If you are going to send customers through different channels, it is absolutely vital to properly align these channels to deliver the level of service they're expecting.
Keep the messaging consistent
Following on from the previous point, it's important that you align your brand voice and messaging across all channels.
Sometimes, different marketing teams can find themselves working in silos, resulting in a different 'feel' to the messaging from channel to channel, resulting in different voices and mixed messages.
Now is the time to consolidate marketing teams and come up with a flawless, seamless strategy that translates smoothly across your entire comms presence.
This may be tricky without the ability to meet colleagues face-to-face – but working out how to talk in groups effectively over the internet will be great practice!
You'll soon be more than ready to apply those skills in a marketing context.
Use each channel appropriately
Obvious? Possibly. Practiced? Sporadically.
Each marketing channel has its strengths and weaknesses.
For example:
Your website is an excellent 'shop window.'
Facebook is another layer, a 'shop window' with added customer engagement and brand advocacy by happy clients.
Email is a direct, owned line that is great in informing customers of new offers and events.
Phone lines are vital for human touch and quick problem-solving.
Messaging is another layer of `human' without on hold waiting tunes.
Use each of these channels to their best advantage, and remember, they need to complement each other.
For example, you could host a live stream on your website and channel it through Facebook for viewers to chime in with questions.
Prior to this, emails can notify your subscribers and link them into the stream.
Beware spam filters
Google and Facebook are blocking any content which appears to exploit the crisis (for example, posts selling 'cures' or 'vaccinations' with no proven science behind them).
However, the filters at work on this are not perfect.
So, it is important to work hard on legitimacy when creating content.
Anything which looks exploitative or spammy is likely to be rejected by the algorithms.
While it is possible to appeal this, appealing can be a lengthy process. Right now, with the world an uncertain and fast-changing place, marketers need to be working in real-time. Delays could derail a campaign.
The filters are upgrading and continually changing so there are no hard and fast rules on what to avoid, but be very careful about how you place words like 'Cure', 'Treat', 'Miracle', 'Medicine' etc.
Monitor content and comments!
There is a lot of misinformation being spread at the moment and a lot of fear-mongering, especially in the open comment sections.
Even unrelated posts can quickly develop a comment conversation around the topic of the hour – and we all know how quickly comment sections can spiral out of control.
Monitor all channels closely, but pay particular attention to open comment sections.
Reading arguments and misinformation in your brand's comment sections will not give customers the sense of a reassuring, responsible, and empathetic community that you should be promoting right now.
What's more, on platforms like Facebook, users can report comments which they find objectionable.
If these complaints are supported, you could lose your post or even your Facebook page.
Active and constant moderation of social channels is an absolute must at this time.
Be innovative
Many brands are leveraging multi-channel strategies to pivot their operations with the times successfully.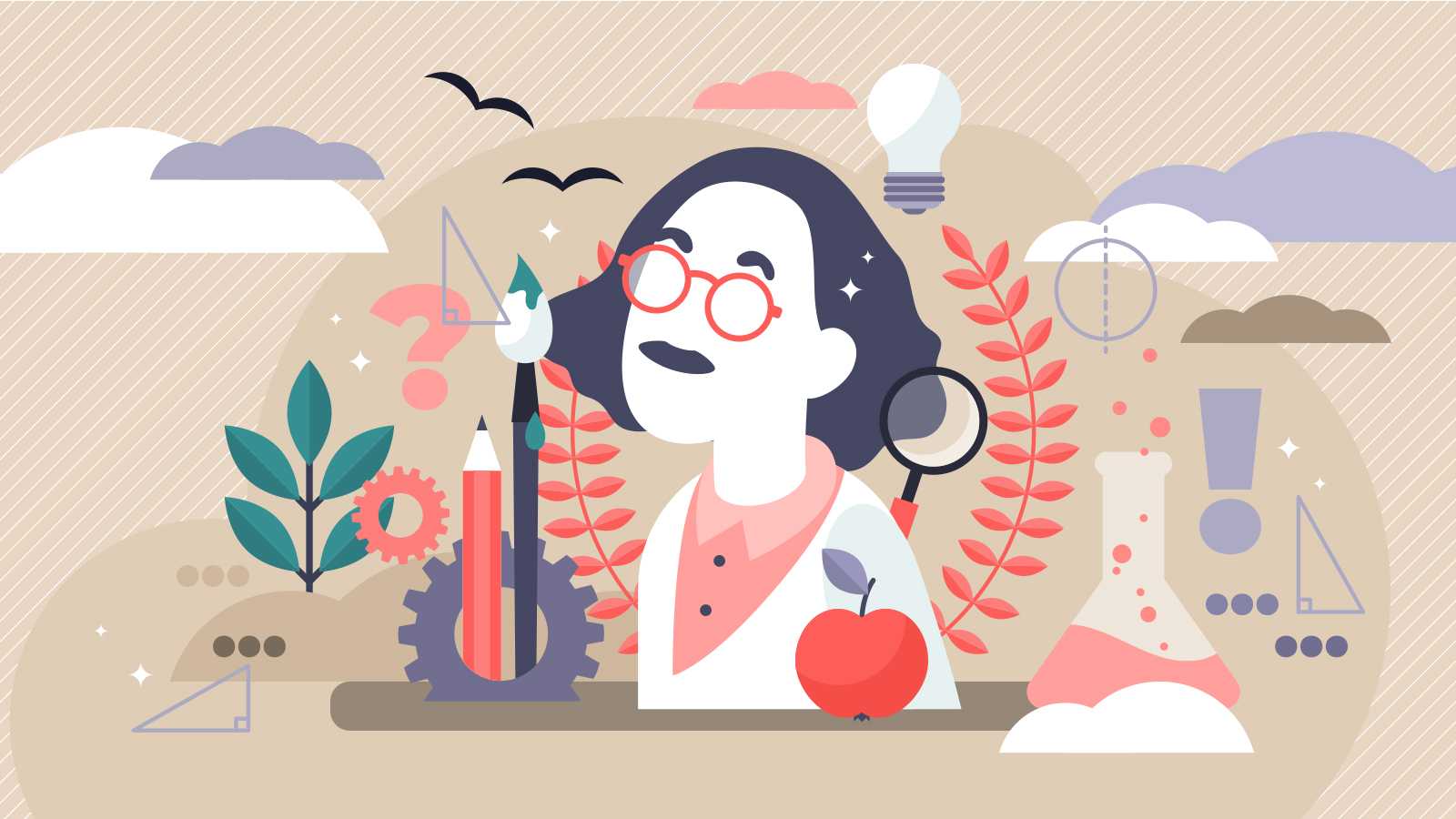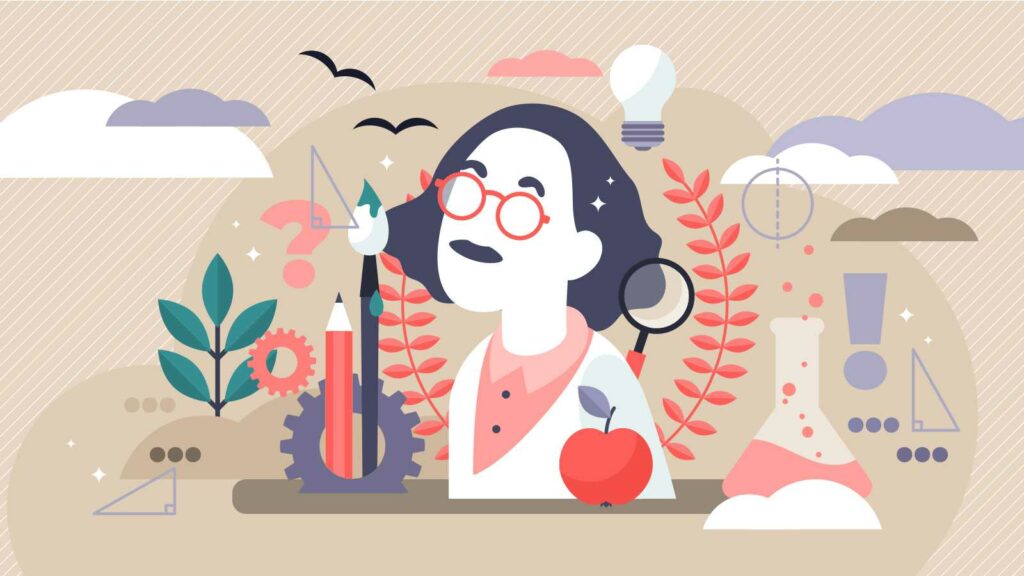 For example, with social distancing putting a halt to regularly scheduled fitness classes, fitness subscription brand Classpass had to pivot.
They've achieved this with an admirable mixture of compassion, practicality, and social responsibility – all aided by their multi-channel approach.
Classpass are using apps and social platforms to keep their fitness community together, and working with customers on a more personally informative level via email.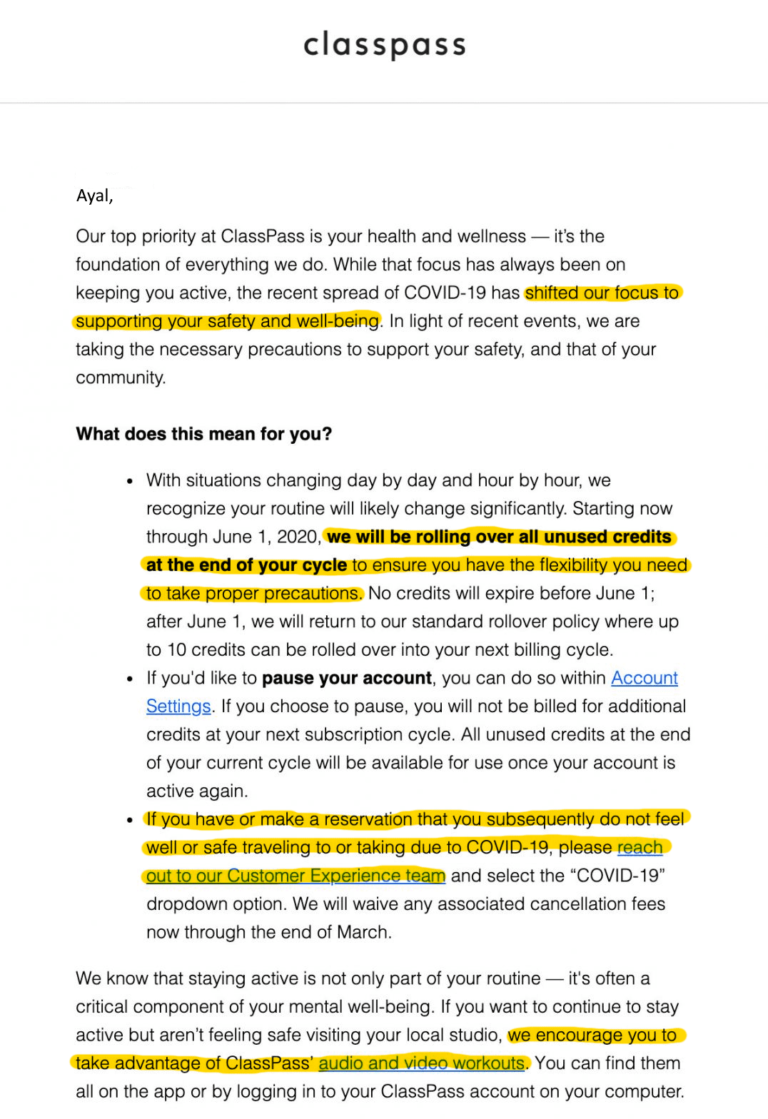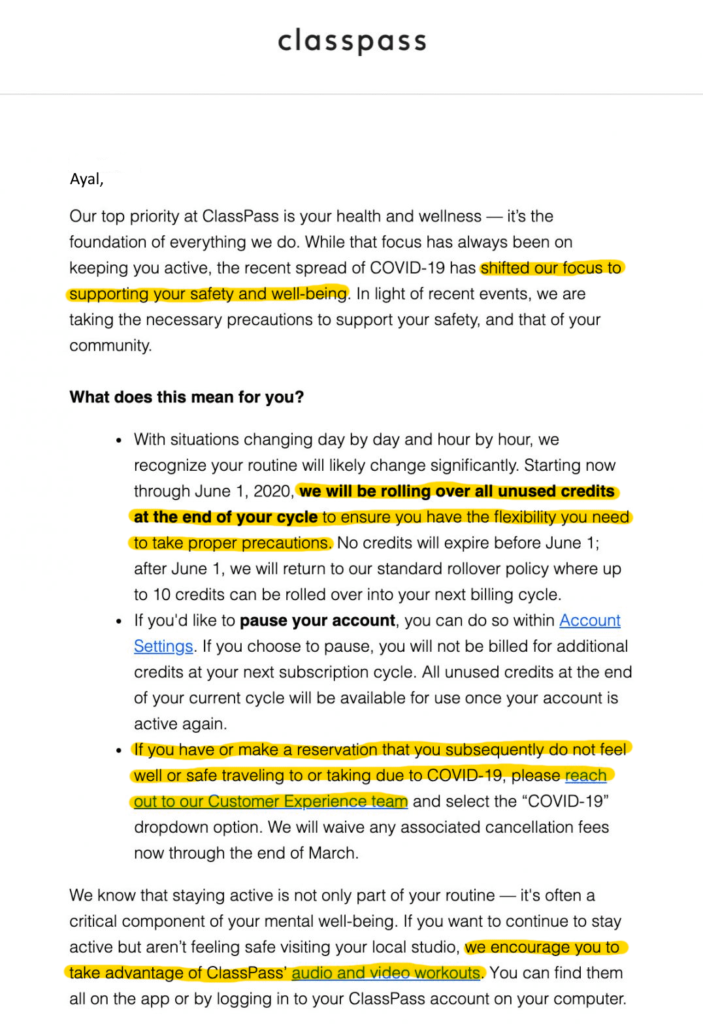 The other great example is with Joe Wicks, aka The BodyCoach, who is taking over living rooms all over the UK with his P.E classes aimed at kids during the lockdown. He's already clocked up over 2 million views on Youtube. This approach is an excellent way of showcasing his offering by providing real free benefits as mini taster sessions.
Be compassionate
Digital music brand Bandcamp is no longer able to market tickets to live concerts.
Instead, they have turned their marketing efforts to help out bands who have lost revenue through canceled shows.
Their pay-it-forward initiative demonstrates the kind of social responsibility and empathy that users around the world want to see right now.
Consider what you can do to ease the burden on your customers, your suppliers, and the planet in general. Weave compassion into your multi-channel strategy wherever appropriate.
The Email Marketing Activity Book for Kids
Enjoy engaging brain teasers, colorful illustrations, and playful games with your loved ones.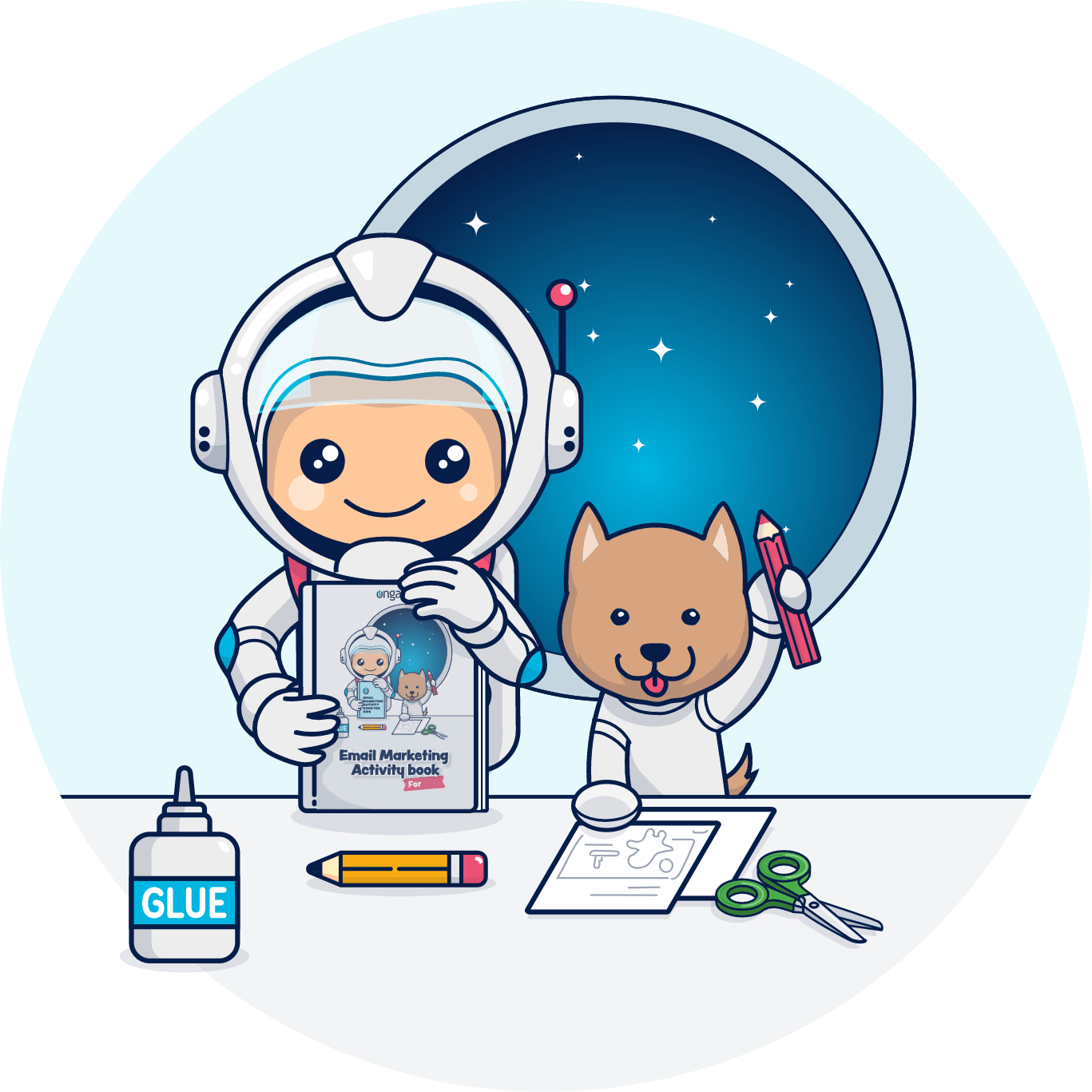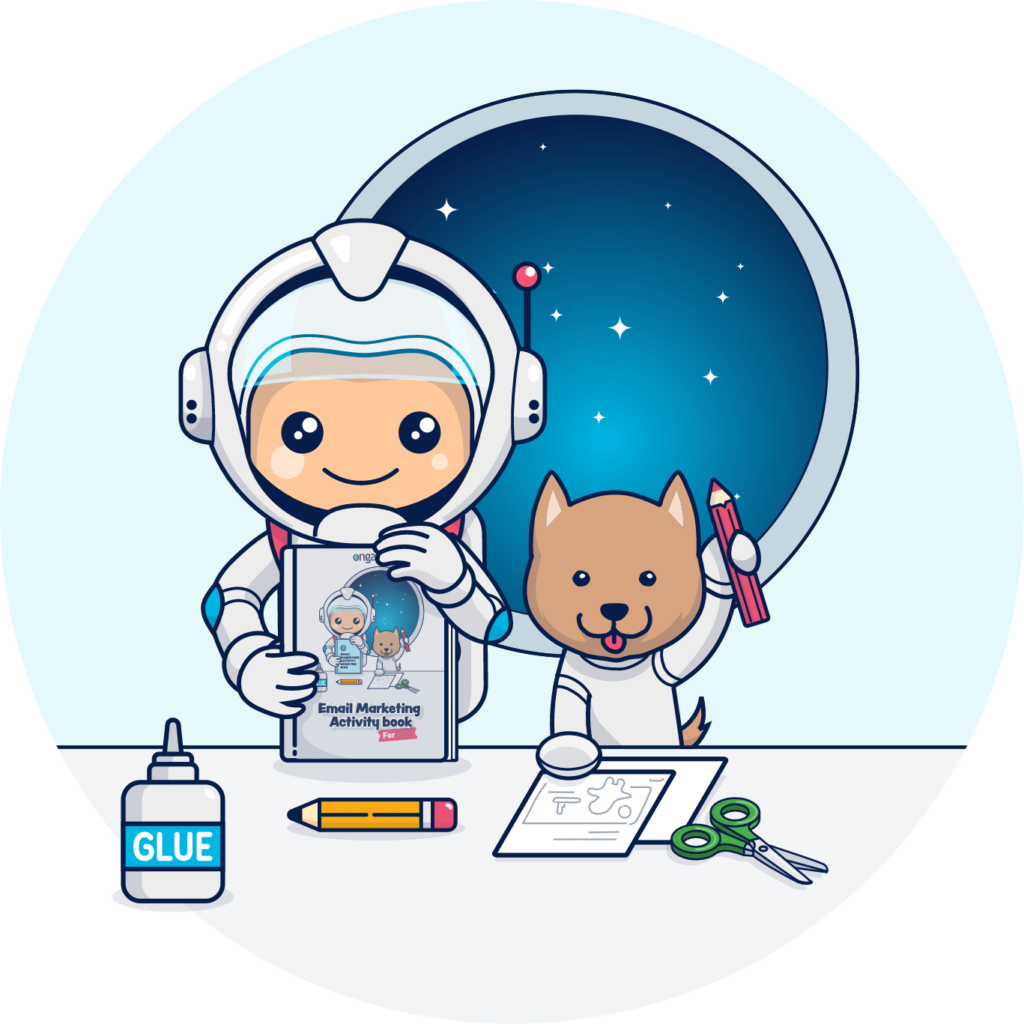 Adapting to new consumer behavior trends
Marketers are agile and creative people.
Adapting to new consumer trends is something we're used to doing.
It's rare that we experience such enormous changes and on such a global scale.
However, the internet is holding up well under the onslaught of bored, stuck-at-home users.
While we have never before experienced a crisis like this, we also have at our fingertips the most impressive technology that the world has ever seen.
Many marketers are already making the most of this technology to innovatively adapt their strategies, utilizing multiple platforms in a cross-channel approach, which delivers the kind of responsive, valuable, and entertaining content that consumers want.