Data is what makes the world of marketing turn. Every good marketer knows that the best campaigns are backed, bolstered, and propelled by data insights.
But how, precisely, can you use data strategically to augment and enhance your campaigns?
To get you started, we looked at some of the most successful email marketing campaigns and came up with a list of successful strategies.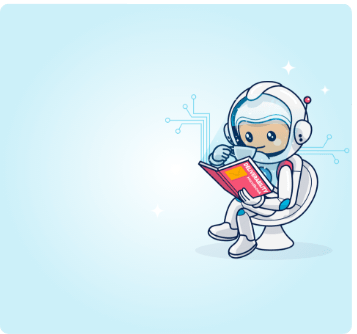 The complete
deliverability
handbook
Read the most significant, most organized volume of information written about email deliverability.
Start by understanding your market's metrics
Have you heard that Thursday is the best day of the week to send an email? If not, then you might be missing out on an important metric.
Awareness of email benchmarks (or a lack thereof) spells the difference between an ROI of 440% or 4400%. To know if your latest email marketing campaign is up to par, check out the numbers from Campaign Monitor's Ultimate Email Marketing Benchmarks.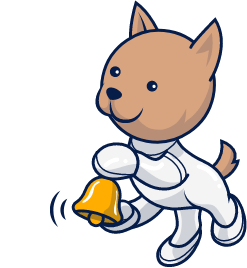 Stay on top of everything that matters in email marketing
Stay on top of everything that matters in email marketing
Use data analytics
Now that you know how email campaigns perform by industry and day, the challenge is to dig deeper into the data to help drive conversions and increase your business's earning power.
Even in the age of social media, email marketing remains an extremely profitable marketing tool.
Many businesses know that they're earning a lot from email marketing, so the assumption is that they don't have to monitor performance. After all, if you are a small business caught up in the day-to-day, there really is not enough time.
Data analytics provides up-to-date information on what customers want. It allows you to take a closer look at your customer segments and the motivations that drive them to purchase your product. These motivations, along with your customers' preferences, can change at a moment's notice.
Here's a Google Analytics dashboard showing real-time data, like which email campaign has the most click-throughs.
Source: Campaign Monitor
Sophisticated email marketing campaigns means more insightful data, resulting in better business decisions. Once you have all the data insights you need, you can save time for the more creative and innovative aspects of your business, like personalizing emails to the tee.
The Email Marketing Activity Book for Kids
Enjoy engaging brain teasers, colorful illustrations, and playful games with your loved ones.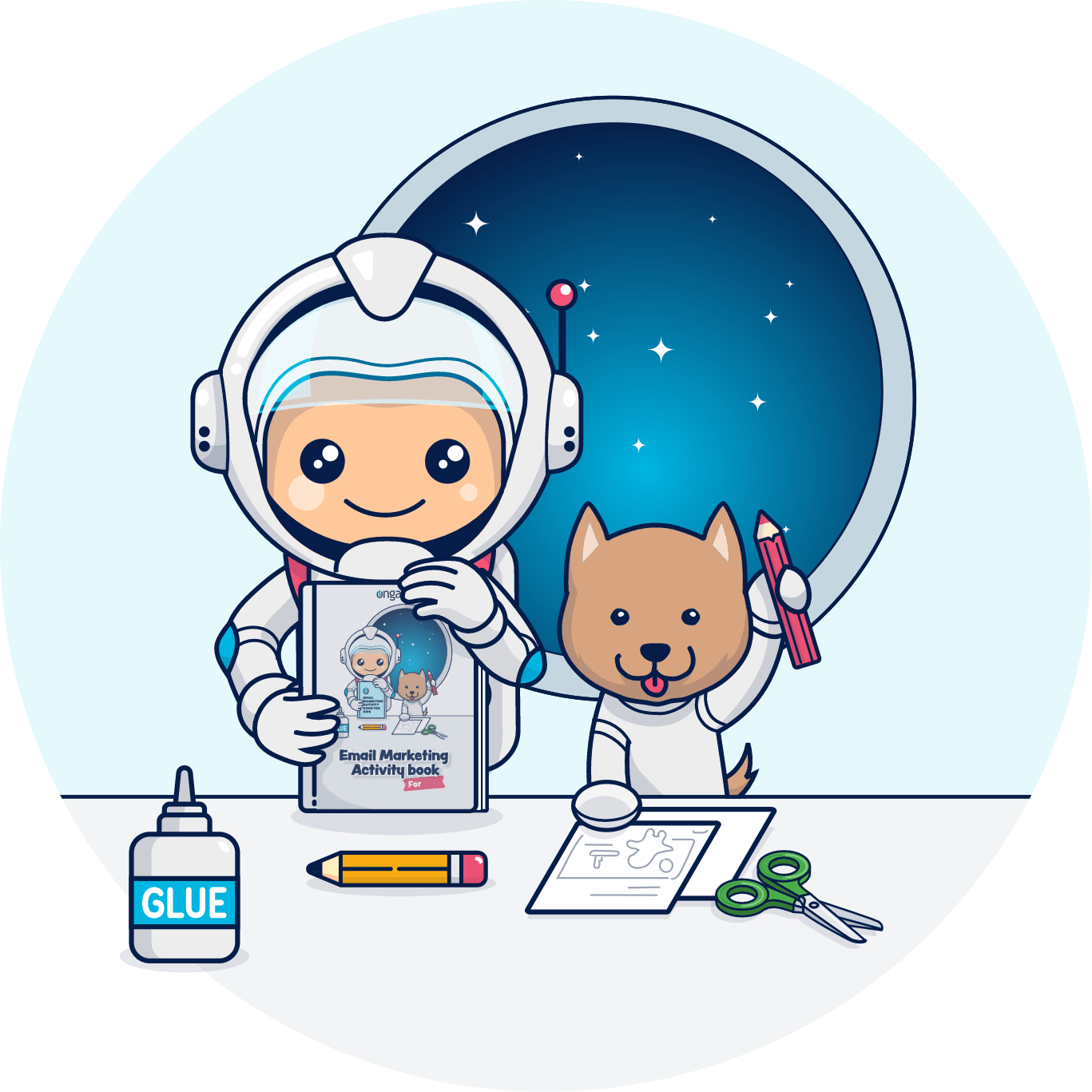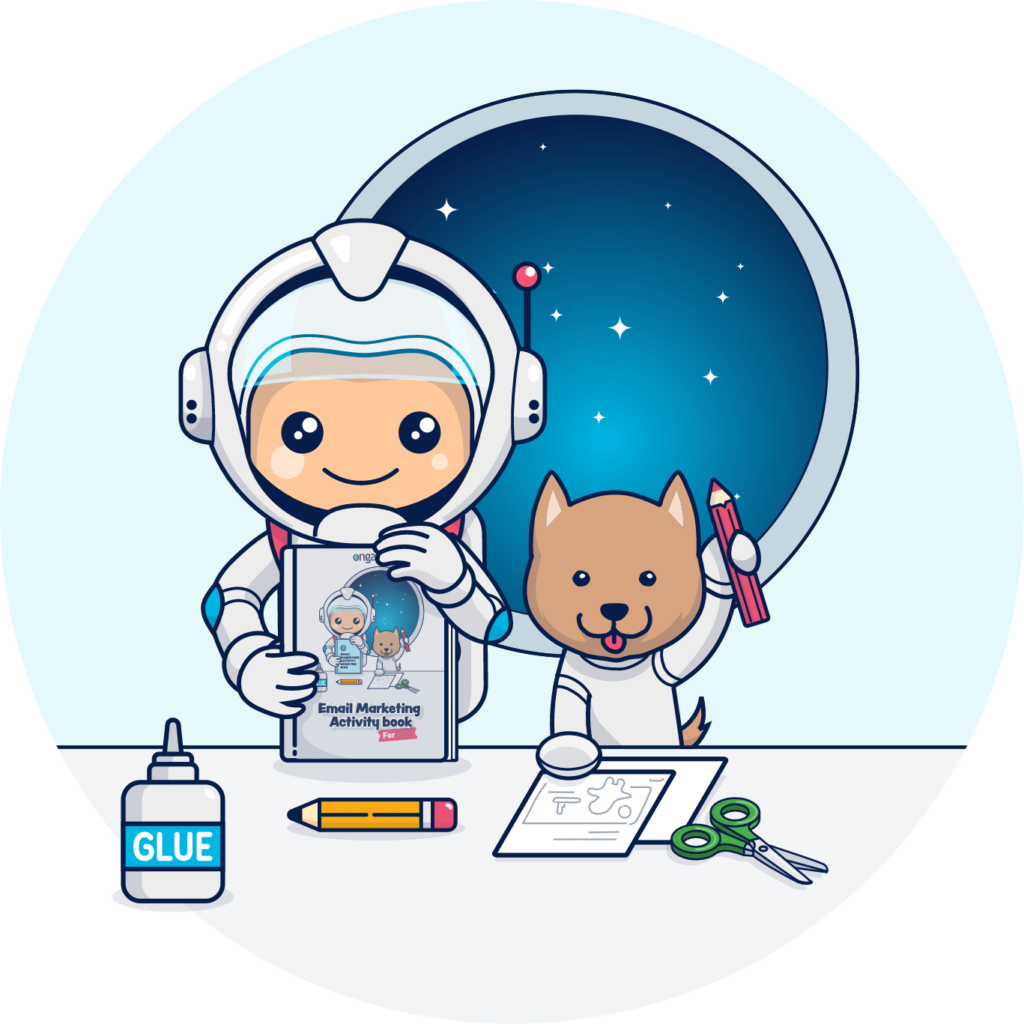 Know your customers
A good start to personalized email campaigns is the use of nicknames to address subscribers. McKinsey reports that personalization at scale reduces customer acquisition costs by 50%. To achieve this, a business must accomplish four things:
Understand customer behavior until you can group them into microsegments.
Develop trigger messages that respond to customer signals right away.
Invest in a good email marketing team.
Use the right technology to fuel your operations.
More than the address line, email personalization means curating the right content for each of your customers along their customer journey: a welcome email for new subscribers, a follow-up email for those with abandoned carts, and a re-engagement email for those who haven't kept in touch for a while. Treat your subscribers like individuals, and they will treat your business like it's the only one of its kind.
Here's how you can take personalization further. If you are a lifestyle website, new subscribers get different welcome emails depending on their interests. As they engage with your business, you get to unwrap their personalities bit by bit. Some of them may be into books, so you send them invitations to book launches in your city. Others may be into sports, so you email them your latest ranking of nearby gyms.
Check out how Refind encourages its subscribers to narrow down their preferences. This way, their team is able to segment customers better and send tailor-fit emails, just the way customers like them.
Source: Really Good Emails
Use the BAB formula
Clearly, website visitors subscribe to your mailing list because they are after a benefit that your business brings. With the Before – After – Bridge (BAB) formula, you can leverage this benefit and drive more conversions. Here are the three steps you should remember:
Show the readers their world before your solution.
Show your readers what the world would be like after your solution.
Bridge the two worlds together with your solution.
The Nue Co uses the BAB formula to show their customers how their products can change their traveling experience. Here's how they wrote their email:
Source: Really Good Emails
Write good copy
Unreadable emails, no matter how personalized, can break your campaign. Old iconic fonts, pixelated images and huge chunks of text turn off subscribers as soon as they see them. Poor rendering across different devices also takes away from your customer's experience with your platform.
On the other hand, well-written copy that's readable on desktop and mobile can send the message that you have high-quality products and services and that your customers can trust you. Teavana's email below is simple, but it uses beautiful flat lay photographs and well-spaced modern typography.
Source: Really Good Emails
Give back
Your customers are with you because you offer a benefit, but wouldn't it be fun if they also get bonuses every once in a while?
Promotional emails are also a way to sell your product to customers who don't like paying for the full price. Who knows? Maybe most of them are just waiting for that 15% discount offer before they check-out.
Take a look at this interactive email from Birchbox offering a free prize to their customers.
Source: Really Good Emails
There's also a way to give back and get more in return. When customers love your business, they will not hesitate to share the word with their friends. Why not give them a little something every time they make a referral? Here's how Maude did it:
Source: Really Good Emails
Wrap up
We've listed a handful of sure-fire strategies to improve your email marketing ROI, but there are many other ways to get the most out of it. Some businesses use a call-to-action, others like throwing in a buzzword or two, while many use the name and signature of their CEOs.
The trick is to see what works best for each of your customer segments and to run along with it until you observe new trends in your customers' online activity. This is why data is useful and why customer intelligence is the domino that tips all others in the right direction.
Summary
So, to recap, the best brand-subscriber relationships are built from the following:
Solid understanding of key marketing metrics
Use of data analytics
Data-driven personalization (based on a thorough knowledge of customers)
Assurance of value (using the BAB system)
Great copy (which works just as well over multiple formats – desktop, mobile, etc)
Subscriber bonuses
A wrap-up which works
Weave these elements into the core of your campaign strategies, and your subscribers are sure to reward your efforts.
About the Author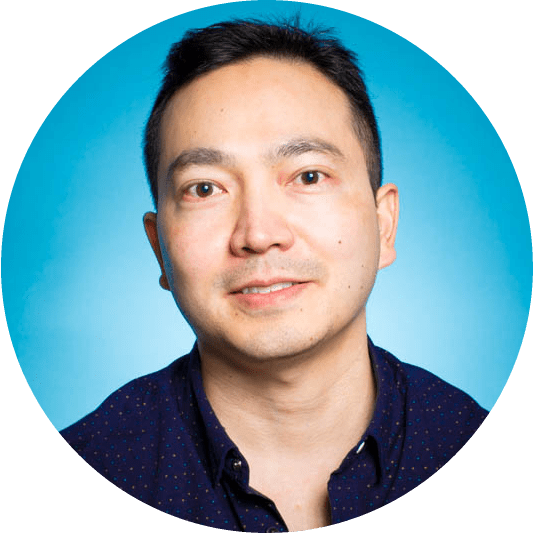 Ash Salleh is the Director of SEO at Campaign Monitor, where he works closely with content, copy, and analytics teams to improve site-wide optimization. Prior to his time at Campaign Monitor, he also provided SEO and digital marketing expertise at Zappos and Axiata Digital. You can find him on Gravatar.